« The Land Of The ONT, And The Home Of The Brave
|
Main
|
The Morning Report - 1/3/20 »
January 03, 2020
US Forces Kill Qassem Soleimani, Leader of Iran's Terrorist Quds Forces
UPDATE: ATTACK WAS PROMPTED BY TERRORIST THREAT THAT SULEIMANI HIMSELF WAS OVERSEEING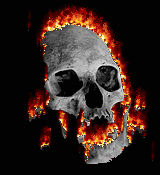 The most powerful terrorist leader in the world is now dead.
I guess Trump wasn't bluffing.
UPDATE: ATTACK WAS PROMPTED BY TERRORIST THREAT THAT SULEIMANI HIMSELF WAS OVERSEEING
Also, the second in command of Lebanon's Hezballah was killed:
Let us take a moment of silent to mourn these Austere Religious Scholars.
General Qasem Soleimani, the head of the Iranian Revolutionary Guards' elite Quds Force, has been killed by US forces in Iraq.

The Pentagon confirmed he was killed "at the direction of the president".

Gen Soleimani was being driven car at Baghdad airport with local Iran-backed militias when hit by a US air strike.

Iran's Foreign Minister, Javad Zarif, called the move "extremely dangerous and a foolish escalation".

Gen Soleimani was a major figure in the Iranian regime. His Quds Force reported directly to the country's Supreme Leader Ayatollah Ali Khamenei and he was hailed as a heroic national figure.

A spokesman for the Iranian government said the country's top security body would hold an extraordinary meeting shortly to discuss the "criminal act of attack".

Ben Loose-Ass Rhodes is whining and crying that the Bad Orange Man killed his very good Iranian collusion partner:

This is obviously a big escalation on our part, after years of Iran's own big escalations.
I imagine they'll escalate further.
We might wind up having to level Teheran, if the Iranians demand it of us.
More: The Democrats who supposedly are such tough-guys who are the Adults in the Room about National Security are, of course, whining and crying that a terrorist murderer has finally been ended:
Whoever puts out Joe Biden's statements when Biden's mind is, um, resting takes a similar angle: Sure sure sure he was a terrorist murderer, but how dare someone who is not a Democrat kill him!
I imagine this will be the standard liberal/media (but I repeat myself) spin.
Speaking of the standard liberal/media (but I repeat myself) spin:
I can't wait to read The Bulwark's and The Dispatch's fulsome denunciations of American warmongering and adventurism in the Middle East tomorrow!