« Open Thread
And, Washington Post Officially Apologizes for Calling for Blackface Enthusiast Ralph Northam's Resignation, Confirming That Blackface Is Okay If You're a Democrat
|
Main
|
The Morning Report - 1/2/20 »
January 01, 2020
New Year's Overnight Open Thread (1/1/20)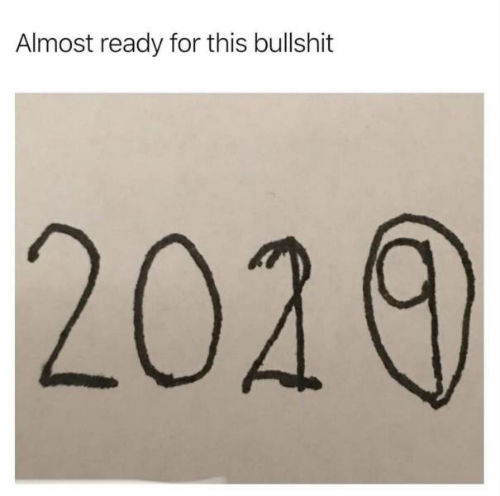 ***
The Quotes of The Day

Quote I

This only adds to the confusion, at a time when people are buying new cars. January is the biggest selling month for new cars.Brian Cooke, director general of Society of the Irish Motor Industry

Quote II

The more the Left tries to abort the Trump presidency before the election, the more it bleeds from each of its own inflicted nicks. Victor Davis Hanson

Quote III

"In our age, when social media can instantly spread rumor and false information on a grand scale, the public's need to understand our government, and the protections it provides, is ever more vital," Chief Justice John Roberts

Quote IV*

"What difference, at this point, does it make?"Former Secretary of State Hillary Clinton

Quote V

"Jesus did not remove evil from the world but defeated it at its root. Her salvation is not magic, but it is a 'patient' salvation, that is, it involves the patience of love, which takes charge of iniquity and takes away its power," Pope Francis

Quote VI

"This is expanding, it will turn out to be a series of criminal acts. It will involve the highest levels of the Obama administration. It's the reason the Democratic party is in panic." Rudy Giuliani
***

The left is disappointed that there weren't deaths at the American Embassy in Iraq.
***

Wisconsin lawyers fighting for their 1st Amendment rights.

"Using members' funds and claiming to represent their views, the State Bar has spoken and continues to speak on opposing capital punishment, shielding suspected sex offenders, restoring felon voting rights, promoting diversity, condemning the President's political speech, gun rights and regulation, immigration policies, and more," the plaintiffs wrote in a December filing before the 7th U.S. Circuit Court of Appeals.

Good luck counselors.
***

Predictions from 1920 for this year.
***

Entertainer Patti Labelle demonstrates her grasp of constitutional knowledge last night on CNN.
***

The latest rage on the internet? Could it be the Make Women Great Again conference to be held later this year?

Make Women Great Again"—that's the tagline of the upcoming "The 22 Convention" that will happen in May in Orlando, Florida. It's causing some huge waves of disbelief and anger both online and in the media.

Some people are outraged at nearly every part of the convention. That it costs $2,000 dollars for a ticket (though there's a 2-for-1 early bird deal going on now). That the speaker lineup is composed only of men. That the convention promises to show women how to be "ideal" and "ultimate wives."

Meanwhile, the convention styles itself as an opponent of feminism and claims to promote "all forms of positive femininity." It also states on its website that it will be "the mansplaining event of the century."
***

A resolution that was broken by Colt Firearms. The Colt .357 Python is back.


Years ago, John Butler wrote a popular post here explaining why Colt would never again build another Python revolver. But John probably knew that his prediction was in trouble when Colt got back into the snake gun business in 2017.

If you read Jon Wayne Taylor's review of the excellent King Cobra, it didn't take Kreskin-like prognostication abilities to conclude that it was really only a matter of time before Colt's revived snake gun line included a resurrected Cobra.

Now that day has finally come.
***

Fort Scott, KS lost its hospital. As with all losses, they overcame and adapted.

Since 2010, 120 rural hospitals have closed across the country ― 19 in this year alone, according to data from the University of North Carolina's Cecil G. Sheps Center for Health Services Research. A national analysis of Medicare cost reports found that 21% of the nation's remaining rural hospitals are at high risk of closing.

"Frankly, it's not getting better," said Dr. Daniel DeBehnke, study co-author and a managing director with Navigant's health care practice.

A year ago, after Mercy gave a 90-day notice that it would close, City Manager Dave Martin said the betrayal felt by city leaders led to lawyers and calls with other health care systems about taking over the facility. Now, Martin has realized "we will not have ― or do we need ― a hospital."
***

Think you are alone in your car. Think again. Your car is transmitting more information and data than you thought.

To figure this out, Fowler had someone hack into the Volt. He discovered that the car was recording details about where the car was driven and parked, call logs, identification information for his phone and contact information from his phone, "right down to people's address, emails and even photos." In another example, Fowler bought a Chevy infotainment computer on eBay and was able to extract private information from it about whoever owned it before him, including pictures of the person the previous owner called "Sweetie."

While GM was the subject of Fowler's experiments, it's not the only company collecting data on its drivers. In 2017, the U.S. Government Accountability Office looked at automakers and their data privacy policies and found that the 13 car companies it looked at are not exactly using best practices. For example, while the automakers say they obtain "explicit consumer consent before collecting data," the GAO says they "offered few options besides opting out of all connected vehicle services to consumers who did not want to share their data.
***

If you need attention that bad, get a dog. Stupid, power hungry attention seeker is busted.

A Kansas police officer was forced to resign after video footage proved that a McDonald's employee did not write "fucking pig" on his coffee cup. The photo went viral and sparked outrage in recent days.

The 23-year-old Kansas officer admitted to writing the message himself and said it was "meant to be a joke."
No, it's not a f*cking joke you dumb sh!t.
See, a kinder and gentler Misanthrope.
***
THE ONT MUSICAL INTERLUDE
Born on this day: January 1, 1950 - Morgan Fisher
English musician Morgan Fisher, keyboards from Mott The Hoople, 1972 UK No.3 & US No.37 single 'All The Young Dudes', a song David Bowie offered the band on hearing they were about to split up. via thisdayinmusic.com
&&&
On this day: January 1, 1959 - Johnny Cash
Johnny Cash played a free concert for the inmates of San Quentin Prison, California. One of the audience members was 19 year-old Merle Haggard, who was in the midst of a 15 year sentence (he served three years) for grand theft auto and armed robbery. via thisdayinmusic.com
The story behind the 1968 Johnny Cash LP, Live at Folsom Prison.
Interesting read.
***

From help me find the remote to arrested and jailed Genius Award Winner.

SEBASTIAN — A 49-year-old woman told emergency dispatchers her boyfriend pushed her, but when police arrived she wanted help finding her TV remote, an affidavit states.

The Dec. 15 case happened in the 800 block of Schumann Drive where Sebastian police reported hearing a woman yelling. Officers went there after a reported physical disturbance, with the woman telling dispatchers her boyfriend pushed her to the ground.


The woman, who police said smelled of booze, told investigators she wasn't in a physical altercation with her boyfriend.

Instead, she was grumpy "with him due to him hiding her television's remote," the affidavit states.
***

Used Christmas trees are part of Tonight's Feel Good Story of The Day.

US Army veteran Jamie Willis started "Canes for Veterans Central Texas" in 2016 when he realized he wasn't the only veteran who needed a cane that was safe and sturdy.

Willis served in the army for 8 years and is now disabled and unable to work.

"I do this so I don't sit home all day feeling sorry for myself," Willis told CNN. "This is all out of kindness. I do everything out of pocket and from donations."
***

Tonight's ONT has been brought to you by the Moron Snowman.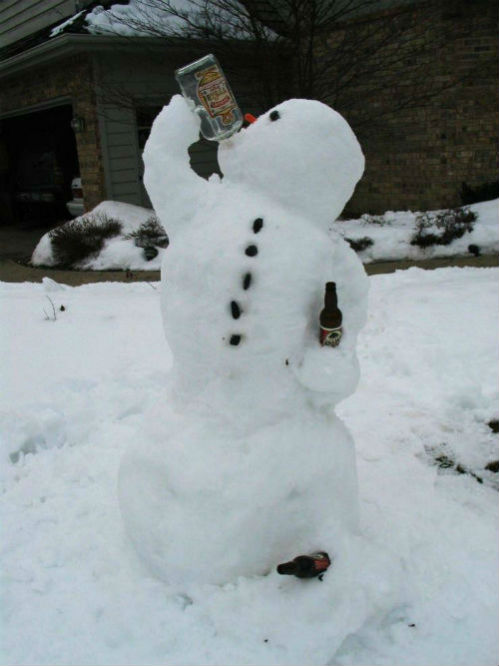 Notice: Posted with permission by the Ace Media Empire and AceCorp, LLC. The views expressed do not reflect staff, management, advertisers or in-laws of The ONT.
Brian Cooke, director general of Society of...&topic=world_news">

posted by Misanthropic Humanitarian at
09:31 PM
|
Access Comments