« Durham Investigating John Brennan's Calls and Records to Find Contradictions In His Claims?
|
Main
|
The Morning Report - 12/20/19 »
December 19, 2019
The Good, The Bad, And The ONT
Five more shopping days until Christmas. How many gifts do you have left to buy?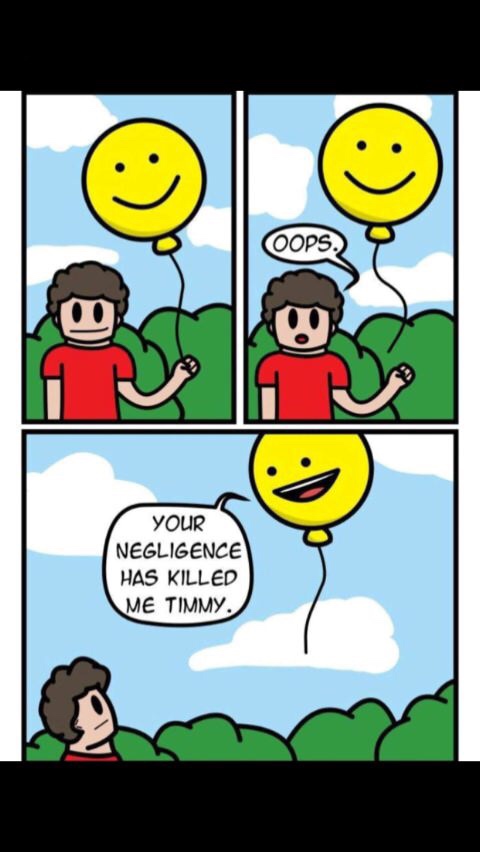 From The World Of Sports

Death of a Heisman Winner: The Fall of Rashaan Salaam Pretty sad story. This is a guy that most people would say "had it all", at the top of his chosen profession, and couldn't handle it when things went wrong. I hope he's at peace.

This, on the other hand, is a feel good story: Joe Burrow's Heisman speech goes viral, and cash donations to Athens food pantry pour in. If you don't know who Burrow is, he's a college QB from LSU who just won the Heisman Trophy and is most likely to be the #1 pick in next April's NFL draft (Chase Young is probably a better player, but the Bengals who are picking first need a QB, and Burrow is a rare talent). Anyhow, Burrow mentioned the poverty in the county where he grew up in his acceptance speech....and over a quarter of a million dollars has since been donated to the Athens food bank. Good for you, sports fans.

Silent Night, Deadly Night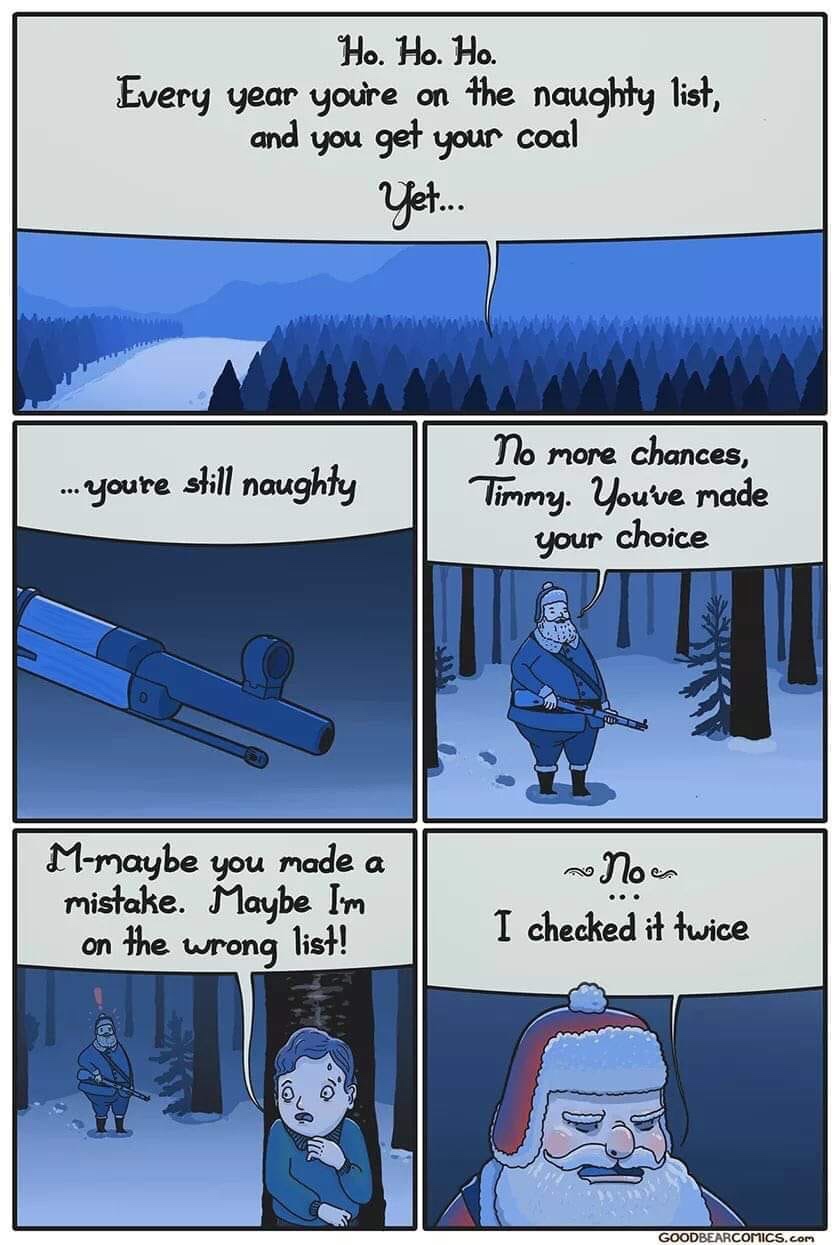 Gender Insanity
A quarter of youngsters being treated at transgender clinics may just be autistic, new research claims

As JK Rowling is discovering, the modern transgender movement is not about equality, or tolerance or any of the other lofty ideals that it claims to champion. Rowling is as reliable a woke leftist as there is on the planet. No, the modern transgender movement is about power: The power to force people to deny reality or suffer the consequences, and the power to obtain a personal position over other people because of claimed victim status. That Canadian dude out west who keeps trying to force other people to handle his junk under the guise of waxing or an OB/Gyn appointment, he doesn't need either of those things. What he does need is the petty ego gratification of making someone else do something they don't want to do to appease his desires. These people are bullies, and as such they will continue to push and prod and manipulate until someone stands up to them and says "enough".
Related: Antifa's Deadly Year Shows the Extremism on the Far Left

Happy Bill Of Rights Day!

Bill of Rights Day was a couple of days ago. Gee, I guess we've still got the 3rd one. Yay.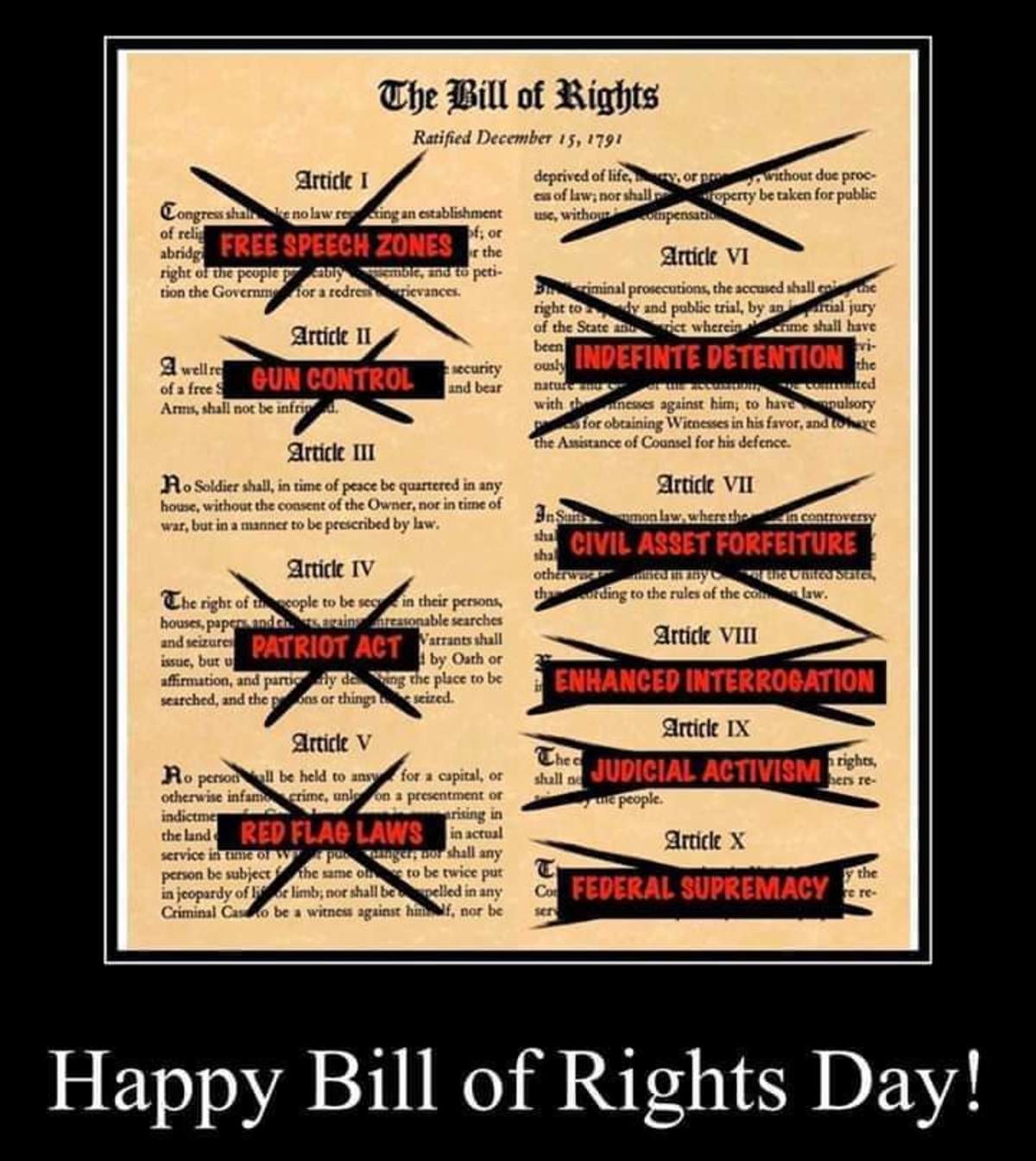 School In Alaska

A Chugiak High teacher hunted a moose and brought it to school. Then things got interesting.
They're going to have a class dinner with some of the meat and donate the rest to local food banks. I approve.
Greed

Look, medical billing is a nightmare, and anyone who has asked me about how healthcare reform should be done will notice that I always start with 100% transparent billing, but the current system is what it is. This, however, is nothing more than manipulating the system in order to intentionally fuck patients with big bills. IOW this is nothing but legalized theft. I rarely call for government regulation of anything, but this shit needs to be outlawed now.
Ending surprise billing: A moral test for physicians
I will also note that almost all of the plans sold through the exchange are HMO, EPO or other restricted network plans. "So what",you might say, "in my area almost all docs are in the network". That may be true, but if you fall into the clutches of these thieves it won't matter. On most HMOs "out of network" means "You pay the entire bill, Chester, we're washing our hands of it". With PPO plans you at least have limits on your deductibles and OOP max out of network. They may be much higher than the in-network ones, but they're there. Unfortunately you have to go off-exchange to find PPO plans in most states, and so many people don't even know that they exist anymore.
Related: The Fifth Circuit issued a ruling in the ACA case this week which is being heralded by many as a "death blow" to Obamacare, But is it? Probably not. Though I am not a lawyer, the reasoning in this piece strikes me as sound, and I'll bring up one additional point: The powers that be, including the judiciary, are very, very, very reluctant to end the ACA because the left has done a fantastic job of equating ending the ACA with "taking away health care" in most people's minds. Of course it would do no such thing, this country had health care and (better) insurance prior to this abortion, and would have them both again if it was struck down. I would say that we've lost that messaging battle, however.
Tonight's ONT brought to you by Harrison's ass bowl: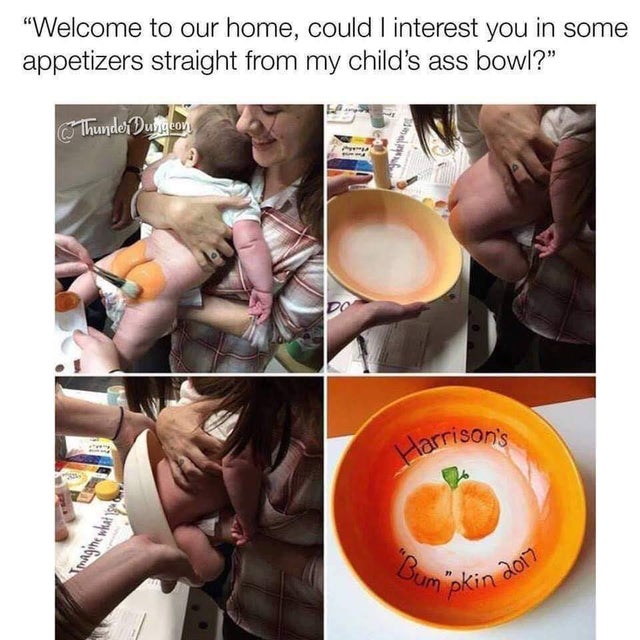 posted by WeirdDave at
10:32 PM
|
Access Comments