« Devon Nunes Sues CNN for $435,350,000 For Publishing "Demonstrably False Hit Piece" #FakeNews
|
Main
|
Hillary Clinton, Asked About Rumors of Lesbian Affairs: "Boys were never my problem" »
December 04, 2019
Impeachment Catch-Up Thread
First up: Professor of Trump Studies Noah Feldman, who has been claiming that literally everything Trump does -- including his tweets -- constitute impeachable actions.
When Trump tweeted that the Deep State had "wiretapped" him -- which, in fact, they did -- the noneminent Feldman shrieked that the tweet was impeachable.
So that's the sort of Twitter-Addicted Partisan the Democrats recruited to be their Galaxy-Brained All-Stars today.
And he wasn't done there. Just a couple of months later, super-genius Feldman discovered a fresh impeachable offense: Trump telling Comey that he expected him to be loyal, and then firing him.
PS, Comey was soon after proven to be illegally leaking to undermine Trump, though the See No Evil From Fellow Paper-Pushers DOJ declined to prosecute.
Norm Eisen, who is the Democrats' choice for partisan hack to question the day's witnesses, has also had Impeachment Fever since approximately 10:30 PM EST on November 8, 2016.
But now let us turn to the undeniable star of today's grim spectacle -- former Obama official, frequent Democrat donor, and the woman who penned most of Harry Blackmun's dissent in Bowers v. Hardwick (which would later become the dissent that blessed us all with gay marriage and enforced gay marriage participation).
She pronounced xerself rather grandiosely as a "Scholar of the Law of Democracy."

"Professor" Karlan is a bit of a gadfly in the Trump Derangement Speaking Circuit:
Is it fair to call this panel a stop on the Trump Derangement Speaking Circuit? Well, I think so:
She is brilliant enough to have decided that making fun of underage child Baron Trump's name was a super-charming manner by which to ingratiate herself to the general Breeder public, and such an awesome Name-Joke that it was totally worth the heat for attacking a child:
Representative Gaetz exposed this fool for the man-hating partisan spinster-shrew that she is:
See Deb Heine for more on that exchange.
While Gaetz was making a point about her past biased statements, Karlan interjected to slam Trump, prompting an angry reply from Gaetz.


"You don't get to interrupt me on this time!" he exclaimed.

"Now let me also suggest that when you invoke the president's son's name here. When you try to make a little joke out of referencing Barron Trump. That does not lend credibility to your argument," Rep. Gaetz told the Stanford law professor during Wednesday's House Judiciary impeachment hearing. "It makes you look mean. It makes it look like you're attacking someone's family, the minor child of the president of the United States."

By the way, as "Professor" Karlan thinks it's okay to go after people's family for stupid jokes, I'd just like to point out -- and this part is not a joke -- that Pamela Karlan's spinster-shrew lesbian "partner" is not only also a former Clinton staffer, but also a bilingual lesbian poet.
As a friend said, "Good Lord, there's enough socio-sexual stereotypes packed into that for a whole season of Portlandia sketches."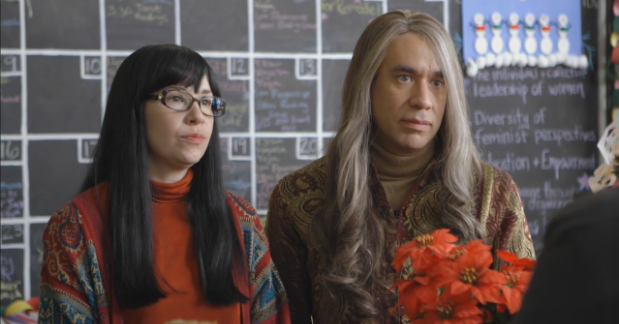 Artist's Conception
And speaking of using family to make a stupid name-crack, the bilingual lesbian poetess in question is named "Viola Canales," which is roughly Spanish for "Purple Canals."
Make of that what you will!
Hey, go a little easier on the poor gal, Pam! (Rodney Dangerfield collar-tug)
Even sad, stupid Donor Class Gimp Ben Shapiro was able to score a point on these idiots:
If you were wondering, "Yeah, but at which point is a Democrat going to accuse other Democrats of #Racism -- #ImpeachmentSoWhite -- due to not havin' enough Black Experts as witnesses," the answer was at about 4 pm:
The Babylon Bee issued this exclusive report:
Oh: As Jane D'oh reminds me, Pammy Karlan was on Obama's short list for the Supreme Court, and certainly would have been a Hillary pick.

So make sure to thank the NeverTrumpers for their stalwart work in advancing the True Conservative cause by trying to install Hillary Clinton. (And now Obama's VP, Biden, and they're also quite high on Mayor Pete Bootygag.)
Update: Gaius Martius tells me that Viola Canales is not really the Spanish for "Purple Canals," but rather the Spanish for "screws canalas" (taking "Viola" to be the singular third-person conjugation of violar, to screw (or rape)).
Well, that too, I guess.

posted by Ace of Spades at
06:10 PM
|
Access Comments