« Saturday Evening Movie Thread 11-30-2019 [Hosted By: TheJamesMdison]
|
Main
|
EMT 12/01/19 »
November 30, 2019
Saturday Overnight Open Thread (11/30/19) Good Bye November Edition
(Just Another Night At The ONT)
***
THE SATURDAY NIGHT JOKE

Momma Pea and Daddy Pea were thrilled to have Baby Pea join their little family and, as he grew, delighted in teaching him about the world around him. As Baby Pea grew old enough to be taught about how to explore the neighborhood, his parents decided it was time to teach him how to navigate crossing the street.
So one day, Momma Pea and Daddy Pea took Baby Pea to the side of the road to show the youngster how to cross. Daddy Pea spoke first – the important thing is to look left, look right, and look left again and, if no traffic can be seen, it is safe to cross. I'll show you – Daddy Pea looked left, looked right and looked left again and, since no cars were visible, he rolled across the road to the other side.
Once Daddy Pea was safely across, Momma Pea spoke up. Now remember Baby Pea, look left, look right, and look left again and, if no traffic can be seen, it is safe to cross. Like this - Mommy Pea looked left, looked right and looked left again and, since no cars were visible, she rolled across the road to the other side. Now with Mommy and Daddy Pea on the other side of the road, they waved their Pea Arms and motioned for Baby Pea to cross the street.
Baby Pea had listened intently to the Momma Pea and Daddy Pea's directions. So, he looked left, looked right, and looked left again and, seeing nothing coming started to cross. But as soon as he started, a car appeared - Momma Pea and Daddy Pea were frantic and started to holler but Baby Pea knew what to do - and he quickly rolled back to where he had started and was, once more, safely on the side of the road.
Momma Pea and Daddy Pea were quite relieved and again, noticed no traffic in the roadway and motioned for Baby Pea to come over. So, he looked left, looked right, and looked left again and, seeing nothing coming, rolled off to cross. Baby Pea was rolling along nicely but, being a Baby Pea, he took longer to roll across than his parents. When he was halfway across, a speeding semi started to bear down on him. Momma Pea and Daddy Pea were screaming with terror to roll faster and Baby Pea gave it all he had but alas, the semi ran him over and squashed him flat.
Horrified, Momma Pea and Daddy Pea rushed to his side, folded him up and called 911 for Pea EMS. They arrived in minutes and rushed Baby Pea to Pea Hospital where he was immediately taken to the Pea Emergency Room.
Momma Pea and Daddy Pea clutched each other tearfully and prayed mightily for a miracle for Baby Pea. Soon, Doctor Pea came out of the treatment room, soaked in sweat from his exertions.
Momma Pea, Daddy Pea, I have good news and bad news. The good news is Baby Pea will live. Momma Pea and Daddy Pea were overcome with joy and hugged each other and jumped up and down.
Finally, Daddy Pea asked, "Oh, what's the bad news?
Doctor Pea said "He's going to be a vegetable for the rest of his life."H/T tonypete
***
32 Funny town names from the UK.
Although I think I have been to a couple of them here in the States.
***

Unhappy with the customer service you recently had? There's a site for that.

When you have a terrible experience at a restaurant or store, you might not know where to turn. Maybe you even alerted a manager or customer service agent, only to get ignored. As a pissed off consumer, you want to post a review or complaint online.

Online reviews can help warn other customers about an untrustworthy company, and can also help your problem reach a satisfying conclusion. If you want to comment on a business or product, head to these consumer complaint sites.
***
Are you a Moron who identifies as a hippie. You might want to live in Joshua Tree, CA.

What would you say if I told you there is a place in Southern California's high desert that is an arts community yet to be overrun with tourists and would-be influencers? A place that is perhaps one of the last remaining vestiges of SoCal desert boho/hippie culture, where there are no chain restaurants, no orchestrated "Instagrammable moments," no garish attractions screaming at you in neon for your tourist dollars, and really no immediately obvious attempt at tourism infrastructure despite being 10 minutes from a national park?
***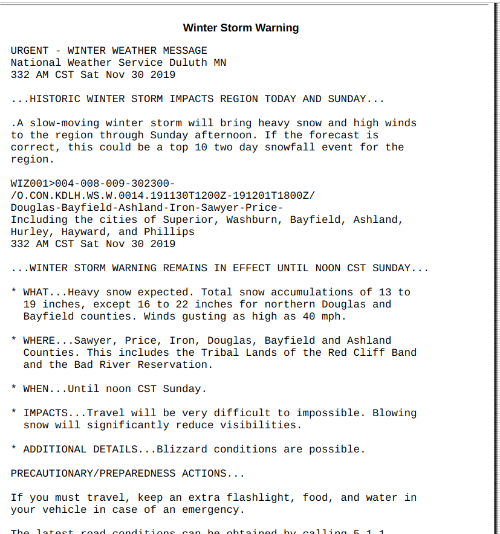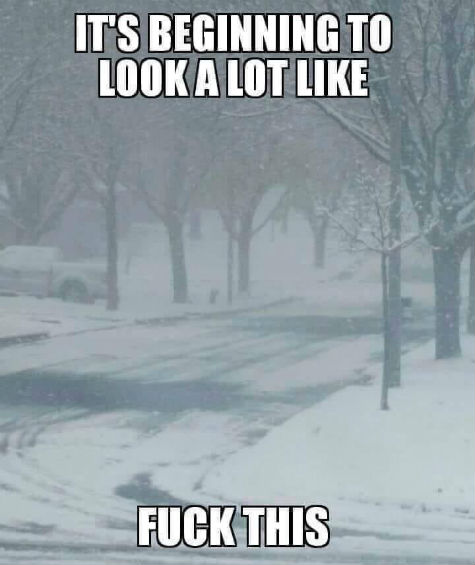 (H/T chavez the hugo)

Speaking of snow, here's a great way to measure it.

While we can't change the weather (yet?), we, as a society, have made extraordinary strides in predicting what's happening next. There are definitely glitches and mistakes, sure, and there are also limitations to what we can successfully predict. On the other hand, getting data after-the-fact is something we've mastered: if you want to know how hot it was yesterday or how intense a storm was, we have a lot of computers and seemingly magical monitoring tools which give data scientists the ability to measure that in real-time, creating a record for history.

But when it comes to measuring snowfall, technology isn't the answer. There's no great way to measure the net effect of snowstorms from a distance — as an example, the satellites used to observe storms don't also tell you how much snow they dump on the ground. So what is the National Weather Service to do?

They ask for help. Volunteers, just like you and me.
***

Benjamin Franklin and Electrocuted Turkeys.

There are a couple of ways to cook turkey. There is the safe way where you cook the turkey in the oven. But if you don't want to cook the turkey the safe way, there is a dangerous way of cooking it, and that is by deep-frying it. High risk, high return, so they say. But if you're not satisfied with the deep-frying method, then you can opt to a more dangerous method, and that is by killing the turkey by electrocution, which the Founding Father Benjamin Franklin did.

Franklin began to study electricity as he was approaching 40. His scientific interest on the subject was piqued when he saw a show by Archibald Spencer, a scientist/showman known for performing various parlor tricks involving electricity. Franklin was so fascinated by electricity that he tried to reproduce Spencer's parlor tricks in his own home.

Through his experiments, Franklin was able to demonstrate that electricity consisted of a common element he called "electric fire," arguing that it flowed like a liquid, passing from one body to another. He studied how sparks jumped between charged objects, correctly concluding that lightning was merely a massive electric spark. And he coined several electricity-related terms we still use today: "charging," "discharging," "conductor," and "battery," for instance.
***

If you are coming to the Mid West to visit say hugo the chavez, Pete Seria, Donna VVVVV or myself. You should pick up one of these.

***

Those who celebrate Christmas with a real tree you might be facing higher prices.

A tight supply of Christmas trees in some parts of the country could mean parting with some extra green to get in the holiday spirit this year.

Farmers in major tree-growing states like Oregon, Michigan, North Carolina and Missouri have cited hot weather, the 2008 recession and too much rain as factors in fewer trees being produced this year.

The smaller supply could mean higher prices for trees in several areas of the country.

However, while the national supply of trees is tight, everyone who wants one should be able to get one, one expert said.

"There is not a single community in the country that ever ran out of Christmas trees,'' Tim O'Connor, the executive director of the National Christmas Tree Association, told TODAY.
***

The ONT Is Always Looking Out For YouTM

Consider this a gentle reminder that some older devices are losing support for Netflix on December 1, including select Roku, Samsung, and Vizio units.

Last month, Netflix told Gizmodo that some users would lose support for the streaming service beginning the first week of December due to "technical limitations." More specifically, a company spokesperson said that a "small percentage" of older devices were running on Windows Media DRM, and those devices that aren't able to upgrade to Microsoft PlayReady won't be able to support Netflix.
***
Single 'ettes, be careful when you make sammiches.
***
THE ONT MUSICAL INTERLUDE
&&&
***

Thoughtless, selfish and just a plain Dumb Fuck Genius Award Winner.

The 2019 Egg Bowl ended in absolute chaos.

When Ole Miss scored with four seconds remaining in regulation, the game looked destined for overtime. That was until Rebels wideout Elijah Moore got a little too frisky when celebrating his touchdown that cut Mississippi State's lead to 21-20.


Yes, that is Moore crawling on the turf and pretending to pee like a dog (in homage to DK Metcalf) — a celebration that drew a 15-yard penalty. Instead of setting up a normal extra point, the try was 15 yards longer than usual.

Predictably, Luke Logan pushed his kick to the right, allowing Mississippi State to hold on to a wild 21-20 win.
***

Genius Award Winner meets Feel Good Story of The Day.

"The guy I killed last night, he put an AK-47 to my damn face," said Stewart. "I am going to defend my life and those I love," he said. "My family is innocent and just don't put an AK-47 in my face. I will not allow that to happen. This guy also hijacked a woman in a van and was found with her car key. He robbed another woman at gunpoint."

"You want to come looking for trouble?" he continued. "Come to me. Come to me. I wouldn't do anything like this to anybody and they picked the wrong person in this case."


"I am from Kingstontown in Jamaica," he said, "and I am not going to go out like a punk. So I emptied my Glock in his chest. This man tried to get in my van while I was sleeping and he was surprised to see what I did."
***

Tonight's ONT has been brought to you by Cooking Instructions.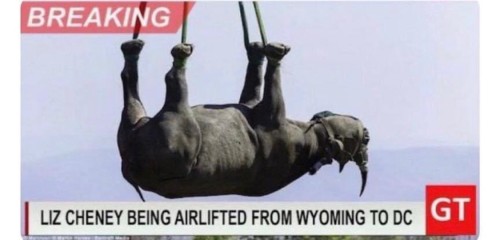 H/T LadyL

Notice: Posted with permission by the Ace Media Empire and AceCorp, LLC. The ONT was written in the fog of a food coma.

posted by Misanthropic Humanitarian at
09:55 PM
|
Access Comments