ę EMT 12/01/19
|
Main
|
Another Perspective On China: Donald Trump Seems To Know What He Is Doing Ľ
December 01, 2019
Sunday Morning Book Thread 12-01-2019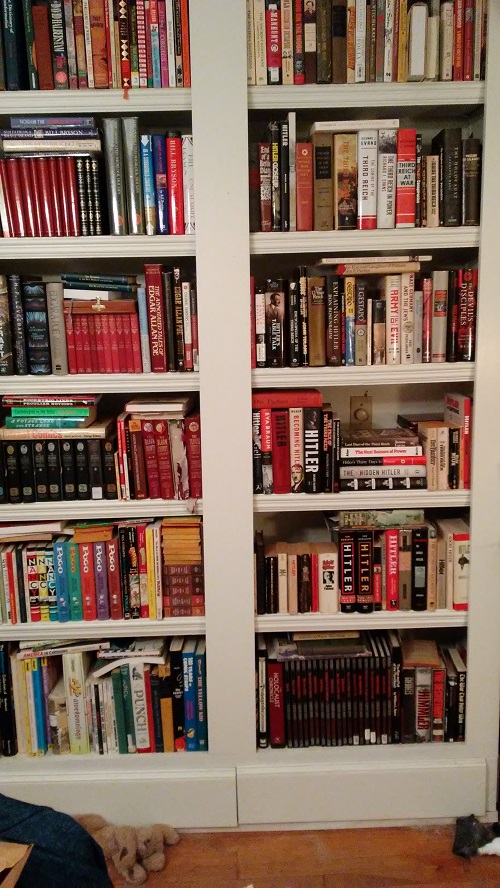 Part of the Library of Mary Poppins' Practically Perfect Piercing
(click pic to embiggen)
Good morning to all you 'rons, 'ettes, lurkers, and lurkettes, wine moms, frat bros, crétins sans pantalon (who are technically breaking the rules), Indian agents, Mexican bandits, bounty-hunters, blurrg herders, and baby Yoda. Welcome once again to the stately, prestigious, internationally acclaimed and high-class Sunday Morning Book Thread, a weekly compendium of reviews, observations, snark, witty repartee, hilarious bon mots, and a continuing conversation on books, reading, spending way too much money on books, writing books, and publishing books by escaped oafs and oafettes who follow words with their fingers and whose lips move as they read. Unlike other AoSHQ comment threads, the Sunday Morning Book Thread is so hoity-toity, pants are required. Even if it's these pants, from which we learn that a good idea in one contex may not necessarily carry over to another.


Pic Note:
MP4 writes:
Whenever we mention WWII or the Third Reich, I always think that I need to send in a picture of my "Nazi section." I used to work in a bookstore, so most of the books in my house are arranged by subject, though NOT in alphabetic order. I'm not quite that anal.

To the left, you can see the shelves where I keep my Poe and Holmes books as well as cartoon collections. One of these days I'll do a panoramic shot of the whole floor. Upstairs in my writing room are all of my movie books, but that room is a disaster area; a bourne from which no man returns!

It Pays To Increase Your Word Power®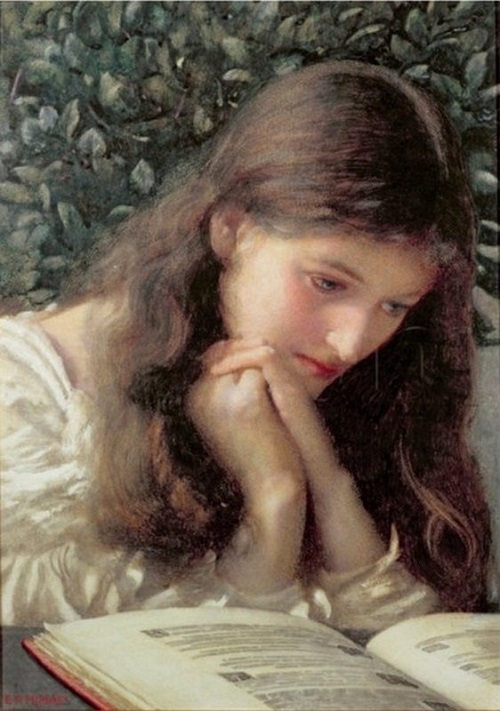 Books By Morons
'Ette author Elisabeth Wolfe has a new novel coming out, and she tells me "itís a bit different from my usual stock-in-trade." After reading the blurb, I can tell you it looks like a lot of fun:
Cleveland, 1922: Crime-fighting Mayor Richard Leon has been missing for over a year, and under John Lackland's administration, corruption has gone from bad to worse. Now, newlyweds Robin Locksley and Marian Fitzwalter and a band of like-minded friends have established a detective agency in the suburb of Nottingham, intent on acting when the police won't. But when their first client, Eleanor Curtmantle, reveals that Leon has been kidnapped by bootleggers, the race is on to find and rescue him before Lackland and his goons can kill the mayor and the city in one blow.
So basically, itís a Robin Hood reboot with a bit of
Tommy and Tuppence
thrown in for good measure. In addition, there's a Theda Bara reference thrown in just for MP
4
. Ebooks are available on
Amazon
and
Smashwords
. The paperback edition will release either on Dec. 1 or as soon thereafter as Ms. Wolfe gets the proofs to approve.
___________
Kerrie Noor has published the latest in her Planet Hy Man sci-fi comedy series, Rebel Without a Crew:
Planet Hyman is at a lost as Hilda takes a sabbatical, she has found her "pleasure dome" and while she learns there is more to life than a new manifesto, H2 and DBO plot a coup. With Mex hungover, and Beryl shamed, there is little to stand in their way apart from a hippy colony too chilled to care, a reporter with no scruples, and a missing set of batteries.

Will H2 and DBO take over the planet and run it the proletarian way? Or will Hilda rise from her wet dreams toss her dead batteries to the wind and take over from where Beryl left?
Rebel Without A Crew: Robots are here to stay but will they get paid? is the third in the Planet Hy Man series "where every hero is a woman old enough to know better and old enough not to care." It will be available on a variety of e-book platforms for about a week at the introductory sale price of 99 cents.
The series starts with Rebel Without a Clue and continues with Rebel Without a Bra.
___________
Insanity's Children, the sequel to The Stars Came Back, by Rolf Nelson, is now up on Amazon. As always, reviews posted to Amazon by readers are greatly appreciated.
Lighting up a planet and turning it into a star, even a very small one, tends to attract a lot of unwanted attention. Especially if you are flying the most wanted ship in existence, with an illegal crew, and first-hand knowledge of first alien contact. But life goes on. Plans are made. And then plans encounter reality, and with Helton Strom and his slightly demented AI warship Tajemnica involved, the results are predictably unpredictable.
The Kindle price is $4.99.
This page on Rolf's website has brief blurbs for each book he has written in this series.
___________


They Don't Publish Books Like This Any More: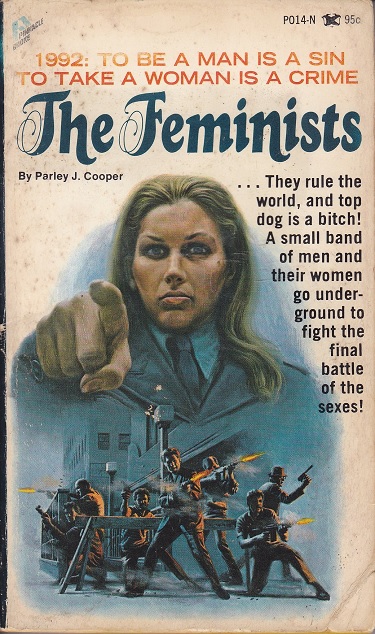 (h/t
Pulp Librarian
)
Question: If you're going to set up a barricade, shouldn't you stand BEHIND it?


Moron Recommendations
Celia Hayes writes:
Hey, I was watching WWII in HD Color with my daughter this week, and the episode about the war in the deserts of North Africa moved me to get down and reread Ice Cold in Alex, which is basically a road trip through the desert by two British soldiers, an Army nurse and a South African ... who is likely a German spy using the first three as cover.

It's a darned good book, and they made a very good movie out of it, which for some bizarre reason is practically unavailable in a format which can be played in the US. Might be worth a plug for the book thread, as the descriptions of the desert and of conditions in 1942 are vivid.

The author of the book actually served in the medical service corps in that theater, and I have always thought that he put a lot of himself into one of the characters.
The novel tells the story of
...a small group of soldiers and nurses trying to escape from Tobruk through the German-occupied desert. For Captain George Anson, the taste of the ice-cold beer served in Alexandria, Egypt remains an indelible memory. When he's assigned to escort two nursing sisters there, he dreams of enjoying that simple pleasure again. But his routine mission turns epic as he and the nurses find themselves driving further and further south to escape the advancing German army.
E-editions of Ice Cold In Alex do not appear to be available. Only hardcover and paperback. First published in 1958, it may not be still in print, although some new copies of the paperback are available.

___________
Here's another road trip novel:
45 Having discovered Charles Portis recently I have fallen in love with him. I would recommend all morons to take a read on The Dog of the South. You will glad that you did.

Posted by: Puddin Head at November 24, 2019 09:24 AM (QZCjk)
I greatly enjoyed Portis' more well-known novel, True Grit, which the Coen Bros. film adaptation followed fairly closely. But The Dog of the South might be worth looking at, too:
His wife, Norma, has run off with her ex-husband, taking Ray's cards, shotgun and car. But from the receipts, Ray can track where they've gone. He takes off after them, as does an irritatingly tenacious bail bondsman, both following the romantic couple's spending as far as Mexico. There Ray meets Dr Reo Symes, the seemingly down-on-his-luck and rather eccentric owner of a beaten up and broken down bus, who needs a ride to Belize. The further they drive, in a car held together by coat-hangers and excesses of oil, the wilder their journey gets. But they're not going to give up easily.
___________
Let's see what longtime 'ette grammie winger has been reading lately.
32 The last couple of weeks I have read the 8 books in the "DC Smith" books by Peter Grainger. They feature a rather rumpled, old school British detective, a widower, somewhat adrift in a sea of modernizations. He's a wistful, compelling character, and I was sad when the series ended.

Posted by: grammie winger at November 24, 2019 09:15 AM (lwiT4)
The first book in this series is the Amazon blurb:
A desperate Kremlin takes advantage of a military crisis in Asia to simultaneously strike into Western Europe and invade east Africa in a bid to occupy three Rare Earth mineral mines that will give Russia unprecedented control for generations over the world's hi-tech sector.

Pitted against the Russians are a Marine lieutenant colonel pulled out of a cushy job at the Pentagon and thrown into the fray in Africa, a French Special Forces captain and his intelligence operative father, a young Polish female partisan fighter, an A-10 Warthog pilot, and the commander of an American tank platoon who, along with his German counterpart, fight from behind enemy lines in Germany all the way into Russia.

From a daring MiG attack on American satellites, through land and air battles in all theaters, naval battles in the Arabian sea, and small unit fighting down to the hand-to-hand level in the jungle, Russia's forces battle to either take the mines or detonate a nuclear device to prevent the West from exploiting them.
This one resembles Tom Clancy's Red Storm Rising, which was also about a conventional war between us and the Rooskies that never goes nuclear. I heard a lot of people say it was boring, particularly after his thrill-a-minute Hunt For Red October, but I didn't think so, it kept me turning the pages, which was fine, since there are over 700 of them to turn.
I'm going to have to get this one and check it out for myself.
The Kindle edition of Red Metalweighs in high at $13.99.
___________


The Great Indie Black Friday Cyber Monday $0.99 Book Sale
Thanks to moron author Hans Schantz for putting this deal together. He also writes:
All the authors in the list are like-minded indie writers who share many of the same perspectives as the crowd here. I have read and can vouch for most of the books here as being worth your while, and a good fraction are amazingly good. The sale includes offerings from Prometheus, Conservative-Libertarian-Fiction-Alliance-Book-of-the-Year, and Dragon award-winning or nominated authors. The few books I haven't read are from authors whose other work I have read and enjoyed. Not all the offerings may be to your taste, but at $0.99, it's hard to go wrong on the value proposition, and you are helping out some wonderful, hard-working indie authors.
Some of these authors and books will be familiar, but many perhaps won't be. The full list of titles and blurbs is available here. There might be some good Christmas gifts for like-minded friends.
Update:
___________
So that's all for this week. As always, book thread tips, suggestions, bribes, insults, threats, ugly pants pics and moron library submissions may be sent to OregonMuse, Proprietor, AoSHQ Book Thread, at the book thread e-mail address: aoshqbookthread, followed by the 'at' sign, and then 'G' mail, and then dot cee oh emm.
What have you all been reading this week? Hopefully something good, because, as you all know, life is too short to be reading lousy books.
___________
If you like, you can follow me on Twitter, where I make the occasional snarky comment.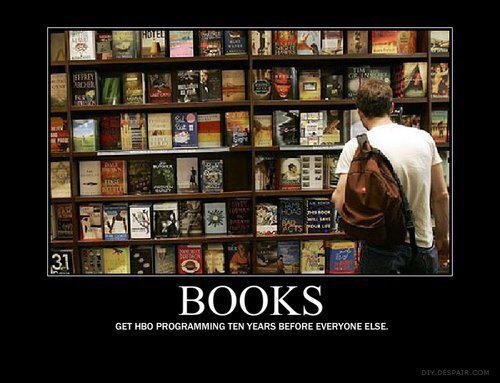 posted by OregonMuse at
09:00 AM
|
Access Comments