« Sunday Overnight Open Thread (11/10/19)
|
Main
|
Mid-Morning Art Thread »
November 11, 2019
The Morning Report - 11/11/19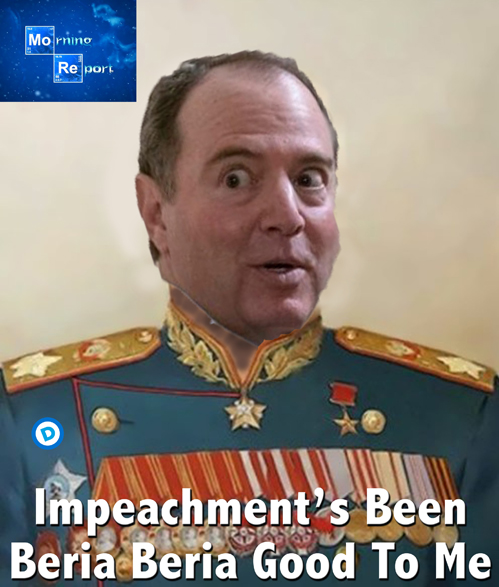 Good morning kids. Veterans' Day and the start of a new week. For all who wore the uniform and those who continue to serve in our armed forces, thank you for your devotion to duty, your sacrifices and service in order to keep our nation free. How bitterly ironic it is that on this Veterans' Day, the greatest threat we are facing comes, not from a foreign invader but from within - aided and abetted by individuals who also have worn and even continue to wear the uniform and who are among its highest ranks. They are a disgrace to it and the sight of them sickens me.
With that, we segue directly into our top story, which is of course the Democrats' Sham-Peachment, meant as both a continuation of the original attempt to overthrow the 2016 election and as a cover-up for its architects and conspirators. The bizarre farce kicks off on Wednesday and the GOP has already named eight potential witnesses including Hunter Bidet, who is up to his meth-addled eyeballs in graft and corruption from a slew of countries, most importantly Ukraine, courtesy of his crooked influence-peddling father. Ukraine was indeed where Schiff-for-Brains' pinned his hopes on finally nailing Trump, but with the release of the phone conversation transcript between Trump and Zelensky, that plan not only got shot to pieces, it opened the way for Trump and his allies in the House to expose the coup via exposing and probing Fusion-GPS and Crowd Strike. For those wholly unaware because they get their "news" from the globalist agitprop media wing of the Democrats, the former is an oppo-research firm that created the so-called Steele Dossier at the behest of Hillary Clinton and used by the corrupt DoJ and FBI to get FISA warrants to spy on candidate Trump, and the latter was the cyber security firm that Debbie Wasserman-Test gave the allegedly hacked DNC servers to for examination. It should be noted that Crowd Strike is owned wholly or in part by Ukrainian nationals who have a bitter hatred of both Trump and Putin, while Fusion-GPS obtained its "information" for the dossier from Ukrainians with ties to members of both American and foreign intelligence agencies, at the behest or with the knowledge and approval of their highest ranking leadership. That would be Comey, Brennan and Clapper, for those playing along at home.
It bears repeating that all of what we're seeing is a result of Schiff-for-Brains' 1,000% certainty that Trump would never release the transcript of the phone call between him and Ukie prexy Zelensky, which would enable him to resurrect the Watergate meme of "cover-up" and ride the anticipated cratering of Trump's approval rating all the way to impeachment in the House, conviction in the Senate and removal from office. How did that work out for him?
So far, every witness in the hearings leading up to this week's Soviet show trial either confirmed that there was not a single bit of impropriety in that phone conversation, never even heard the actual conversation and were giving second- or even third-hand accounts of what they were told was said, or had their testimony shredded under cross-examination. Much of it was not even "evidence" of Trump's alleged malfeasance or incompetence but merely their own personal objection to his foreign policy. Umm, here's a little reminder; you jag-offs don't make policy. You carry it out faithfully from the man who does, and that happens to be the President of the United States of America. Donald J. Trump. You object? Fine. Resign your fucking commission and go public if that's what passes for a conscience in your sick minds demands. No, they won't do that, and that's really what this entire thing is about; the fact that the globalists embedded in every department at every agency and at every level of this government cannot accept that Trump and all of us who voted for him have rejected them, everything they stand for and their grand design to take this country down. They've been exposed and are reacting.


SHAM-PEACHMENT FOLLIES
Looking at the links, the good Roger Simon calls this for what it is, Schiff-for-Brains going all out to prevent the GOP from going after the real criminals and officially exposing the many-tentacled hydra of this coup, and that includes himself, Ol' Yeller Levin slams the GOP-e in the Senate for going along with this whistleblower sham theatrics of secrecy, Lindsay calls this thing DOA if the Senate cannot talk to Eric Ciaramella. Not to Miss Lindsay: reject the entire thing out of hand and start fighting back by subpoenaing the plotters, FFS! Also, even Dershowitz thinks this entire thing stinks, no doubt when even this fiasco blows up in his face, Schiff-for-Brains will come up with yet another scheme/scam and an essay that underscores my rant vis a vis has the coup already happened?
Anyway, links from around the world, across the nation and up your street. Have a better one and remain blessed.
NOTE: The opinions expressed in some links may or may not reflect my own. I include them because of their relevance to the discussion of a particular issue.
ALSO: The Morning Report is cross-posted at CutJibNewsletter.com if you want to continue the conversation all day.
Follow us on Twitter: @CutJibNews


posted by at
07:30 AM
|
Access Comments