« BOOOOOOOOO-NT!
|
Main
|
Mid-Morning Art Thread »
November 01, 2019
The Morning Report - 11/1/19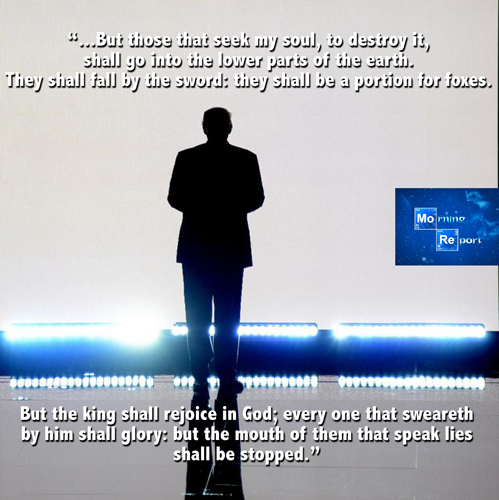 Good morning kids. The weekend is here, it's the start of November and we're almost a year from Election Day 2020. What timing, since the lead story far and away was yesterday's pathetic, disgusting and tragic vote by the House to officially (I guess) start the impeachment process, the past several years notwithstanding. On a tactical level, the votes passed strictly along party lines, but two Democrats actually crossed over to vote with the entire GOP in lockstep against. So not only did they not get the all-important veneer of legitimacy by claiming "bipartisanship," but the defections, in a not insignificant way, help bolster the appearance of partisan witch hunt.
So much for all the claims from the Dem leadership that they didn't think they had the votes to pass. That was a ruse. But I still firmly believe that the vote was forced on them by both Trump releasing the transcript of the phone call with Zelensky and more crucially, AG Barr's and John Durham's promised indictments for the real treason committed by Clinton, Obama, Biden and all the Deep State corruptocrats who attempted to sabotage and then overthrow Trump pre- and post-2016. Rush Limbaugh called it a week or so ago when he said we're in a race between us looking to bring the criminals to justice and the criminals and their co-conspirators in the Democrat-Media Complex to cover it up via a high-tech lynching of the President via impeachment and removal from office. Or, failing that, the smearing via lies and false accusations to the extent that it fatally wounds his chances for re-election.
There are those who even now still look at things through the prism of conventional wisdom and past experience with these things. But they still do not understand that with Trump, they are dealing with someone who is just not willing to play their game by curling up into a fetal position and beg forgiveness. He fights back, twice as hard and twice as determined. The other thing lost on these people is that this is a different era. We survived an eight-year beat-down at the hands of Valerie Jarrett and Bill Ayers that was supposed to usher in the era of American decline and dissolution and the ascendancy of globalist misery or Islamic domination (and that situation is still in doubt). That was enough of a wake up call to a majority of Americans who knew that this is not the way things are supposed to be. And that is where the real hatred and enmity lies. It's with all of us who defied their plans to enslave us (for our own good, of course) by voting for the Orange Man with the weird hair, Queens accent and love for all things truly American, decent and good. They do not understand, nor will they ever understand that they cannot defeat that, at least not this time around, whatever outrage they plan to perpetrate under the fig leaf of governmental or legal processes.
In any case, impeachment is clearly unpopular and is growing more unpopular as each new poll indicates, no matter which pollster takes and/or manipulates the data. All Palsi Pelosi wanted to do was have the appearance of impeachment via endless committees and headlines from the agitprop media for the next 12 months since they have absolutely nothing of any substance at all with which he can be charged that would warrant his removal from office. Funny how the timing of yesterday's vote coincides with the exposure of Vindman as fraud with connections to the Ukrainian government and by extension the Bidens, the other douchebag before Vindman whose name escapes me and most crucially the testimony of Tim Morrison who completely contradicted the others, who actually heard firsthand the call and had no concerns whatsoever. Whoopsie. Add to it the revelation that this Obama-era holdover Ciaramella is most likely the so-called "whistleblower" and was for all intents and purposes a spy for John Brennan who was there to sabotage, lie and leak to a willing media.
Here's the thing. None of this is going to matter to the Dem-Media Complex nor its base. This is why it's crucial for those indictments of McCabe, Comey, Clapper or whoever be handed down before this impeachment crap really gets rolling. That said, the Left will not accept them as legitimate and even now Schiff-for-Brains and others are preemptively smearing Barr, Durham, Trump and any potential indictments and/or findings as such. If/when they happens, they have painted themselves into a corner, and have ramped up the agitprop to such a level that the only rhetoric possible is for them to call for violent opposition. Only last week, this Admiral William Mc-Craven all but called for the US military to march on the White House, arrest the President and seize control of the government.
This is the Democrats' last throw of the dice, and it smacks of desperation, mostly because they are reacting to Trump and no longer control the action or perhaps the narrative. No way Trump lets them run the table now. Just as he totally kneecapped them by releasing the transcript of the call with Zelensky, I would wager he is going to respond to this gambit just as effectively. Of course, the other X factor in all of this is the GOP-e, specifically the Senate. Forget about what they will or will not do if ever the House does ultimately vote to impeach - which I think is still a non-starter despite yesterday's blunder. The position from everyone has got to be the denouncing of all of this as illegitimate, and not bullshit arguments about process, which have just the opposite effect. It was somewhat reassuring that the entire House contingent voted "no." It would be better if everyone unconditionally and unilaterally got behind Trump. Yeah, a lot to ask considering Pee-Air Defecto, the Alaskan Snow Blower and the Maine Merkin.
Again, as I have said before, I think we are a nation divided and the odds of any kind of future reconciliation are very much against. The Democrat-Left created that situation since they now openly espouse a hatred for this country, people and culture and are engaged on every front in and out of government to take it down. From my perspective, I not only don't see Trump losing in 2020 but the question is by how great a margin will be the victory? The concern is 2025 and beyond. Take a look at any of the other links and the people and issues involved and then tell me how we are supposed to find commonality, reconciliation and national revival in the face of that.
Interesting times, indeed.

Anyway, links from around the world, across the nation and up your street. Have a better one and remain blessed.
NOTE: The opinions expressed in some links may or may not reflect my own. I include them because of their relevance to the discussion of a particular issue.
ALSO: The Morning Report is cross-posted at CutJibNewsletter.com if you want to continue the conversation all day.
Follow us on Twitter: @CutJibNews


posted by at
07:43 AM
|
Access Comments