« Saturday Morning Coffee Break
|
Main
|
Saturday Gardening And Puttering Thread, October 26 [KT] »
October 26, 2019
No need for a holiday, we can have fantasies all the time [KT]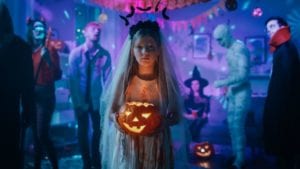 Merry Christmas!
Last night on the radio, I heard that Hallmark was beginning its Christmas programming. A week before Halloween! Anyway, it got me thinking about our tendency to escape into fantasy. Not that Halloween is totally ignored. The crowd was estimated at 30,000 for the Midsummer Scream Halloween and Horror Convention in Long Beach. In August. An "immersive experience".
Education
Something to think about as you dress the kiddies up in their Halloween costumes for school costume day (if that is still allowable at their school): Top educational thinkers don't like to admit that they are advocating mediocrity for all. Mediocrity is about to get a big boost from Bill de Blasio.
It strikes me as ironic that in a realm like education, the lesson America's scholastic visionaries never seem to learn is also the most simple lesson of all--that education should be about educating. Theorists persist in reinventing the wheel, sometimes with good intentions and sometimes in the service of agendas that are rather less defensible and/or wholesome than those publicly stated. Such is the case with the hottest currency to emerge from the pointy-headed precincts of pedagogical theory: social-emotional learning, or SEL.

SEL assumes as its mandate "the education of the whole child," a lodestar concept among today's educational brain trust. Though the approach has been gaining traction for about a decade, SEL is now poised for what is sure to be its flagship implementation. As New York mayor and erstwhile presidential candidate Bill de Blasio vowed in a recent article for Fortune, SEL is to be rolled out "in every classroom," serving the 1.1 million school kids of the sprawling New York City system. The mayor goes on to describe a prototype for the plan: We glimpse a morning at a Brooklyn junior high school that begins with a town hall meeting at which students share their latest positive experiences and commiserate over their latest travails. It's an anecdotal statement of de Blasio's SEL-driven thesis that "[t]he emotional well-being of students is vital to their success in school."
I can see some potential practical drawbacks to making the start of each school day into a group therapy session. How about you?
The Collaborative for Academic, Social, and Emotional Learning (CASEL), has emerged as SEL's leading advocacy group, with friends in the highest of places, including at least two ex-presidents and the National Education Association. According to CASEL, social-emotional learning is:

The process through which children . . . acquire and effectively apply the knowledge, attitudes, and skills necessary to understand and manage emotions, set and achieve positive goals, feel and show empathy for others, establish and maintain positive relationships, and make responsible decisions.

By now one starts to get the sense that any points of intersection between this and hardcore book learning are pure happenstance. Similarly, browse the more expansive list of 15 SEL goals in this piece and you'll be struck by the preponderance of the social and the relative absence of the learning.
Some people think that this "new" program is just "self-esteem education" by another name. Interesting anecdotes from the history of this educational movement are included. You may recognize some of them.
One major task force report "ascribed 'near-magical powers to self-esteem,'" writes Finn, insisting that it "inoculates [children] against the lures of crime, violence, substance abuse, teen pregnancy, child abuse, chronic welfare dependency, and educational failure." . . .

In subsequent decades, it became clear that academic greatness is not what generous dollops of self-esteem promote. In 1963, the liminal margin of America's national experiment in teaching self-love, there began an uninterrupted 18-year slide in SAT scores. But in that same period, the contingent of college-bound seniors who boasted an A or B average jumped from 28 percent to an astonishing 83 percent, as teachers systemwide felt increasing pressure to adopt more "supportive" grading policies. Tellingly, in a 1989 study of comparative math skills among students in eight nations, Americans ranked lowest in overall competency, Koreans highest--but when researchers asked the students how good they thought they were at math, Americans placed highest, Koreans lowest. (What the system had actually wrought were school-kids who believed the hype about themselves and took new pride in the same old mediocre performance.) Meanwhile, 1999's omnibus Third International Mathematics and Science Study, ranking twelfth-graders from 23 nations, put U.S. students in 20th place, besting only such historic hotbeds of innovation as South Africa, Lithuania, and Cyprus.
The magical powers of this educational theory somehow didn't work. But they DID set student up for Social Justice indoctrination. You might want to read the entire piece.
One Stanford white paper even uses the phrase "social-justice education" interchangeably with social-emotional learning.

This is a highly politicized vision of social progress indeed. And because teachers wield the power of the gradebook, compliance with such outlooks can be forced upon suggestible students. "Here we have government demanding that young people exhibit certain feelings and social behaviors, and if they don't, their schools could be dinged for it," SEL critic Wendy Pullman writes in the Federalist. "That's not only manipulative but creepy." So, when de Blasio writes in Fortune that children must learn to "embrace diversity" and "challenge stereotypes," he is not using those words in their neutral, generic senses, bur rather to evoke the omnibus set of justice imperatives surrounding the righting of historic wrongs, the undoing of privilege, and so forth. SEL assumes that injustice has put certain groups at an almost congenital disadvantage, and seeks to build consensus for the idea that remedies must be undertaken.
Home schooling, anyone?
Meanwhile, on the college level, people are learning how to assess writing without judging its quality. David Thompson channels supporters of this program: Don't oppress my people with your comprehensible sentences.
Programs to end the evaluation of the quality of writing in school are funded largely through the magic of government-controlled student loans which put students in massive debt, especially if they learn in college that they will be congratulated for ungrammatical, incomprehensible writing if they put a lot of effort into it.
Government Finance
I think we all tend to live in some sort of fantasy land with regard to government finances. Voices of Reason may be briefly noted, then ignored. Here's one example: which California city is least likely to survive the next recession? Compton. (Via semi-retired journalist Dan Walters, who didn't go to J-school).
When even the state auditor issues a warning, maybe it's time to pay attention. How many of these cities do you think will heed the warnings?
California might be enjoying a historic economic expansion, but pockets of the state could be devastated in the next recession and at least 18 cities are even now at high risk of fiscal distress, according to a first-in-the-nation dashboard released Thursday by State Auditor Elaine Howle.

Compton, Atwater, Blythe, Lindsay and Calexico were the top 5 cities called out by the state's fiscal watchdog based on their cash flow, debt burden and pension liabilities in a new online display for the High Risk Local Government Audit Program.

Others include Oakland, Richmond and El Cerrito in the San Francisco Bay Area and San Gabriel, Monrovia, West Covina, Vernon and Maywood in Los Angeles County. The Central Valley towns of Lindsay and Ione also signaled possible distress.
I can think of some other governments that are at risk for "fiscal distress", too. We don't seem to hear much about this.
Pre-Halloween Music
Some groups are more unsettling than others.
Hope your weekend turns out well. Got anything Halloween-related in mind? Christmas-related?
This is the Thread before the Gardening Thread.
Serving your mid-day open thread needs

posted by Open Blogger at
11:18 AM
|
Access Comments