« Sunday Overnight Open Thread (10/20/19)
|
Main
|
Mid-Morning Art Thread »
October 21, 2019
The Morning Report - 10/21/19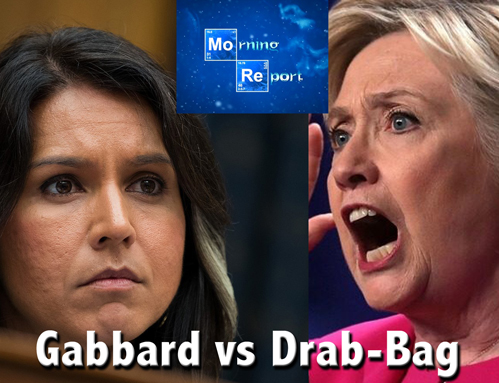 Good morning kids. Start of a new week and lots of ground to cover so off we go. The big non-story that has the Democrat-Left-Media Complex shrieking is White House Chief of Staff Mick Mulvaney's "gaffe" where he supposedly admitted that Trump engaged in a quid pro quo with Ukraine, when in fact no such thing ever took place. To paraphrase a disgraceful ex-president, it depends on what the definition of quid pro quo is. In the classic sense, it does connote something either illegal or minimally shady. But more loosely, yes it does mean, as Mulvaney tried to explain to the gaggle of rabid harpies peppering him with questions, a totally above board exchange of services that each party would find mutually beneficial. In this case, the desire for both Trump and Zelensky to get to the bottom of the corruption that found its way into the 2016 election. And no, it was not because Trump threatened to withhold aid; he didn't because the aid was flowing at the time of the conversation. I think it's safe to say that Mulvaney was in over his head with a group of people whose purpose was to get him in a "gotcha" moment. Even one of Obama's twin Valley Girl stooges, Jen Psaki, after ripping Mulvaney admitted that, yeah, this happens all the time. Pfft. Let it be a lesson to Mulvaney and anyone else in the administration to be very wary of tangling with these people. Trump does it well, and consistently well. Mulvaney evidently not so much. Not that the media is ever going to relent, but still, why give yourself agita?
In any case, the week ended with the news cycle going in a completely different direction, as we shall get to in a moment. Rounding out the topic, Mike Pompeo ripped into Schiff-for-Brains over this kangaroo court madness, Mollie Hemingway catches the bug-eyed bastard flipping and flopping all over the place after being caught colluding with the whistleblower, top GOPers are screaming for all the secret documents the Dems are hiding, conservative women's group rallies outside the Capitol to stop the impeachment madness, when Anderson Vanderbilt makes Kamala-Toe stammer and stutter just by asking her to say exactly what crimes Giuliani committed, 23 House Republicans have yet to sign on to the censure of Schiff-for-Brains (gee, I wonder why [sarc]), and per the last essay, all of this is meant to distract and drive Trump's approval numbers down before 2020.
Anyway, links from around the world, across the nation and up your street. Have a better one and remain blessed.
NOTE: The opinions expressed in some links may or may not reflect my own. I include them because of their relevance to the discussion of a particular issue.
ALSO: The Morning Report is cross-posted at CutJibNewsletter.com if you want to continue the conversation all day.
Follow us on Twitter: @CutJibNews


posted by J.J. Sefton at
07:38 AM
|
Access Comments