« Elizabeth Warren Lied Again, This Time About Being Fired For Being Pregnant
|
Main
|
The Media Isn't Just Burying the Hunter Biden Corruption Story. It's Also Burying the Story of Joe Biden's Brother, James Biden, and His Corruption, Too. »
October 07, 2019
Michigan Voters Give Democrat a Chant of "Four More Years" In Support of Trump and Against Impeachment
She had changed her position on impeachment, from against to in favor. She's one of those newly-elected reps from swing districts that Nancy Pelosi had previously been trying to protect.
A freshman Democratic congresswoman who recently changed her stance to support impeachment proceedings against President Donald Trump was challenged to explain her choice by angry constituents at a town hall in Michigan.

"The issue that got to me was this idea that the President, the most powerful man in the world, reached out to a foreigner, a foreign leader, and asked him to dig up dirt on an American," Michigan Rep. Elissa Slotkin said Thursday, explaining to the crowd how she went from opposing an inquiry to penning an op-ed in support.
Before the former CIA officer could finish her sentence, a vocal group in the crowd called out "Not true!" and "Fake news!"
CNN tries to spin this, saying "not everyone" agreed with the boos and jeers. But watch the video below. I don't hear much support for impeachment.
Meanwhile, Mike Pence will be campaigning in purple/red districts currently represented by impeachment-supporting Democrats.
The White House wants to make vulnerable House Democrats pay for impeachment.

Starting this week, Vice President Mike Pence will embark on a national tour of congressional districts represented by Democrats who've come out in support of the inquiry.
Are Democrats in real danger? I don't know. But, as previously mentioned, this poll shows independents moving strongly towards Trump: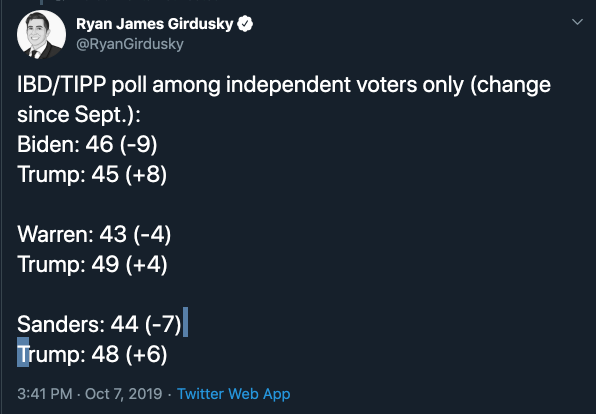 posted by Ace of Spades at
06:31 PM
|
Access Comments