« Sunday Morning Book Thread 09-01-2019
|
Main
|
Ouch! We Are Getting Old...Very, Very Old »
September 01, 2019
Sorry Folks, It Isn't Grandma's Codeine Prescription That Is Fueling The "Opioid Crisis," It's China And Mexico And A Porous Border
Daniel Horowitz is often a bit bombastic, and he is in rare form here. But I can't argue with his intensity, because America is rushing into some monumentally dumb changes in the way we manage the doctor-patient relationship. And by that I mean we are destroying physicians' autonomy with respect to prescribing medication. But that is a secondary effect compared to the existential crisis on our borders, and our inability to control the flood of immensely powerful narcotics being exported by our dear friends the ChiComs. Government continues persecuting doctors & pain patients to protect drug traffickers & illegal immigration

As I've noted in my exhaustive series on the true cause of the drug crisis since 2014, most drug fatalities are from illicit drugs peddled by Mexican cartels. Prescription deaths are down, and prescriptions themselves are seriously limited, more than ever before. To continue declaring war on prescriptions while ignoring the fact that we barely prosecute drug traffickers any more and continuing our reluctance go after the cartels is a recipe for skyrocketing overdoses and harming pain patients.
For example, here's a damning graph of the increase in opioid deaths in NH. Notice that heroin and prescription opioids barely budge, but those pesky synthetics, otherwise known as China's Gift To America, have skyrocketed.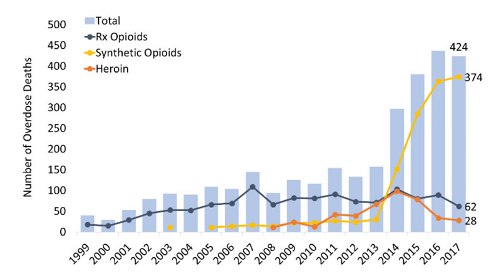 New Hampshire Opioid Summary
It's the synthetics that is driving the increase, and it has very little to do with prescription medication. Yes, yes...everyone knows someone who is a stone-cold drug addict because of the oxycodone he got for his broken leg.
Spare me. The data don't lie (anecdotal evidence is not data), and there are a small number of addicts in the world who are going to get in trouble no matter if it is codeine or booze or marijuana or fentanyl or methamphetamine or whatever. But securing the borders will go a long way toward easing the so-called "crisis," and by the way, keep those pesky Democrats out of the country too!

******
&topic=world_news">

posted by CBD at
12:15 PM
|
Access Comments