« Bernie Sanders Declares War on Fossil Fuels, Threatening to Prosecute Fossil Fuel Executives; Left Cheers, NeverTrump Accommodates Itself to Life under the Green New Deal
|
Main
|
LOL: Gillette's #WokeMarketing About Toxic Masculinity Went So Well That They're Completely Flipping The Script And Now Making Ads About... Male Firefighters »
August 23, 2019
Ruth Bader Ginsburg Undergoes Treatment For Cancerous Tumor On Pancreas
Headline corrected: I thought she had surgery to remove the tumor; but I think now they only gave her radiation therapy.
A friend speculates they avoided surgery because the negatives (dying due to surgical intervention) outweighed the positives. But that's uninformed speculation.
Justice Ruth Bader Ginsburg has just completed three weeks of radiation treatment at Memorial Sloan Kettering Cancer Center in New York, the U.S. Supreme Court disclosed Friday.

The radiation therapy, conducted on an outpatient basis, began Aug. 5, shortly after a localized cancerous tumor was discovered on Ginsburg's pancreas. The treatment included the insertion of a stent in Ginsburg's bile duct, according to a statement issued by the court.

Doctors at Sloan Kettering said further tests showed no evidence of disease elsewhere in the body. The treatment comes just months after Ginsburg was operated on for lung cancer last December. The 86-year-old justice has been treated for cancer in various forms over the past 20 years.
The tumor was confirmed as cancerous:
The abnormality was first detected after a routine blood test in early July, and a biopsy performed on July 31 at Sloan Kettering confirmed a localized malignant tumor.
I don't wish anyone ill health, with maybe a few exceptions who I can't even think of right now, but those who keep blabbering about "Muh Judges" and how we should have let Hillary Clinton win in 2016 and let whatever Democrat win in 2020 should know the survival rates for pancreatic cancer: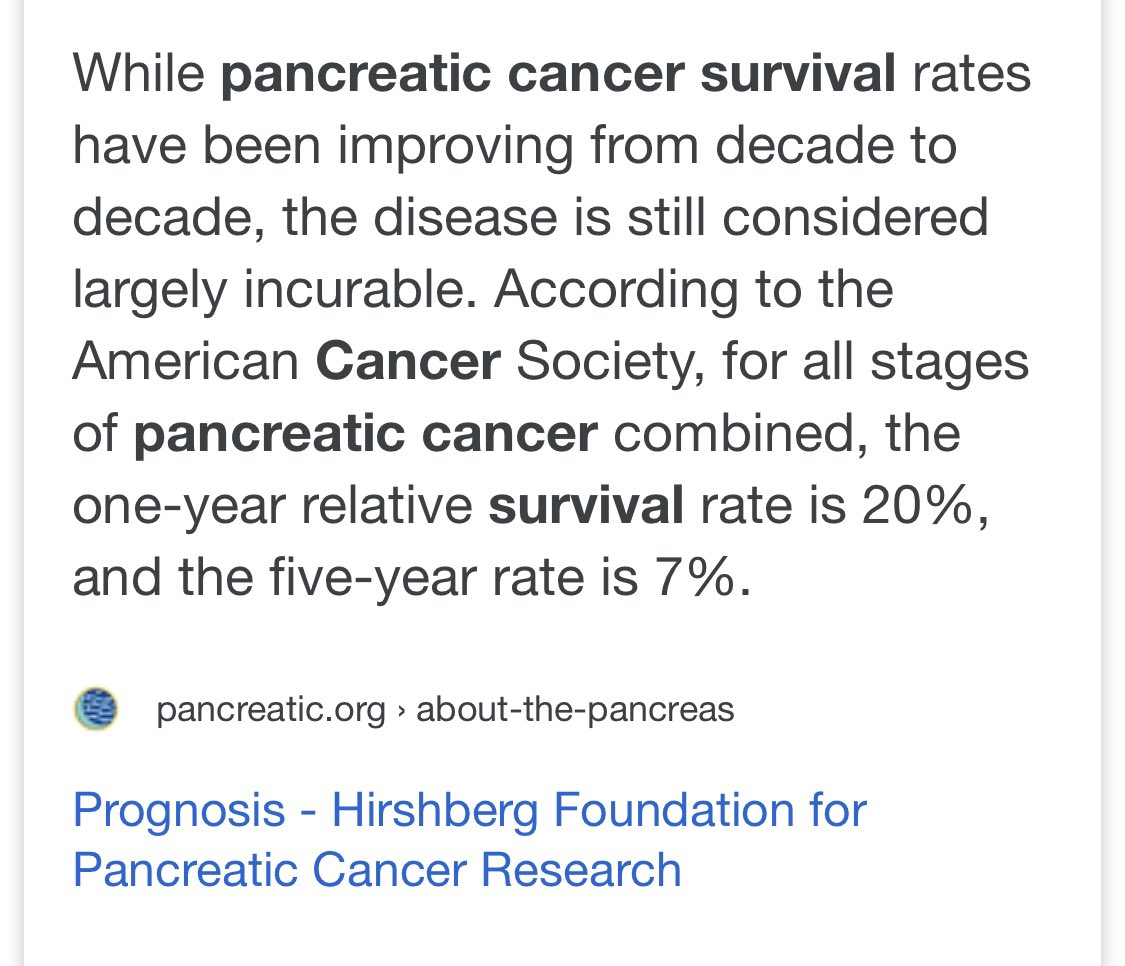 Buh Muh Principuhls, huh?
Can't wait to hear again how Politico's Nancyboys fare doing her workouts.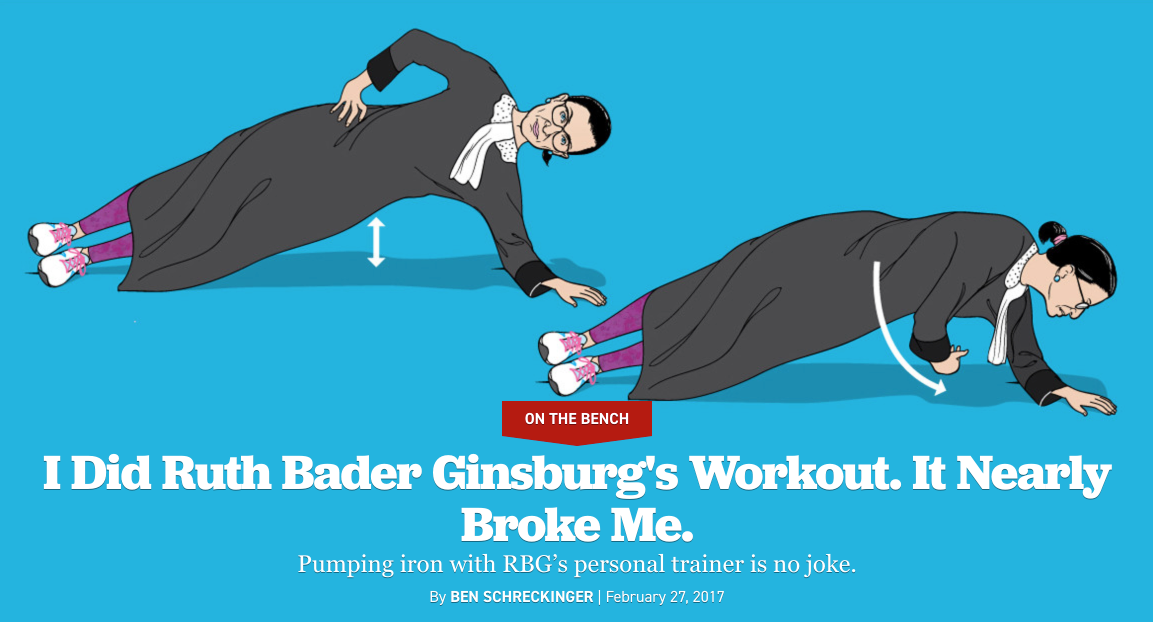 Caveat: Commenter "Sanfranpsycho" says that a tumor on the pancreas is not necessarily the same thing as pancreatic cancer. I assumed it was, and I (thankfully) do not have any knowledge of pancreatic cancer.
But this quote from shibumi, combined with the doctors checking to see if the cancer had spread to other parts of the body, suggests to me that this is pancreatic cancer:
"Pancreatic cancer is a disease in which healthy cells in the pancreas stop working correctly and grow out of control. These cancerous cells can build up and form a mass called a tumor. A cancerous tumor is malignant, meaning it can grow and spread to other parts of the body."
Another commenter points out that cancers spread throughout the body, so that a cancer generated by one organ, say the skin or colon, can spread or lodge itself to another one.
I don't know either way.
Dueling Doctors: In the comments, two people who are either doctors or medical technicians (or who say they are) have differing opinions:
Two possibilities.

1)Primary pancreatic CA. Treatment is the Whipple procedure, a devastating surgery. At her age would be nearly unthinkable. Radiation would only be for show.

2)Metastatic cancer to the pancreas. Treatment would be according to the primary, perhaps why radiation was used. Surgery is less commonly used.

With her history, #2 is far more likely.
[speaking] as an Interventional Rad who puts in biliary stents, she has pancreatic cancer

posted by Ace of Spades at
03:12 PM
|
Access Comments