« Open Thread
|
Main
|
The Morning Report - 8/27/19 »
August 26, 2019
Monday Overnight Open Thread (8/26/19)
(Tonight's Mystery Click)
***
The Quotes of The Day

Quote I

"We are going to see great waves sweeping away sand in the EV industry. It is a critical moment that will decide life or death for EV startups." Thomas Fang

Quote II

"[T]he Minnesota DFL condemns [assault] in the strongest possible terms."

"Going forward, we hope that everyone who attends the Great Minnesota Get-Together will be treated with the respect and compassion that we all deserve," Brian Evans

Quote III

To be ignorant of what occurred before you were born is to remain always a child. For what is the worth of human life, unless it is woven into the life of our ancestors by the records of history? Cicero

Quote IV

"However, when the expression of views by him or any member of our community is perceived as placing public safety in jeopardy, or hampers our ability to deliver on our mission, we will always do what is necessary in service to our students' pursuit of a higher education."Statement from Kirkwood Community College
***
***
The perfect vacation for geeks? Two night, immersive adventure.

For two years fans have been wondering what a Star Wars hotel would be like. Well, it turns out, it's not a hotel at all.

Earlier this week, we reported that this immersive experience will be called Star Wars: Galactic Starcruiser. And Sunday in the Disney Parks panel at the D23 Expo, we learned much more about how the whole thing will work. Yes, you sleep there, but it's a two day vacation within a vacation that takes people deep into space, all while never leaving Orlando, Florida.
***

Do's and don'ts on social media. 7 People Whose Lives Were Ruined by Social Media.

The worst things about social media are the mindless rage mobs. Someone says or does something that's arguably offensive (usually on Twitter). It gets publicized somehow and then almost unlimited numbers of angry people chime in. They spew profanity, horrible abuse and often threats. In some cases, it gets even worse. The original offender gets doxed. The controversy leads to him getting fired. Many people aren't used to having hundreds or even thousands of strangers hurling abuse at them and they freak out and withdraw under the strain. Ironically, the over-the-top behavior of many members of the rage mob is often far worse than the behavior that triggered their abuse. Meanwhile, the smug members of the online rage mob feel perfectly justified in joining tens of thousands of other people in egregiously abusing another human being who never intended for the world to know what he was doing.

1. Holly Jones
If you want to actually see the post that ruined someone's life, here you go.
***

Global warming and hockey stick graphs not working out for Michael Mann.

Readers surely recall that the easily offended Dr. Michael Mann launched a court case for defamation against climate skeptic Dr. Tim Ball of Canada.

In Feburary 2018 there was a complete dismissal in the lawsuit brought against Dr. Ball by Andrew Weaver of Canada, also for "defamation".

The Weaver defamation case involved an article Ball wrote saying that the IPCC had diverted almost all climate research funding and scientific investigation to anthropogenic global warming (AGW). This meant that there was virtually no advance in the wider understanding of climate and climate change. Ball referenced an interview with Weaver and attempts by a student to arrange a debate. Ball made some comments that were not fully substantiated, so they became the base of the defamation lawsuit.

That case was completely dismissed, you can read more here.
***
Abstract
Survey and experimental evidence documents discrimination against tattooed individuals in the labor market and in commercial transactions. Thus, individuals' decision to get tattooed may reflect short-sighted time preferences. We show that, according to numerous measures, those with tattoos, especially visible ones, are more short-sighted and impulsive than the non-tattooed. Almost nothing mitigates these results, neither the motive for the tattoo, the time contemplated before getting tattooed nor the time elapsed since the last tattoo. Even the expressed intention to get a(nother) tattoo predicts increased short-sightedness and helps establish the direction of causality between tattoos and short-sightedness.
***

France vs. Brazil, No, not soccer but memes.

French President Emmanuel Macron slammed Jair Bolsonaro, after the Brazilian president mocked French first lady Brigitte Macron, according to Bloomberg.

On Sunday, Bolsonaro responded to a Facebook post that showed photos of Macron with his 66-year-old wife and former schoolteacher compared to Bolsonaro's 37-year-old partner Brigitte with the caption: "now we understand why Macron is attacking Bolsonaro."

"Don't humiliate him, lol," replied Bolsonaro.
***
The ONT Musical Interlude
&&&
***

There are some things you should never do at home. Unless you want to be a Genius Award Winner.

AUGUST 21--Considering castration?

If so, perhaps you should trust this delicate medical procedure to someone other than a 74-year-old fetishist you met online.

Responding to a Florida residence late Sunday night following a 911 hang-up call, police encountered homeowner Gary Van Ryswyk at the front door. The retiree explained that he "had that evening performed a castration to a male subject within the residence."

Police then located the patient in the guest bedroom, where the man "was holding a bloody towel to his groin region." On a table next to the bed was a jar containing the man's testicles, according to an arrest report

Florida? Go figure.

Turning beer into food. Tonight's Feel Good Story of The Day.

Berglund opened Finnegans Brew Co. in September of 2000. It's the first beer company to donate 100% of profits to fund fresh produce for those in need.

Through the creation of both FINNEGANS SBC, and its nonprofit counterpart, FINNEGANS Community Fund, Berglund has championed an innovative, market-based approach to addressing and raising awareness about food security in communities across the Midwest.
***

Tonight's ONT has been brought to you by DADD.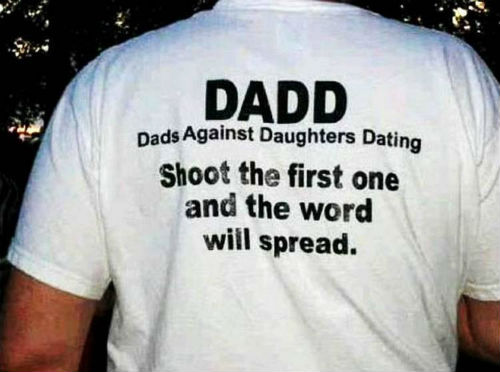 Notice: Posted with permission by the Ace Media Empire and AceCorp, LLC. I failed to take The ONT's advice.


posted by Misanthropic Humanitarian at
10:00 PM
|
Access Comments