« Tulsi Gabbard Vs. Kamala Harris: The Dirty Prosecutor Vs. The RUSSIAN Agent
Plus: Trump Rally, Video At End of Post
|
Main
|
The Morning Report - 8/2/19 »
August 01, 2019
Movie Night On The ONT
Didja ever have one of those days when you try to do the right thing, but it all just goes to shit? Like this guy:

Or, perhaps, the poor pedestrian in this clip:
Look at the jackhole that gets out of the car in the beginning. He's the dictionary definition of someone who will only follow the crowd.
Car News
Bose Sells Off Its Revolutionary Electromagnetic Suspension
I don't know a lot about this, but it looks pretty cool. I wonder, was it just cost that caused Bose to give up on the technology, or some technical flaw?

Watch: Electric Ford F-150 Pickup Prototype Tows More than One Million Pounds
This is undeniably cool, but is it all that revolutionary? I mean, locomotives already do this, don't they? They are diesel-electric, which means the diesel engine is there to power the electric motors which drive the train, doesn't it? Isn't this just a little different application of the same basic tech?
If People In Real Life Were Disney Characters
The Tao Of Candy Land
Candy Land Was Invented for Polio Wards
Really kind of fascinating story behind the popular kid's game.

ONT Movie Night!

Not to step on the weekend thread, but I watched a couple of movies this week, and I want to talk about them. For some reason, this was "brutal western" week in my house. First up was Unforgiven(1992). I haven't watched this since the '90s, I'd forgotten how unflinching it is in its depiction of people as nasty and brutish. There are no good guys in this film (unless the cowboy who tried to stop his friend from cutting the whore at the beginning, and then tries to give a horse to her as atonement for what his buddy did, could be considered a "good guy". However, he's a bit player, and Eastwood gut shoots him anyway). The closest might actually be Gene Hackman's Sheriff Daggett. He's not a good guy, but within period-appropriate morality, he does his best to keep Bad Whiskey, Wy. peaceful.
Bone Tomahawk(2015) Here, the contrast between the good guys and bad guys couldn't be more stark, unless someone wants to make an argument as to the inherent nobility of stone age cannibals. 2/3 western and 1/3 horror movie, everyone who has seen it will remember that scene. I especially enjoyed the dialogue, as it was once again period appropriate, while still sparkling with wit and verve. The interaction between the four protagonists seemed to me to be spot-on for a society where everyone is armed. There are disagreements, even dislike, but it's all held in check beneath a rigid formality that such a society would demand. I also loved the closing credits song. It's a clear homage to 50s westerns, where the theme songs retell the story, but it's done as opera, rather than pop. Just fantastic. You can hear it here. Four Doomed Men Ride Out
As is my wont, I went to read reviews after watching the movie. The reviews were positive, but probably 70% of them felt the need to devote a paragraph to how racist the movie was because the bad guys were stone-age cannibals. I saw no suggestions of racism beyond the Indian character disavowing any connection to the cannibals. Which was probably added to defend against charges of racism, but actually seemed to be appropriate for the time period. The baddies didn't even really have a society much beyond feral, of course an Indian of the time would disavow them. Nowhere did I see a hint that anyone thought the savages were savage because they were Indians, they were just savages. Stone-age peoples WERE savage, be they white, black, yellow or red, and pre-history is full of examples of all kinds of savages from all races. Hell, go to North Sentinel Island today and see for yourself. Racist? Absurd.

Related: Speaking of movie theme songs, here's one that makes Huey Lewis spin in his grave (even if he is still alive). Back in the 80s, the big thing in the porn industry was to make porn parodies of Hollywood movies. Romancing the Stone hits big at the box office? A few weeks later Romancing the Bone is playing in dirty little porn houses across the land. Anyhow, the folks who made this parody of Back to the Future actually went to the trouble of hiring somebody to write a song that was just barely enough NOT "The Power Of Love" to avoid a lawsuit. It does a pretty damn good job of meeting that requirement, if you played it in rotation on an 80s channel, half the folks listening wouldn't realize that it wasn't TPOL unless they were paying attention.
The clip is safe, somebody edited out all of the nudity and sex scenes, which actually gives you the chance to appreciate the acting chops of the thespians performing in the movie. Finally, I have no idea if the movie is any good or not, I've never seen it. If any of you have, be sure to let us know.
Photoshop?
Look at these idiots. They think that the bullet casing comes out of the barrel of the rifle!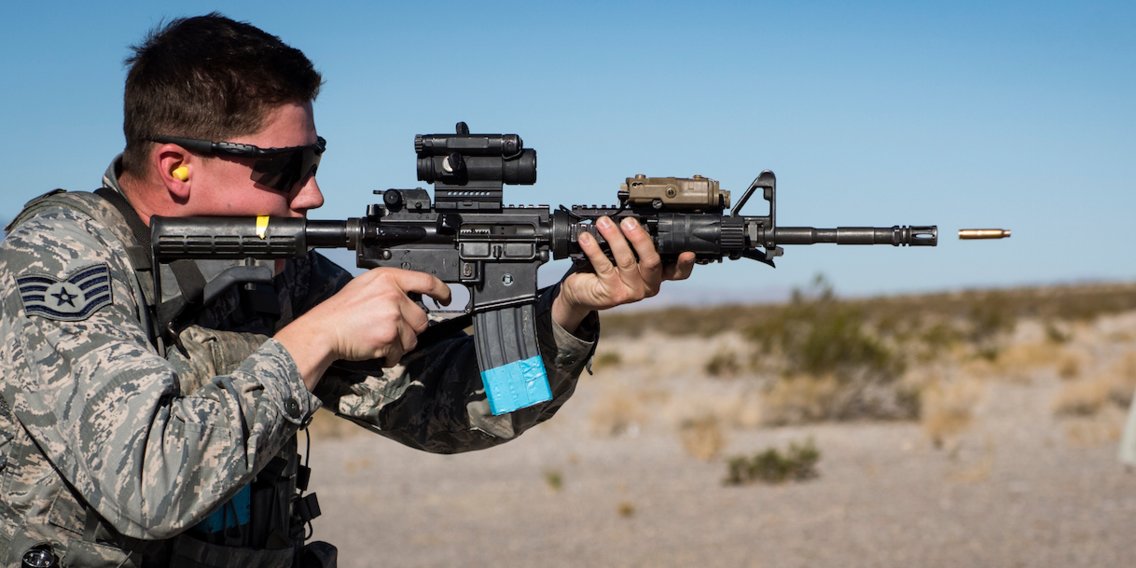 Tonight's ONT brought to you by Patrick Stewart:

posted by WeirdDave at
09:34 PM
|
Access Comments