« Celebrities, Plutocrats Jet to Roman Bacchanal to "Rap" with Google About Climate Change
|
Main
|
Economic News: Potential Employee Pool for Coding and Coding Related Industries Grows, Unexpectedly »
July 31, 2019
The FBI Tried to Recover the Classified Memos that James Comey Illegally Leaked, But, Get This, Two "Went Missing," Per Comey's Claim
Gee, evidence of his own criminality "went missing"?
What would Comey say about that, if a target he was investigating (most likely for purely political reasons) claimed that key documents proving his guilt had "gone missing"?
Anyone think that an obstruction of justice charge for destroying material evidence would soon follow?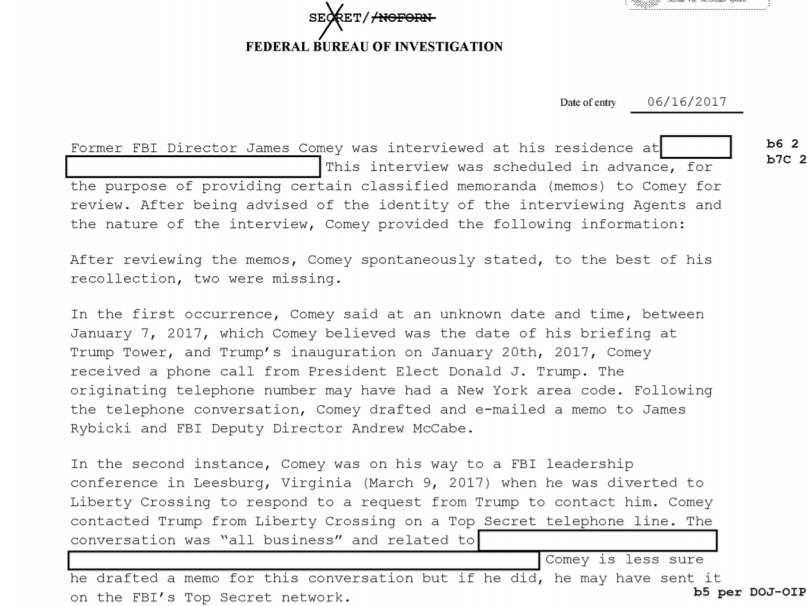 This should open an enlargerated image.
Quick, let's get Comey the super-easy, barely an inconvenience immunity deal the Obama DOJ gave to Hillary Clinton and her corrupt attorneys.
According to ACLJ executive director and radio host Jordan Sekulow, Mills and Samuelson agreed to turn over their laptops in exchange for:

Immunity from prosecution for anything found on their laptops violating multiple felony criminal statutes governing the mishandling of classified information and/or the removal or destruction of records, including Espionage Act provisions. Further, the DOJ and FBI also agreed to evade the statutory requirements of the Freedom of Information Act (FOIA) by purporting to deem the contents of the laptops as not under DOJ or FBI "custody or control.

According to the DOJ Inspector General, who identified these as the "culling laptops," "[a]ll 62,320 emails pulled from the Clinton servers were stored at one time on these laptops." Having taken control of these laptops, agreeing to severely limit its searches, agreeing to unlawfully shield the laptops from FOIA, then agreeing to dispose of the laptops, it appears the Comey FBI and Lynch DOJ did everything in their power to protect Clinton's senior aids and lawyers from both criminal liability and public scrutiny.


...

The pair were essentially given the green light "to dispose of evidence and refuse to comply with federal law."
So Hillary Clinton created the illegal server to avoid public scrutiny of official records, and part of the DOJ deal to get the hidden official records was a promise to continue hiding them and to "severely limit" any searches of them.

posted by Ace of Spades at
03:17 PM
|
Access Comments