« The Sexy Secret Debate Thread
|
Main
|
The Morning Report - 8/1/19 »
July 31, 2019
Wednesday Overnight Open Thread (7/31/19)
***
The Quotes of The Day

Quote I

"If you come from a place of love, you know, you really can't go wrong. But at the same time. My God, if you're 3 years old, and you're saying you're feeling a certain way or you think you're a boy or girl whatever the case may be I just think it's dangerous as a parent to make this determination then." Mario Lopez

Quote II

The greatest threat to black lives are black criminals.Lloyd Marcus

Quote III

"Jewish people have been persecuted throughout all of human history, but I don't think that by marginalizing Palestinians, you create safety," "I believe that injustice is a threat to the safety of all people, because once you have a group that is marginalized and marginalized and marginalized—once someone doesn't have access to clean water, they have no choice but to riot, right? And it doesn't have to be that way." Rep. Alexandria Ocasio-Cortez (D-NY)

Quote IV

"I question whether or not it was a true suicide attempt that Mr Epstein was involved in in jail or whether or not there may be some powerful people who just don't want him to talk."
"There's no doubt in my mind that no jail will protect you when there's powerful people that want to reach you – wherever you are. Spencer Kuvin

Quote V


"Whoever is on the side of Israel, let everyone know that we are against them,"

"We do not approve of silence on the state terror that Israel blatantly carries out in Palestine," Turkish President Recep Tayyip Erdogan
***

Well, it looks like your calendar for August 16, 2019 - Sun, Aug 18, 2019 has just opened. Woodstock 50 officially canceled.

Less than a month from when it was supposed to kick off, Woodstock 50 is officially canceled once and for all. Michael Lang, a cofounder of the original three-day concert, pulled the plug after attempting to move the event to Maryland. In recent months, he and his fellow organizers had attempted to stage the concert in Watkins Glen, New York and Vernon, New York. Lang said in a statement that he is now supporting the efforts of the 50th anniversary tribute to Woodstock that's set to take place in Bethel, New York, near the original 1969 festival's site.

"We are saddened that a series of unforeseen setbacks has made it impossible to put on the festival we imagined with the great line-up we had booked and the social engagement we were anticipating," Lang said in a statement. "When we lost the Glen and then Vernon Downs we looked for a way to do some good rather than just cancel. We formed a collaboration with [voting encouragement organization] HeadCount to do a smaller event at [Columbia, Maryland's] Merriweather Pavilion to raise funds for them to get out the vote and for certain NGOs involved in fighting climate change."
***
There is a war on opioids, especially in Florida. "In response to the growing opioid crisis, Florida recently implemented a law restricting the duration of opioid prescriptions for acute pain."

The number of opioid prescriptions by year (source: CDC) Between 2012-2017 there was a ~30% reduction in opioid prescriptions while during that same time period...

...deaths from any opioid more than doubled. Nice going.

Remind me the next time I need a knee replacement to stay the hell out of Florida.
***
I enjoy a good mustard. I enjoy a good ice cream. The two of them together, what are you f*cking nuts?
***
From what we've heard, London is so cool, suave and sophisticated. If that is the case, then why is the city putting up "Don't Piss & Shit On Our Street" signs?

Signs Going Up in London Telling People Not to Sh*t in the Streets
"This area is being monitored for street fouling."
***

Of course it's NSFW, it's Bob Menery

***
Would you like to meet a jackass? Tesla owner charges car while parked at stranger's home.

There's sort of a stereotype of Tesla owners having this elevated sense of self-worth and entitlement since they believe that the fact that they drive a fast, luxurious electric car means they're saving the world for the rest of us drooling simpletons. Of course, like all stereotypes, this is likely unfair and can't possibly be true for all Tesla owners, but when you see dipshits doing things like this, you get where it comes from. And by "this" I mean a Tesla owner parking on a stranger's lawn to steal power from them for 12 whole hours.

As TV station WPBF reports, the stranger in question was homeowner Phil Fraumeni, who lives in a tidy house in Lake Worth, Florida. Last Friday morning Fraumeni's lawn care guy knocked on his door, asking him to move his car. He was confused, as his car was in his driveway.
***

When the managers, manage a perfect game; when the players, play a perfect game; Maybe then the umpires will call the perfect game.

The Atlantic League announced Tuesday that their experiment with an automated strike zone will continue for the remainder of the season, starting Thursday night. The system mostly worked; players and managers were happy with it; even the umpire who gave it its inaugural run at the Atlantic League All-Star Game earlier this month thinks it's a pretty swell idea, if for no other reason than it will get him off the hook with fans:

"People here in York love yelling at me when they think I miss a pitch. That part of the game is going to go away a little bit,"deBrauwere said. "I'm happy to blame the computer."


There will be one tweak. The robot umpire, called TrackMan, views pitches that scrape the upper part of the zone the same way it does ones that paint the corners—as strikes. At times this can seem like TrackMan is giving away neck-high strikes, especially when catchers fail to frame the high strike and when batters coil up at the plate. That has apparently been deemed a problem requiring a solution, according to the Washington Post:
Taking the human element out of the game of baseball or any other sport is just wrong.
***
Will the inhabitants of Rep. Ilhan Omar's (D-MN) district see the light? Combat veteran Chris Kelly, Independent has thrown his hat into the ring.

When Rep. Ilhan Omar ignited steep controversy in March describing the September 11 attacks as "some people did something," it was then that a longtime cop in her neighborhood decided he needed to do more than just bemoan what he perceived as a shocking trivialization of a terrorist attack that tore through the fabric of his beloved country.

Now, Chris Kelley, who has collected eleven military medals as a 27-year veteran of the U.S. Army and Army Reserves and clocked more than 36,000 hours patrolling the Minnesota streets as a 20-year veteran of the Minneapolis Police Force, has his sights set on knocking Omar from her seat representing Minnesota's 5th Congressional District in 2020.

My initial thoughts? Too white, too blue, to sane for the residents of Minnehopelis.
***

Just what the f*ck is wrong with people, besides being people? Woman urinates on bin of potatoes at Walmart.
Earlier this month, we all started inspecting the safety seals on our ice cream cartons—and warily eyeing all of the unsealed ones—after a Texas woman was filmed opening a gallon of Blue Bell Tin Roof ice cream, licking it, and putting it back in the freezer. A few days later, a man in Louisiana did the same thing, and was quickly arrested because he recorded himself and posted the video to Facebook.


But apparently a woman in Pennsylvania watched those two idiots (or some of their less-viral imitators) and said "Hold my iPhone. No really, hold my iPhone, because I'm about to pee all over these potatoes."
***

"There but for the grace of God go I," Oh Bull Shit! How does one forget two children in the back seat of a car?

New York Dad Should Not Face Homicide Charges for Accidentally Killing Twin 1-Year-Olds in a Hot Car
Laws criminalizing the act of leaving children in cars are misguided.

Juan Rodriguez, a doting upstate New York dad, forgot his twin one-year-olds in the back seat when he went to work on Friday. When he got back to his car at the end of the day, he realized his mistake and started screaming. They were dead.

Adding to Rodriguez's almost incomprehensible grief, the state decided to charge him with manslaughter, criminally negligent homicide, and endangering the welfare of a child. The judge set his bail at $100,000—as if Rodriguez is a risk to others. As if he hasn't suffered enough. As if this will teach the rest of us some sort of lesson.

It will not.

On social media, many people understand this. "There but for the grace of God go I," they write. Plenty of others are saying this man is guilty because no decent person would ever forget their kids in the car.

Reason can rationalize away any abhorrent behavior. And while you're at it pass that joint.
***

A few of us 29 year olds played the game of dodge-ball. Some of us were good, some others, not so good. Were the good players you knew ever charged with a crime? A 10 year old boy faces aggravated assault charges for thumping soyboyanother child in the face with a ball.

A 10-year-old boy in Detroit was charged with assault after a game of dodgeball while at school. The young boy's mother—Cameishi Lindley said she received a call from the Wayne County Juvenile Court and was told that her son Bryce was charged with aggravated assault for allegedly hitting a boy in the face with a ball during a game of dodgeball.

According to Lindley, the situation was an accident that occurred during a modified game of dodgeball. Medical records for the injured child said the kid suffered a concussion. The kid's mother filed a police report and said that Bryce Lindley allegedly threw the ball at her son's face on purpose. She also noted the child had a black eye and bruised nose.


The other mother, who has chosen to remain anonymous, has stated her son suffers from a medical condition which means head injuries can be very dangerous for him. Medical records show the boy had sustained a concussion.

The unnamed mother told WXYZ Detroit: how she had 'tried not to let it get to this point' but feared for her son's safety after previous incidents:
Kids will be kids. Suck it up Buttercup Helicopter Mom.
***
"It is almost always the cover-up rather than the event that causes trouble." - Howard Baker. Greenville County Sheriff's Department is finding this out first hand with body cam video.

On June 14th, a Greenville County Sheriff's Deputy shot a "fiercely-patriotic" gun-owning homeowner in Simpsonville, South Carolina. For weeks, the department contended that the homeowner had jerked open his front door and pointed a handgun at the responding officer. But bodycam video that was just released shows a very different story.

The video shows a deputy approaching the home's front door at midnight in response to a report of a panic alarm at the home. He shined a light inside the home through a window by the door.


The deputy saw a man inside — the homeowner — with a handgun. Of course, all the homeowner saw was an unexpected visitor outside his front door shining a bright light inside just before the officer opened fire.

The audio didn't begin for the first 30 seconds of the footage because of that department's bodycam programming
***
The ONT Musical Interlude
On this day: 31 Jul 1964
Country singer Jim Reeves was killed in a plane crash when the single engine aircraft flying from Arkansas to Nashville crashed in thick fog. 40 year- old Reeves was one of the first country singers to cross-over into the pop market. with his 1960 US No.2 single 'He'll Have To Go', and 1966 UK No.1 single 'Distant Drums'. viathisdayinmusic.com
&&&
Born on this day:31 Jul 1946
Gary Lewis singer, (1965 US No.1 single with The Playboys, 'This Diamond Ring' plus 11 other US Top 40 hits). via thisdayinmusic.com
&&&
Prices have changed......But, I know the feeling............
***

Protesting is fair game. However, shouldn't you know exactly what you are protesting and where you should be protesting at. Genius Award Winners.

Climate change activists brought traffic to a standstill in the City of London today after mistakenly targeting a building which contains the offices of a leading renewable energy company.

Members of protest group Reclaim the Power dressed in white boiler suits and swarmed Moorgate during rush hour, unfurling a banner reading: "No Borders, No Nations, No Gas Power stations."

The group was protesting against energy company Drax over plans to build a new power station in north Yorkshire.

However, although formerly based in Moorgate, Drax has had its London headquarters in nearby Noble Street since last year
***

Cops and violators come together. Tonight's Feel Good Story of The Day.


An Indiana police department has come up with a brilliant way to use their community services as a way to benefit their local animal shelter.

Earlier this month, the Muncie Police Department made several social media posts announcing that people with unpaid parking tickets could pay off their fines by donating pet supplies to Muncie Animal Care and Facilities.

"Until Friday [July 19th] at 4 PM, we are allowing folks to pay their parking tickets in cat food, kitten food, or kitty litter! Bring a donation in the amount of your ticket," wrote the police department
***

Tonight's ONT has been brought to you by Job Applicants.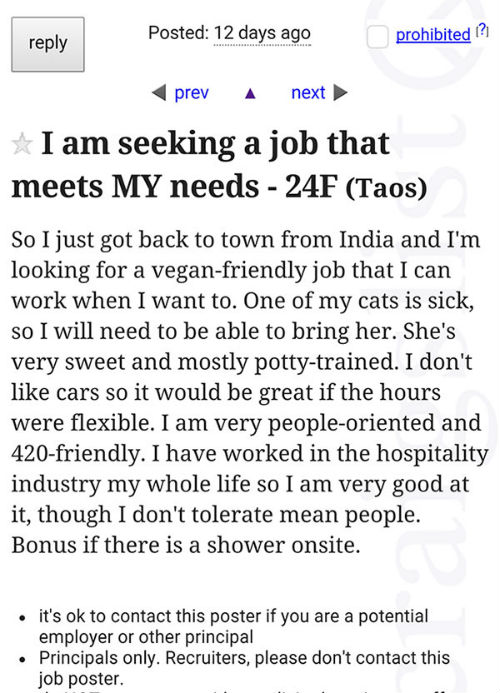 Notice: Posted with permission by the Ace Media Empire and AceCorp, LLC. The International Brotherhood of Cobs also approves of this message.

posted by Misanthropic Humanitarian at
10:00 PM
|
Access Comments