« NYT: Mueller Didn't Do Much Work and Kept Short Hours
|
Main
|
Tulsi Gabbard Suing Google for $50 Million+ For Banning Her Ads at the Peak Moment of Interest In Her »
July 25, 2019
2015: Rashida Tlaib Demanded That the Nation "Deport Trump;" For Some Reason This Did Not Provoke a Racial Firestorm (and Still Won't)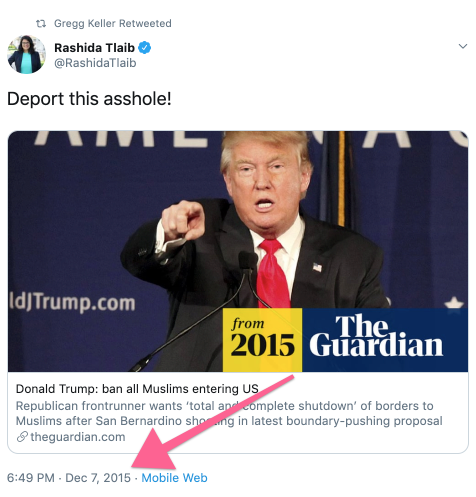 A little update to yesterday's story about that Harvard Law dupe:
Here's something: Testosterone might increase someone's moral judgement.
Who'd've thought that masculine traits would have anything at all to do with civilization, reason, and order?
Little caveat: that 'study" seems like bullshit, where they call inaction evidence of nuance in moral judgment -- that is, if you're not sure what to do because you see different ways of looking at something, so you don't act, you have more nuance in moral judgment.
And they found higher T to be correlated with such inaction.
Most sociological bullshit type studies have some huge assumption like that built into them -- their basic assumption is that anything that is considered "feminine" or leftwing in nature, such as hesitation in action, must be "good," and then they build a narrative around that assumption.
Now, inaction can in fact be the right action in many situations. I'm not saying "ALWAYS ACT! ALWAYS!" That's stupid.
But this study does seem to assume from the start that inaction is automatically the more "nuanced in moral judgment" response.
Again, always taking the feminine or leftist tendency to be the correct one, and then using #TheScience to prove how men or conservatives deviate (oh, what a giveaway!) from this perfection of morality and reason.
It's just that this study befuddled these dopes and upset their precious, and stupid, and nearly braindead, narrative.

posted by Ace of Spades at
01:23 PM
|
Access Comments