« Mid-Morning Art Thread
|
Main
|
Planned Parenthood Head Terminated After Just Eight Months in the Abortion Lobby Womb; Found to Not Be Pro-Abortion Enough, Refused to Admit That Men Need Abortions Too »
July 17, 2019
The Morning Rant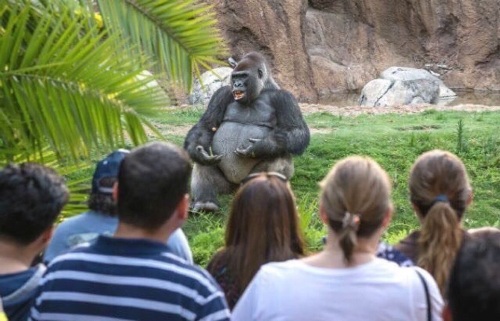 "I'd guess that President Trump has never read any Saul Alinsky. Not that he has to. I think he knows pretty much every one of Alinsky's rules by sheer instinct. Particularly the 13th, rule, which is: "Pick the target, freeze it, personalize it, and polarize it." This is what he did with the commie swine who they're calling 'The Squad.'
Hyper-woke squad members are currently spatting with old-guard Democrats for not being woke enough. Among other things, one of them called Nancy Pelosi a racist, and she's just shocked, shocked that the monster she nurtured is now biting her on the butt. And some conservatives are mad at Trump for inserting himself into this squabble because hey, why interrupt your enemy while they're making a mistake?
But whether he consciously intended it or not, Trump has now made 'the Squad' the face of the Democratic Party. He has held them up for all of America to see for what they are: deranged, America-hating, anti-Semitic, terrorist-coddling, far-left lunatics. They're polling close to the single digits now, almost as low as CNN's ratings.
And furthermore, he has glued them firmly onto the backs of the entire Democratic Party. So I think it's going to work out good for us in the long run. This association between will be a suppurating open wound from now until 2020, the squabbling will continue, and the Democrats' constant howling that Trump is a racist is bouncing off him like raindrops hitting a tin roof. They've used that word so many times that literally nobody cares anymore. Except the progressive nutroots, who, along with the French Davidians, will believe anything if it can be construed to mean OrangeManBad."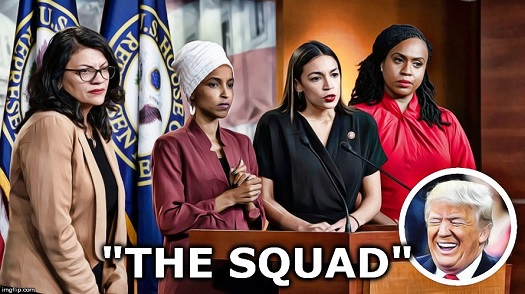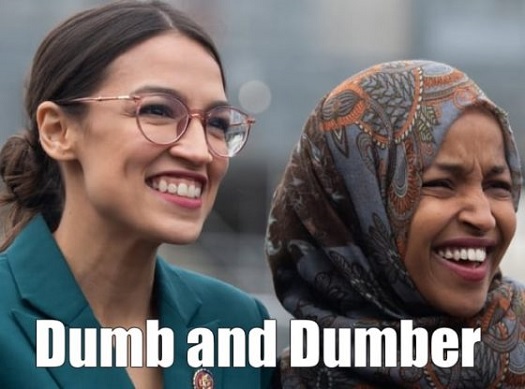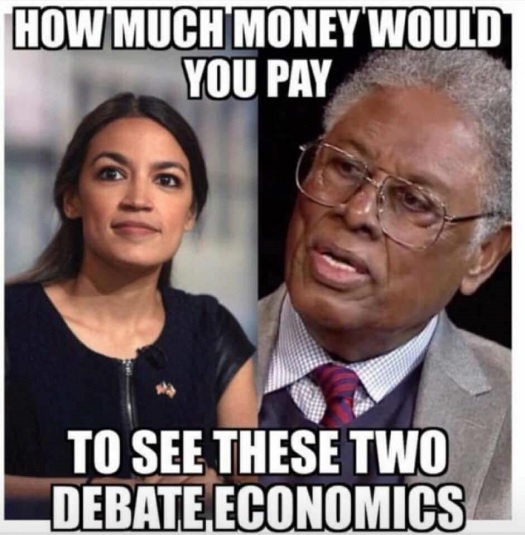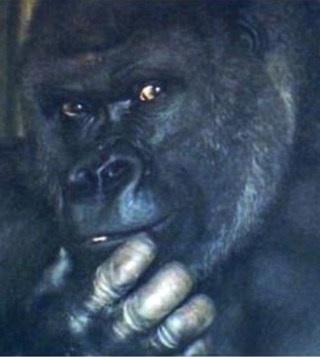 "You know, I don't think it
would be much of a debate."


Special Delivery For 'The Squad':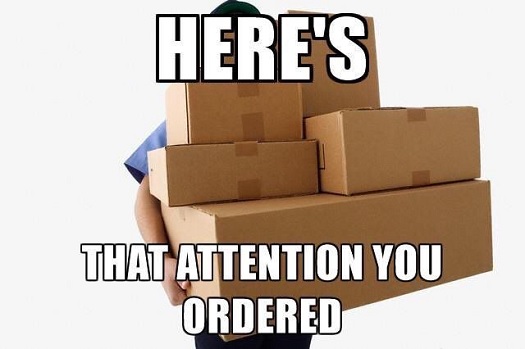 Who Dis: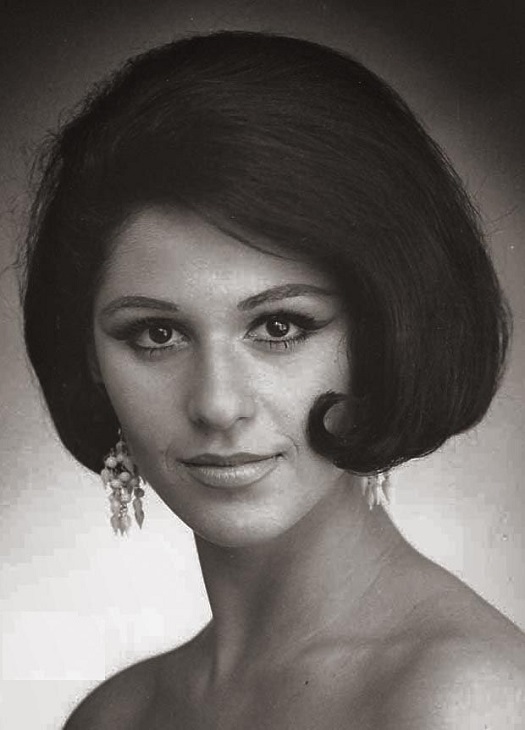 Kind of looks like a high school yearbook photo, doesn't it?
Here's one
that most likely didn't come from a yearbook.


For the 'Ettes:


(click for a bit larger)

And here's a photo of him when he was a bit younger.


Monday's celebs: Hammer Studio's scream queen Caroline Munro and John Phillip Law, both of whom appeared in The Golden Voyage of Sinbad.


AoSHQ Weekly Prayer List
For submission guidelines and other relevant info, please contact FenelonSpoke, who is managing the prayer list. You can contact her at
fenelon direction 18 circle 'a' gmail dot com
(All one word, no spaces)
If you see a prayer request posted in a thread comment, feel free to copy and paste it and e-mail it to her.

Praise report:

Lizzy's husband found out that he did not have cancer.

Fenelon's son started his college biology class and is enjoying it.

Jewell's SIL is home from hospital and doing better


Requests for continued prayer:

For healing from cancer:

Slapweasel (also for an organ donor) and strength in caring for elderly parents with have memory and other issues, Cheribee, alsoTami's daughter, Circa's brother, VNRedLeg, Scott M, OldDoginMO's wife., Fox 2!'s friend, Mary Beth for healing from bladder cancer. Rickl-for healing from brain tumors/cancer, Mother of a co-worker of Josephistan , Rickl-healing from cancer,
Other continuing health issues and requested prayers for healing: Fixeupperupper's mothers-kidney function. Michelle's son- continued recovery from car accident.. Sock-rat-eeze, for things to go smoothly so that he can have reversal of colostomy. USNTakin and wife-he asked particularly that she have relief from pain, but strength and relief from pain for both of them

For healing for Josephistan's mom who has difficulty with daily tasks and is anxious and withdrawn. Also strength for him caring for his mom as he is alone in doing this. Help in finding a caregiver. He also needs job help.

Hrothgar's friend, a hospice counselor who needs healing after being affected by fumes from muriatic acid

Healing for Blaster's son who has issues with depression


Updates and new requests:

6/6-Suzanne's friend, Kevin, was told he has 6 months to live. He is praying for a miracle.

6/7-Poster " Bete in reflection"has cancer and needs healing.

6/7- Prayers forJane Doh's husband and Jane as they deal with his diabetes diagnosis. Prayers for wisdom for doctors as they deal with this condition.

6/7-Natrium's father-in-law, a retired lieutenant colonel is dying. Comfort and peace for his wife and her dad.

6/10-Antisocialist after a year and a half of clean scan and good blood work, something came up on last CT scan. Antisocialist is scared and asked for prayers.

6/11-Hogmartin grandmother, Sophia, was admitted to ER. Had arterial bleed. At her age, surgery is not an option. Hogmartin asked for comfort, peace, and healing.

6/11-redc1c4 asked for prayers for "Doc and his wife" on ward A at City of Hope hospital. He was a medic in Vietnam. His Wife has inoperable liver cancer. Prayers for healing, strength, peace, and wisdom for caregivers and generally for family to bear burdens.

6/19 Hrothgar's SIL has an elderly beloved pastor of a tiny but vibrant church of older folks. "Sister Charlotte" needs healing of heart issues so that she can return to being that congregations shepherdess

6/19- Poster Juddgement's brother-in-law suffers from severe depression. He went off meds and tried to commit suicide twice. Has been in 3 different mental wards and lives with Juddgement in their basement because he can't be left by himself. Brother-in-law is exploring electro shock therapy. Please pray for a treatment which would be able to provide relief from this severe depression.

6/21-LadyL asks for prayers for two friends of her daughter: Laura, in her early 30's was given a prognosis of 3 years to live after a recurrence of metastatic breast cancer. Please storm heaven for a miracle of complete healing. Also, Allison, another of her daughter's friends, had a stroke two-weeks after the birth of her first child. She is still unable to walk after 6 months. Doubtful she will be able to teach again. Pray that she be fully healed and to enjoy life and her family.

7/3-Maddog's PSA blood test says PSA has low which indicates no larger scale cancer present, but since cancer spread outside body will be undergoing hormone therapy soon and radiation after that.

7/1 Hrothgar's SIL Elizabeth has diabetic related neuropathy. Needs healing

7/3-Poster ET going through very difficult time. Needs rough places made smooth.

7/3 For Leslie-for spiritual strength and comfort after death of daughter who died from flu-one year ago February

7/8-Beltway Elite asked for prayers for their mother who had stroke at end of June, leaving her paralyzed on right side. Thankfully she remembers herself and details but faces lengthy period of recovery and physical therapy. Prayers for quick recuperation, management of other health conditions and for Beltway Elite's sister to act with compassion.

7/9-16 redc1c 4- Last I heard his dad came through spinal surgery o,k. and was awake and alert but depending on what doctor's says if he doesn't get some relief from pain he may have to go in to hospice. Prayers for red's dad and his wife for healing and also because dad is cardiac fragile, strength and, calm and wisdom and insight for caregivers.

7/13-Winston, a dreg of society (Hey, Winston. I know your handle is humor, but you're really not a dreg of society, You're a beloved child of God! ) Winston asked for prayers for his dear friend Dee, who fell and broke right arm near shoulder while on a road trip. Four months earlier had broken wrist, 2nd time cancer survivor. Prayers for healing.

7/16 Sturmtoddler-Will have kidney surgery on the 23rd. Prayers for successful surgery and recovery.

7/16-Deep State in Deep Sh**-Asked for prayer for friend, Tiffany, in 2nd fight with cancer, not as bad as first time but still needs prayers for healing

7/16-OldDoginMO's wife-admitted back to hospital due to infection in wound from last surgery probably as result of chemo. White blood cell count dropped, but is better today and may be able to go home. Prayers for complete healing.

7/16-Grammie's daughter is supposed to go on a mission trip to Swaziland in August to work with children and( women?) Who had been in sex trafficking and daughter has to travel through South Africa-Prayers for her safety and of all the people travelling with her,

7/16-Prayers that rough places are made smooth for Fenelon and family dealing with huge, unexpected bill from IRS

7/17-Fenelon asks for prayers for Ray, who had chemo and a bone marrow transplant for blood cancer. Needs healing.

Job needs:

Emperor County Boy asked for prayers for wisdom and guidance and direction in his job search and in other areas.

Insommniac Is looking for job.

Donna&&&& needs FT job in areas of expertise

PDX Republican needs sedentary PT job.

Fenelon's Spouse is looking for FT job

Hadrian IV is looking for new job.

Wednesdays are days in which mothers in the horde and anyone else says special prayers for children of horde members. Please include the grandchildren as well.
Please note; Prayer requests are generally removed after five weeks or so unless I receive an update. This in NOT because we don't care; It's simply because of lack of space. Updates as well as thanks for answered prayer and new prayer requests are always welcomed.
Please feel free to copy requests which you see on the board and send them to me. I am unable to be on the board all the time, even though it seems like I am, and so if people don't tell me about prayer requests I may have no way of knowing. Thx and God bless!
FenelonDirection18 at gmail dot com
Please remember the Prayer of St. Francis:
http://www.prayerguide.org.uk/stfrancis.htm


Today's Edition Of The Morning Rant Is Brought To You By Cheesy Bacon Fries: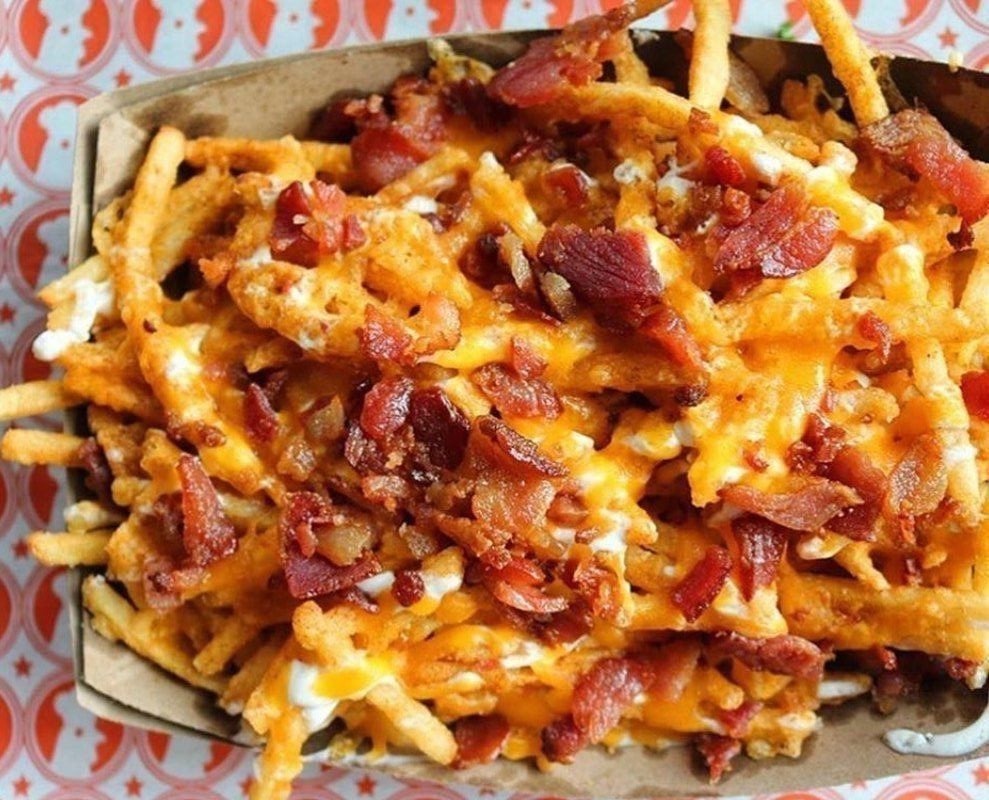 (click for bigger fries)




posted by OregonMuse at
11:16 AM
|
Access Comments