« EMT 7/6/19 The Silence of the Hens Part II
|
Main
|
Guns: "How do I love thee, let me count the ways" (With apologies to Elizabeth Browning) »
July 07, 2019
Sunday Morning Book Thread 07-07-2019

Good morning to all you 'rons, 'ettes, lurkers, and lurkettes, wine moms, frat bros, crétins sans pantalon, sluggers, muggers, buggerers, skullduggerers and Methodists. Welcome once again to the stately, prestigious, internationally acclaimed and high-class Sunday Morning Book Thread, a weekly compendium of reviews, observations, snark, and a continuing conversation on books, reading, writing, and publishing by escaped oafs and oafettes who follow words with their fingers and whose lips move as they read. Unlike other AoSHQ comment threads, the Sunday Morning Book Thread is so hoity-toity, pants are required. Even if it's these pants, which are better viewed on him than seeing him not wearing them.


Blog Note
Sorry if this Sunday's book thread is a little light. Our daughter was married on Saturday and the wedding was in our backyard, so, as you can probably imagine, things were a little crazy around Casa de Muse this week.
It Pays To Increase Your Word Power®
I never knew it had a name.


Pic Note
This is not a library so much as a living room with lots of books in it. Not that there's anything wrong with that.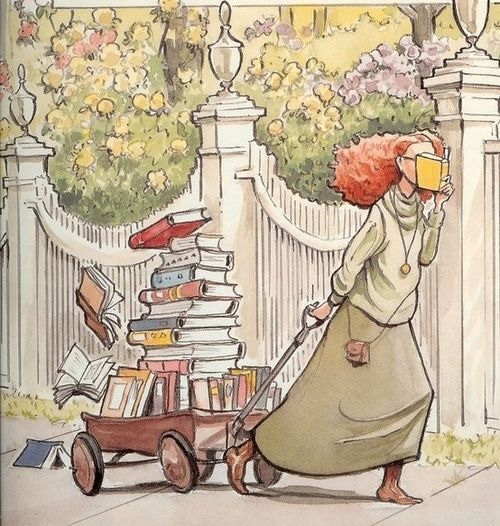 OK, which one of you 'ettes is this?

Appalling
433 OregenMuse:What is the name of that Asteroid Belt miner Minister book? Sounds interesting

Posted by: .87c at June 30, 2019 09:59 PM (DmDmL)
This was in response to one of my earlier comments:
The latest one has a good story about a Christian minister serving on a mining colony in the asteroid belt wondering to God about whether he is actually called to the ministry, and I can't tell you too much more about without giving it away but I thought it was a great story with an obviously Christian theme to it.

Posted by: OregonMuse. AoSHQ Thought Leader & Pants Monitor at June 30, 2019 11:34 AM (JVrQi)
The book being discussed here is Appalling Stories 2: More Appalling Tales of Social Injustice, a collection of "social justice" themed short stories. One reviewer calls it "The dystopian counterpart to Amazing Stories, Appalling Stories 2 takes a grim, hilarious and no-holds-barred dive into the terrible social justice future and its even more terrible present." The story I was referring to is 'The Angel of Death' by Jon Del Arroz and Avily Jerome, which, despite what the title suggests, is very positive and uplifting. I thought it was worth the price of the entire collection. I read it to Mrs. Muse and couldn't get to the end without sniffling and tearing up. Seriously. I'm a big softy that way.


Moron Recommendations
419 I HIGHLY recommend Defiance (original title: Vandenberg), by Oliver Lange, whom I had never heard of.Written in 1971, it reads like a cross between Ayn Rand, Red Dawn, and Edward Abbey, with a soupçon of Cool Hand Luke.

The most non-spoilerish synopsis I can give is a bunch of rural New Mexico misfits who can't/won't adjust to the new order decide to destroy one of Bill Ayers' commie desert death camps. Surprisingly well written, too.

Here's a link to the original cover art (remove spaces): https://images.app.goo.gl/xdHMfdHUEncX68tLA

For those who don't do links, it is a fist gripping a Bowie knife bursting from the center of a red star, and American flag motif emergent. IOW, an apt paraphrase of the last 12 years.

Perfect gift for the 4th!

Posted by: ogmrobvious at June 30, 2019 01:47 PM (zy1om)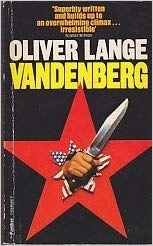 This one must be out of print. But you can by used hardcover and paperback versions relatively inexpensively.
___________
352 I just finished They Tell No Tales by Manning Coles, a 1941 British spy thriller set in 1938, and it is the third Tommy Hambledon book in the series.

British navy ships being retro-fitted with new hush-hush gear in Portsmouth are blowing up at sea, and Military Intelligence was asked to look in on it since the Navy was not finding any answers.

Tommy Hambledon, having returned to England from his overlong stay in Germany as a British spy in Germany during WWI and his rather confused experiences afterwards, is asked to go to Portsmouth, along with his current partner Bellair and his long time friend and batman, Alfred Reck, to find the saboteurs.

while Hambledon re-accustoms himself with British things like closing hours and no Sunday trains to Scotland, they poke and nose and search to find who is blowing up ships and their valuable technical crews who are so important to the drive to re-arm in the face of the looming German threat.

Posted by: Kindltot at June 30, 2019 12:14 PM (hSQmw)
There's not much I can add from the Amazon blurb to this review other than this book is available in hardcover, paperback, and mass market paperback editions. No ebook versions are available.
___________
119 I also read The Thirty-One Kings by Robert J. Harris. This tightly-written British spy novel is a continuation of the Richard Hannay series, the first five books of which were written by John Buchan beginning with The Thirty-Nine Steps in 1915. Because of his WWI exploits, in this work General Richard Hannay is dusted off and sent to Paris just days before the Germans enter the city. It's a very good, short English spy novel. I'll be trying to find the first five in the series.

Posted by: Zoltan at May 26, 2019 09:16 AM (Zgezk)
Bravo to Robert Harris. I must admit Richard Hannay is an interesting character who deserves further adventures.
June, 1940. Richard Hannay has returned.

As German troops pour across France, the veteran soldier and adventurer Richard Hannay is called back into duty. In Paris, an individual code named "Roland" has disappeared and is assumed to be in the hands of Nazi agents. Only Roland knows the secret of The 31 Kings, a secret upon which the future of Europe depends. Hannay is dispatched to Paris to find Roland before the Germans overrun the city.

On a hazardous journey across the battlefields of France, Hannay is joined by old friends and new allies as he confronts a ruthless foe who will stop at nothing to destroy him.
The Kindle edition is $12.99.
More about the author of the original Hannay novels from Alberta Oil Peon:
John Buchan, the author, was a very interesting guy in his own right. He was a personal friend of T.E. Lawrence, and a recurring character in the Hannay novels is based upon Lawrence. Buchan was a lord himself, and better-known as Lord Tweedsmuir. He served as Governor-General of Canada until his death in 1940, and was the last one to have come from Britain. And he was much beloved here, too, in his day. He wrote an autobiography, entitled "Memory Hold the Door", which is well worth reading. And many other non-fiction books, too.

Posted by: Alberta Oil Peon at May 26, 2019 10:38 AM (7njPr)
First, for 99 cents, you can buy the Kindle edition of The John Buchan Ultimate Collection: Spy Classics, Thrillers, Adventure Novels & Short Stories, Including Historical Works and Essays (Illustrated), which you'd think would have everything he ever published, but I did not see the autobiography AOP mentioned, Memory Hold-the-Door:
John Buchan, 1st Baron Tweedsmuir, had a remarkable life and here is his wonderfully written and fascinating memoir. A highly accomplished man and now known by many chiefly as an author, he was also an historian, politician and Governor General of Canada. Buchan served in the army during the Boer war. Becoming a diplomat and well-read historian of the First World War, he settled as Governor General of Canada in 1935 having travelled the world in official posts for the British government. This autobiography was one of John F. Kennedy's favourite books.
So you have to pay 99 cents for this one, too. Or you can read the newly published (April 2019) biography written by his granddaughter, Ursula Buchan, Beyond the Thirty-Nine Steps: A Life of John Buchan, which draws on "recently discovered family documents" to tell the story of a most interesting life.


Book TV
I received an e-mail from most lurking moron 'Outside Adjitator' that I didn't have a chance to get to until way late because wedding, but it may be of interest:
I don't know if you know what special services C-SPAN provides on weekends. Every Saturday and Sunday, C-SPAN 2 turns into BookTV and C-SPAN 3 becomes American History TV. BookTV offers author presentations, interviews and panel discussions of recent books, usually non-fiction, plus some neat repeats from years past. American History TV includes similar coverage, plus tons of other stuff. There's usually several programs devoted to the Civil War and the world wars every weekend.

What prompted this email is that conservative historian Paul Kengor will appear on C-SPAN's In Depth at noon Sunday. In Depth is a unique program -- it runs 3 hours, from noon to 3 p.m., without commercial interruption (although there is a short potty break about halfway through). Such a format allows an author to expound on a variety of topics, not just his latest book, and I'm sure Kengor will have a lot of valuable information to offer. The program will be repeated twice on Sunday and probably air at least once more in the next week or so. All of C-SPAN's book and history programs are available 24/7 at www.c-span.org/series/?bookTv and www.c-span.org/History. Some can also be seen on YouTube.

Just like their C-SPAN parent, BookTV and AmHistoryTV play it completely straight. They air shows featuring loonie lefties, but virtually the same amount of time is devoted to conservatives. Many programs are apolitical, of course, and are simply fascinating.

Beach Book Fort: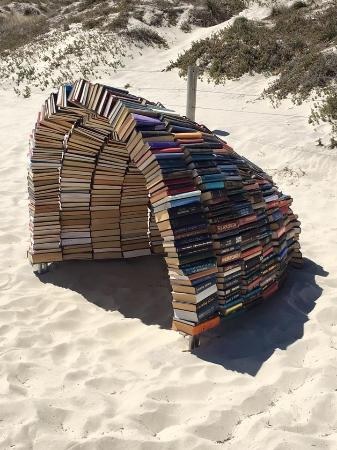 ___________
So that's all for this week. As always, book thread tips, suggestions, bribes, insults, threats, ugly pants pics and moron library submissions may be sent to OregonMuse, Proprietor, AoSHQ Book Thread, at the book thread e-mail address: aoshqbookthread, followed by the 'at' sign, and then 'G' mail, and then dot cee oh emm.
What have you all been reading this week? Hopefully something good, because, as you all know, life is too short to be reading lousy books.

posted by OregonMuse at
09:00 AM
|
Access Comments