« Another Stupid Thread for the Stupid Thing
|
Main
|
The Morning Report - 6/28/19 »
June 27, 2019
Tonight's ONT is a Steele
Steele, North Dakota, that is. I set out last weekend to drive mom's RV from Alberta back to Baltimore. Everything went swimmingly for the first two days of the trip. we stopped in Great Falls, Mt. to get some new tires on the front, then headed out across the absolutely gorgeous high prairie. Monday night we boondocked in the badlands, and Tuesday we headed across North Dakota, just my wife and I, having a wonderful time.
20 miles east of Bismarck, however, the motor conked out and our troubles began. We go towed back to a big truck mechanic shop in Bismarck. They were nice enough to allow us to hook up to the junction box outside their building, so we spent the night there and Wednesday they fixed the problem (the pin holding the gear to the shaft of the distributor had sheared. No pin, no spin, no vroom vroom) and we set off again in the late afternoon.
We got 40 miles before we lost all power. The motor still ran, but it wouldn't rev. A roadside mechanic who normally works on Ag vehicles couldn't fix it, so he towed us into the closest town (with a chain from his Chevy 2500 to our 32' RV, it must have been a sight to see). That town was Steele, ND, and other than the mechanical issues, we've spent the last 24 hours in Steele, and fell in love with this little town. I love small town America. Small town America still gets it.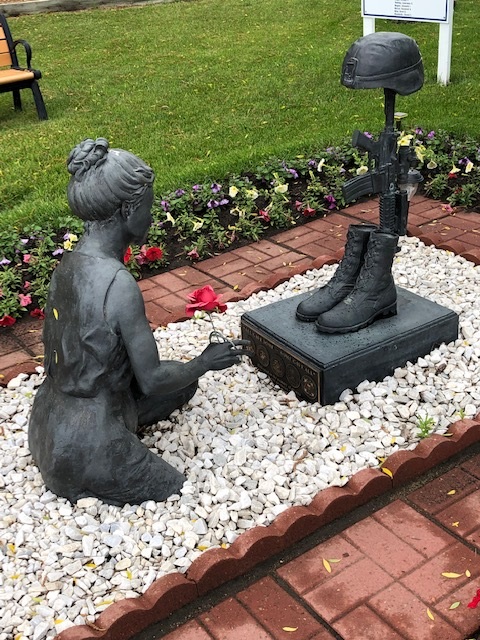 The Memorial Park in center of Steele
The mechanic dropped us by the auto body shop, and we wandered over to the AmVets social club and proceeded to eat dinner and spend the next 6 hours trying to drink all the beer in town. The people were incredible friendly and welcoming. Luke, who lived across from the bar found out that my prairie-born wife really missed rhubarb (which doesn't grow well in Maryland) so he took us over to his yard and we harvested an absolute shitload to take back with us. It was a great evening, and we crawled back to the RV and sacked out.
This morning we got up and walked around the town. What a lovely place! They also grow 'em tough out here, this monument was next to the statue above: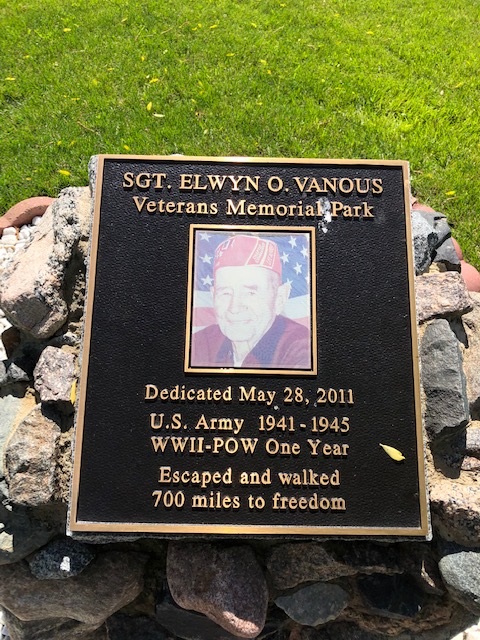 700 miles! Wasn't that guy just a big ole tub o' guts? The local bank was having a community lunch of pulled beef sandwiches, so we ate there, played some cornhole, and wandered over to the obligatory railroad tracks.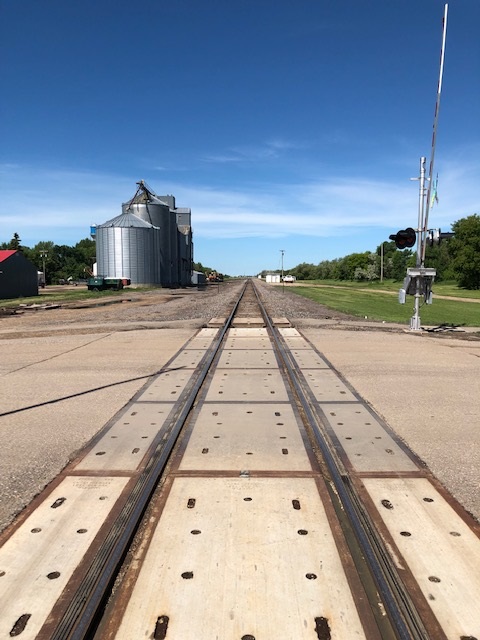 Look at that sky! Lovely!
There were a couple of kids running a lemonade stand. The cops pulled up, and instead of doing a stupid big city thing like bust them for having no permit, the bought lemonade and shot the shit with the kids. Industrious kids, they kept the stand open all day.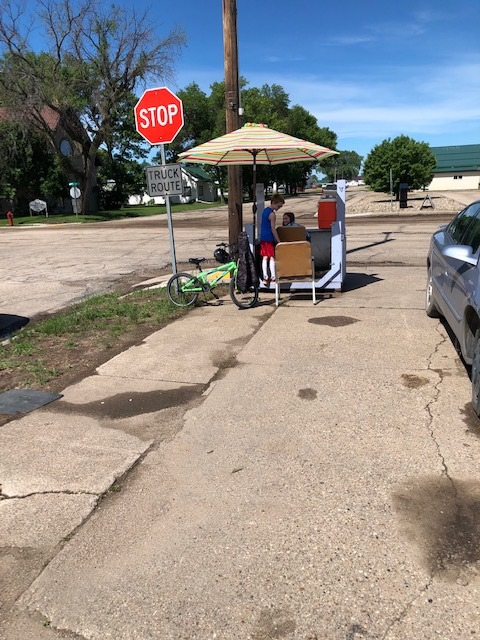 By this time, Terry was working on the RV. Turns out that the problem was with the distributor, again. The same pin that had been replaced was twisted, and in his opinion, would just break again if he replaced it, there was probably something further down that was causing the problem, and that needed to be fixed, but to do that the oil pan needed to be dropped and he wasn't equipped to handle that job (you have to drop or move the front axle to get to it).
Not happy that a job I had just paid for had only lasted 40 miles, I called the shop in Bismarck that had done the work, and they sent a big rig tow truck to fetch us back (on their dime) and promised to make it right. So now we're back there again, plugged into the junction box and waiting for morning. Bad news is that they probably won't finish until Monday, which means we're stuck in Bismarck all weekend. Frankly, I wish I'd Shanghaied AOP when I was in Alberta, he would have had us back on the road in jig time.
So, unfortunately, I didn't really have time to gather ONT style links. Sorry. I'll have some for tomorrow, I promise. I do have to say that everything about North Dakota has been outstanding. We have been discussing leaving Maryland at some point, and North Dakota is now on the list of places to consider.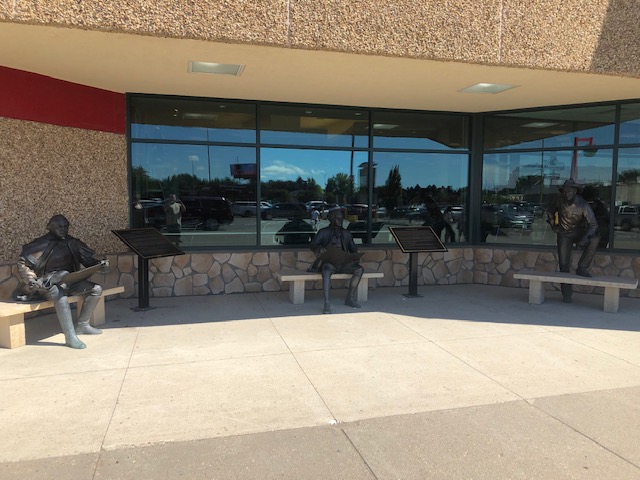 How can you not love a place where the local mall has a statue park, and the statues are of Washington, Jefferson and Reagan?
I do have one ONT pic for you. I snapped this on I-94. It's a trucking truck trucking a trucking truck that's trucking a truck.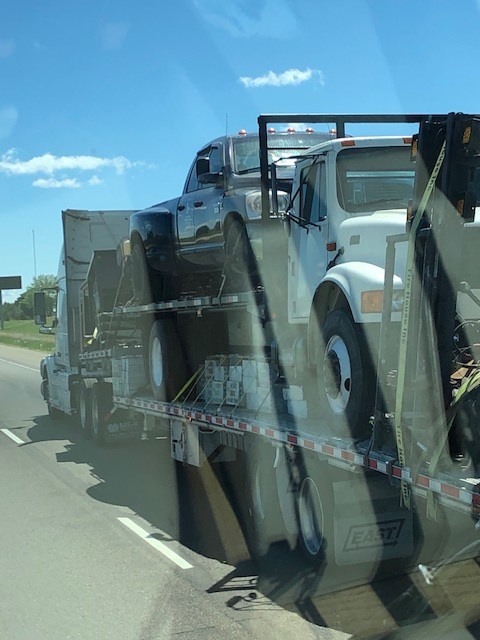 NSFW Photoshop&topic=world_news">

posted by WeirdDave at
10:00 PM
|
Access Comments