« "A Roll Call of Honor" ONT
|
Main
|
Mid-Morning Open Thread »
June 07, 2019
The Morning Report - 6/7/19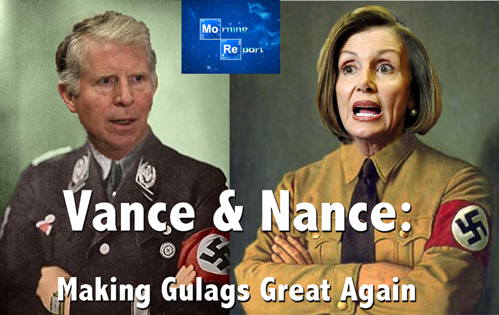 Good morning kids. Here comes the weekend so let's break it down. First up, we have the continuing crisis at the border as well as the resistance to the President's sane, legal and effective countermeasure of tariffs to force Mexico to stop aiding and abetting what amounts to an invasion of America an the attempt to erase our national sovereignty. If you want to understand how effective the tariffs or threat of tariffs are, look no further than the volume and shrillness of the attacks against them by both Democrats and Republicans. There's also the minor detail that Mexico is crying uncle and has stopped the next wave of thousands from getting near the Rio Grande and has sent troops to its southern border with Guatemala and Honduras to stop the invaders at the source. Mexico is also telling us that the money that's funding this premeditated invasion is coming from both our side of the border and from across the Atlantic. I smell the hands of a certain Nazi collaborator all over this, but I digress. Look, there is no doubt that this is a crisis that threatens our national security and our national identity, that is to say what there is of it that hasn't been completely subsumed by 60 years of Democrat-Leftist cultural rot. And it is they who've been deliberately sabotaging our national security since 1965 (rot in Hell, Teddy Kennedy) so as to import a permanent underclass that will give them permanent political power at the ballot box. So, yes, Mexico is a foreign power that has been sabotaging us for decades. But if you consider nothing else that the Democrat-Left has done to destroy this nation in its lust for power, this act alone is tantamount to treason. Meh, how many divisions do I have?
Turning my blood down to a low simmer (for now), two items on the upcoming SCOTUS ruling on the census citizenship question including J. Christian Adams on how low the ACLU has stooped to pressure the justices, a look at the insane numbers of invaders and the President's reaction, ICE director states the obvious and lastly a look at an old SCOTUS decision that could dismantle the sanctuary city bullshit. Meh, the Dem-Left will ignore it and Chief Justice Roberts will say "stare decisis? Never heard of it!"
On to the Clinton/Obama Anti-Trump Coup and Mueller Deception where the more everything that has been thrown at Trump and pimped by the agitprop media has been exposed to the public as lies, and soon to be shown as much worse than that thanks to AG Barr and his team, the Democrat-Left have become more brazen and naked in their madness and desperation. First we had Nancy Palsi not just calling for impeachment but for the imprisonment of the President. Presumably she meant after he leaves office and returns to being a private citizen, but doubtless she'd love that to happen immediately. Some say she's only saying this as just red meat to placate her base and the growing calls within her own caucus to pursue what would be political suicide for her party in the form of impeachment proceedings. But this is what totalitarians do. And while seemingly no one was looking, Manhattan district attorney Cyrus Vance Jr. ordered that Paul Manafort, who has been tired, convicted and imprisoned on charges that have nothing to do with his involvement as Trump's campaign manager in 2016, and that would never have come to trial had he not been involved with him, be moved to NYC's Rikers Island correctional facility and held in solitary confinement. Solitary confinement, at what is a notoriously hellish institution. So we have the leader of a political party advocating the permanent persecution of a political opponent and a leading law enforcement official chucking a political enemy, and a now elderly and broken man, into solitary confinement for no other reason than to see him rot in prison or die. And make no mistake; both are intended to serve as a warning to any and all of us who go against them. Just what country is this? Cuba? North Korea, Nazi Germany, the Soviet Union? I have to pinch myself considering yesterday we commemorated the 75th anniversary of D-Day when thousands of Americans met their doom in the attempt to liberate the world from the oppression that Vance and Pelosi are engaged in. Yes, I went there because that is exactly what they are doing. I know she's buck-toothed, big-boobed, bug-eyed and brain-dead, but even Chiquita Khruschev AOC was disgusted enough about what Vance did to take to Twitter to blast him. Yeah, blind squirrels and broken clocks aside, where they hell was anyone - ANYONE putatively on our side in Congress or in our own alleged conservative media (I know Bill Kristol was busy serving crab salad on the Lido Deck of the SS Greasy Bastard). Unreal. Meh, all too real.
Dem Scandals and the Joo-Hate Files: Bro-Fo is a crook and ordered to pay back thousands in ill-gotten campaign cash, Daniel Greenfield slaps De Bolshevik down like Ike Turner on a Night Train bender, self-gassing Jooz invite Bro-Fo to join the Sammy Davis Jr. wing, Caroline Glick is high on Ron DeSantis and as the Dems get pogrom fever, the polls show BDS is a loser with most Americans.
Politics: Several links on Joey Bidet's campaign including his flip-flop-flip flop on the Hyde Amendment, Larry Elder on the grievance Dems, John James is in again to get a Michigan Senate seat, abortion Barbie is back, Amash is a spoiler against the Dems if he runs Libertarian, several links on the ruination of Leftist political philosophy and another warning about the attempt to bypass the Electoral College.
First Amendment and Fake News Fakery: The purging of Steven Crowder and other non-Leftists from YouTube, this Vox thug Carlos Maza is driving the aforementioned, Christian florist loses and will appeal to SCOTUS, Bayer knuckles under the fake Twitter mobs and pulls ads from Tucker and Ingraham, California continues persecution of Chik-Fil-A, and data sovereignty now!
Guns: Georgia Democrat says the stupid, and dangerous.
Abortion: 13-year-old girl gets the Donald Sutherland Body Snatchers finger point from a mob, Whoopi Rape-Rape is as vile as Nikki Haley is classy, Bishop says no communion for Illinois baby killers, and North Carolina House votes to kill babies.
Foreign Desk: A Brexit setback at a local Brit election, China's food supply imperiled, David Harsanyi is high on Trump's Iran policy, and Seb Gorka on the PC neutering of our generals.
Domestic News: Ben Sasse defends nominee from anti-Papist attacks, US State Dept. sabotaging adoptions of overseas orphans.
Economy: Larry Elder on Chiquita Khruschev's bartending stunt failure and NYC compounds minimum wage fiasco with forced paid leave.
Crime and Punishment: Broward Coward's bail cut in half (why???), and Minneapolis cop who executed innocent woman is a laugh riot.
Healthcare: The government wasting money on bullshit doesn't make people healthier. Except bureaucrats, I guess.
Education: Students do a Charlie Gibson when asked about D-Day and the academic lynch mobs.
Red Greens: Chiquita Kruschev said we have 12 years, then said she was joking, then said we need $10 trillion to save the planet and now the $10 trillion is just to have an outside shot at saving the planet. Also, China and India are laughing at us.
Feminazism, Homosexualization: When intersections collide at the intersection of reality, and do not go against drag queens reading stories to your toddlers or you get gulag.
Hither and Yon: More on the President's phenomenal D-Day speech, Netflix and Disney are losing subscribers big time, Christian Toto on an SJW critic going insane over Secret Life of Pets 2 and finally a fine essay on reconciliation or grievance.
Anyway, links from around the world, across the nation and up your street. Have a better one and remain blessed.
NOTE: The opinions expressed in some links may or may not reflect my own. I include them because of their relevance to the discussion of a particular issue.


AMNESTY, IMMIGRATION, MIGRANT INVASION BORDER WALL, BORDER SECURITY


posted by at
07:45 AM
|
Access Comments