« Sunday Overnight Open Thread (5/12/19)
|
Main
|
Mid-Morning Open Thread »
May 13, 2019
The Morning Report - 5/13/19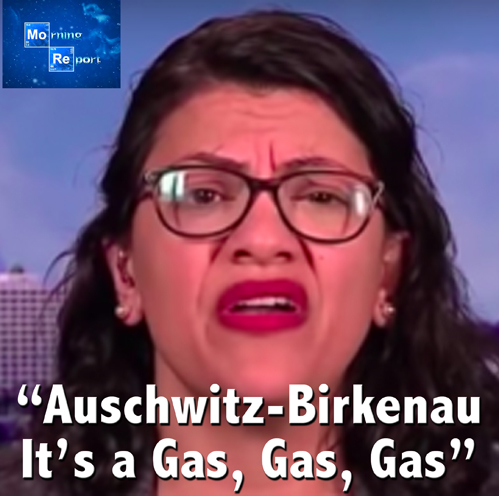 Good morning kids. Monday, Monday yet again so here we go. The shrillness and volume of the Democrat-Media Complex's insistence that President Trump is a traitor and criminal who is a danger to the survival of the republic and has created a constitutional crisis confirms two things: a) the greatest example of projection in history, because b) they know the worm is turning and the previous administration, plus all the bad actors infecting our intel and law enforcement agencies, are about to be exposed for the greatest crimes in American political history. Along with the attempted overthrow of President Trump, the other crime is Hillary Clinton's abuse of power by the illegal use of private e-mail communications to both help engineer the aforementioned as well as influence-peddle in her capacity as Secretary of State and on the come as the expected 45th President of the United States. No doubt, much of what she sold and would have sold was not merely massive quid-pro-quo graft that would have shafted the American worker and American business, but secrets that would have gravely compromised our national security all so that she and her sick, corrupt beard of a husband could enrich themselves. Had this hag won the 2016 election, Uranium One and Loral Space Industries would've been nickel-and-dime stuff.
And so now, the race is on to discredit and destroy AG Barr as an accomplice trying to cover up President Trump's "crimes" in a desperate attempt to taint any and all future investigations aimed at Clinton, Obama et al as nothing but political retribution and an abuse of power. The chutz-pocrisy of this is absolutely radiant. But that said, the one thing that I am comforted by is the fact that the giant orange gorilla in the room - the one whose actions have created the greatest economic miracle in 100 years, positively reasserted sane American foreign policy and threw a monkey wrench into the Globalist machine - is just not going to allow that to happen. And in AG Barr, I think he, and we, have an ally who, though much more reserved in his tone and manner, is perhaps as sickened and revolted by how horribly the institutions that we entrust to preserve the rule of law, and that he has worked in for over 30 years, have been so utterly shattered, as we all are, and somehow wants to restore that trust. I don't know if that is possible anymore, but at the very least, people have got to be held accountable. Clinton? Obama? That might be a bridge too far for many reasons. But Brennan, Comey, Clapper and all the other traitors and scum would be a salve to the body politic. At least to the non-Leftist anti-American majority that loves the country and does not want fundamental transformation. The individual headlines speak for themselves so let's move on.
At the border, the numbers confirm an organized mass invasion, ICE wants to expand local role in immigration policy which stands in sharp contrast to the link about sanctuary cities giving sanctuary to illegals from terrorist nations. See the link in the Islam section about another terrorist compound in Alabama with links to the one that was broken up late last year in New Mexico. And in the adding-insult-to-injury department, the father of one of the Colorado anti-Trump, militant-tranny school shooters is a twice-deported wife-beating illegal alien. Perfect, that.
Dem-Left Scandal Sheet: In the graft section, Maxine "Mikvah" Waters' daughter received $50,000 in ma barker's lucre. Now to the Jew hatred where Calypso Louie "Coughlin'd" up a hairball against my fellow gutter-religionists in the pulpit of Obama's radical priest BFF Michael Pfleger. But these guys are far-right wing Birchers, right? [sarc] Elsewhere, the National Laughingstock WaPo fully defends Rancida Tliban's Holocaust remarks, VP Pence calls for Bro-Fo Omar to be booted from the House Foreign Affairs committee, and yet another psycho Joo-hating Muslim is on the rise in of all places Florida.
Politics: Michigan and Ohio GOPers want SCOTUS to but the kibosh on potentially damaging gerrymandering until after 2020, Greenfield and Harsanyi on how impeachment and actual Trump success will win the day in 2020, Schiff-for-Brains is delusional (see top rant), Bernie grabbing onto Chiquita Khruschev's Mae West as he sinks, cratering Blotto Beto tries a reset, election expert tanks Tank Abrams' claims of vote fraud in GA and FL, the citizenship question is legal, real and needed, and a couple of links on how with the mask off, the Democrat Party is losing all sorts of former reasonably normal members.
First Amendment and Fake News Fakery: Google search engine favors the agitprop organs (duh), funny how the media suddenly dropped the Colorado shooting like a hot strap-on, the Facebook "fix" fixes nothing, V.D. Hanson on the media's collapse, and two about two different BBC slime-merchants, one who kicked Ben Shapiro's ass and the other who got his kicked by Nigel Farrage.
Guns: Four towns declare they're 2-A Sanctuaries... in Rhode Island. Is there hope for that state?
Abortion: Montana Governor vetoes anti-baby-killing bill, Planned Parenthood prexy sez "Abortion at birth? Never heard of it!" And the media gaslighting in the wake of Georgia's heartbeat bill passage.
Foreign Desk: US sends navy and air muscle towards Iran, is the IRGC looking to topple the mullahs, Queen Elizabeth snubs Londonistan Mayor Khan for Trump reception, Pentagon halts Korean War missing GI recovery program in NorK-land, pushing back on the Chi-Coms, yes let's keep the hell out of Venezuela, Brexit not dead yet as Farrage surges in UK, and Max Boot-licker is just beneath contempt.
We-All-Slam-For-I-Slam: Alabama terrorist compound busted, and Euro-Peons drowning in Denial River.
Domestic: Graft and greed with links about DoD procurement (in the Defense section), GOP hot and horny to spend shit tons of money and also persevere the Ex-Im Bank, Trump doing the right thing on not wasting disaster money on Puerto Rico or anywhere else, and Federal spending reaches record levels in April.
The Economy: Bust up the public sector unions, and we must win the 5-G fight with the damn Chi-Coms. I hope PDT is on the ball on this one.
Healthcare: Links covering the political aspects of Medicare for All; Kamala-Toe lying about what Bernie said, a healthcare CEO warning of the latter's Cloward-Pivenization of it, new regs on anti-opioid cure as Fauxca-Has-Been wants to waste $100 billion more on it, and SEIU still snubbing its nose at a SCOTUS decision vis a vis skimming Medicaid funds.
Education: Harvard removes black law professor because he agreed to represent Harvey Weinstein, and illegals get tuition while white males get persecuted on campus.
Red Greens: Chiquita Khruschev walks back the 12-year countdown to doom, and Patagonia's billionaire founder sez capitalism that made him rich will kill the planet. Well, please send all your money to SeftonCorp and swim to the Tierra del Fuego. And remain blessed.
Feminazsim, Transgender Psychosis: Yes, you will be made to care, and see the link in the 1-A section about the actual doctor who dared call transgenderism for the psychosis that it is on social(list) media.
Hither and Yon: PetSmart sues PETA for planting spies, Chips Ahoy! cookies make us toss our cookies for Mothers Day, Heather MacDonald on the diversity madness in law firms, Ricky Gervais a conservative?, architect's plan for Notre Dame is hideous as you'd expect, a look at De Gaulle's legacy in shaping France, Christian Toto on a new comedy that is drawing SJW ire, and how the mass-murdering commie tyrants are never parodied.
Anyway, links from around the world, across the nation and up your street. Have a better one and remain blessed.
NOTE: The opinions expressed in some links may or may not reflect my own. I include them because of their relevance to the discussion of a particular issue.
CONGRESSIONAL COUP, SPYGATE, DEEP STATE, THE MUELLER DECEPTION

posted by at
07:46 AM
|
Access Comments