« Wednesday Overnight Open Thread (5/8/19)
|
Main
|
Mid-Morning Open Thread »
May 09, 2019
The Morning Report - 5/9/19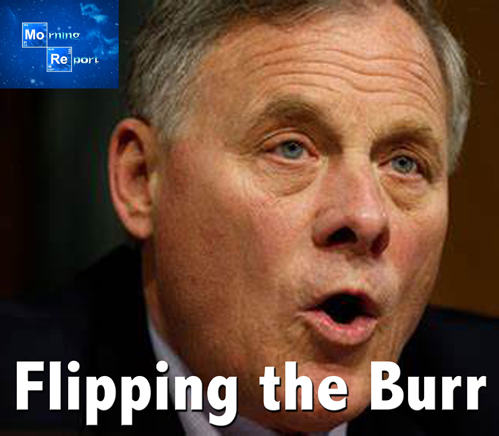 Good morning kids. The number one question on everyone's mind this Thursday morning is (or should be) what the actual fuck is Richard Burr playing at?! With the Mueller Deception and Smear Campaign officially dead, with absolutely not the slightest sub-atomic scintilla of even a hint that this President and anyone remotely associated with him colluded with the Russian government to influence, let alone steal, the 2016 election, and with the Democrat-Left Media Complex thoroughly saturated with gasoline and all set to strike a match for one final cigarette in front of a firing squad, this glittering jewel of big government, establishmentarian fraud and corruption, who somehow chairs the Senate Intelligence Committee, has decided to subpoena the President's son (Don Jr.) to testify about the the nothing-burger hoax of Russian collusion. Forget us mere peons that Burr putatively, and no doubt grudgingly and with his fingers pinching his gin-blossomed honker, represents; Mitch McConnell, the Senate Majority Leader and his boss not two days ago openly declared the entire affair dead. With the Democrats in the House looking like the tyrannical scumbags that they are with the contempt citation against AG Barr and their refusal to accept the truth, instead of allowing themselves to justifiably immolate themselves, he is giving them aid, comfort and a veneer of legitimacy/credibility by going along with the coup from our side of the aisle in the eyes of the media and public. From the link at Breitbart:
"...McConnell, who empowers Burr by allowing him to be the chairman but is up for re-election in 2020, may also face serious consequences for allowing Burr to do this. A longtime major donor to McConnell and top ally of the White House told Breitbart News that it is imperative that McConnell immediately remove Burr as chairman of the Senate Intelligence Committee, full stop.

"What Burr's doing isn't just a slap in the face to the President and his family, it's a slap in the face to Americans across the country," the top McConnell donor said. "It's incumbent that Leader McConnell steps up to the plate and strips Senator Burr's Chairmanship of the Intel Committee. If he refuses to do that, then he shoulders just as much blame for this travesty of justice as the Senator from North Carolina..."
This is not stupidity, or some misguided mistake. What Burr is doing is no doubt intentional, and perhaps even at the behest of Chuck Schemer and the Dems. Meh, then again, when one is part and parcel of a corrupt uniparty that has no problem grifting and grafting in its globalist agenda, you will not remove your maw willingly from the public trough, and to hell with anyone who dares attempt to break up the racket (CLICK HERE for his rap sheet at Conservative Review). Whether he's from your party or not and to hell with the consequences to the rule of law and the Constitution. Richard Burr is every bit as detestable and dangerous as Brennan, Clapper or Comey.
The ball's in your court, Cocaine Mitch. You need to strip this slimy cocksucker of the chairmanship and any other critical position in the Senate, and then do all you can to find someone to primary his flabby ass in 2022. It's him or you and perhaps what before this I thought was a safe majority in the upper chamber. Dump Burr today.
Before this stab in the back, Nadless Nadler did in fact issue a contempt citation against AG Barr, which is (or was) meaningless and not going anywhere. Part 1 and 2 of the report, dealing with collusion and obstruction are 92% and 95% un-redacted and available for anyone in Congress to read and even to take notes of. To date, no Democrat has availed themselves of the opportunity but they persist in publicly demanding a fully un-redacted report be surrendered by AG Barr, which is against a law that the Democrats themselves passed in 1998 and that the AG refuses, and rightly so, to break. Links to Jim Jordan, Go-Go Gohmert and Ken Buck ripping the Dems apart and highlighting their chutz-pocrisy, as well as GOP Rep Andy Biggs telling the Dems to shit or get off the pot with the impeachment stupidity. Lastly, Victor Davis Hanson wraps it up with the progressives facing the abyss. Well, the were until Richard Burr.
On to Amnesty and Immigration where in a shocker, the 9th Circus has actually ruled in favor of Trump's asylum policy, now all of a sudden, lower courts are seeking to overturn SCOTUS rulings that favor this President (okay, let's use their tactics to overturn Roe v. Wade, shall we?), two articles, one of them wary, on the Kushner-led immigration plan, illegal alien kills 3 driving drunk, Joey Bidet thinks foreigners here illegally deserve free healthcare and open borders and illegal aliens will be our downfall.
Dem Scandal Sheet: Chiquita Khruschev supports Uber and Lyft drivers' protest, while taking advantage of them bigly and Sheldon Whorehouse rails against dark money with a dark money-funded speech. In the Joo-hate subset, Alan Dershowitz rips into the Bro-Fo, the Muslim American Society is about as innocuous as you imagine and Daniel Greenfield on double-standards.
Civil War 2.0: The Colorado school shooters hated Trump, Christians, whites and heterosexuals so that story will be disappeared within moments and bearded clam Brian Sims non-apology is not accepted.
Politics: Another raucous Trump rally in Florida where the President reamed Buttplug and the other candidates, SCOTUS packing not popular with the people, Dems could get creamed in 2020, Trump hilariously sabotages Fauxca-Has-Been's Indian casino grift, tell me again Hillary is not going to run, Buttplug goes after the Silicon Valley lucre his rivals are shunning, Cocaine Mitch is selling real "Cocaine Mitch" swag, Blotto Beto is fading fast, Kamala-Toe plays racism card to death, and all this voter suppression talk from the Dems could actually screw them over.
First Amendment and Fake News Fakery: Trump reams Slim's Slimes for sliming him with his tax returns, the Chiquita Khruschev spoofer account comes forward after being banned, Google's mindset, and CNN gets beat by Food Network and History Channel. Also, not linked, I saw in the NY Post that Zucker is thinking of hiring none other than Matt Lauer and his magic office door bolt. The chicken. Keep fucking it, Jeff.
Guns: California goes the Stasi route on legal owners and Ron DeSantis does the right thing by allowing armed teachers in the classroom to do the jobs Scott Israel and Scot Peterson won't.
Abortion: The Planned Parenthood abattoir where bearded clam Brian Sims harassed protestors is far worse than the so-called "back alleys" they rail against and Cory Booker sez infanticide is healthcare. Run on that, genius.
Foreign Desk: Tensions ramping up with Iran where as the carrier battle group and air wing head their way, Trump vows to tighten the screws on the Farsis, the Euro-Peons give them aid and comfort to screw us over (yet again), the US Navy steams through the Spratleys to flip the bird at the Chi-Coms, Brazil's prexy loosens gun laws, mister they could use a man like Augusto Pinochet again, Team Trump trashes Obama's failed Cuba policy, and a former UN spokesman blames Jooz for not letting Hitler finish the job.
DEE-Fense: The disgraceful treatment of Gold-Star widows.
We-All-Slam-For-I-Slam: Persecuted Christian Asia Bibi escapes from Pakistan to freedom.
Domestic Front: Trump to challenge rogue injunctions that sabotage his authority and yet another appeals court is set to be flipped. But Gorsuch indeed. In the economy, GOP renews right to work push, Trump's trade policy on China is long overdue and justified, and California's schizophrenic gas policy.
Crime: More on the insane Leftist radical transexual motivations of the Colorado shooters and the FBI has hundreds of domestic terror investigations going. No doubt tipped off by the SPLC, right?
Healthcare: Hyannisport tells us not to listen to RFK Jr on vaccinations, and the absolute bloody disaster that will be Medicare For All.
Red Greens: NASA's numbers on "climate change." Do I need to tell you the thrust of the piece?
Feminazism and Transgender Psychosis: Converse hires pre-pubescent drag queen to be a spokesmodel (Chuck Taylor is rolling in his grave), and how #MeToo took a wrecking ball to 1,000 years of jurisprudence.
Hither and Yon: A line of clothing and decor with an Auschwitz theme? Yup. Star Trek Discovery and masculinity, more on liberal hypocrisy and their will to lord over us and a documentary about the horrors of Communist China.

Anyway, links from around the world, across the nation and up your street. Have a better one and remain blessed.
NOTE: The opinions expressed in some links may or may not reflect my own. I include them because of their relevance to the discussion of a particular issue.
CONGRESSIONAL COUP, SPYGATE, DEEP STATE, THE MUELLER DECEPTION

posted by at
07:10 AM
|
Access Comments