« Billionaire Pledges $113 Million to Rebuild Notre Dame
|
Main
|
Eric Swallowall: Yes, Jake Tapper, Gun Owners Who Don't Turn In Their Guns Will Go to Prison Under My Proposed Law »
April 16, 2019
Weird Crime Blotter
A manhunt is underway for a suspected hitman in Canada who was caught on video during an alleged job last fall -- in which he posed as a delivery guy and shot a homeowner with a crossbow that he had hidden inside of a package, according to cops....


Surveillance footage shows the attempted killer, who appears to be wearing a wig, standing outside the victim's door with a cardboard box -- which had a hole cut into it on one end so the arrow could shoot through.
She survived.
We need common sense crossbow control and we need a 60 day waiting period on the purchase or rental of cardboard boxes.
Video of the attempted murder here. They edit out the actual shot, but you see the moments before and the moments after. Content warning for disturbing content.
Man beats up transgender "woman" after traffic accident.
Edward Thomas, 29, was taken into custody by police late Sunday for "his role in the aggravated assault" of the woman at an apartment complex in the city's Oak Cliff section.

Investigators are probing the attack as a possible hate crime, the Dallas Morning News reports.

A 36-second video clip shows Thomas viciously punching the woman after the minor accident, police said. Several others in the crowd appear to be egging the attack on, with at least one person kicking the victim as she lay helpless in the middle of the street, the video shows.
You'll never hear about this hate crime again because, well, Wrong Race, Wrong Narrative.
This isn't an actual crime, but it involves the courts. And I guess you could call it a Crime Against Love: Man sues parents for throwing away his $29,000 porn collection.
The family feud began in October 2016, when, following a divorce, the man moved back in with his parents in Grand Rapids Mich., -- bringing with him his $29,000 smut stockpile, according to federal civil court documents obtained by local outlet WXMI.

About 10 months later, the man, whose identity was withheld by the outlet, moved to a new home in Indiana and his parents sent him his belongings.

That's when he noticed his pornography pile -- which consisted of over 12 moving boxes full of movies and two boxes of sex toys -- was gone, according to Fox 13.

The man tried calling the Ottawa County Sheriff's Office, sending one officer 44 emails listing movies he says were destroyed -- but authorities declined to press charges. Many of the porn flicks are valuable and out-of-print, according to the suit.
Here's a visual exhibit showing all the dudes here reacting to hearing about this guy's sick stack of smut.
On to internet crime. Julian Assange got the boot from the Ecuadorian embassy when embarrassing pictures of the socialist president of Ecuador, whose first name is actually Lenin, were leaked, showing him in swank hotel rooms with beds loaded with expensive items from the room service menu.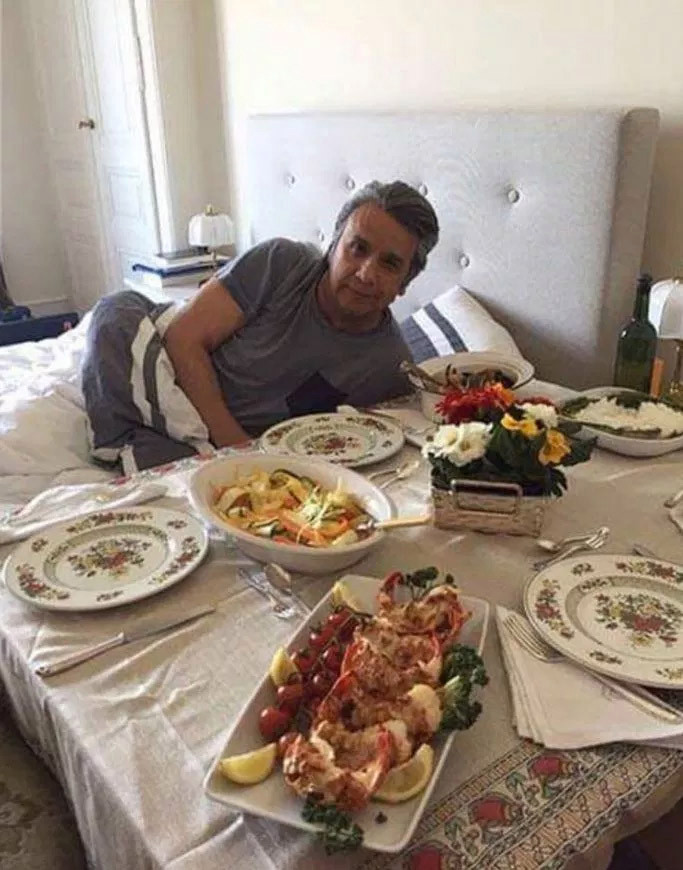 President Lenin Moreno blamed Assange for the hacking and leaking of these personal travel photos, though I don't think there's any real reason to suspect that.


posted by Ace of Spades at
05:10 PM
|
Access Comments