« My Claim: They Put Out More Good to Great Movies in 1982 Than Hollywood Has Put Out in the Last Fifteen Years
|
Main
|
EMT 04/13/19 »
April 12, 2019
Time, Keeps Flowing Like A River (on and on), To The ONT.
Sorry, I'm getting to this really late, so I'm mostly just going to throw up some links and that'll have to do.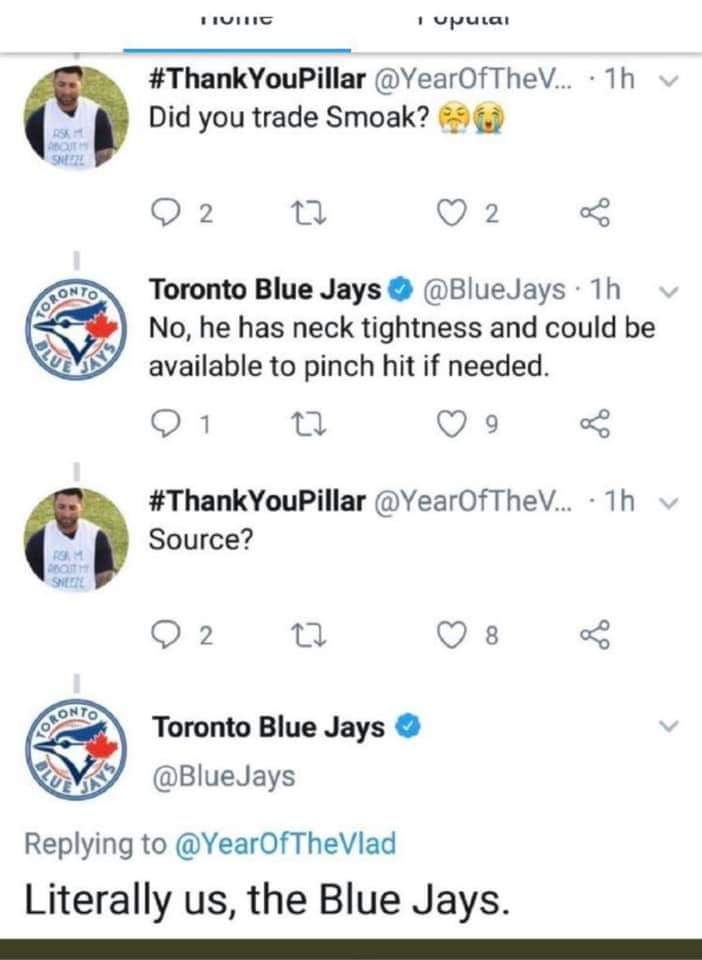 Oh, Another Star Wars Movie

The First Trailer for Star Wars IX dropped today

The reviewer at the link didn't like it, and he's happy to tell you why. I did notice one line, however:
Disney reveled that Star Wars Episode IX: The Rise of Skywalker will play to fan service 
I wonder if he knows what "fan service" is? In any event, you can watch the trailer at the links. See Rey fight a spaceship with her sword! (really) May the farce be with you.

This Is Awful

Florida Good Samaritan Shot Dead After Picking up Tabs at Waffle House
This guy is doing a nice thing, and because he didn't pick up their check (or hadn't gotten to it yet, the article isn't clear), these garbage people start a fight and kill him. Just awful.
What To Get Someone Who Has Nothing
Arkansas Men Giving Florida Man A Run For His Money

ARKANSAS MEN ARRESTED FOR TAKING TURNS SHOOTING EACH OTHER WHILE WEARING BULLETPROOF VEST AFTER DRINKING
"After drinking". Not sure that clarification was necessary.
Time To Take Sides!
Guy Refuses To Pay For His Date's $176 Lobster Dinner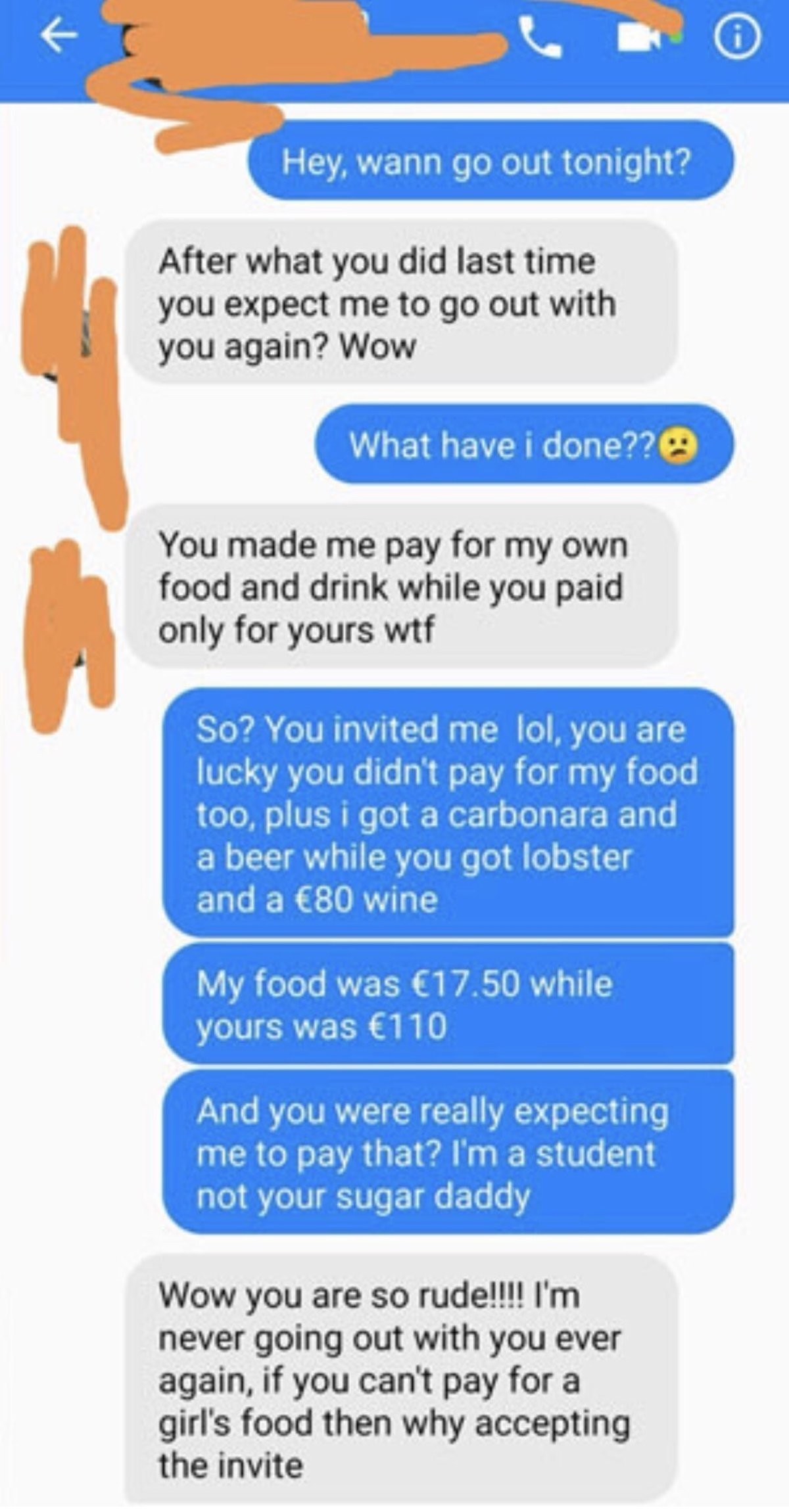 Knowing nothing more than what was presented at the link, I think he should tell the girl "See you next Tuesday".
Neat Video
This machine braids metal hose
It's kinda neat to watch it work.

The Heart Wants What The Heart Wants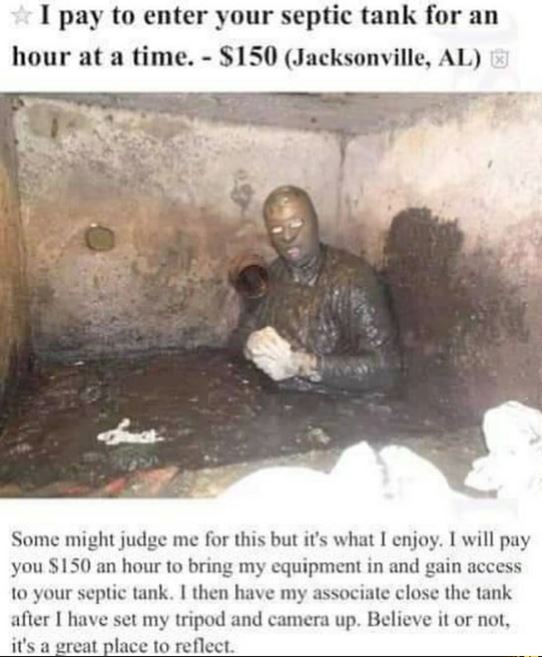 Politics
Meet the Man Behind Trump's Biden Tweet
At the cutting edge of political debate lies a troll. And yes, I don't think that bodes well for the long term health of the nation. I know some of y'all don't understand or like it when I post memes on the ONT, but that's so much of what constitutes our cultural "thinking" these days, even if it seems like a stupid thing for a middle aged man to be doing.

Time
Speaking of being a middle aged man, the reason I have so little time to write this tonight is that tonight my parents took me out for a birthday dinner. They're in their 80s and praise the Lord in good health, but they just sold the house I grew up in and moved into a condo. Our conversation revolved around the old neighborhood and the people who lived there. The man who lived behind us is dying in intensive care. Another neighbor died a year or so ago, his house was just sold at a tax auction and someone is starting the process of flipping it. I don't envy them the job, he was a hoarder and the house has been empty for years. Empty of people anyway, all the stuff he hoarded (and who knows how many bugs and rodents) is still there. I think it's only when you get to middle age that you really get a sense of the world existing before and after you, that we're all just moving through it. Driving through the old neighborhood today...there is the house I grew up in, but it's no longer ours. Here is the house where I first fooled around with a naked girl, her family moved out shortly after I graduated high school. Where is she now? I have no idea. Over there is the house with a pool. One fine summer evening a group of us kids tossed crab apples over the fence and scared the crap out of the older lady who lived there as she took a late evening swim. My dad whaled the tar out of me for that stunt, but the lady we scared so badly died decades ago. All those people, all those lives, moved through the neighborhood, but they're all gone now, including finally my parents. The houses are still there, and the roads and the parks and the streams, and they're all the same. Different people are moving through them on their journeys through life. It gives one a sense of transience that can be....disquieting. I dunno. I guess I'm just waxing philosophical tonight. I just realized that I'm twice as many years away from my birth as my birth was from WWII. Crazy.
Tonight's ONT has been brought to you by WD-40: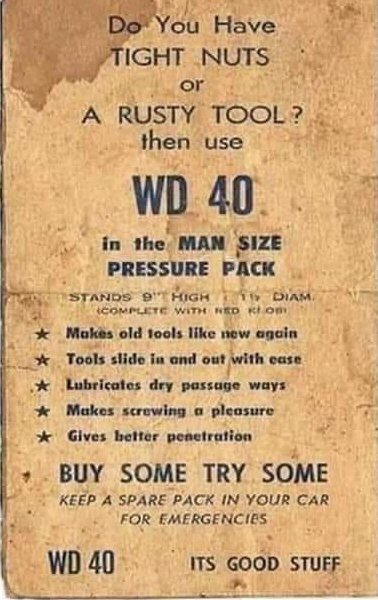 (1964 was a more innocent time)

posted by WeirdDave at
09:57 PM
|
Access Comments