« EMT 04/14/19
|
Main
|
The "Canadian Pharmacy" Canard: Does It Fly? »
April 14, 2019
Sunday Morning Book Thread 04-14-2019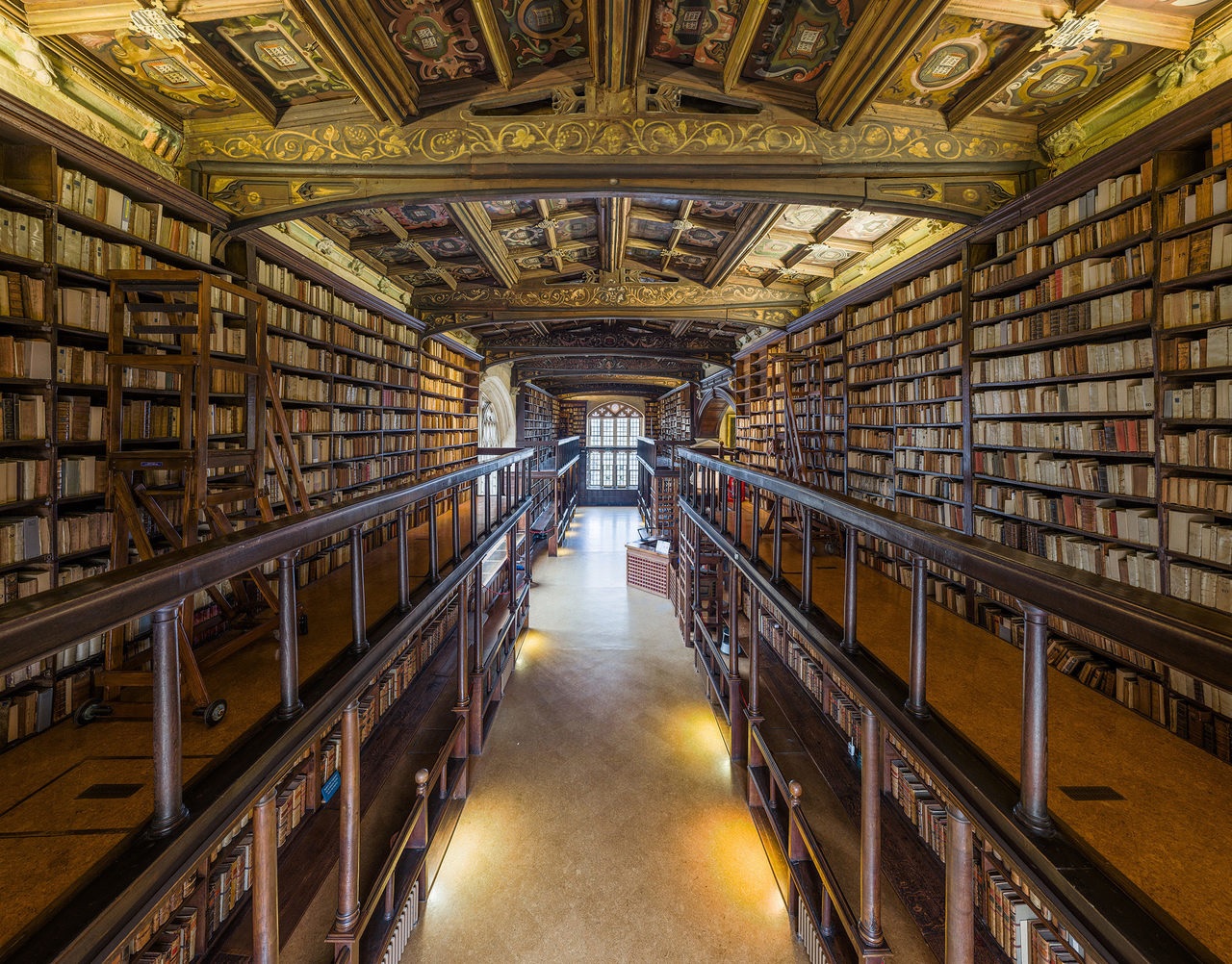 Bodleian Library, Oxford University

Good morning to all you 'rons, 'ettes, lurkers, and lurkettes, wine moms, frat bros, and everybody who's holding your beer. Welcome once again to the stately, prestigious, internationally acclaimed and high-class Sunday Morning Book Thread, a weekly compendium of reviews, observations, snark, and a continuing conversation on books, reading, writing, and publishing by escaped oafs who follow words with their fingers and whose lips move as they read. Unlike other AoSHQ comment threads, the Sunday Morning Book Thread is so hoity-toity, pants are required. Even if it's these pants, which, even though they're not as outragously and flamboyantly ugly as some of the ones I've shown, nevertheless, they just look unbecoming.

Book Quote
Books are masters who instruct us without rods or ferrules, without words or anger, without bread or money. If you approach them, they are not asleep; if you seek them, they do not hide; if you blunder, they do not scold; if you are ignorant, they do not laugh at you.
From The Old Farmer's Almanac Sampler, 1957.
(h/t Mary Poppins' Practically Perfect Piercing)


It Pays To Increase Your Word Power®
A MERIT-MONGER is someone who only does good on the promise of personal gain.
Usage: Merit-mongers are better than virtue-signalers because they actually do something instead of preening and putting on airs.



The Dystopian Overlap: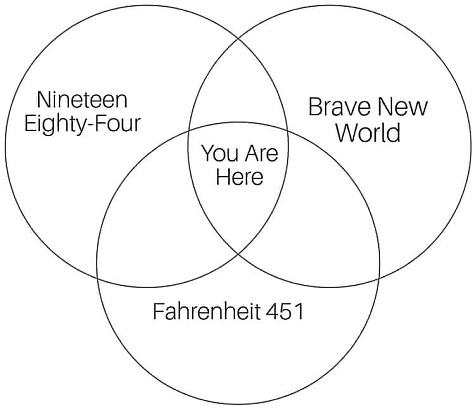 I have read that the top, I don't know, 4 or 5 wealthiest counties in the United States are grouped in and around the Washington DC area. So I think I'd add
The Hunger Games
to that Venn Diagram. Live is good when you live in
District 1
.

Banned in Boston By Amazon:
For the last decade or so, Tommy Robinson has been a loud voice in the UK against the creeping Islamicization of that once-great country. This has resulted in a number of bogus arrests and continual harassment by the police authorities, not only of him, but also of his family. It's as if there is an unwritten law that is being enforced throughout Great Britain: "Don't do or say anothing that might make Muslims angry." The authorities just want him to shut up.
But Tommy Robinson does not want to shut up. And he will not back down from a fight.
So Robinson wrote a book, Mohammad's Koran: Why Muslims Kill For Islam that does something interesting:
Using the most authoritative scholarly sources, this book decodes the Koran and shows non-Muslims what is being taught in Mosques and in universities in the West. When the Koran chapters are placed in chronological order, the meaning of Islam changes from preaching peace to commanding genocide and apartheid. It is demonstrated that the Quisling elite know the true meaning of Islam, but since 9/11 they have set about systematically deceiving the electorate in Western democracies. Amazon's ban is the final stage of this organized deceit.
Alert morons will have noticed that the book link I provided is not to Amazon, as is my usual custom. That's because Amazon stopped selling the book, and they won't say why. Robinson's site claims that Amazon was pressured by Muslim groups, even though he offers no evidence. It is kind of strange Amazon still sells Robinson's first book, Enemy of the State. It also carries other anti-jihad books, notably the works of author Robert Spencer, certainly no friend of Islam (such as The Truth About Muhammad: Founder of the World's Most Intolerant Religion).
The situation is the same with Barnes & Noble. Tommy's latest book doesn't exist, but Robert Spencer's books are readily available.
Robinson's site does not appear to carry an electronic version, but I found it offered for sale here. Please note that I had had no knowledge of "ebookmar.com" before now, so I have no idea if they're legit or not. Caveat emptor.

Support Right-Leaning, Non-Batsh*t Crazy Authors: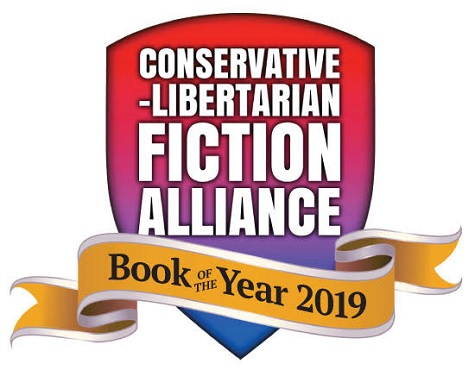 Voting is now open for the Conservative-Libertarian Fiction Alliance (CLFA) Book of the Year 2019. You can read the details of the contest here. And the ballot itself is here.
There are a surprising number of moron authors among the candidates, including Jack July, Daniel Humphreys, and David Dubrow. But here's another one by an unfamiliar (at least, to me) that sounds like it might be interesting: The Thread of Reason by Michael Isenberg:
For thirty years, Nizam al-Mulk ruled the Seljuq Empire, wielding more power than the sultans he served—until the fall night in 1092 when an assassin's blade struck him down on the road to Baghdad. Among the papers he left behind, an unpublished manuscript warned that "damaging and odious enemies" had infiltrated the government. "One will not know the extent of their intrigues and their ruses until I am gone."

Determined to learn who was behind the murder of his chief minister, but unable to trust his officials, the sultan turns to one of the smartest people he knows: Omar Khayyam—astronomer, mathematician, poet, scholar of Hadith, and lover of wine.

With little experience navigating the dangerous waters of court politics, Omar must race to solve the mystery against the background of a Muslim world in conflict between science and shari'ah—and on the brink of fundamental change.
For some reason, this reminds me of The Name of the Rose, only set in the Muslim world. And the Kindle price is a not unreasonable $5.99.

Books By Morons
End Times is an urban fantasy by moron author Jerry Jay Carroll, who asks the question, what angle would Satan use today to bring on the final battle between Good and Evil?
He would throw aside his incrementalism that God knows is working wonderfully well these days--just look at the headlines. In his boldest gamble since the temptation of Christ, Lucifer creates his masterpiece, being perfect in every respect except for the obvious flaw--it is his creation.

But there has been a slip-up and handsome Rex leaves the launch pad without memory of his paternity. This means he has to learn as he goes and maybe he will turn out to be good instead of bad. The very first thing he learns is he can do anything better than anyone else. The second is Satan wants him back at any cost and the chase is on. It begins with a bloody massacre, shifts from Beverly Hills to Vatican City, from D.C. to the Lost Coast in Northern California.
Carroll calls this novel "a thriller...that explores the modern culture sick on celebrity worship, manipulated by corrupt media, choking on false values, and closing in on moral collapse."
The Kindle edition is $3.99.
Carroll is also the author of The Horror Writer and Top Dog
___________
Another moron e-mailed me this week to tell me his wife has a new book out. He says:
It's a series about a women living in a suburb of Ottawa who has been given special powers and responsibilities.

She makes her way through her mission, while balancing her regular job and friends and family. They are fun reads, and I think this one is the best one yet. Though I am biased, as her editor and her biggest fan.
The book he's talking about is Into Thin Ayre: An Emerson Ayre Novel:
In her third adventure, it's a dog eat dog world out there, and Emerson Ayre, settled into her role as an Orber and vigilante soul reaper, may have just bitten off more than she can chew. When The Mothers send Emerson a vision via a furry four-legged conduit, she gets meaner than a junk yard dog tracking her quarry, losing all common sense in the process.

Luckily for her, she's not alone in her pack as she finds herself sent to the doghouse where she herself may just need a little saving…
The Kindle edition is $4.99.
He also tells me:
You can really tell that a lot of Canadians read your site, especially based on who is making comments.
AoSHQ: Internationally famous!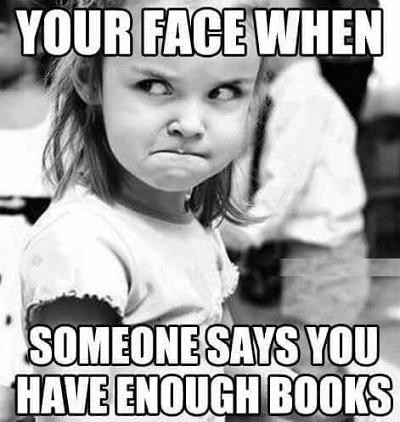 Moron Recommendation
Zany hijinks ensue when you try to reform the natives:
29 I read Trade Wind by M. M. Kaye which was recommended here a few weeks ago. This is the story of a woman who comes to Zanzibar from Boston in the 1850's. She is full of self righteousness, wanting to do good deeds, and ready to reform the local culture. She is caught up in a revolt against the Sultan, has to deal with a plague epidemic, and becomes the one who is changed. This is not only a good story, but one learns about the history and politics of Zanzibar.

Posted by: Zoltan at April 07, 2019 09:14 AM (8jlwn)
Trade Wind is available on Kindle for $7.99.
That recommendation prompted this:
For a darker (and hilarious) version of something similar to this, try Evelyn Waugh's Black Mischief.

You can thank me later.

Posted by: A.H. Lloyd at April 07, 2019 09:16 AM (cfSRQ)
So let's take a look at Black Mischief. It does sound darkly comic:
"We are Progress and the New Age. Nothing can stand in our way." When Oxford-educated Emperor Seth succeeds to the throne of the African state of Azania, he has a tough job on his hands. His subjects are ill-informed and unruly, and corruption, double-dealing, and bloodshed are rife. However, with the aid of Minister of Modernization Basil Seal, Seth plans to introduce his people to the civilized ways of the west-but will it be as simple as that?

Profound hilarity ensues from the issuance of homemade currency, the staging of a "Birth Control Gala," the rightful ruler's demise at his own rather long and tiring coronation ceremonies, and a good deal more mischief.
This one's a little spendier, $11.99 on Kindle.
___________
Mrs. Muse and I are watching the TV series Rebellion on Netflix, about the Irish Rebellion of Easter 1916 and I was clueless. I thought "The Troubles", as I've heard them called, was just a bunch of random shootings and bombings. I had no idea that Ireland put together an actual army and took on the British Empire - right in the middle of World War I. So I went looking for books on the subject, and there are, as you might guess, a ton, this one looked to me to be the most promising: The Rising (New Edition): Ireland: Easter 1916 by Fearghal McGarry.
The Rising is the story of Easter 1916 from the perspective of those who made it, focusing on the experiences of rank and file revolutionaries. Fearghal McGarry makes use of a unique source that has only recently seen the light of day — a collection of over 1,700 eye-witness statements detailing the political activities of members of Sinn Féin and militant groups such as the Irish Republican Brotherhood. This collection represents one of the richest and most comprehensive oral history archives devoted to any modern revolution, providing new insights on almost every aspect of this seminal period.

The Rising shows how people from ordinary backgrounds became politicized and involved in the struggle for Irish independence. McGarry illuminates their motives, concerns, and aspirations, highlighting the importance of the Great War as a catalyst for the uprising. He concludes by exploring the Rising's revolutionary aftermath, which in time saw the creation of the independent state we see today.
Obviously, this would not be the definitive history, but the eyewitness accounts might be a good place to start.
And I do recommend the Rebellion TV series.
___________

Don't forget the AoSHQ reading group on Goodreads. It's meant to support horde writers and to talk about the great books that come up on the book thread. It's called AoSHQ Moron Horde and the link to it is here: https://www.goodreads.com/group/show/175335-aoshq-moron-horde.
___________
So that's all for this week. As always, book thread tips, suggestions, bribes, insults, threats, ugly pants pics and moron library submissions may be sent to OregonMuse, Proprietor, AoSHQ Book Thread, at the book thread e-mail address: aoshqbookthread, followed by the 'at' sign, and then 'G' mail, and then dot cee oh emm.
What have you all been reading this week? Hopefully something good, because, as you all know, life is too short to be reading lousy books.


posted by OregonMuse at
09:00 AM
|
Access Comments