« CNN Couldn't Spin Their Fellow Democrats' Vote in Favor of Infanticide, So They Simply Disappeared It From Their "News" Coverage
|
Main
|
The Morning Report - 2/28/19 »
February 27, 2019
Wednesday Overnight Open Thread (2/27/19)
***
The Quotes of The Day

Quote I

"You're fake news. You're a classist, elitist … You're a liar, you're a fraud, you're a racist, you're a homophobe … You were trying to destroy my life!" Tommy Robinson

Quote II

"I was really mad. It made me feel like they think softball is a bad sport and girls shouldn't play softball. I just started throwing balls at the game as hard as I could. I thought it was rude."Marie Marcum

Quote III

Holy wars are not about winning a patch of land or access to seaports. They are about taking up the flaming sword of God, and eradicating evil from the earth. The Other becomes the enemy of all that is good and holy, and the soldier of God is called upon to destroy him.

To die in such a cause is a ticket straight to heaven — and so, in these cheapened times, is just being doused with bleach and called a bunch of names. If you're black and gay, that is.

But what it all tells us is that the holy war is on, and it's here. It's within our own borders. And we, friends, are the Other.Malcolm Pollack
***

The next time the kids want to watch Willie Wonka & The Chocolate Factory I'll probably think of this.............

***
The problem is not that people are taxed too little, the problem is that government spends too much. - President Ronald Reagan. And in Minnesota it is very true.

This particular painting is not alone, of course. The Minnesota State Arts Board also approved contributions like these:

Rosy Simas, Minneapolis $9,875
"Weave" honors the interwoven, interdependent nature of our world in an intersectional Indigenous dance project that envelops the audience in an immersive experience of story, dance, moving image, and quadrophonic sound.
***
Deborah Thayer, Saint Paul $10,000
Thayer will choreograph "All Hail the Queen," using somatic explorations to unearth experiences of the female voice and vagina. The piece will be presented as an evening length dance installation in Minneapolis.
***
Cecilia M. Cornejo, Northfield $10,000
In collaboration with the Mexican community of Northfield. Cornejo will complete Ways of Being Home, a poetic documentary that addresses issues of marginalization and belonging as experienced by that community.
***

The "Greatest Generation" gave blood and treasure for France. Is this what they fought for?

Globalist President Emmanuel Macron is flirting with more anti-free speech measures.

At an annual dinner, Macron put forward the idea of permanently banning those convicted of so-called "hate speech" crimes from all social media.

Broadcaster BFMTV reports that a bill fighting hate speech online will be filed around May.

This proposal to put the clamps on Internet speech coincides with the ear-piercing levels of criticism Macron is facing throughout the anti-government Yellow Vest protest. The French government has brought down the hammer on the Yellow Vest protestors, arresting approximately 8,400 protestors in a span of a few months.

I'll let you know how this Tweet works out. You never know, maybe I'll be banned from entering France. Damn!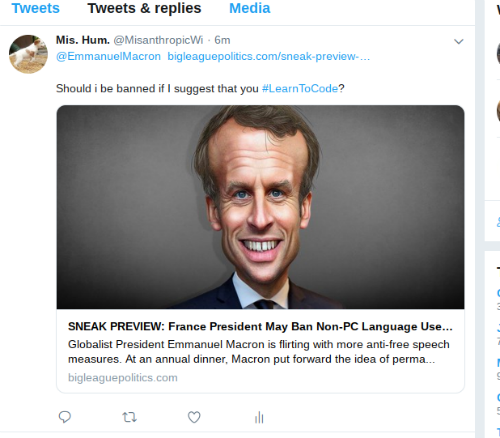 ***
Former Secretary of State Madeleine Albright apologized to Mitt Romney on Tuesday for previously mocking his 2012 description of Russia as the country's top geopolitical foe.

Reporters tweeted Albright offered a mea culpa to now-Sen. Romney (R., Utah), then the 2012 GOP nominee, at a House Intelligence Committee hearing, saying "we underestimated what was going on with Russia."

Romney's comment in a CNN interview that Russia was "our No. 1 geopolitical foe" was widely viewed as a gaffe by Democrats and the media. Obama and Vice President Joe Biden mocked his "Cold War" mindset, and then-Sen. John Kerry (D., Mass.) said it was a "preposterous notion."
Go ahead Paste Eatin' Uncle Joe, go ahead and run for POTUS. The 2020 campaign ads write themselves.
***

To cheap to rent a Safety Deposit box at the nearest financial institution? Do you have a can of Pringles? Turn your Pringles can into a safe.
***

The ONT doesn't think this skater will be the next Alex Ovechkin. But it still is fun to hear him mic'd up.



She was a lonely sort, just a little too short
Her jokes were dumb and her fav'rite sport
Was hockey (in the winter)
He was duly impressed and was quick to suggest
Any sport with a PUCK had to be 'bout the best
As he jabbed his elbow in her (get it honey?)

Former adult film star Mia Khalifa has undergone surgery on a breast implant which was damaged by an ice hockey puck during an NHL play-offs game in May of last year.
I wonder if she was mic'd up.
***

A majority of us have resigned from a job at least once in our life. What these former employees did takes quitting to a whole new height.

If anyone in Circleville, Ohio stopped by the local Sonic for some Chili Cheese Coneys and tots before getting moderately high and watching ABC's Red Carpet coverage, they would've been greeted by a handwritten note taped to the restaurant's front door.

"Warning: Due to terrible management, the whole store has quit," the letter read, according to a photo posted on social media. "The company has been sold to people that don't give a f*uck [sic] about anyone but themselves. Sorry for the inconvenience, but our team refuses to work for a company that treats their employees like shit when they have put everything into this story [sic].
***

What do you get when you combine an empty vessela sex coach with an Instagram account? Menstrual blood portraits.

A woman who works as a sex coach smeared menstrual blood on her face to show periods are 'beautiful and powerful'.

Is this one of Gillian Anderson's missing scenes from Sex Education?

Demetra Nyx, from California, shared the powerful images to Instagram in an effort to take a stand against the stigma placed around periods, which often sees them portrayed as dirty and taboo.
***
The ONT Musical Interlude
February 27, 1977 Keith Richards was arrested at Toronto's Harbour Castle Hotel, after an ounce of heroin was found following a raid of his hotel room by 15 Royal Canadian Mounted Police. Richards, who was charged with possession with intent to traffic, faced seven years to life in prison. Bail was set at $25,000 (£14,705). via thisdayinmusic.com
***

Code Camp Student Genius Award Winner.

A California college student allegedly created an app so he could sell drugs on campus, federal prosecutors said Tuesday.

Collin Howard, 18, of Sunnyvale, was indicted Thursday on charges he possessed and distributed cocaine and methamphetamine, according to a press release from the U.S. Attorney's Office for the Northern District of California.

The University of California, Santa Cruz student allegedly developed the "Banana Plug" app — a play on the school's mascot, Sammy the banana slug — on which students could request drugs such as cocaine, "Molly," and "Shrooms," according to the U.S. Attorney's Office.
***

Defying odds. Knocking down 3s and being Tonight's Feel Good Story of The Day.

Michael Bryant hadn't suited up for a basketball game over the last two seasons since he became a part of the Grand Ledge varsity boys basketball program as a team manager.

But Bryant figured Friday he would bring his basketball shoes just in case.

The Grand Ledge senior who was diagnosed with cerebral palsy as a child and is cognitively impaired has been hoping the last two seasons for an opportunity to get on the court.

"I dreamed about going on the court and shooting 3-pointers," Bryant said.
***

Tonight's ONT has been brought to you by Kids Saying The Darndest Things.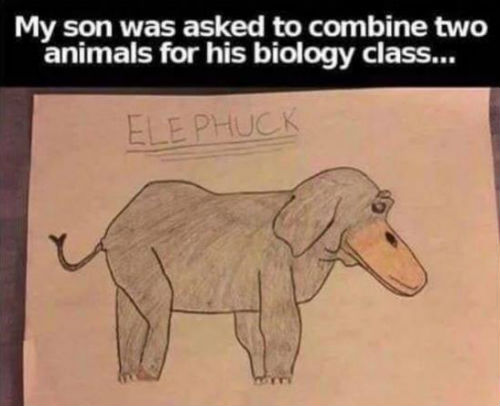 Notice: Posted with permission by the Ace Media Empire and AceCorp, LLC. We reserve the right to.........whatever.

posted by Misanthropic Humanitarian at
10:00 PM
|
Access Comments