« EMT 02/24/19
|
Main
|
A Chicken In Every Pot, And A Reactor On Every Block: That's My Idea Of A "Green New Deal!" »
February 24, 2019
Sunday Morning Book Thread 02-24-2019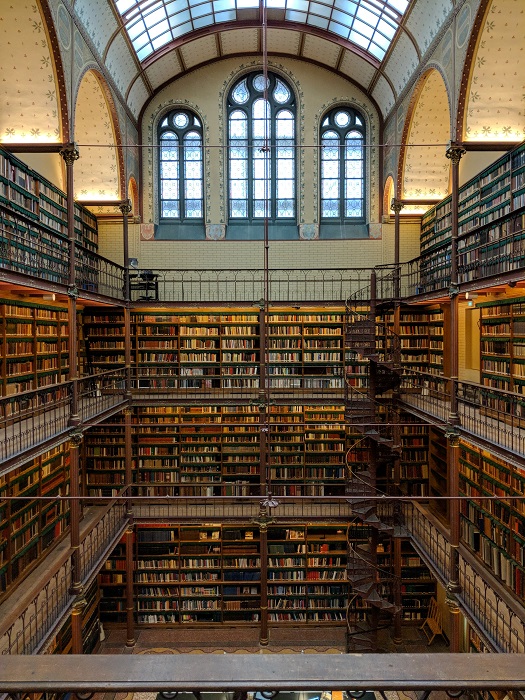 Rijksmuseum Research Library, Amsterdam

Good morning to all you 'rons, 'ettes, lurkers, and lurkettes, wine moms, frat bros, and everybody who's holding your beer. Welcome once again to the stately, prestigious, internationally acclaimed and high-class Sunday Morning Book Thread, a weekly compendium of reviews, observations, snark, and a continuing conversation on books, reading, writing, and publishing by escaped oafs who follow words with their fingers and whose lips move as they read. Unlike other AoSHQ comment threads, the Sunday Morning Book Thread is so hoity-toity, pants are required. Even if it's these pants, which make you think, hey, maybe she'd better ease off a bit on the lunch-time burritos.

Pic Note
From the Cuypers Library web page:
The Cuypers Library is the largest and oldest art historical library in the Netherlands. Visitors, students and art historians alike are welcome to use the library to delve deeper into the Rijksmuseum collection. iPads are available for general use and there is free WiFi access both in the library and throughout the museum.
Click on the photo to see a much larger version.
(h/t Hank Curmudgeon)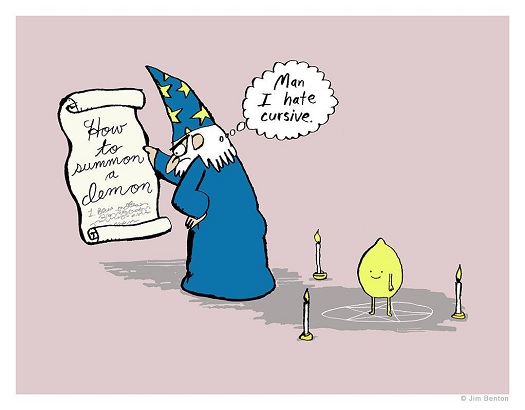 It Pays To Increase Your Word Power®
If you're PHILOZOIC then you love animals.
Usage: I'm not carnivorous, I'm philozoic.

Homeless in Seattle
When I was a young conservative, I read Excluded Americans: Homelessness and Housing Policies (it was one of the first books I ordered from the Conservative Book Club) that presented statistical evidence correlating homeless rates with the presence of laws enforcing some sort of rent control. I forget if he was also arguing causation, but, using New York City as an example. the author described how rent control messes up housing markets so that renters tend to grab whatever housing they can, especially the rent-controlled units, and hold onto them rather than going with the natural ebb and flow of a free market. Housing becomes less available and the prices of non-controlled housing goes up. He had examples of people living in the same apartment for 25-30 years because the rent was fixed at an absurdly low level, like $125 per month, and they weren't about to give that up.
I was convinced that all we had to do was get rid of rent control and the homeless problem would take care of itself. Of course, I was being hopelessly naive. And the homeless problem has gradually gotten worse and now in many urban areas, it is completely out of hand.
All of this came to mind when I was reading this long City Journal article, Seattle Under Siege, the main point of which is this:
At the same time, according to the Puget Sound Business Journal, the Seattle metro area spends more than $1 billion fighting homelessness every year. That's nearly $100,000 for every homeless man, woman, and child in King County, yet the crisis seems only to have deepened, with more addiction, more crime, and more tent encampments in residential neighborhoods. By any measure, the city's efforts are not working.
I guess every major urban area has got a homeless tent camps now. I've heard that the one in Los Angeles stretches on for miles and miles. We've even got one here where I live in Oregon, and one of my friends has had her house broken into several times after the camp sprung up went up a mile or two away.
The City Journal piece references a book as "the definitive book on homelessness", A Nation in Denial: The Truth About Homelessness, written in 1993
Homelessness is a condition of disengagement from ordinary society—from family, friends, neighborhood, church, and community.... Poor people who have family ties, teenaged mothers who have support systems, mentally ill individuals who are able to maintain social and family relationships, alcoholics who are still connected to their friends and jobs, even drug addicts who manage to remain part of their community do not become homeless. Homelessness occurs when people no longer have relationships; they have drifted into isolation, often running away from the support networks they could count on in the past.
Causes not on this list: poverty, injustice and access to affordable housing. Including rent control. I was making the same mistake the poverty pimps were making, i.e. all we have to do is to pass repeal some laws and the problem will go away.
Yeah, no.
Because even if they're not addicts or mentally ill, they're bums. I've worked with bums and I can tell you that once the bum attitude sets in, it is dang near intractable. Some guys simply prefer that itinerant, low-responsibility lifestyle. In the past, these guys tended to be few and far between, but now, their numbers are legion.
The best way to prevent homelessness isn't to build new apartment complexes or pass new tax levies but to rebuild the family, community, and social bonds that once held communities together. As Richard McAdams, a recovered addict and current outreach worker for the Union Gospel Mission, told me: "There are 6,000 people on the streets in Seattle. I know 3,000 of them by name and know their stories. It's not a resource issue in this city, it's a relational issue. The biggest problem is broken relationships."
Which is not what progressives want. They don't want strong families or churches or self-governing communities. What they want is a bunch of atomized individuals, all dependent on the almighty State. So these broken relationships are a feature, not a bug, of progressive ideology, and the homeless tent cities are the broken eggs of the progressive urban omelet.



A Scathing Review: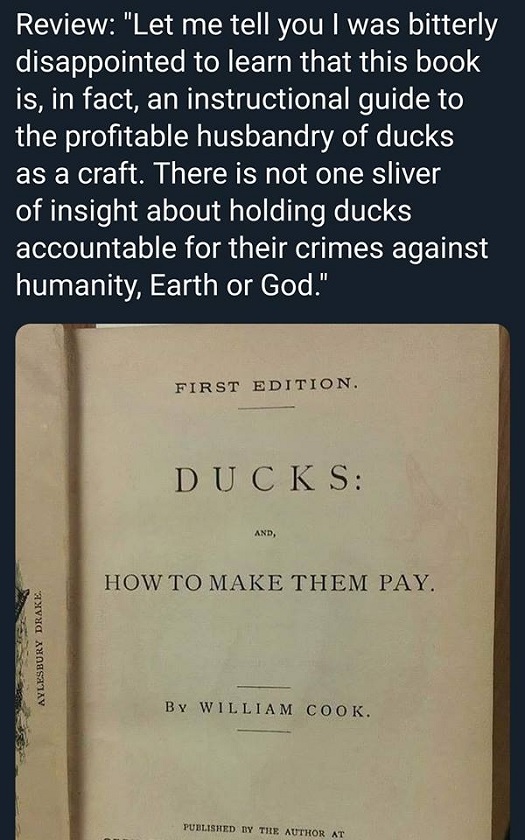 Moron Recommendations
Erich, a book thread lurker, e-mails one in:
America Through the Spectacles of an Oriental Diplomat by Wu Tingfang. The auther was Minister to the US, Spain and Peru for the Q'ing dynasty 1896-1902 and 1907-1909. He was also the first ethnic chinese admitted to the British Bar (1876). He served as Foreign Minister for the RoC under Sun Yat-Sen till he died in 1922. The book is available on Project Gutenberg and Librivox though I very much prefer my 1914 first edition.
One Kindle edition is available for FREE. The Gutenberg edition, also free, looks like it has fewer errors.
Also:
Bootleg by Alex Shearer (a manga adaptation was done under the title "Chocolate Underground"). It is about Britain ruled by the Good For You Party, which would be very funny except...
Yeah, I can see how that might hit a bit too close to home. Specifically:
The Good for You Party is improving the health of the nation. Fruit and vegetables are compulsory and chocolates are banned. When best friends Smudger and Huntly discover an overlooked stock of cocoa and sugar, their secret chocolate-making business takes off fast. Can they stay ahead of the law?
The book is out of print, I think. But used copies are available.

___________
No one expects the Spanish Civil War!
I have two [recommendations]. Begin with this six part BBC documentary available on YouTube:

https://bit.ly/2SHXfrc

Then Stanley Payne's The Spanish Civil War.

Caution: It does rhyme with today and is therefore scary as hell.

I recommend the YouTube first to get an overview on the incredibly complex political situation with numerous acronymed parties you may have difficulty keeping track of such as the "Radical Republicans" who were, in fact, a law abiding center right party.

Posted by: Anonosaurus Wrecks, Tyrannosaur Wrangler at February 17, 2019 11:13 AM (+y/Ru)
The Spanish Civil War (Cambridge Essential Histories) by Paul Stanley
This book presents a new history of the most important conflict in European affairs during the 1930s, the Spanish Civil War. It describes the complex origins of the conflict, the collapse of the Spanish Republic and the outbreak of the only mass worker revolution in the history of Western Europe. Stanley Payne explains the character of the Spanish revolution and the complex web of republican politics, while also examining the development of Franco's counter-revolutionary dictatorship. Payne gives attention to the multiple meanings and interpretations of war and examines why the conflict provoked such strong reactions at the time, and long after. The book also explains the military history of the war and its place in the history of military development, the non-intervention policy of the democracies and the role of German, Italian and Soviet intervention, concluding with an analysis of the place of the war in European affairs, in the context of twentieth-century revolutionary civil wars.
Or, if $13.30 is too much, the Kindle edition of The Spanish Civil War: A Very Short Introduction can be had for only $6.15.
___________
I also read Loki's Child by Fenris Wulf about a metal rock band with... unsuspected depths. It begins as a marvelous expose of how the pop music hit sausage gets made and moves on in fun, convoluted, and unexpected ways. Highly recommended.

Posted by: Hans G. Schantz at February 17, 2019 09:55 AM (1pQvR)
Löki's Child sounds like a real wild one. It claims to be
...a tale of music, revolution, and revenge. A pagan dystopian paean to chaos, a libertarian manifesto, and a scathing insider's critique of the music industry, this is a book that Robert Anton Wilson might have written if he had known how to play electric guitar. This is a book so metal that even the consonants require umlauts. This is a book that will make you first question the author's sanity, and then the sanity of the society in which you live.
$4.99 to drive yourself screamingly insane sounds like a real bargain.

___________
132 I read that the Brits had made a TV series from a book called A Discovery of Witches by Deborah Harkness. I usually don't like tv made from books as much as I like books, but it does mean that a lot of people liked the book. Picked up a well worn copy at the library and immediately was completely fascinated by it. A lot of paranormal romance books are pretty formulaic but this one creates an earth populated by witches,vampires and demons integrated into society but invisible to humans. It opens in Oxford, England in a library(of all places!) with a woman researcher studying old books on alchemy which is her specialty. She asks for an old manuscript to be retrieved from the archives which turns out to be a magically spelled book that all three creatures,as they call themselves, have been looking for for generations as it has hidden itself waiting for the one person who could open it. She immediately becomes a target. So, there is a mystery, sexual tension, history, poetry, and lots and lots of references to real historical books. Can't wait to read the next two in the trilogy. Enjoy!

Posted by: Sharon at February 17, 2019 10:09 AM (QzF6i)
In addition to that, the Amazon blurb for A Discovery of Witches says
Harkness has created a universe to rival those of Anne Rice, Diana Gabaldon, and Elizabeth Kostova, and she adds a scholar's depth to this riveting tale of magic and suspense. The story continues in book two, Shadow of Night, and concludes with The Book of Life.
$10.99 on Kindle.

___________
Don't forget the AoSHQ reading group on Goodreads. It's meant to support horde writers and to talk about the great books that come up on the book thread. It's called AoSHQ Moron Horde and the link to it is here: https://www.goodreads.com/group/show/175335-aoshq-moron-horde.
___________
So that's all for this week. As always, book thread tips, suggestions, bribes, insults, threats, ugly pants pics and moron library submissions may be sent to OregonMuse, Proprietor, AoSHQ Book Thread, at the book thread e-mail address: aoshqbookthread, followed by the 'at' sign, and then 'G' mail, and then dot cee oh emm.
What have you all been reading this week? Hopefully something good, because, as you all know, life is too short to be reading lousy books.

posted by OregonMuse at
09:00 AM
|
Access Comments