« EMT 02/17/19
|
Main
|
Iran's Future? Pretty Grim, If These Kids Are Anything Close To Typical »
February 17, 2019
Sunday Morning Book Thread 02-17-2019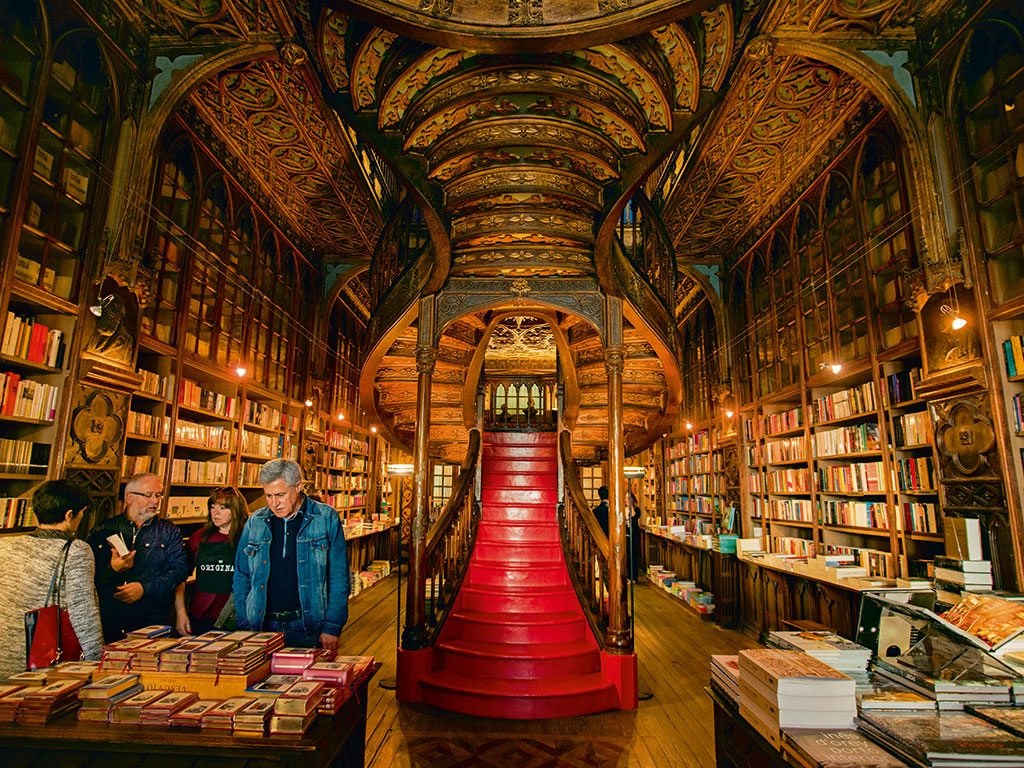 Livraria Lello Bookstore, Portugal

Good morning to all you 'rons, 'ettes, lurkers, and lurkettes, wine moms, frat bros, and everybody who's holding your beer. Welcome once again to the stately, prestigious, internationally acclaimed and high-class Sunday Morning Book Thread, a weekly compendium of reviews, observations, and a continuing conversation on books, reading, and publishing by escaped oafs who follow words with their fingers and whose lips move as they read. Unlike other AoSHQ comment threads, the Sunday Morning Book Thread is so hoity-toity, pants are required. Even if it's these pants, which are worn by soy boys all over the world.

Pic Note
A little backstory on this indie bookstore in Porto, Portugal:
In 1906, my great-grandfather, José Lello, and his younger brother, António, created Livraria Lello as we know it today. It's located right in the heart of the labyrinthine streets of the old town, where you'll find some of the city's most important historic attractions. The store was designed by renowned Portuguese engineer Xavier Esteves; its opening was a major event not only in Portugal but throughout Europe.

That central red staircase is quite spectacular. The staircase is an engineering masterpiece and the most photographed element of the bookstore. All the ornaments around the staircase are made of plaster, employing the trompe l'oeil technique to imitate wood. Only the handrails are made of actual wood, brought from Brazil for its high quality. J.K. Rowling, when she lived in Porto, used to visit quite often, and it's said the staircase was one of the sources of inspiration for the Harry Potter saga. Remember the moving stairs at Hogwarts?
(h/t Scott)

Here's a list of the 30 best local (independent) bookstores. I have no idea what criteria the author used to compile the list, so take it for what it's worth. It might come in handy if you're visiting a city one of the bookstores on the list is in (h/t Timo).


It Pays To Increase Your Word Power®
MALARIA literally means 'bad air'; it was originally thought to be caused by inhaling the malodorous air found in stagnant bogs and marshes.
Usage: Malaria is a disease, not a bad night at the opera.

A Little Pizza Romance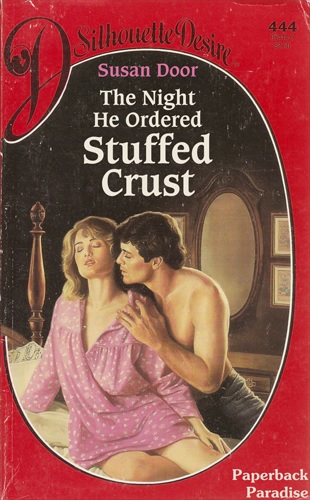 Losing our Minds
Scott also sends along a book recommendation for the memoir Gang of One: Memoirs of a Red Guard:
It's memoir from a young man who lived through China's Cultural revolution, and eventually escaped to the USA. I can't help but see parallels between the violent lefty crap happening and his account of Cultural Revolution - essentially, lawless youth running around inflicting violence on the "wrong" type of people while the police and military stand back and watch. Have you seen this comparison anywhere?
Why yes, yes I have. A while back, I started to write a few words noting the similarity of China's Cultural Revolution to certain aspects of 21st-century America, but I got distracted by some shiny object and never got around to finishing it. It was when I was reading Wild Swans: Three Daughters of China by Jung Chang:
An engrossing record of Mao's impact on China, an unusual window on the female experience in the modern world, and an inspiring tale of courage and love, Jung Chang describes the extraordinary lives and experiences of her family members: her grandmother, a warlord's concubine; her mother's struggles as a young idealistic Communist; and her parents' experience as members of the Communist elite and their ordeal during the Cultural Revolution. Chang was a Red Guard briefly at the age of fourteen, then worked as a peasant, a "barefoot doctor," a steelworker, and an electrician. As the story of each generation unfolds, Chang captures in gripping, moving—and ultimately uplifting—detail the cycles of violent drama visited on her own family and millions of others caught in the whirlwind of history.
Students were actually hauling off teachers they didn't like and murdering them in cold blood. And just because you yourself may have happened to be a commie and mouthed all the correct slogans doesn't mean you were exempt from having the mob turn on you at some point. It seemed as if the entire country of China lost its mind and degenerated into a series of 'woker-than-thou' fights where yesterday's 'woke' radicals were eaten alive by an even more 'woke' radical crowd.
And all of this was presided over by Madame Mao, who wielded enormous power during these years, and who made Madame Hillary look like Mother Teresa.
Scott also sent me a photo of some bookends he owns. I get the best pics sent to me by lurkers: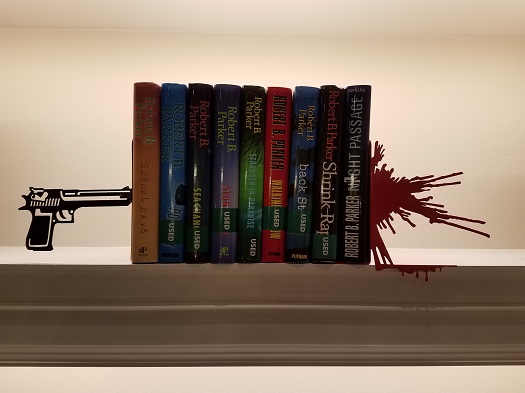 Moron Recommendations
18 Sci-Fi recommendation:

The World Treasury of Science Fiction

1000 pages or so and full of really good short stories ranging from works from the 30s up to the 80s (it was published in '89).

Some foreign pieces translated into English, too, which was interesting because sci-fi means different things to different cultures. The other neat part was finding work by big name authors who dipped their toe in the genre but became famous for other styles.

Best $5 I've spent in years.

Posted by: Moron Robbie - Everything I Needed to Know About Coding I Learned From RBG at February 10, 2019 09:09 AM (LX21o)
The World Treasury of Science Fiction is now, sadly, out of print, but used copies can be had for as little as $6.
I cut my eyeteeth on The Science Fiction Hall of Fame anthology series, compiled by Robert Silverberg, Ben Bova, and others. Vol. 1, 2A, 2B, and I think there's Vol. 3 and 4 now. The only Kindle edition available is the one for Vol. 1. The earliest story in the first volume was first published in 1934. It's kind of fun reading about starships zipping through interstellar space with the aid of computers powered by vacuum tubes.
___________
91 Candace Millard's The River Of Doubt.

Many of you probably have read this one, but it was new to me (Candace takes a great picture by the way, and no disrespect intended). Anyway, this was a very fine story of the harrowing river trip Teddy Roosevelt took after his election loss, a trip that very nearly killed him and most every one else in his expedition. Well-written, gripping story and some new geography to learn about.

Posted by: Huck Follywood, Virginia is for comic relief at February 10, 2019 09:45 AM (Z216Q)xxx
The River of Doubt: Theodore Roosevelt's Darkest Journey is a book that they could make a good movie out of, or maybe an Amazon Prime miniseries:
After his humiliating election defeat in 1912, Roosevelt set his sights on the most punishing physical challenge he could find, the first descent of an unmapped, rapids-choked tributary of the Amazon. Together with his son Kermit and Brazil's most famous explorer, Cândido Mariano da Silva Rondon, Roosevelt accomplished a feat so great that many at the time refused to believe it. In the process, he changed the map of the western hemisphere forever.

Along the way, Roosevelt and his men faced an unbelievable series of hardships, losing their canoes and supplies to punishing whitewater rapids, and enduring starvation, Indian attack, disease, drowning, and a murder within their own ranks. Three men died, and Roosevelt was brought to the brink of suicide. The River of Doubt brings alive these extraordinary events in a powerful nonfiction narrative thriller that happens to feature one of the most famous Americans who ever lived.
So, not your typical summer vacation outing, then. The Kindle edition is reasonably priced at $8.99.
Another moron (h/t Huck Follywood) mentioned one of Millard's other books, Hero of the Empire: The Boer War, a Daring Escape, and the Making of Winston Churchill:
At the age of twenty-four, Winston Churchill was utterly convinced it was his destiny to become prime minister of England. He arrived in South Africa in 1899, valet and crates of vintage wine in tow, to cover the brutal colonial war the British were fighting with Boer rebels and jumpstart his political career. But just two weeks later, Churchill was taken prisoner. Remarkably, he pulled off a daring escape—traversing hundreds of miles of enemy territory, alone, with nothing but a crumpled wad of cash, four slabs of chocolate, and his wits to guide him.
See, that'd be another great movie. Of course, these movies won't happen since they're primarily manly stories about manly men doing manly things in manly (i.e tough) environments where they have to man up or lose their man cards, if not their manly lives. The current political climate frowns on these sorts of narratives, and doesn't consider them to be authentic. In fact, their masculinity on display would be considered downright toxic.

___________
104 Had started Light it Up by Nick Petrie last week and finished it this week, It is the third book in his series about Peter Ash, a veteran with a "certain set of skills". Well-written and tightly plotted and finds characters still dealing with issues from previous books- Ash has PTSD with problems being indoors for long periods of time, which kind of causes issues when one needs to be indoors.New book in series just came out and I have an Amazon gift card tempting me to purchase it...

Posted by: Charlotte at February 10, 2019 09:53 AM (JwHYp)
Light It Up is the third novel featuring Peter Ash, a combat veteran who
...leaves a simple life rebuilding hiking trails in Oregon to help his good friend Henry Nygaard, whose daughter runs a Denver security company that protects cash-rich cannabis entrepreneurs from modern-day highwaymen. Henry's son-in-law and the company's operations manager were carrying a large sum of client money when their vehicle vanished without a trace, leaving Henry's daughter and her company vulnerable.

When Peter is riding shotgun on another cash run, the cargo he's guarding comes under attack and he narrowly escapes with his life. As the assaults escalate, Peter has to wonder: for criminals this sophisticated, is it really just about the cash?

After finding himself on the defensive for too long, Peter marshals his resources and begins to dig for the truth in a scheme that is bigger—and far more lucrative—than he'd ever anticipated. With so much on the line, his enemy will not give up quietly...and now he has Peter directly in his sights.
So it seems that marijuana can be bad for your health after all.
The first two novels in the Peter Ash series are The Drifter and Burning Bright.

___________

Books By Morons
Lurking moron SoulEspresso e-mailed this week and asked me to pimp a novel written by a buddy of his. He describes it this way:
It's a World War I dieselpunk fantasy that deals with different kinds of reality—weird but fun.
The novel is Storm Dreams (The Cycle of Somnium Book 1) by Jeb R. Sherill, his first novel. The Amazon blurb says "Storm Dreams is a fantastic existential adventure and the first published novel of an author who may prove to be one of the strangest writers in the industry."
Do dreams dream? Can a dream become real?

Trapped between the real world and the lands of dream, John Cassidy is a WWI fighter pilot with no memory of his past. He may not even be a real person. Rescued from a dream by a mysterious airship captain named Banner, Cassidy is thrown into a chaos he can't begin to fathom. Forced to flee Armada agents, bounty hunters and the demons of his past, he searches for a meaning to life and the man who dreamed him in the first place. Between dogfights, pirates, demons and the dogged police of the dream worlds, Cassidy pits himself against the armies of both the real and the unreal. Something is very different about himself and Captain Banner, but what it is may require death to discover.
The Kindle edition is $3.99. Also available in paperback and on Audiobook.
___________
If you like, you can follow me on Twitter, where I make the occasional snarky comment.
___________
Don't forget the AoSHQ reading group on Goodreads. It's meant to support horde writers and to talk about the great books that come up on the book thread. It's called AoSHQ Moron Horde and the link to it is here: https://www.goodreads.com/group/show/175335-aoshq-moron-horde.
___________
So that's all for this week. As always, book thread tips, suggestions, bribes, insults, threats, ugly pants pics and moron library submissions may be sent to OregonMuse, Proprietor, AoSHQ Book Thread, at the book thread e-mail address: aoshqbookthread, followed by the 'at' sign, and then 'G' mail, and then dot cee oh emm.
What have you all been reading this week? Hopefully something good, because, as you all know, life is too short to be reading lousy books.

posted by OregonMuse at
08:40 AM
|
Access Comments