« Bill-Kristol-Backed Infanticide Advocate Ralph Northam: I Regret Nothing About My Comments in Support of Post-Natal Murder
|
Main
|
Ralph Northam's Nickname at VMI? "Coonman" »
February 01, 2019
Big League Politics' Scoop?
STATUS UPDATE: REAL
I hope Bill Kristol's happy with his infanticidal racist leftwing Democrat candidate.
From the Virginian-Pilot:
VIRGINIA POLITICS

BREAKING

Ralph Northam yearbook page shows men in blackface and KKK robe

By Gordon Rago and Marie Albiges
Staff writers
Feb 1, 2019 Updated 10 min ago

...

The photo, which The Virginian-Pilot obtained a copy of Friday from the Eastern Virginia Medical School library, comes from the 1984 yearbook, the year Northam graduated.

...

The fourth photo on the half-page has two people, one wearing white Ku Klux Klan robes and a hood, the other with his face painted black. The person with the black face is also wearing a white hat, black jacket, white shirt with a bow tie and plaid pants. Both are holding canned drinks.

It's unclear who the people in costume are.

The governor's office did not immediately respond to requests for comment Friday afternoon.

Update: No Wonder Breitbart Wanted My Commenters:
145 This should not be tolerated!!!

Posted by: Shaun King
Image below.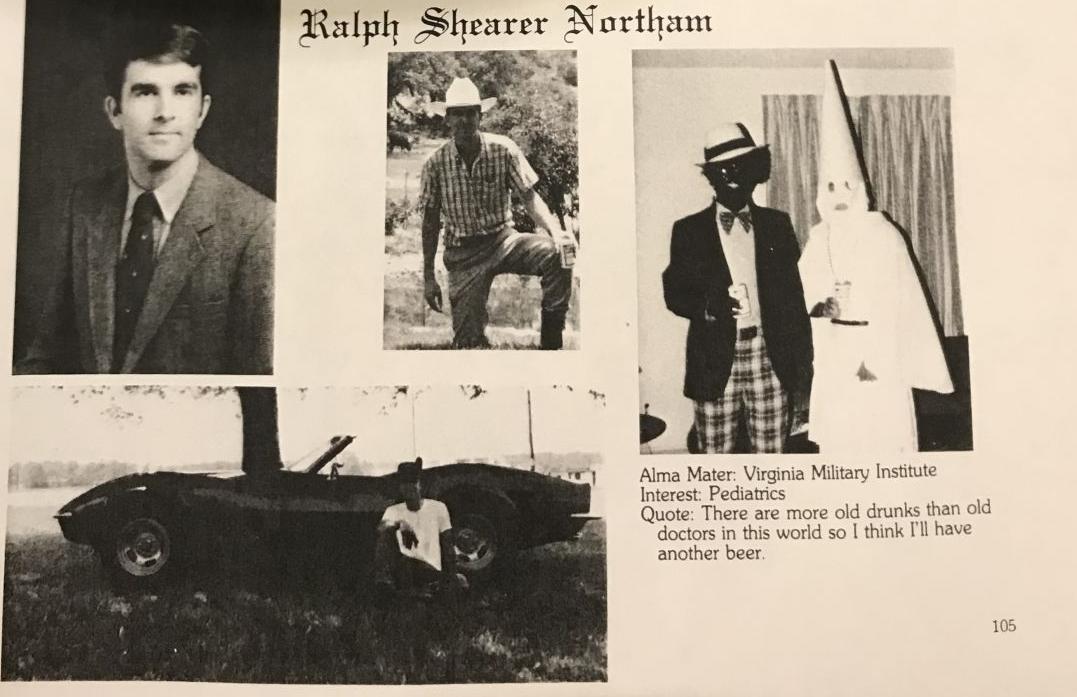 What did Bill Kristol (and his owner Pierre Omidyar) know, and when did they know it?
Here's the Washington Post's coming headline (if they run one):
Republicans pounce on Governor's outreach efforts to The Blacks
And on that:
LOL get fucked Ron Jeremy Junior.
Dave Wiegel's position is that the Virginia governor speaking approvingly of post-natal murder is a local crime story, and so his hack paper was right not to cover it.
He forgets to mention that his hack paper, the Washington (DC) Post, is in fact the "local paper" for the entire Northeast Virginia area, and a lot of the rest of Virginia too.