« Mid-Morning Open Thread
|
Main
|
ABCNews: Virginia Democrat Congressman Bobby Scot Was Told By Vanessa Tyson About Her Claims Against Justin Fairfax a Year Ago, But Apparently Did Little to Get Her Story Out »
February 07, 2019
The Morning Rant: J.V. Edition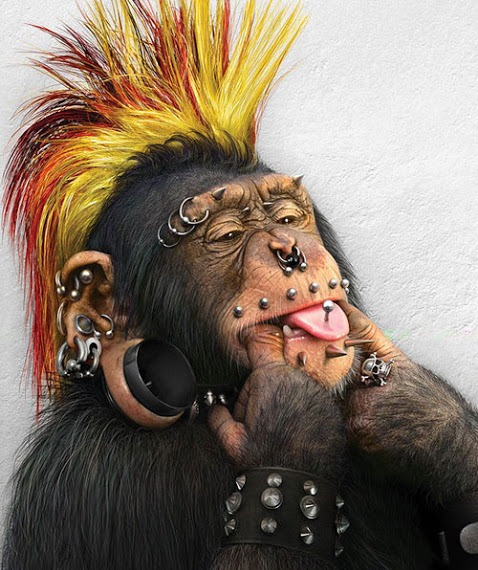 Why, it's as if men and women are different!
I am glad that we have very few women working as electricians and tree trimmers and construction workers and a host of other occupations in which physical strength and agility play a role. Denying that is insanity, and endangers everyone.
Think of the 120 pound woman cop who either requires the assistance of larger and stronger men to do her job, or requires deadly force in its absence!
We used to celebrate those differences, but now we must deny biology and traditional culture in service to...what? Of what benefit to society is there if more women go into trades that will get them killed or injured at a rate close to that of men (probably higher)? How does that improve our lot?
If my house catches on fire I want the firemen who respond to be young, fit, strong men who can save me and my family as quickly and as safely as possible. I do not want a woman with less upper-body strength and less athletic ability to try to save us just because of some insane policy of "equality."
Equality of death seems to be a sub-optimal goal.

I guess in a just world, as envisioned by the maniacs on the Left, we will have fathers breastfeeding and changing diapers while mothers go to work digging ditches and repairing power lines during storms and serving warrants on violent criminals and guarding supermax prisons.

******
Screw you!
NYPD demands that Waze stop including police locations
"Individuals who post the locations of DWI checkpoints may be engaging in criminal conduct since such actions could be intentional attempts to prevent and/or impair the administration of the DWI laws and other relevant criminal and traffic laws," Acting Deputy Commissioner for Legal Matters Ann Prunty wrote in the letter, according to the report. "Accordingly, we demand that Google LLC, upon receipt of this letter, immediately remove this function from the Waze application."
We are a free people, and restricting our ability to thwart the government in its incessant and unending attempts to create a nation of compliant drones will be met with resistance. The 1st Amendment of the US Constitution protects our right to speak freely. The 2nd Amendment of the US Constitution protects our right to change our government if it no longer allows us to speak freely.
Your choice.

******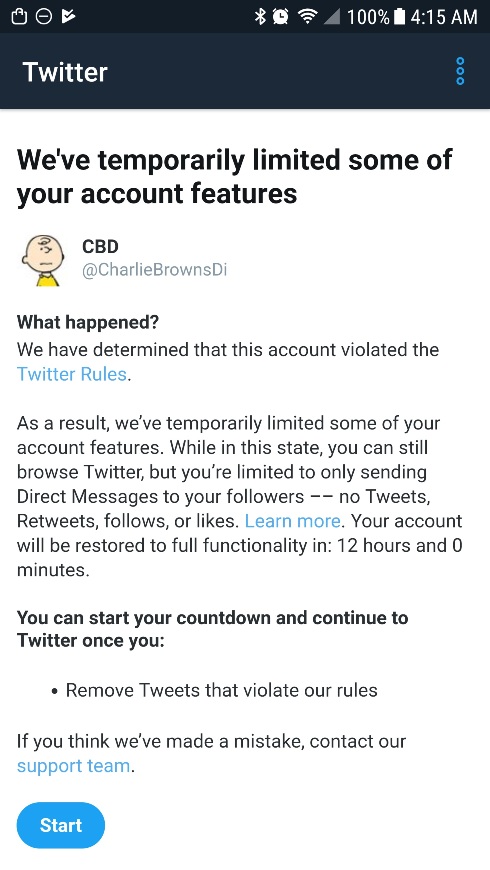 This was Twitter's reaction to my suggestion that a hack journalist knew absolutely nothing about American history. She suggested that tariffs were something new for Republicans, rather than one of the main planks of the "American System," which has been around since...oh...men like Henry Clay and John C. Calhoun and John Quincy Adams supported it! I'm no journalist, but that makes it 200+ years old.
What did I say? I suggested that she was too dumb to #LearnToCode....


AoSHQ Weekly Prayer List
For submission guidelines and other relevant info, please contact FenelonSpoke, who is managing the prayer list. You can contact her at
fenelon direction 18 circle 'a' gmail dot com
(All one word, no spaces)
If you see a prayer request posted in a thread comment, feel free to copy and paste it and e-mail it to her.
BLOG NOTE: Sorry I missed posting the prayer list yesterday. I just clean forgot. Hopefully, it won't happen again. -OM
Answered prayer:

-MikeTheMoose has found a job, thanks be to God. He thanks everyone for their prayers. Which he feels helped a lot


Job Needs:

Kallisto has part-time job. She thanks everybody for prayers. Please continue to pray as she needs a full-time job.


Prayers for comfort after death:

-Prayers for Jim New Sunk Dawn and his family, His dear step mom just died


Continuing requests:

-Prayers for RickL tumor has grown and has second one in lung. Prayers for complete healing

-Cheribebe asks for "extra prayer boost from horde." Insurance dragging heels about new chemo treatment and bills are rolling in and finances are snug. Prayers for healing and that situations and insurance may be worked for her benefit.

-Calm Mentor is going through a very difficult time right now. He is at his last bit of money. Please pray that he gets a job.

-Prayers for Slapweasel, Parents have moved in with him. Mom had stroke in June. Dad has demenita and doesn't know where he is sometimes, Slap is caring for them so he needs prayer as well He also needs a donor for a liver transplant.

-JTB's cousin has a malignant tumor on pancreas. Needs healing

-BuckIV need prayer for family of his sister whose husband just died after 5 week battle with cancer.
Buck's sister also has breast cancer which has metastasized to bones. Also, Buck himself asked for prayers that bladder cancer not progress to worse type.

-Renningantx asked for prayers for his uncle Jimmy who had been cancer free for 12 years but aggressive cancer has returned and he has a doctors apt this week. Prayers for complete healing.

-LadyL asked for prayers for healing for a dear friend, Jean, who has had a recurrence of Mantle Cell Lymphoma, which is an aggressive cancer and hard to treat

-JQ's father has advanced prostrate cancer and has been having a lot of pain, JQ works full time and so needs to find a place where dad can be cared for.

1/1-Cfo mom asked for prayers for complete healing for "Jim-her daughter-in-laws father and grandson's Papa. Jim had hip replacement (Thanks for prayers, everyone), but recently femur fractured horribly and he had a 10 hour surgery with pins and cables. Jim's father died from complications from surgery replacement surgery so everyone is concerned.

1/1-Captain Josepha Sabin asked for prayers for their non biological daughter. She is just ten years old and is going to have surgery soon for a brain tumor. Prayers for complete healing and skill for surgeon.

1/3-MWR and her husband are starting second IVF cycle as they try to conceive a child. Would like prayers for patience, trust and hope and for doctors and team as they graciously give of their time and expertise.

1/9-Antisocialists dear friend had a kidney transplant, Prayers for a successful recovery

1/9-Troyrisers mother, Judy has inoperable lung cancer. Please pray for a peaceful passage

1/9- Red asked for prayers for his friend Rita V. whose father died in Fall and has a son who has entered inpatient drug rehab the day after Christmas . Prayers for recovery for son and strength for mom.

1/9-Nickrp has stage-4 lymphoma. Battling to stay in remission has taken a toll on him financially, emotionally, and physically. Wife is disabled. Prayers for health and financial stability.

1/11-bensdad00 had combination pacemaker and defibrillator put in. Needs success for healing so he can get back to work.

1/14-PaleRider asked for prayer for her brother who had surgery for intestinal issues. Please continue to keep him in prayer for healing

1/14-Molly K asked for prayers for her daughter, 18 or so weeks pregnant. Baby is expected to pass in 2 weeks or at birth. Lymphatic and circulatory systems didn't hook up right and baby is filling up with fluid. Daughter has decided to not have an abortion. Please pray for entire family for strength and comfort

1/16-NorthernLurker needs job or business, sense of direction, and vision and ambition in terms of future occupation.


Updates:

1/29 Mrs. Empire1 thanks everybody for prayers for Mr. Empire who is now in rehab for about 11 days and is bored. He might be able to come home soon. Mrs. Empire asked for prayers that Mr. Empire continue on road for complete recovery.

1/29-PookysGrl report that Pooky started EMDR therapy to rewire his brain to alleviate his flashbacks
It's tough because session are weekly and they're uncovering more landmines. Prayers for successful treatment and also for strength. PG who is trying to be a support but isn't trained in EMDR

1/26-chrjp-Recovering slowly from neurosurgery but very tired and sometimes sitting up is all he can do. Clinical trial through NIH was not successful as tumor is growing too rapidly. Trying to find another treatment option that offers some hope for which he may be eligible. This week he asks for God's help in choosing a path forward to get treatment and he and wife can find hope for future

1/30-Backwards Gal is back home (has been for a two weeks or so) after scary blood pressure drop and transfusion , B Guy thanks everyone for their prayers, He didn't ask for this prayer but I am. He's having financial issues because of gigs being cancelled. Please pray for that situation as well. Thanks.


New requests:

1/17- TonyPete asked for prayers for his granddaughters and daughter caught in bad family situation that has no immediate relief. Prayers for them and that daughter might gain wisdom to do good and not harm.

1/23 TroyRiser's mother, Judy has inoperable lung cancer. Please pray that she has a peaceful passage from this life to God

1/23-Prayers for Uncle Palpatine who was in a serious car accident a while back and needs continued healing and strengthening.

1/29 1/17-Mrs. Vic had surgery but it did not close hole in throat. Will need more surgery probably to be scheduled in March, Please keep she and Vic in prayer.

1/28-Tony "Locknar" in Tampa reports that his 90 year old grandmother had bad stroke about two weeks ago. She is now in aggressive rehab and he asked for prayers that she be able to be at home unassisted if that is her wish.

1/28 BCochran has fluid in shoulder and can't raise hand or arm above shoulder high. He was getting it drained and another injection but please pray for healing for him

1/30-Fenelon asks for prayers for D, a member of her congregation, who has had major problems since the summer, has no job and needs money. He didn't get the job he interviewed for and is really depressed.

2/1-Lin-Duh suffered a miscarriage after an unexpected pregnancy. Please continue to keep her in prayer for God's strength and comfort


2/1-LadyL asked for prayers for daughter of a friend. After giving birth several weeks ago she had a stroke. She is conscious and has had breathing tube removed, but has no sensation on one side of her body. Prayers for complete healing
Please remember the Prayer of St. Francis:
http://www.prayerguide.org.uk/stfrancis.htm
*Due to space constraints prayer requests will be removed after 5 weeks, unless updated. Please let me know. Please copy list and pray for earlier requests. Contact Fenelon at Fenelondirection18 at gmail dot com.
******
My Twitter Feed
&topic=world_news">

posted by CBD at
11:00 AM
|
Access Comments