« Mid-Morning Open Thread
|
Main
|
Soy-White Antifa Manbaby Arrested for Attack on Hispanic Marines, Slapped With Additional Count of Ethnic Intimidation »
January 31, 2019
The Morning Rant: J.V. Edition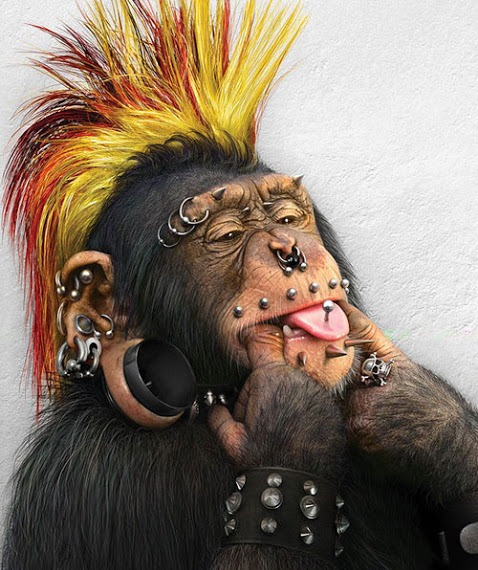 There is nothing like evil old capitalism to drag people out of poverty and despair and death. What little true innovation and invention and progress has emerged out of socialist societies has been, in the main, a result of small free-market effects within those rigid and unimaginative places. The scientist who is working on something marvelous gets better food and a nicer apartment and maybe a car and some opportunity to travel. The grunts in the factories and the peasants in the fields get no such perks, and that is why socialist countries break down and starve. And I use those descriptors purposefully; that is how the people are treated and seen by the elite.
Let's face it, SocialismTM stole most of their technology and medical breakthroughs, but even possessing the knowledge isn't enough. They still have to produce the vaccines and the tractors and the GMO seed and the thousands of things that go into creating a modern society. We have in front of us the most marvelous and obvious proof that socialism is doomed to fail: Venezuela...home to the largest proven reserves of oil on the planet. Literally a spigot that just needs to be maintained and rivers of hard currency will pour forth, yet socialism is so flawed, so bereft of any connection to the human spirit and drive that they can't even do that, and they are starving, and their children are dying.
Bad Economic Policies Kill More Children than War

Chile's infant mortality rate in 1960 was actually above that of both Venezuela and Syria. It managed to outperform Syria by the mid-1960s, but was still woefully behind its richer northern cousin, Venezuela. In the early 1970s, Chile's progress slowed to a crawl as its elite flirted with socialist policies. Once its government abandoned socialism and began economic reforms in the mid-1970s, the pace of progress sped up again, and soon Chile's infants were safer than Venezuela's. Today, Chile's infant mortality rate is similar to that of the United States.
Amazing...isn't it!
Just as our gun violence rate outside of the five or six biggest Democrat-controlled cities is about that of Belgium, so our infant mortality rate is vanishingly low. And we measure ours much more strictly than the Europeans, so don't be fooled by comparisons of the raw numbers...
And with strong border controls those numbers would improve! Yes, that might sound cold and uncaring, but we cannot be the emergency room to the world.
******
Wow...an editorial on the CNN website that makes sense. Don't worry, the link is to the outline (thank...thank...thank you to the Moron who recommended that service!), so you won't be helping CNN.
MLK's legacy is about moral clarity, not easy analogies
Recently, in honor of Martin Luther King Jr. Day (although it has also surfaced in Black Lives Matter and amid calls for greater "intersectionality" on college campuses), the civil rights movement, which King led, and the struggle for Palestinian statehood, have been analogized and morally linked -- in ways that might have surprised King himself.

These tortured analogies reject everything King represented. After all, he preached peaceful and "passive nonviolent resistance," both a term of art and a strategy that most Palestinian leaders have never embraced. It's not that they haven't seen "Gandhi." It's that too many of them are dedicated to eradicating Israel, not living beside it. Yes, some Fatah leaders have proposed or advocated a nonviolent resolution to the conflict, but most of them aren't following the path of Gandhi or King.
Read the whole thing and you will discover, shockingly, that a NYT editorialist has misrepresented MLK, and her speculation that he would have been a critic of Israel had he lived is just ridiculous, and an obscene twisting of everything he said about Jews, Judaism, Zionism and Israel.
So...pretty much on par with their whole business plan!

******
Most of you have seen this photograph, but just in case some of you haven't, that's Kyrsten Sinema, the Democrat senator from Arizona, on the floor of the United States Senate, dressed like a 42-year-old housewife trying to look 26 and bang one of her son's high school friends.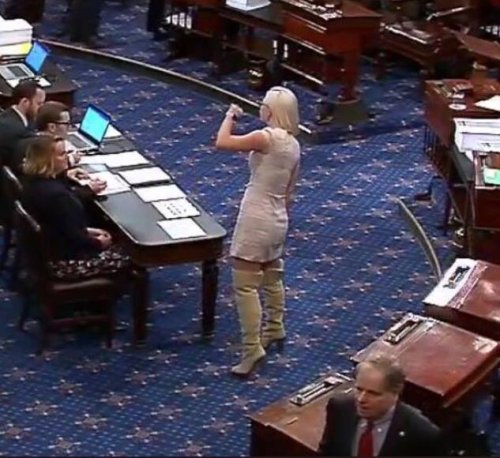 As if we needed more reasons to send the Democrat Party to the dustbin of history, how about a little respect for the institution? I realize that it is too much to ask of our politicians that they respect the country by actually doing a good job, but how about not dressing like a hooker? Is that too much to ask?

******
My Twitter Feed
&topic=world_news">

posted by CBD at
11:05 AM
|
Access Comments