« Tuesday Overnight Open Thread (1/22/19)
|
Main
|
Mid-Morning Open Thread »
January 23, 2019
The Morning Report - 1/23/19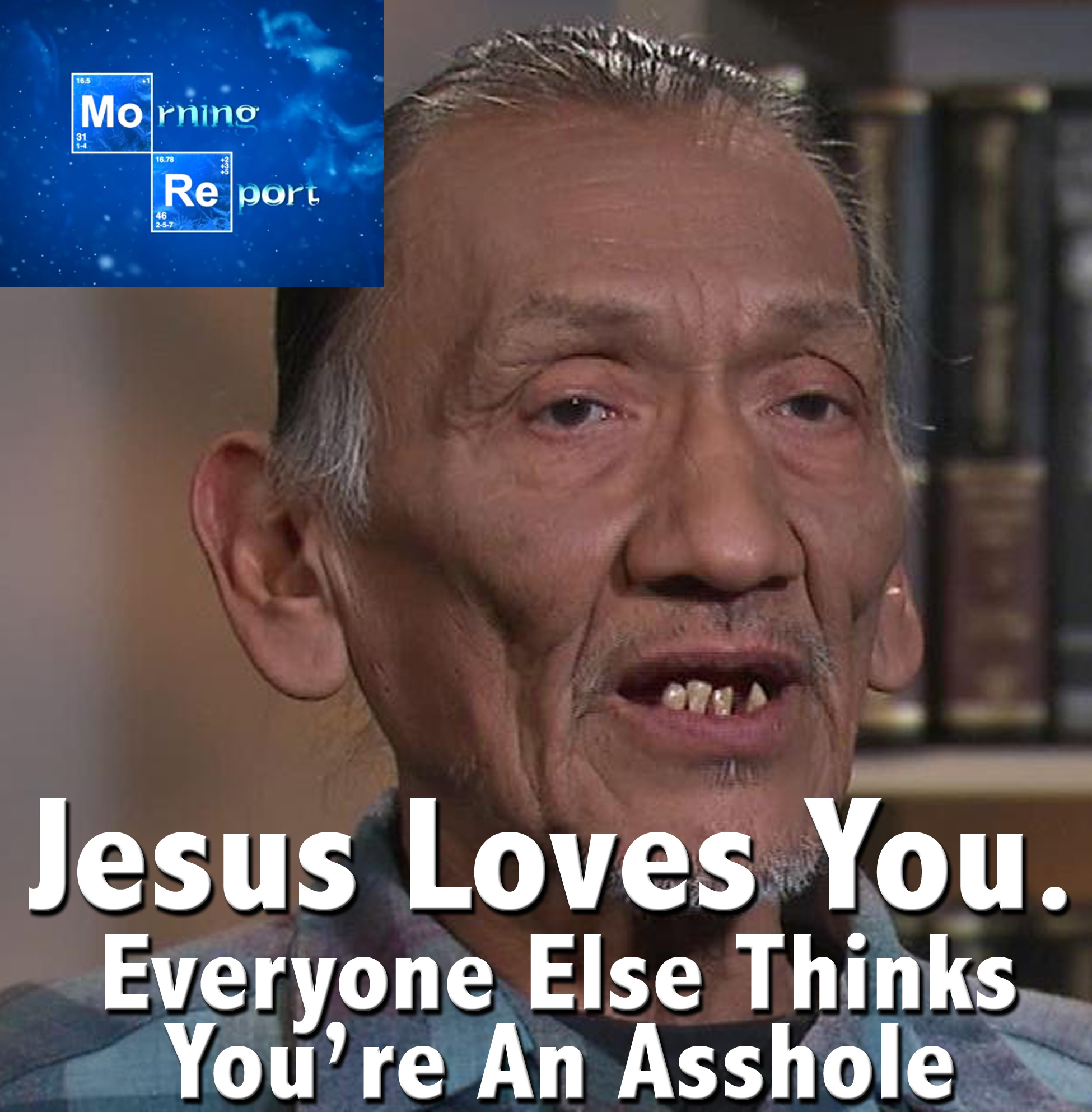 Good morning kids. Midweek and the big story continues to be the persecution and institutionalized and officially sanctioned hatred against the Catholic high school kids from Covington, Kentucky. What is patently obvious is that what we are witnessing here is not a one-off incident. From Trayvon Martin and Michael Brown (phony victims and actual violent criminals) to the Duke lacrosse players and Brett Kavanaugh (actual victims of politically-motivated persecution), this too is part of the ongoing propaganda war to paint Republicans, conservatives and all who support them or are identified with them as "the bad guys" while the Democrat-Left are "on the right side of history." It's been going on for at least the past 50 years. All of the aforementioned are little big lies that are meant to bolster and cement the bigger big lies like all the Democrats and Klansmen suddenly switched parties after the Civil Rights act was passed in 1964 (which the GOP, of course, opposed! [sarc]). And that feeds into the big big lie: America as founded is illegitimate and evil and therefore must be dismantled.
Actually, that part about us being "the bad guys" is inaccurate. We are evil. Cancer. We are to be silenced because what we have to say is toxic (heh) and therefore we must be silenced at all costs and by whatever means necessary (heh, heh). Kind of ironic considering the Left is all about multiple perspectives, moral relativism and inclusivity. So long as they can include us out. One merely has to check the link about the reaction from the Left about the Today show's interviewing of Nicholas Sandmann. Take a look at this kid; he's clean cut, intelligent, respectful, G-d fearing, respects his parents and others and is in every way what American youth used to be not so very long ago. The video of his "confrontation" with buffaloed-phony soldier Nathan Phillips speaks volumes; the entire tape, not the one from NBC's editing department. Sandmann is not only the embodiment of everything the Left loathes and wants to destroy, his presence, words and actions serve to underscore for those with eyes to see how utterly perverted and evil the Left really is.
The pessimist can say Sandmann and kids like him are rare and soon to vanish from the vanishing landscape of America as founded. Or, if you're an optimist, perhaps there are a lot more Sandmanns out there that we never hear about - that we are prevented from hearing about. Because to acknowledge him and those like him in a positive light is to legitimize what he stands for. And for the Left, that cannot be allowed to happen.
To the links we go where fresh off the heels of trying to intimidate the Covington kids at the March for Life for the benefit of the cameras, bedraggled phony soldier Nathan Phillips tried disrupting a Catholic mass on Saturday by hakn a tchainik at the altar, the more he talks the more his story changes, the Covington kids have been invited to the White House, several links with further analysis and finally in the Civil War 2.0 files disgraced jihad-apologist Reza Aslan who was fired from CNN wants to punch Dinesh D'Souza in the face for his defense of the Covington kids. In light of what I have written, I rest my case.
Looking at the fake news aspect of all of this, attorneys for the students threaten hack NY Times propagandist Maggie Haberman with a libel suit, IBD rips the media over this and the BuzzFeed fraud, Andrew Breitbart (PBUH) was right about the media, the Federalist with kind of a Pollyanna-ish view of the whole thing, and lastly, unrelated, a SCOTUS refuses to hear the case of a football coach fired for praying after a game.
Back to Amnesty and the Border Wall where the Senate has released a proposal to fund the wall and end the shutdown but it involves an allegedly limited DACA amnesty (uh oh), SCOTUS has punted on taking up the DACA case and it's causing the Dems to be intransigent, Mexicans are paying in blood for our Central American non-policies vis a vis amnesty, a grassroots group warns that Amnesty is worse than no wall at all (I agree), Obama's former Border Patrol chief blasts calling a wall immoral, and Daniel Greenfield on what the wall represents.
Shutdown Theatre: Sarah Sanders is saying that the President will be giving the SOTU at the House (huh?) while Steny Hoyer is bucking Palsi Pelosi and thinks the House should be made available. Also there are some freshman Dems who want Palsi to give in and cough up the border wall money.
Democrat-Left Scandal Sheet: The Dem dame who went after Eric Greitens is now the subject of a grand jury investigation and Lindsay Graham is calling for an investigation into the Obama and Hillary scandals. Meh, nice sentiment but call me when they get cuffed.
In general politics, Kamala-Toe Harris hires some of Hillary's key 2016 minions and a closer examination of her tyrannical proclivities, Rancida T-Labia and Loopy Ocasio-TacoRosado get appointed to the House Overbite Committee, Rabbi Fischer rips the bug-eyed, bucktoothed Bronx cheer, a report from the Blexit convention (keep that fire burning), Tom Styrene is now set to pressure the Dem prexy field about impeachment, the GOP tries a new high-tech fundraising scheme, McCaughey warns about "Mikvah" Waters, The Democrats are the Grand Wizards, Joe Bidet as harbinger of what we are seeing with the hard Left, incest aficionado Ilhan Omar stutters and stammers about her Joo-hatred, Doomberg has a surefire way to win, Gavin Nuisance's California water tax could be an opportunity for the GOP (how?), and John Kerry in Switzerland is not fondue of Trump. Fondue? Fangoul!
Guns: House GOP rep reintroduces a reciprocity bill which will go nowhere now that we don't control the House and SCOTUS will be taking up the first 2-A case in nearly a decade.
Foreign Desk: China trade talks are still a go contrary to a fake news report that said otherwise, Russia threatens retaliation against EU for their sanctions on chemical weapons use, Ledeen on Pompeo and Iranian regime change, on oil companies dealing with the Venezuelan regime (no!), and Chi-Coms are training with anti-satellite weapons (you can't spell LORAL without "oral" right Billy-Jeff?). Also, Senators want ISIS captives sent to Gitmo and three of Rancida T-Labia's constituents were just turning their life around when they were arrested for planning to join ISIS.
Domestic Affairs: Salena Zito on the futility of trying to give Amtrak wings.
Healthcare: New York State's new law legalizes abortion essentially to the point of birth (celebrated last night by the WTC antenna lit up pink), and pro-life activists still fighting to defund Planned Parenthood.
Education: High school teacher gets fired for the crime of showing a Fox News doc on college censorship and going after the tolerant Israel-bashers at UCLA and UC Irvine.
Red-Greens: About that compostable plastic that was going to save the planet...
FemiNazism: Who needs a Women's March and masculinity isn't what's toxic.
Hither and Yon: Female Ghostbusters actress is an ingrate, Steve Wynn is suing the ambulance-chasing shyster spawn of Allred, and why the Left goes after Christians. I dunno, because you can't make s'mores with communion wafers?
Anyway, links from around the world, across the nation and up your street. Have a better one and remain blessed.
BORDER WALL, MIGRANT INVASION, AMNESTY, IMMIGRATION, BORDER SECURITY
UPDATE: By request.

posted by at
07:46 AM
|
Access Comments