« EMT 01/27/19
|
Main
|
What A Concept...Let The Free Market Set Wages! »
January 27, 2019
Sunday Morning Book Thread 01-27-2019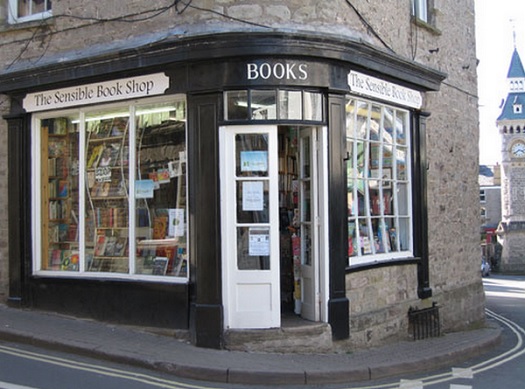 Good morning to all you 'rons, 'ettes, lurkers, and lurkettes, wine moms, frat bros, and everybody who's holding your beer. Welcome once again to the stately, prestigious, internationally acclaimed and high-class Sunday Morning Book Thread, a weekly compendium of reviews, observations, and a continuing conversation on books, reading, and publishing by escaped oafs who follow words with their fingers and whose lips move as they read. Unlike other AoSHQ comment threads, the Sunday Morning Book Thread is so hoity-toity, pants are required. Even if it's these pants, which are either just an upside-down sweater, or that's got to be the biggest pee-hole in the world.

Pic Note
Customer, who has just walked in: "Good morning. Do you sell silly books here?"
Clerk: "No sir, we have only sensible books."
Customer: "Are you sure?"
Clerk: "Quite sure."
Customer: "Not even books that are only a little bit silly?"
Clerk: "Sorry, our books are sensible through and through."
Customer: "OK, then."
Clerk: "Yes, sensible books are TIGHT."
Customer (after an uncomfortable pause): "Er, wrong meme."
Clerk: "Oh. Sorry."


It Pays To Increase Your Word Power®
In 17th century English, a STOPPING-OYSTER was a clever or witty comeback that silenced your opponent in an argument.
That's because they didn't obliterate, devastate, wrekt, or have sick burns or mic drops back in those days.



Pretty Sure This Is Racist: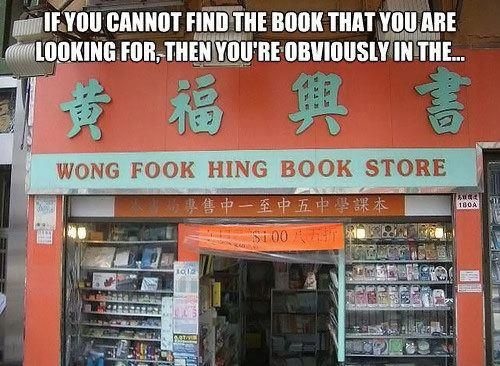 Coming In From the Cold
Reading books about Cold War espionage can be depressing because it always seems that we're a bunch of hapless boobs and the Soviets always seem to win every time.
But Operation Solo was different:
Operation Solo is America's greatest spy story. For 27 years, Morris Childs, code name "Agent 58", provided the United States with the Kremlin's innermost secrets.

Repeatedly risking his life, "Agent 58" made 57 clandestine missions into the Soviet Union, China, Eastern Europe, and Cuba. Because of his high ranking in the American communist party and his position as editor of its official paper, the Daily Worker, he was treated like royalty by communist leaders such as Khrushchev, Brezhnev, and Mao Tse-tung. Through first-hand accounts, Operation Solo tells the story of the conflicts within the FBI and American intelligence about the operation, and how the FBI, through extraordinary measures, managed to keep that operation hidden from everyone, including the CIA.
All of this is detailed in the 1996 book Operation Solo: The FBI's Man in the Kremlin, now available on Kindle.
For example, in 1970, the FBI caught rat bastard commie fugitive Angela Davis (she supplied the shotgun used to kill a judge in an act of "revolutionary violence") because a rat bastard Communist Party official told Morris Childs where her rat bastard comrades were hiding her. The FBI gave him a $10,000 reward, which he gave entirely to Catholic Charities of Chicago.
(h/t to Robert Stacy McCain for the info about Childs.)

How Many of these Weird Books Do You Own?
Mike Hammer passes along this link to Abebook's Weird Book Room.
He sheepishly admits:
FWIW, I actually have at least one of them, 'Manifold Destiny'. For better or worse, some of the titles might actually appeal to AoSHQ posters, say, '1001 Sandwiches'.
I've picked out a few more potential moron favorites from the list:
How To Avoid Matrimony.
Zombie Sharks with Metal Teeth
Embarrassing Moments in German
Fart Proudly
Natural Bust Enlargement with Total Mind Power
That last one is written by a guy, so presumably he's using his total mind power to enlarge someone else's bust.
So you morons want to check out the Weird Book Room and then report back with any of the books that you actually own, or want to own.

Moron Recommendations
79 Oh, I forgot the best book of the week, Walter Mosley's "Devil In A Blue Dress". That one was outstanding.

Posted by: Huck Follywood, As Woke As He's Gonna Get at January 20, 2019 09:51 AM (Z216Q)
The Amazon blurb for Devil in a Blue Dress: An Easy Rawlins Novel is a bit spare, but it sounds like it could be the plot of any number of noir detective novels:
Set in the late 1940s, in the African-American community of Watts, Los Angeles, Devil in a Blue Dress follows Easy Rawlins, a black war veteran just fired from his job at a defense plant. Easy is drinking in a friend's bar, wondering how he'll meet his mortgage, when a white man in a linen suit walks in, offering good money if Easy will simply locate Miss Daphne Monet, a blonde beauty known to frequent black jazz clubs.
Another moron mentioned that the film adaptation starring Denzel Washington was kind of mediocre, which is disappointing as it was on my watch list. I think I'll read the book instead.

___________
I also mentioned in a thread earlier this week, but I just finished, and highly recommend, Radium Girls by Kate Moore. I checked it out from my library and could hardly put it down. It's about the early 19-teens to 1930s female dial-painters who painted luminous clock dials and military gauges with the radioactive material, Radium, which was all the rage as the latest health and beauty treatments during that time. The girls that then became highly radioactive (they put their paint brushes in their mouths to make for more precise painting) and suffered unimaginable deaths, or lifelong debilitations. Their story through the court systems to get justice (love that word!) from the radium companies who were aware of the dangers, but didn't do anything to protect the girls, is heartbreaking. It's gonna haunt me for a while. Shocking book.

Posted by: Lady in Black - Death to the Man Bun at January 20, 2019 10:02 AM (JoUsr)
It's difficult to believe that the events of The Radium Girls: The Dark Story of America's Shining Women are as described.


The Curies' newly discovered element of radium makes gleaming headlines across the nation as the fresh face of beauty, and wonder drug of the medical community. From body lotion to tonic water, the popular new element shines bright in the otherwise dark years of the First World War.
Meanwhile, hundreds of girls toil amidst the glowing dust of the radium-dial factories. The glittering chemical covers their bodies from head to toe; they light up the night like industrious fireflies. With such a coveted job, these "shining girls" are the luckiest alive — until they begin to fall mysteriously ill.

But the factories that once offered golden opportunities are now ignoring all claims of the gruesome side effects, and the women's cries of corruption. And as the fatal poison of the radium takes hold, the brave shining girls find themselves embroiled in one of the biggest scandals of America's early 20th century.
These women were literally *glowing* in the dark. Didn't anybody think there might be something, you know, *wrong* with that? It sounds like the plot of a horror novel. And for the contaminated women, no doubt it was.

___________
174 Currently reading:

'Roosevelt's Secret War' , Persico. Very well researched, well written. For those who have any interest in WWII espionage, I'd make it must-read.

'Moscow 1941', Braithewait. Another excellent read. Extremely well researched and written. Describes at length both the machinations of the Soviets, politically, and the war effort. Many, many anectdotes from files and interviews.

Posted by: Mike Hammer, etc., etc. at January 20, 2019 10:30 AM (fZcn6)
Read Roosevelt's Secret War: FDR and World War II Espionage and you will learn things such as:
-FDR wanted to bomb Tokyo before Pearl Harbor
-A defector from Hitler's inner circle reported directly to the Oval Office
-Roosevelt knew before any other world leader of Hitler's plan to invade Russia
-Roosevelt and Churchill concealed a disaster costing hundreds of British soldiers' lives in order to protect Ultra, the British codebreaking secret
-An unwitting Japanese diplomat provided the President with a direct pipeline into Hitler's councils
That 4th item, about protecting Ultra, is one of the reasons I'm glad I'm not a world leader. Because once you've broken an enemy's military codes, the last thing you want to do is to use the new knowledge in every circumstance you can and thus reveal that you've broken the code. Because they will then invent new ones. So you've got to let some troops go to their deaths so greater numbers won't have to later on. And I can't imagine how difficult it would be to figure out when and where to best use knowledge gained from enemy decrypts. Ugh.
Moscow 1941: A City and Its People at War also sounds interesting. It points out that many of the one million Russian casualities in the defense of Moscow were not soldiers but rather
...ordinary people who took up arms to defend their city. Students dropped their books for guns; released prisoners exchanged their freedom for battle; and women fought alongside men on the bloody, mud-covered frozen road to Moscow. By the time the United States entered the war the Germans were already retreating and a decisive victory had been won for the Allies.

___________
Don't forget the AoSHQ reading group on Goodreads. It's meant to support horde writers and to talk about the great books that come up on the book thread. It's called AoSHQ Moron Horde and the link to it is here: https://www.goodreads.com/group/show/175335-aoshq-moron-horde.
___________
So that's all for this week. As always, book thread tips, suggestions, bribes, insults, threats, ugly pants pics and moron library submissions may be sent to OregonMuse, Proprietor, AoSHQ Book Thread, at the book thread e-mail address: aoshqbookthread, followed by the 'at' sign, and then 'G' mail, and then dot cee oh emm.
What have you all been reading this week? Hopefully something good, because, as you all know, life is too short to be reading lousy books.


posted by OregonMuse at
09:00 AM
|
Access Comments