« You Know BuzzFeed's "HUGE SCOOP" That NeverTrumpers Like John Podhoretz Spent All Day Jacking Themselves Off To? Mueller's Office Has Made the "Rare" Move of Specifically Denying That Report
|
Main
|
EMT 01/19/19 »
January 18, 2019
March For Life ONT
Pretty light on content tonight (read: none) because I was at the March For Life all day and I'm tired, but I will write down some of my impressions of the day. I'll try and throw in some ONT type stuff at the end, if you don't care about the march just scroll down.
It was an overcast day in DC, with temperatures in the 40s, but that didn't seem to dampen anyone's enthusiasm. The ground was covered with an inch or so of snow that had fallen overnight, snow that was rapidly being ground into slush and then just water, creating a quagmire on the National Mall. I was glad I was wearing boots, although I saw more then one Franciscan Friar wading through the morass in sandals.
I got there by Metro about noon, arriving at the Smithsonian Metro station. There was a man there with a large wooden cross made of seasoned 4X4 timber trying to figure out how much he needed on his metro card to exit. Turned out to be a quarter, which I gave him, telling him that I'd always thought Matthew 16 was metaphorical. I then joined the crowd passing through the turnstiles. As I came up the elevator into daylight, I could hear the buzz of a gigantic crowd above. Exiting the station, the speaker's podium was just to my left, with a large screen above it showing the current speaker. I had arrived too late to hear Ben Shapiro refuse to kill baby Hitler, but the slate of speakers was in full swing. I circled around to the edge of the crowd along Jefferson Drive to get a better view as I ate the sandwich I had brought for lunch.

Vice President Pence soon spoke to the crowd, oddly enough he didn't mention electrocuting gay folks in concentration camps.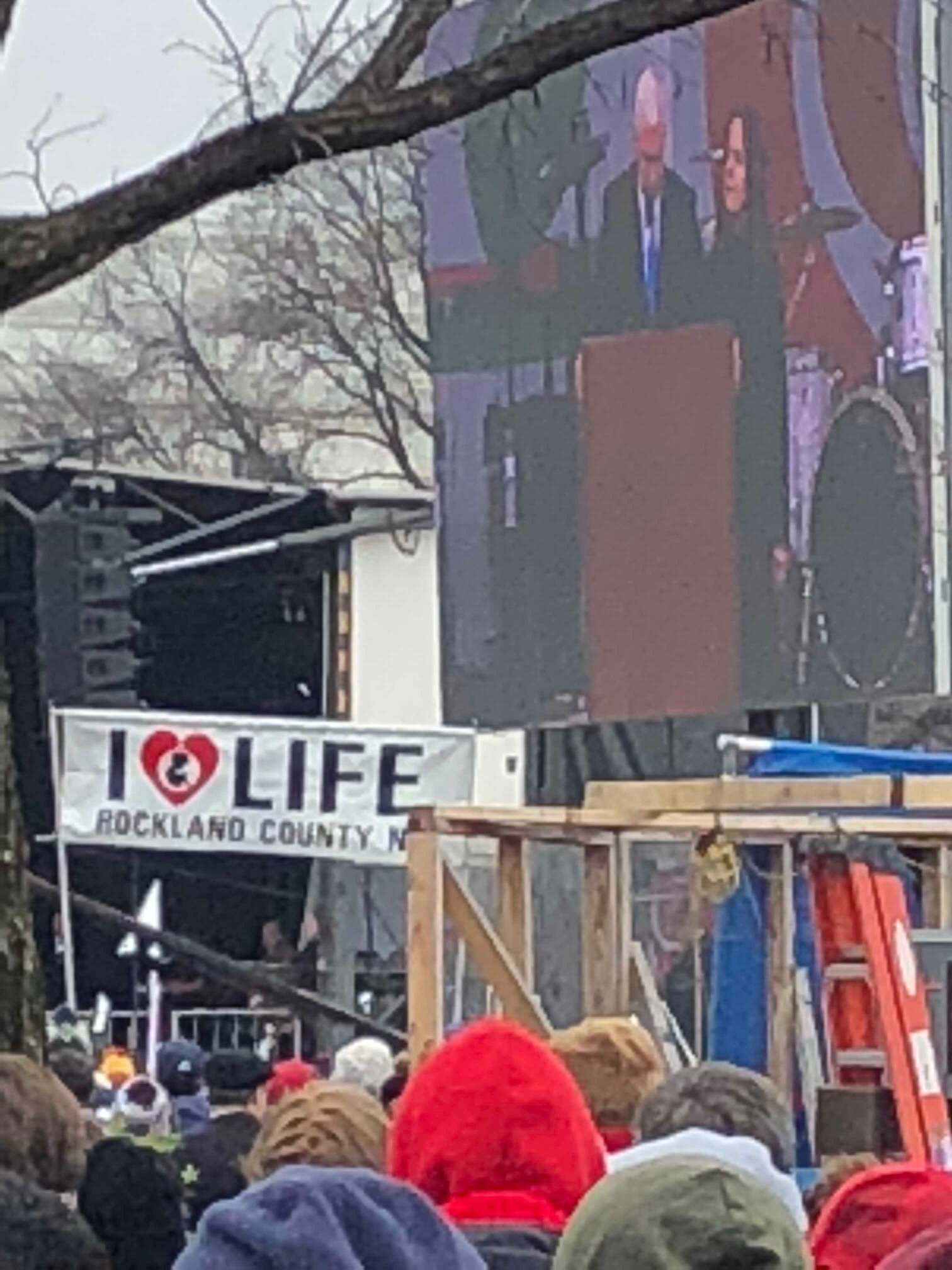 After a few minutes, he introduced President Trump, who spoke to the crowd via recorded message, affirming his support for the pro-life cause in what I thought were no uncertain terms. After his short speech, I worked my way through the crowd, across the Mall towards Madison Drive, as various other politicians took the stage. I want to take a moment to do something I almost never do, and that's to give a shout out to a Democrat. Congressman Dan Lipinski (D-IL) spoke passionately about his support for the Pro-Life movement. He's got to be one of the few pro-life Dems still in office, kudos for him for speaking out so prominently.
The last speaker was Dr. Alveda King, she spoke for a moment of her uncle's legacy, and then offered a short prayer. After that the march began. Sorta.
Everybody drifted over towards Madison Dr. and then just stood there. We're talking maybe 100K people, it takes a while for the front of the crowd to get moving, and for that movement to percolate back through the crush of humanity. I was standing on one of the stone benches in front of the National Museum of American History, watching the crowd form up and go nowhere.
After about half an hour, things started to move. Half the crowd split down 12th to Constitution, while the rest continued along Madison towards the Capitol. I walked with the later group, although we got shunted over to Constitution at 7th as the march moved onto Pennsylvania Ave by the Canoehead embassy, and on towards the Capitol itself. After the march I made my way back to the Metro at Federal Center and caught the train back to New Carrollton just in time to get stuck in 2 hours of rush hour traffic.
It was a great day. The energy from the crowd was positive and friendly, and it truly felt like a slice of America as it should be. If you want a high trust society, this was it. There were black folks, white folks, Asian folks and everything in between, all marching, chatting and laughing together. One of the best things about being on the right is that our rallies are generally positive. The anger and vitriol that characterizes so much of the left's activism was totally absent. Songs were sung, babies were cooed at, trash was picked up and banners were waved. I saw one lone woman holding a "My body, my choice" sign at the corner of 4th and Pennsylvania, but everybody left her alone. She too has the right to make her feelings known, seemed to be the attitude from the crowd. It probably takes guts to stand in favor of murdering babies by a crowd of pro-life activists. Not a lot, because we aren't the violent ones, but some, sure. I'll be back next year, maybe we should organize a March For Life MoMe. I'll close with something I wrote on this site in 2017:
*Mumble mumble* years ago, a young woman found her life shattered. She had fallen for a man who turned out to be a cad.

He left her alone and pregnant, to return to a wife and kids that she had known nothing about. Scared and humiliated, she traveled to Texas.

There she gave birth to a son. The nurse handed her the baby, and then realized that this was an adoption case and took him away.

Sobbing, she thought "He's going to a better life. He's going to people who will love and care for him, as I can't"

And I did.

But she was wrong. She may not have been able to care for me, but I never for a moment believed that she didn't love me.

35 years later we met again, for the first time, and I told her that. And that's why I have 2 moms.

This is what #MarchForLife means to me.
Now let me see if I can squeeze some ONT content in.

Jobs for Morons
Cops are looking for volunteers to get drunk
Kutztown is looking for a few good drunks.

Cops in the Allentown, Pa., suburb posted an ad on their Facebook page seeking three "volunteers" to drink hard liquor in excess and maybe even mouth off to arresting officers without consequence.
Better get your applications in fast, they only need 3 people.
Not All Heroes Wear Capes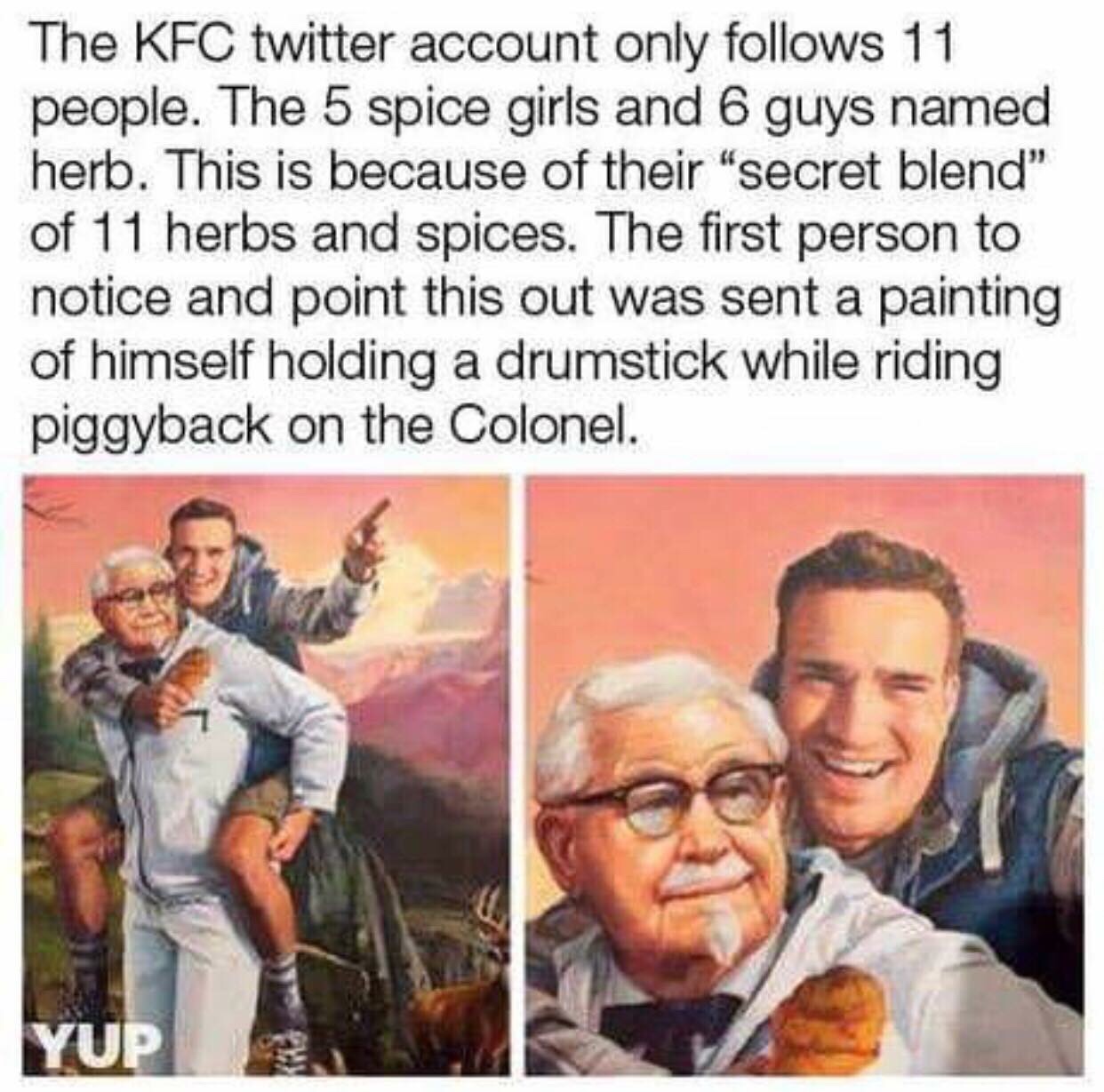 Go Jump Off a Cliff
I made an off the cuff quip to one of the responses, and it's become my most liked tweet ever.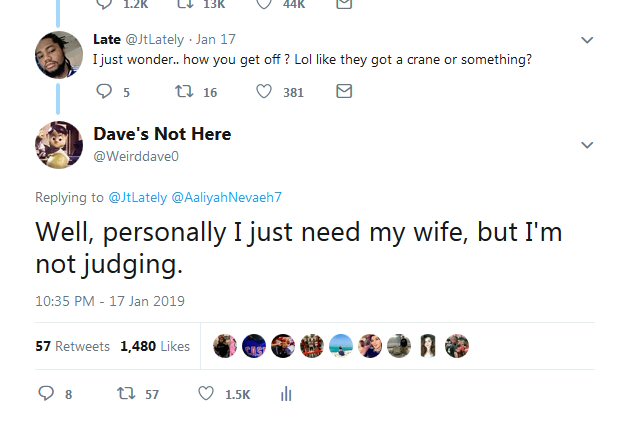 Back to Nature
That whole YouTube channel is fascinating. The guys builds all kinds of stuff using stone age technology. It's a real lesson in the fact that primitive doesn't mean stupid, or, as I like to say, people are so damn smart, and they always have been.
Wait, I Take That Back
Tonight's ONT brought to you by abortion: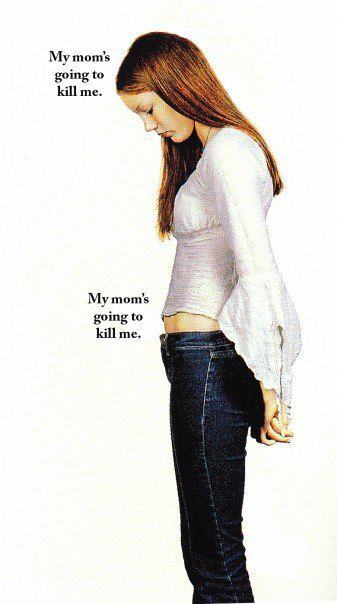 posted by WeirdDave at
09:55 PM
|
Access Comments