« Some Philosophical Heft For The Defense Of Capitalism
|
Main
|
Gun Thread: Guilty or Not Guilty? [Weasel] »
January 13, 2019
Food Thread: I'll Drink Ripple Or Mad Dog, Thank You Very Much!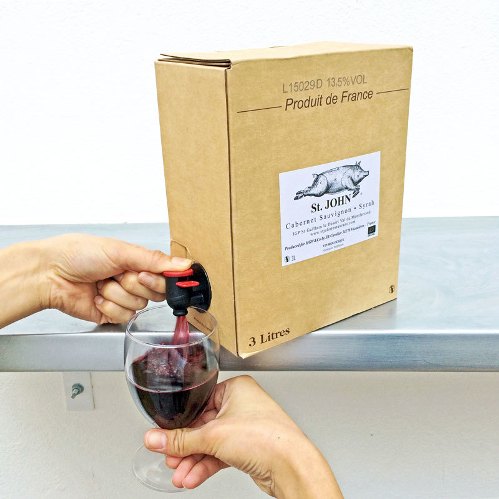 There was some vibrant wine chat in the comments this week, and that got me thinking (never a good thing) about what "good wine" means. The answer is simple, and it flies in the face of people who write shit like this:

Deep purple colour. Aromas of rich dark currants, nectarine skins, gushing blackberry, but lots of fragrant tobacco, rich soil, white flowers, smashed minerals and metal. Medium-bodied and saucy but racy acidity stabilises the wine nicely with the robust tannins. Deep red currants and ripe cherries, laden with mocha, loamy soil, charred herbs, pencil shavings, roasted hazelnut. Dense like characters that make it perfect for cellaring, however it is drinkable straight away once you expose it to the earth's atmosphere. This is a delicious Sonoma Cabernet! Has been matured for 24 months in 2 year old 55% Tronçais and 45% Vosges oak. 95 points.
Review courtesy of The Wine Wankers
That is some gold-plated pomposity there! And it means absolutely nothing! No human has a palate that can appreciate all of those flavors and textures at the same time, and hell, who would want to? I drink wine mostly as an accompaniment to my meal, and I rarely want to pay that much attention to it. Sure, at a winery while tasting it's sort of amusing to pick wines apart, but it's an intellectual exercise that has very little to do with real-world consumption of wine.
Oh, to answer the question: "good wine" means the one you like and can afford (the cheaper the better). I generally stick to a particular style of wine, and currently that means Australian Shiraz or Shiraz-blends that are made in the old style of big fruit and not a lot of tannin and acid. Unfortunately they are getting harder and harder to find, because ass-hats like the writer of the above review have an out-sized influence on wine-making style. Don't let their virtue-signalling idiocy influence your wine buying. Wine writers are mostly full of shit, and themselves, and what little utility they provide is a consistency in description, and not all of them can do that. Find one who makes sense, and figure out how he describes the kind of wine you like. Hell, he might hate it, but as long as he uses the same descriptors you'll be fine.
I spend more time than I should in wine and liquor stores, and I will often grab sale wines ($5/bottle!) for cooking. And because I have rigorous standards, I'll taste them when I cook with them, and often they are pleasant and drinkable. These are wines that didn't sell well and the stores are trying to clear shelf space for new wines with cool labels and large ad budgets.
I have written in the past about how the desire for particular flavors drives a lot of winemaking. Just because a wine has a rare (or odd) flavor doesn't mean that it is any better, or even any good. Mint is a sought-after Napa Cabernet flavor. Do you really want to taste mint in your wine? It's not after-dinner-mint strong, but there is a hint of it, and while it is undeniably interesting, keep it out of the wine I am drinking with spaghetti carbonara (see below) or a good steak. Although, I guess with lamb it has a sort of weird symmetry (think mint jelly).
******
From commenter "Vendette" comes a deeply disturbing and faintly nauseating link to a thread about
odd or weird combos you like
. Some of them are just strange, but there are a few that are pretty damned disgusting sounding. One gratifying thing I noticed was the almost complete lack of nagging busybodies telling the commenters how unhealthful and Gaia-killing their food choices are.
I hate food scolds. And I hate leftist food scolds even more. I wonder what the Venn Diagram of those two looks like?

******
Anyone who isn't salivating is hereby banished from the AoSHQ Food ThreadTM.

******
Commenter redc1c4 has asked for some help...
I have 6 boxes of Krusteaz cookie mix, that can also be made into a cake.

I bought them because "half off" and I haven't baked anything other than cheater biscuits in forever.

I asked for frosting/icing suggestions on the food thread, but the only reply I saw was for butter cream in either plain, vanilla or almond, none of which sounded really appealing.

then I found some half off crushed peppermint candies, which struck me as a jumping off place for a kick ass topping... but how? icing? frosting?
I applaud his thrift, especially since he probably bought extra ammo with his savings. Having boxes of cookie mix (or in my case, brownie mix) is always a good thing, especially when they are half off! Yes, I know; I can make brownies from scratch that are better and more economical. But sometimes the convenience of a box of mix is too good to pass up, especially if I'm not going to eat the damned things anyway.
But the peppermint candy frosting stumped me. And nauseated me. I might have responded with a comment about how peppermint candy is the scrapings from Satan's hemorrhoids, so I am clearly not the person to help with his baking dilemma.

******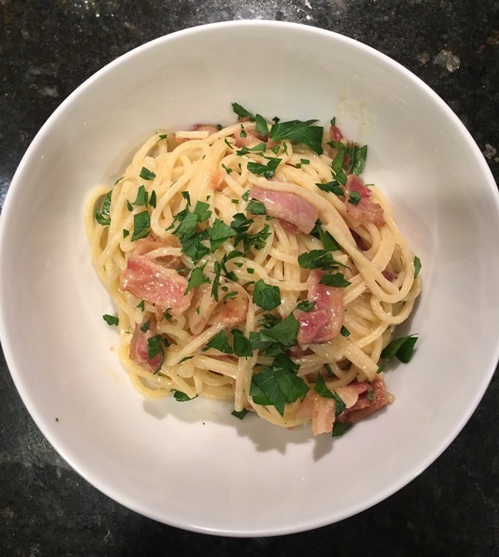 Spaghetti Carbonara is one of my favorite dishes (I am sure I have written about it before. Or maybe that was pizza carbonara...), but for some unfathomable reason I have not made it in a few years.
Well, I fixed that problem last week, and there was much rejoicing in DildoLand! I used my own recipe, whose origins are lost in the mists of time (Tyler Florence). I know that this is sacrilege for many of you, but I like it with bacon at least as much as with pancetta, and I like it with a lot of bacon! So for a pound of pasta (spaghetti rigati) I used about 12 ounces of bacon.
What I found interesting is that the recipe is no longer exactly what I am looking for, and that is a testament to my changing taste. Everyone's tastes change, which seems to me to be a good thing. Anyway, next time I am going to use more eggs, and maybe toss in an egg yolk for extra richness. And yes, I will also try it with pancetta, just to check my work.
Oh...no matter what recipe you use -- and there are a bunch of good ones -- reserve some of the pasta water to thin out the sauce. I am almost always of the opinion that thicker is better, but in this case the dish benefits from a few ounces of pasta water, mostly to help distribute the sauce evenly throughout the dish, and the pasta water adds a silky mouth-feel that is pretty damned pleasing.

******
******
Food and cooking tips, triple-cream cheeses, young wild pigs, Venison Steak and Eggs (Swiped from Garrett), thick and fluffy pita and good tomatoes that aren't square, pale pink and covered with Mestizo E.coli:
cbd dot aoshq at gmail dot com
. Any advocacy of French Toast with syrup will result in disciplinary action up to and including being
nuked from orbit.
&topic=world_news">

posted by CBD at
04:00 PM
|
Access Comments