« Monday Overnight Open Thread (12/17/18 )
|
Main
|
Mid-Morning Open Thread »
December 18, 2018
The Morning Report - 12/18/18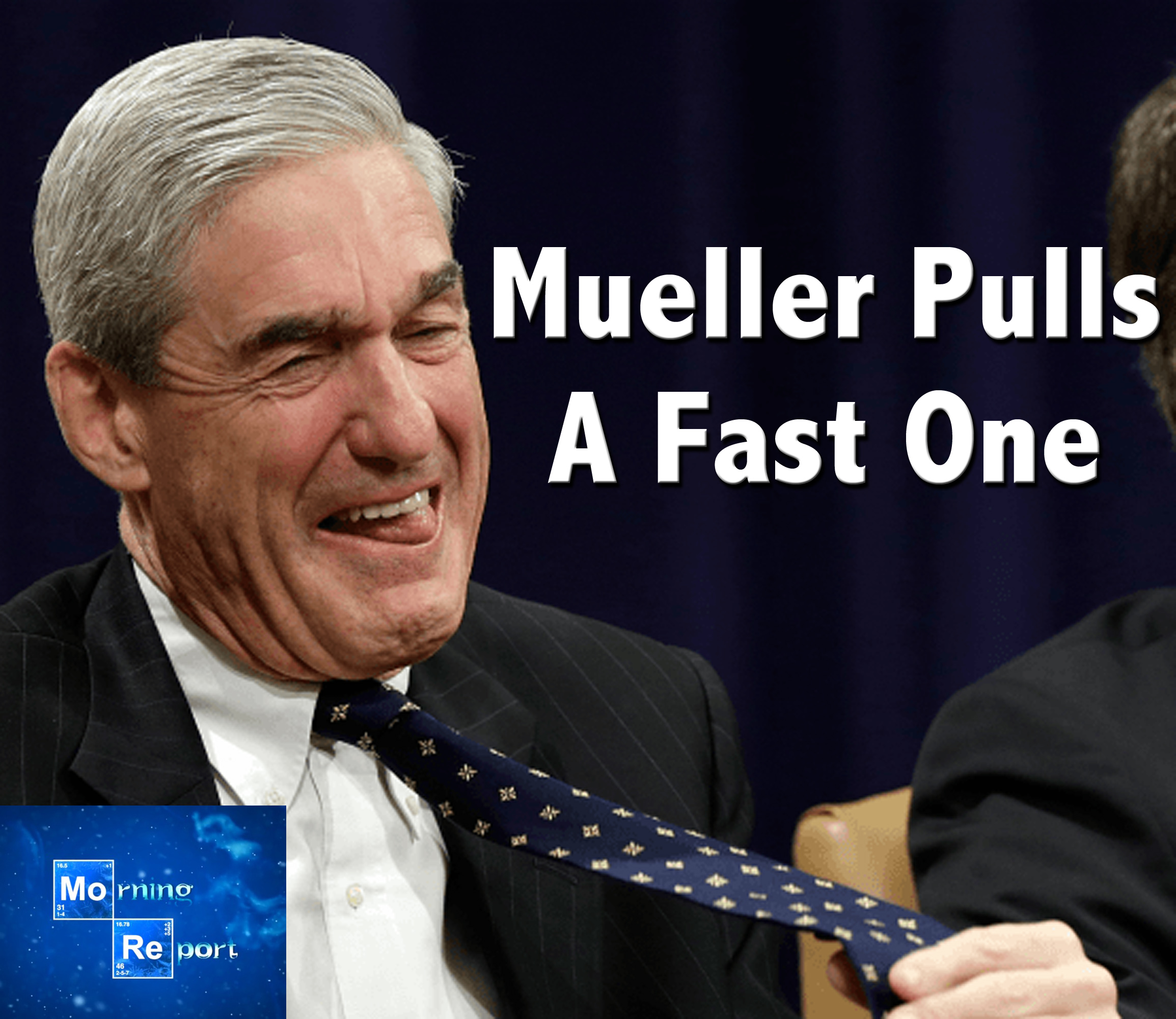 Good morning kids. Tuesday, and we're dealing mostly with the continuation of the usual chazarei but in the lead is Mueller's compliance with Judge Emmet Sullivan's demand for the "302" forms pertaining to the FBI interviews conducted on Michael Flynn. However there seems to still be some confusion/consternation at the fact that evidently not all of the forms were released, which gives the impression that Mueller and the FBI (let's face it; they're colluding to cover up the original crime of spying on candidate Trump) are intentionally still stonewalling and buffaloing any attempt to get to the truth. And since that truth would both exonerate Flynn as well as further trash whatever microscopic vestige of Efrem Zimbalist-esque reputation that agency might have had, the actions or lack thereof speak for themselves. If nothing else Mueller should swing for spoliation of evidence in erasing text messages from Strzok and Page. Two justice systems indeed.
In any case, as we all know by now, the bigger picture is that the Deep State to whatever extent it was at the behest of or knowledge of Obama and Clinton engaged in a campaign to sabotage the candidate Trump and now is engaged in the attempt to simultaneously cover up the greatest political scandal bar none in US history as well as now continue the effort in an attempt to actually overthrow President Trump, the rule of law and the preservation of whatever's left of our civil society, consequences be damned. Beyond the mere tactical day-to-day attacks and sabotaging of his - and by extension our - agenda and smearing of his and his family's good name, there is much bigger and much more dangerous game being played. Whatever happens over the next 2 to 6 more years (please G-d he lasts and thrives that long), he and everyone and everything he holds dear are going to be hounded to the day they die. The vendetta is of course personal but the intention is to send a message to anyone else that dare do what he did and try to derail the Leviathan and the Socialist-Globalist agenda (see the link to Mark Levin warning us about this Letitia James vontz in NY). This is for all the marbles. We better understand that and I hope to G-d Trump does as well.
Next up we make a run for the border where Trump aide Stephen Miller is reassuring us about the President's not giving an inch and insisting that the Border Wall is going to be funded no matter what - including "shutting down" (quote-unquote) the government. For anyone with half a brain the reasons are obvious as illustrated by the link to ICE's report on who and what has been caught this past year.
Before we hit politics head on, in Civil War 2.0 news, federal prosecutors are appealing the insane 30-day sentence given to Rand Paul's neighbor for nearly beating him to death. Other scandals include Fauxca-Has-Been and Kamala-Toe being reprimanded for ethics violations regarding campaigning off of the Brett Kavanaugh hearing, several Democrat Congressmomzers took a secret trip to Qatar which for those not keeping score is an ally/stooge of Iran (despite the fact that we have a huge-ass naval base in Doha), and be on the lookout for a child-molesting sex predator from CAIR. Hell, just dress up a midget cop as that 11-year-old drag queen and send him out as bait...
Elsewhere, James Comey opens his festering cake-hole and Sarah Sanders shuts it good, GOP lawmakers who got beat last November are causing headaches in Congress by not showing up, Nancy Palsi may have got the gavel but the young Maoists are making demands for top committee assignments, three-term useless New Deal establishment stooge Lamar Alexander will not be running in 2020, so hopefully we can beat out CoC pick but not with an Akin, newly elected so-called "Palestinian" Rashida Tlaib (can I buy a vowel?) will culturally appropriate a mythical people for her magic show-cum-inauguration, Jerrold Nadless was against impeachment before he was for it, CNN goes "bananas" on Tom Perez for attacking fellow Dems, and Hillary Clinton is just so utterly narcissistic and tone deaf, it's amazing.
To First Amendment and Fake News Fakery fodder, IBD sez it's time to break up Google, two links on polling shenanigans, rot in peace Weekly Standard, Daniel Greenfield touches on that vis a vis the real Russian connections to the phony Russian collusion crap, and big credit card is acting as Big Brother to silence and destroy conservative voices. Moving down one amendment, a Federal judge throws out New York state's ban on nunchucks citing it as a violation of the second amendment (gotta wonder if that might crop up in a gun case down the road), and despite Little Shitler Camera Hogg and his sidekick Shaved Guevara, a devastating reporting confirms the need for armed teachers in the classroom. And not just with cans of mushy peas or spotted dick.
Not a lot going on overseas although the US vaporized a few dozen al-Shabab-sters in Somalia, the US pushes back against the UN wording of "reproductive rights" in that organizations texts, the Iranians are firing up old al-Sparqi as their "corruption courts" go into over drive (I guess corruption is a convenient way to define dissent downward over there), great news as Air-BnB confirms they still hate Jooz, but Texas' Governor Abbott tells CAIR "FOAD, Fouad!"
Domestically, the CBO indicates that the Prison Reform bill is looking like a shit-show, Corker and Menendez team up for old times sake to try and screw over Trump and his broadcast chief, but the FCC is considering some sort of state internet tax (wtf?!), and Susan Collins reassures us that Brett Kavanaugh's Planned Parenthood decision was totes cool. Feh.
Speaking of sleaze and criminals, a Disney actor has been fired after being arrested for trying to pick up a 13-year-old boy. Considering yesterday's wretch-inducing story about the 11-year-old drag queen, it won't be long before this actor is the next Rosa Parks.
In economic news, as Fed Chair Powell colludes with Soros, Buffett et al to intentionally tank the economy to screw Trump, labor shortages are a boon economically and politically vis a vis the blue collar vote, IBD with two links lamenting California's insanity and everyone's talking about Columbus, Ohio. At least City Journal is with a report on a midwestern renaissance.
In healthcare news, Friday's big Obamacare decision by Judge Reed O'Connor features prominently. John Borasso illustrates the feckless entrenched bureaucratic political bullshit we have to deal with in the GOP, and yet the thing is going to have to be dealt with one way or another and no doubt it will be back at SCOTUS. Considering the abject corruption everywhere in our government, and that Chief Justice Julia Crockovich has the integrity of grifting gyppo, the situation is still very much in doubt. But... Trump! Stay tuned (I know you will).
In Red-Green action, GOP lawmakers want Trump to fight Judge Buch M. Danno's ruling against the Keystone XL Pipeline. Plus, the FemiNazis are all sad that Joo-hate broke up the Women's March. Aww. From hither and yon, Netflix is poison to children, more on the gay writer who came out as conservative and got his ass handed to him (phrasing!), much less money for much Les Moonves and a lament about the Free Shit Army.
Anyway, links from around the world, across the nation and up your street. Have a better one and remain blessed.


MIGRANT INVASION AMNESTY, IMMIGRATION


posted by at
07:30 AM
|
Access Comments