« Bifurcated ONT - Comments
|
Main
|
Mid-Morning Open Thread »
November 16, 2018
The Morning Report - 11/16/18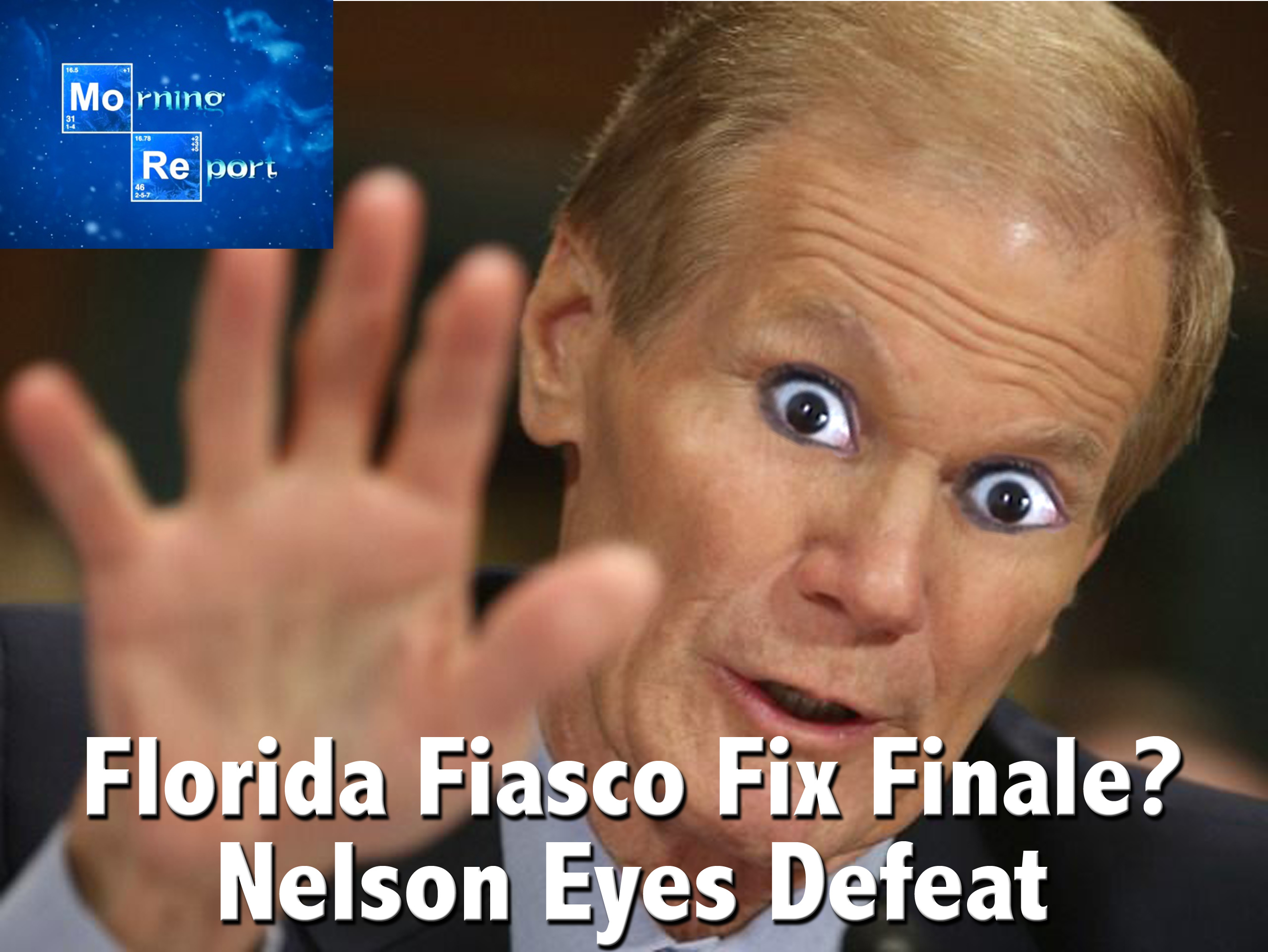 Good morning kids. Friday and the weekend is here at last. I'm searching all over for the equivalent of the flaming skull unequivocally proclaiming Ron DeSantis and Rick Scott as the winners of Florida's gubernatorial and Senate races respectively but all I get are either their own proclamations or confusion. From what I can gather Ron DeSantis has definitively won the auto recount with enough of margin to stave off a manual recount and the built-in Democrat cheat factor and Rick Scott has declared victory but not enough to stave off the latter meshugas. And to top it off, we still have flaming turds like Sherrod Brown and Hillary Clinton proclaiming that if "Tank" Abrams loses in Georgia then it was stolen by the GOP. Nice way to fire up another dozen or so James Hodgkinsons, jerks.
And while no one was watching, there are actually a couple more House seats in, of all places, California that Republicans won, or seemingly won, that are now being hijacked along with four other already stolen in races there and across the country, including the Wisconsin film-flamming of Scott Walker and Leah Vukmir.
The salient points in all of this are that something must be done starting like yesterday to fix this problem. Considering elections are the purview of individual states, I don't see what sort of legislation can be enacted to curb this. And of course, this is all a feature - an "insurance policy" if you will - in case the citizenry dare to go against the will and destiny of their betters and vote against them, so forget any sort of voting reform like abolishing early voting, Motor-Voter and provisional ballots etc. especially in areas already under Democrat-Leftist rule. The only way to really defeat this, while we still have a country, is to get out and vote en masse and overcome the cheat factor (which no doubt will increase con gusto if the attempted robberies fail in FL and GA). And that means that it is incumbent on the GOP to field candidates that have a pulse, let alone the temperament and mindset to fight and be on the right side of the issues. We knew that this was going to be problematic since the GOP is still in a struggle with the pro-Trump conservative base and politicians to control the party. And that situation is still in doubt.
The other crucial point is that it is now evident to anyone but the most clueless that the Democrat Party is now ramping up a very dangerous propaganda meme that any time they lose an election it is because it was stolen by the Republicans (i.e. white male Christian bigots and sons of slave owners and homophobes, etc.). So in their twisted worldview, stealing an election from a Republican is justified since the latter are evil and dangerous and stand in the way of progress. Just like it's okay to try and break into Tucker Carlson's house, abuse Ted Cruz and his wife at a restaurant, smash someone wearing a MAGA hat in the face with a bike lock or go shoot up Steve Scalise and others at a softball field. It's all part of "otherization" and declaring anyone who opposes them in the slightest as untermenschen that must be removed. Forget about the rule of law. Along with everything else we have seen vis a vis Comey, Brennan, Clinton, Obama, Judge Buch M. Danno and all the rest, that is out the window. A truckload of axle grease is being dumped on the already slippery slope we are sliding down on.
I suppose if I wanted to be positive about this, I could say that the fact that even after all they have done to this nation and the brains of several generations of youth that they still need to steal key elections to hold onto power might be a ray of hope. And that is why they want open borders and amnesty. They can bypass the messy and sometimes embarrassing fiasco of stealing elections and just steal our national identity overnight. As an aside, when you consider the fact that there are already perhaps 22-30 million illegal aliens already in this country, the fact that Obama and a Democrat-controlled Congress had two whole years to grant them Amnesty and citizenship and probably turn Florida and Texas blue and instead went for Obamacare and Dodd-Fagg is a blunder of epic proportions. Call it hubris in that he and they believed Jon Meacham's drivel of "We Are All Socialists Now" but had they done that, it would have been lights out America right then and there.
In any case, in the near term, for sure the Democrats even as we speak going to go all out and try to goniff Florida, Ohio, Michigan and Wisconsin for 2020. If I am a Republican governor and have a majority GOP state legislature I would be working my ass off now to thoroughly examine every aspect of the state's elector systems and personnel and preemptively pass laws and fire/hire people to mitigate as best as I can the Democrat thievery that is sure to come.
As a nation, we're collectively bobbing in the surf as it is and the question is is the tide finally receding or is there a massive wave coming in to finish us off? We shall see.
Meanwhile, in Mississippi, Mike Espy takes blood money from thug dictators, Lindsay Graham-inator is threatening the Dems to investigate Hillary if they carry through with their promises of hammering Trump with subpoenas, and Adam Schiff will have a closed door briefing with Dem mega donors. About what, pray tell? In general political news, Shaun "Talcum X" King raises serious bucks, Loopy Ocasio-Fiasco is denying she's feuding with the top Dem brass but Marcia Fudge is challenging Nancy Palsi. None of this makes any difference; who leads that criminal enterprise is essentially arguing about switching deck chairs on the Titanic. Now that Ilhan Omar has won in Minnesota she can now put down the taqqiya sunrise and proudly proclaim her Joo-hatred, and Daniel Greenfield on anti-Trump faux Chassidim.
In fake news fakery and propaganda, journalists behind the scenes are miffed at JmJ Acosta, a truly shocking survey reveals that the media leans left (just "leans?!"), Democracy dies in trivia and this One America News outlet sounds interesting.
In Amnesty, Immigration and the Caravan Invasion news, even residents of Tijuana hate the invaders, watch as one of Nancy Palsi's spark-of-humanity animals opens fire on a traffic cop after being pulled over (a gun and a drivers license, hmm...), polls still show overwhelming support for dealing with illegal immigration (and that's how we lost the House) and the Border Patrol has caught 654 illegals at "outdated border infrastructure." Dang fences.
On the foreign affairs front, the administration has gone after 17 Saudis implicated in WaPo Khashoggi's death, after 22 years, the US finally goes from abstaining to voting "no" on the UN's Golan Heights resolution, Egypt's El-Sissi on the stomping out of the "Arab Spring," an Aussie pol pulls a cunning stunt, analysis of Israel's moves vis a vis avoiding a war in Gaza, and Britain is about to get Corbyn-ized good and hard. Also, Michael Ledeen on the continuing fiasco and failure of the CiA and 17 years and $6 trillion later, we're still fighting that war on terror. If only we knew where Terror was on the map we could nuke it. Thanks Dubya.
Domestically, the California wildfire has now killed 63 with 631 people missing (prayers up), this new crime/decriminalization bill is a stinker, a look at crony capitalism writ large with Amazon coming to New York, and Loopy Ocasio-Fiaso was actually right about opposing it albeit for the wrong reasons, and how Obamacare's Medicaid expansion screwed up the GOP in the midterms.
In indoctrination news, Detroit's school board is considering renaming the Ben Carson School because he's evil or something, Education Secretary Molly DeVos is quietly winning bigtime on Title IX campus kangaroo courts, USC bans an article on "female privilege" and the top 10 university Joo/Israel haters in academia. That sound you hear in the background is me and the minyan warming up the lighting machine...
In enviro-communism news, DC churches have been banned from passing out plastic straws with coffee, and from hither and yon, in femi-nazism it's a cold winter for white women plus Rabbi Fischer on the fall of Michael "Pimp Hand of Justice" Avenatti and finally, the man who escaped Jim Jones 40 years later.
BONUS: Cardboard membership privileges to the first commenter who identifies the eye transplant.
Anyway, links from around the world, across the nation and up your street. Have a better one and remain blessed.

posted by at
07:43 AM
|
Access Comments