« A Legal Opinion On The Tucker Carlson Mob From A Real Expert [Andrew Branca]
|
Main
|
Gun Thread: Well I Suppose That's One Way to Do It - [Weasel] »
November 11, 2018
Food Thread: Pilgrim's Progress: Turkey To Evers To Pork Roast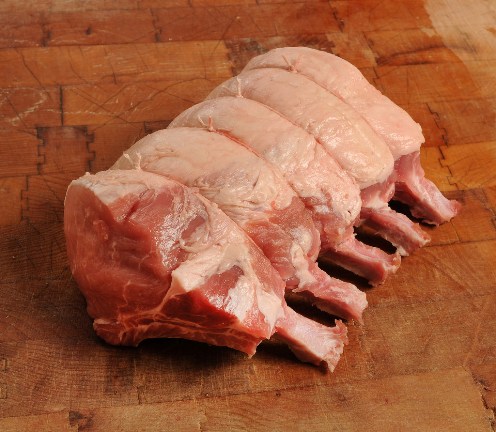 Thanksgiving Turkey At Chez Dildo
Oh...we'll also have a turkey for those deeply deluded guests who think it tastes like anything remotely interesting, but this will be the star of the show. And even better, I found a source for amazing heirloom pork! It's some odd little island in Georgia that has herds of luscious and half-wild pigs from a strain that clearly knows how to taste good. I had a sample from the local butcher who carries the stuff, and it was fantastic!
Don't bother with your dudgeon...we all know that the Pilgrims probably didn't eat turkey. It was more like cod and maybe some pheasant and if they were lucky some venison. Actually, that doesn't sound bad at all!
Yes, it will be served with stuffing. Not dressing. Dressing is a snobby and affected term that comes from effete leftists. Real men eat stuffing. Made in a pan. Outside of the turkey, because real men don't like gastrointestinal illness.
And potatoes. But this year I am going to ignore the voices in my head and just make plain old mashed potatoes. With enough butter and cream (or sour cream or half&half) they are just as good as any other more complicated potato dish...like the stuff I made last year. What a waste of time!
******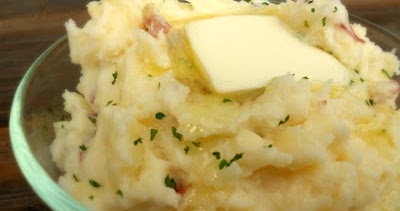 Speaking of those mashed potatoes, I think I will use yellow potatoes (or Yukon Gold) and peel about half of them. or maybe peel all of them but only half way. Anyway, then into the pot and cook them until just soft in the center. Drain and cover with a towel so the steam is absorbed. I then add far more butter than most people can contemplate without having an immediate gall-bladder attack, but it's worth it. Kosher salt, fresh cracked black pepper, a huge blurp of cream or half & half or sour cream (try it!), and crush with a potato masher until most of the lumps are bite-sized. A better way is to use a potato ricer, but that's more work, and my relatives aren't worth it. Garnish (if you are snooty and a 1%er) with some minced parsley or chives or green onio...whatever floats your boat.

******
As easy as the store-bought crusts are, I think that homemade is better. I will cheerfully eat a pecan pie in a commercial crust though, so don't feel inadequate if you have one all boxed up and ready to send me.
Pastry for Single-Crust Pie
This is a good recipe! And, as much as it pains me to admit: Hat Tip: Bluebell.
******
I was poking around my far too cumbersome and chaotically organized recipes files and came upopn this. I have no recollection of making it, but it sounds good, so one of you intrepid souls should make it and report back.
SPICY CORNBREAD STUFFING WITH RED PEPPERS, CHIPOTLE CHILES, AND ANDOUILLE SAUSAGE
******
Turkey takes a long time to cook. There is no getting around that.
Or is there?
Here is a Martha Stewart recipe (well...more like a slideshow, but it works) for doing just that, and it will save you a lot of time and indecision....is it done? Should I kill my horrid 2nd cousin with salmonella?
Spatchcocking flattens out the carcass, and even better makes it roughly of even thickness throughout, so everything cooks quicker and at the same time. Plus you get to spread whatever delicious marinades or compound butter you are using a lot easier.
And the best part is that you get to say the word "spatchcock" over and over and over!

******
Sausage and Cornbread Stuffing


2 lb. Sweet Italian Sausage (The stuff with fennel) casings removed

2 cups Yellow Onions, rough chopped

2 stalks of Celery, rough chopped

1/3 cup Chopped Parsley

Chopped Sage to taste (about 1-2 tablespoons)

Cornbread, and lots of it (probably 2 pounds of the stuff) Buy it or bake it; I don't care. Then break it up into chunks and toast it.

1-2 cups Chicken Stock

Salt and Pepper to taste.
Break up the sausage into nice chunks and brown it in a bit of oil.
Once the sausage is nicely browned, add the celery and onions and sauté until they get a bit of color.
Dump into your biggest bowl and correct the seasoning, add the sage and parsley and mix a bit. Then add as much cornbread as you feel like. My guess is that a 1:1 ratio of cornbread to everything else will work well.
Mix it gently and then moisten the mixture with the chicken stock until it is looks appetizing, but not dripping wet and disgusting looking.
Spoon into greased baking dishes, cover with foil and bake at 350° for 20 minutes.
******
Food and cooking tips, Haggis, young wild pigs, Scotch Eggs, thick and fluffy pita and good tomatoes that aren't square, pale pink and covered with Mestizo E.coli:
cbd dot aoshq at gmail dot com
. Any advocacy of French Toast with syrup will result in disciplinary action up to and including being
nuked from orbit.
&topic=world_news">

posted by CBD at
04:00 PM
|
Access Comments