ę EMT 11/04/18
|
Main
|
The True Cause Of Hate Crimes In America: Guns! Ľ
November 04, 2018
Sunday Morning Book Thread 11-04-2018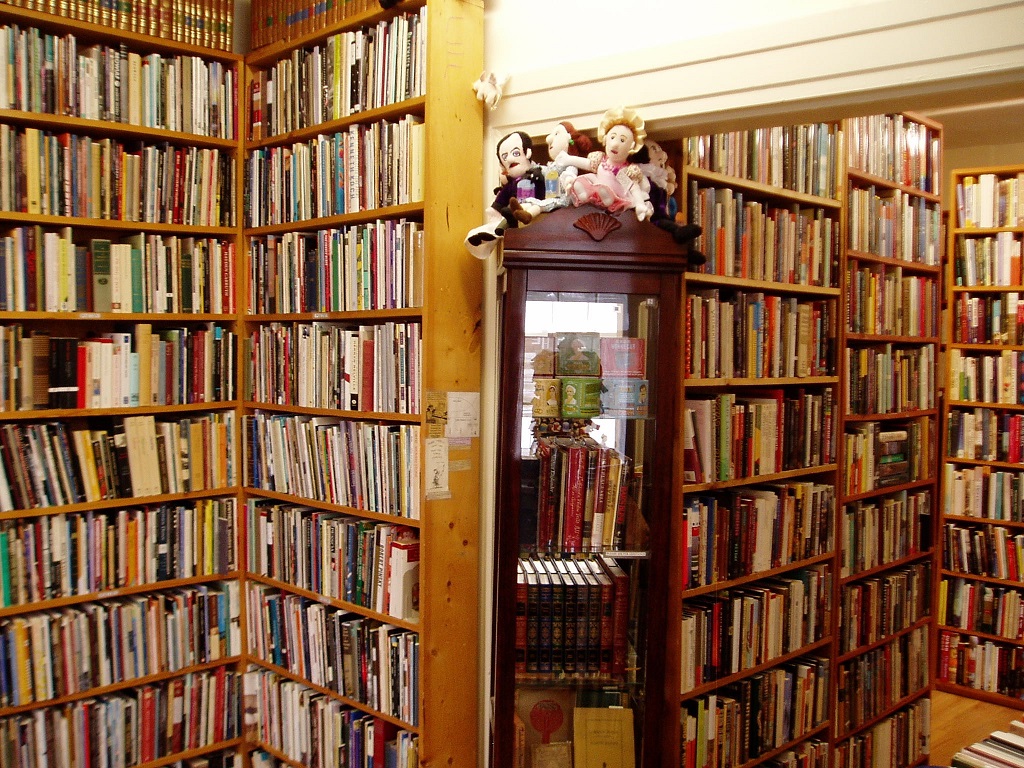 The Haunted Bookshop, Iowa City, IA
Visit The Haunted Bookshop website.

Good morning to all you 'rons, 'ettes, lurkers, and lurkettes, wine moms, frat bros, and everybody who's holding your beer. Welcome once again to the stately, prestigious, internationally acclaimed and high-class Sunday Morning Book Thread, a weekly compendium of reviews, observations, and a continuing conversation on books, reading, and publishing by people who follow words with their fingers and whose lips move as they read. Unlike other AoSHQ comment threads, the Sunday Morning Book Thread is so hoity-toity, pants are required. Even if it's these pants, which look like whoever designed them needs to back off the 'shrooms for awhile, like for the rest of his life.

Justifiable Homicide
Some things you just don't do:
In the first attempted murder ever on the frozen continent of Antarctica, a Russian scientist reportedly snapped and allegedly tried to stab a colleague to death because the victim kept giving away the endings of books.
They airlifted the blabbermouth to a hospital in Chile where he is expected to survive, but what a d*ck. I'm guessing there was probably other kinds of bad blood going on there, too. If you're locked indoors with the same small group of people for months on end, tempers are bound to wear thin.
(h/t Anonosaurus Wrecks)


It Pays To Increase Your Word Power®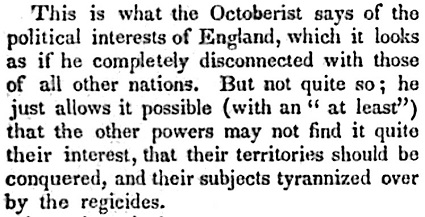 Coined in 1796, an OCTOBERIST is someone who takes a dismal view of the current political situation.
Usage: We are all Octoberists now. Even in November.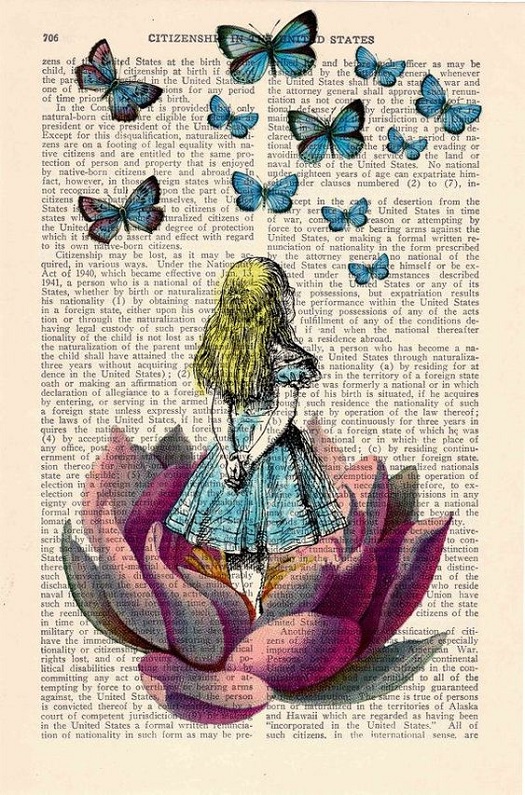 (More pics like this here)

The Book That Regnery Wouldn't Publish
University of Chicago law prof M. Todd Henderson wrote a political thriller, Mental State. After he wrote his first draft, he went looking for a conservative-friendly editor and found one -- in the AoSHQ Book Thread comments section! Her name is Elaine Ash and she's a professional book editor for hire, for you moron authors who might be looking for an editor who will not suddenly tell you to get lost if your novel somehow touches on conservative themes.
Todd and Elaine had the devil's own time trying to get his novel published and promoted. In a recent interview, Ms. Ash gave details of the fierce backlash Henderson has received:
Professor Henderson is now blacklisted. It's considered dangerous to be seen supporting him if you are a colleague at the university. He's been pressured to change the story, take things out, and it was strongly suggested that he take down his Twitter account, which he did. A major source of book promotion was to come from that Twitter account. It was a blow, but even tenured professors can be fired if they want you out badly enough. He has three kids to support and needs his job.
And this was after Regnery offered them a publishing contract in 2016 and then rescinded it on orders from Salem Media, the parent company. Which is weird, right?
Read the whole interview here. This is nothing none of us here hasn't heard before, but it's disturbing to see it actually happen.
So what's all the big fuss about? Why is this novel so trauma-inducing? Here's the blurb:
When conservative law professor Alex Johnson is found dead from an apparent self-inflicted gunshot wound at his house in Chicago, everyone thinks it is suicide. Everyone except his brother, Royce, an FBI agent.

Without jurisdiction or leads, Agent Johnson leaves his cases and family to find out who killed his brother...As [he] peels back layers of mystery in his rogue investigation, the brother he never really knew emerges. Clues lead from the ivy-covered elite university and the halls of power in Washington to the gritty streets of Chicago and Lahore, Pakistan. Ultimately, Agent Johnson must face the question of how far he is willing to go to catch his brother's killer.
I was given the opportunity to read an advance copy of this novel. It has conservative characters doing conservative things (like praying and seeking counsel from a Catholic priest) and a Hillary-esque president who acts the way Hillary would most likely act if ( *shudder* ) she had been elected president. I figured yeah, the libs probably aren't going to like this, but I couldn't see how any conservative publishing company, like Regnery, would object.
You can read it for yourself. The Kindle edition sells for $7.99.

Moron Recommendations
103 I inquired about this in a previous book thread, but was willowed. Asking again to see if anyone who leaves early has any additional input.

I'm looking for books concerning the following:

1st, biographies (or autobiographies) of Confederate generals, particularly with parts dealing with the post-war aftermath;

2nd, pre-Civil War literature that stated positions on slavery based on the Bible or Christianity in general, both pro- and anti- artugments; and

3rd, history of the pre-Constitine Christian church, and how it developed and grew.

Posted by: The Political Hat at October 28, 2018 09:54 AM (itfg0)
To this I received an e-mail from a lurker who prefers that his low social media profile remain that way:
I have a few suggestions, the first of which I found on your recommendation. Here goes:

Our Man in Charleston. Christopher Dickey. The narrative of the British consul to Charleston S.C. 1858-1865.

Half a Century. The autobiography of Jane Grey Cannon Swisshelm. A pioneering female journalist radicalized against slavery after living in Louisville and, of all places, St. Cloud MN. Became friends with Horace Greeley, Stanton and Mary Todd Lincoln. A must read; I found it on books.google.com. [The link is to the free Kindle edition -OM]

A Family and Nation Under Fire: the Letters and Journals of William and Joseph Medill. ed. Georgiann Baldwin. Joseph Medill bought the Chicago Daily Tribune as a platform for his radical Republican abolitionist views. Brother William served in the Eighth Illinois Volunteer Cavalry Regiment, rising to the rank of Major. Their views on slavery are discussed frequently.

History of the Eighth Illinois Cavalry Regiment During the Great Rebellion. Abner Hard. 1859. On Amazon as a modern paperback reprint.

The Eighth was founded by U.S Congressman John Farnsworth, an early Republican and abolitionist. This regimental history, written by the unitís surgeon has many stories about the enslaved people, the opinions that the army should accept men freed from slavery as soldiers, and a vignette of General Howard on a reconnaissance praying in a slaveís house.
Steve and Cold Bear recommended the theologian (and CSA chaplain) R.L. Dabney as an example of a pro-South apologist, notably his A Defense of Virginia, and Through Her, of the South, in Recent and Pending Contests Against the Sectional Party, published in 1867. The link is to a free pdf download.
___________
19 Read Children of Time by Adrian Tchaikovsky.

Dying Earth, desperate remnnts of humanity, enhanced evolution projects and . . . Sentient meter-length fucking Portia Labiata ("jumping") spiders. RUN!!!!!!!!

Absolutely brilliant book that had my skin crawling the entire time I was reading it. Many, many interesting characters and themes.

Highly recommended but not for the faint of heart.

Posted by: Sharkman at October 28, 2018 09:14 AM (2eKoI)
Amazon blurb says:
The last remnants of the human race left a dying Earth, desperate to find a new home among the stars. Following in the footsteps of their ancestors, they discover the greatest treasure of the past age - a world terraformed and prepared for human life.

But all is not right in this new Eden. In the long years since the planet was abandoned, the work of its architects has borne disastrous fruit. The planet is not waiting for them, pristine and unoccupied. New masters have turned it from a refuge into mankind's worst nightmare.
The Kindle edition is $9.99, but it's 640 pages long, so you get a lot of reading for your buck.

Books By Morons
I was contacted by a new moron author who writes using the pen-name of Max Cossack. He tells me that his new novel, his first, Khaybar, Minnesota would appeal to us Morons. From reading the Amazon blurb, I believe that's a correct assessment:
Anti-semitic terrorism comes to the rural Midwest heartland—can one ordinary man stop it? Islamist terrorists frame small town Minnesotan Nat "Hack" Wilder for the murder of his friend Amir Mohammad. Hack must survive a January blizzard, elude the police and F.B.I., track down the real killers, infiltrate a terrorist gathering, and stop a terrorist attack on his nine-year-old daughter's school. This is a suspenseful fast-paced action thriller that is often disturbing, sometimes surprisingly funny, and always PC-indifferent.
The Kindle price is $3.99.
___________

Sgt. Mom e-mailed to let me know that the 7th installment of her Luna City series, Luna City Lucky Seven, is now available for purchase on Kindle. She says:
The blurb pretty much describes what's happening in the on-going plot: true love, small town shenanigans, a bit of the past involving Luna City's chief of police and his wife ... oh, and another missing treasure with serial treasure-hunting failure Xavier Gunnison Penn hot on the chase.
More information at the Amazon Link. Purchase price is $3.99
___________
Peter Stroot e-mailed to say:
All four of my eBooks, Let's Hack Oxidative Stress, Let's Hack Male Infertility, Let's Hack Diabetes, and Let's Hack Heart Disease will be available for free through Kindle on Sunday, November 4th... [They] provide a simple strategy to use three lifestyle choices to reduce and manage your Oxidative Stress for improved health.

___________
Don't forget the AoSHQ reading group on Goodreads. It's meant to support horde writers and to talk about the great books that come up on the book thread. It's called AoSHQ Moron Horde and the link to it is here: https://www.goodreads.com/group/show/175335-aoshq-moron-horde.
___________
So that's all for this week. As always, book thread tips, suggestions, bribes, insults, threats, ugly pants pics and moron library submissions may be sent to OregonMuse, Proprietor, AoSHQ Book Thread, at the book thread e-mail address: aoshqbookthread, followed by the 'at' sign, and then 'G' mail, and then dot cee oh emm.
What have you all been reading this week? Hopefully something good, because, as you all know, life is too short to be reading lousy books.

posted by OregonMuse at
09:00 AM
|
Access Comments