« Security Clearances for Hillary Clinton, Cheryl Mills, and 4 Others Withdrawn
|
Main
|
EMT 10/13/18 »
October 12, 2018
Oh My! Oh Enn! Tee!
Happy Friday fellas (and gals). Why don't we go out for a late night nosh? There's a new diner just opened up down the street called Kennedydodd, I wonder what's on their menu?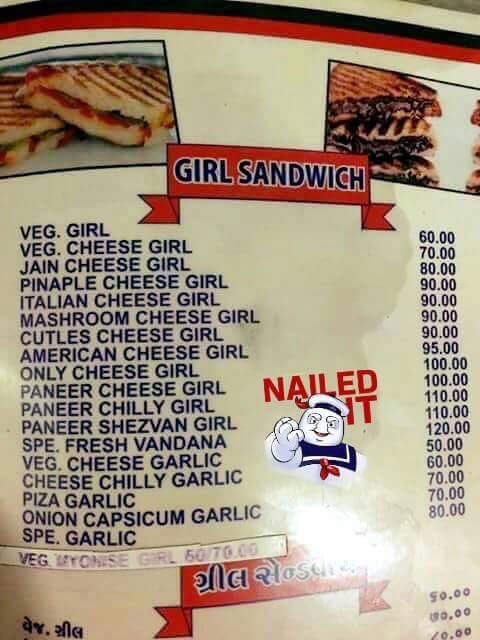 New Rules

Say 'pregnant people,' not pregnant women
All so the "party of science" can pretend that men can get pregnant. Yeah, not happening. OTOH, it is delightful when this lunacy snares one of their own.
Star Wars author Chuck Wendig says he was fired by Marvel over 'vulgar' tweets
We warned you. We warned you and warned you and warned you and warned you. "Nope", you said, "This is the game we're going to play". Whelp, batter up, asshole.
What's even more interesting is the tone of the article. I thought I had gone to some online proggy site when I read it. "the ire of numerous right-wing personalities", "misconstruing his tweets as a literal call for violence" and "right-wing troll campaign". Nope. MSN, a supposedly "mainstream" site.

Social Media Wars

Meanwhile the Steak-Umm twitter feed suddenly got all woke and shit. Strange times we live in indeed.
PR Level: Outstanding
A Russian women's hockey team demonstrates the proper way to announce an injury on social media. Definitely one way to get a rise out of their fans.

There's an App for That

Mom accidentally orders pizza with no sauce, no cheese

Driving Tip

When driving in snowy weather, always remember to check your blind spot.

Your Government at Work
Crack in beam shuts down San Francisco's new $2B terminal
Heck of a job, San Fran. Two Beeellion Dollars. Just slap some duct tape on it and move on.

Ghouls

If you don't want your baby murdered, you may be suffering from 'Hegemonic Masculinity'

Computer Question

For the past 2 days my computer has started popping up a "Activate Windows Now" prompt. It says I need to reactivate Windows because of a "change in my hardware configuration". Now, I haven't changed anything, and I haven't clicked it because I am worried that it may be a phishing or hijacking attempt, although scans with several different anti-malware and anti-virus programs reveal nothing. Anyone know anything about this?

The Church in Crisis

'Awake and do your duty': A hermit's open letter to Catholic bishops amid abuse crisis
Powerful stuff.
Fido Friday

Motion to Table the ONT

Tossed Salads and Scrambled Eggs
Great interview with the cast of Frasier.

Net Neutrality
Jon Gabriel explains.
Tonight's ONT brought to you by filling things with your warm, gooey juice:

posted by WeirdDave at
09:47 PM
|
Access Comments