« EMT 09/23/18
|
Main
|
NYC Subway: It Would Run Great If It Weren't For Those Awful Customers! »
September 23, 2018
Sunday Morning Book Thread 09-23-2018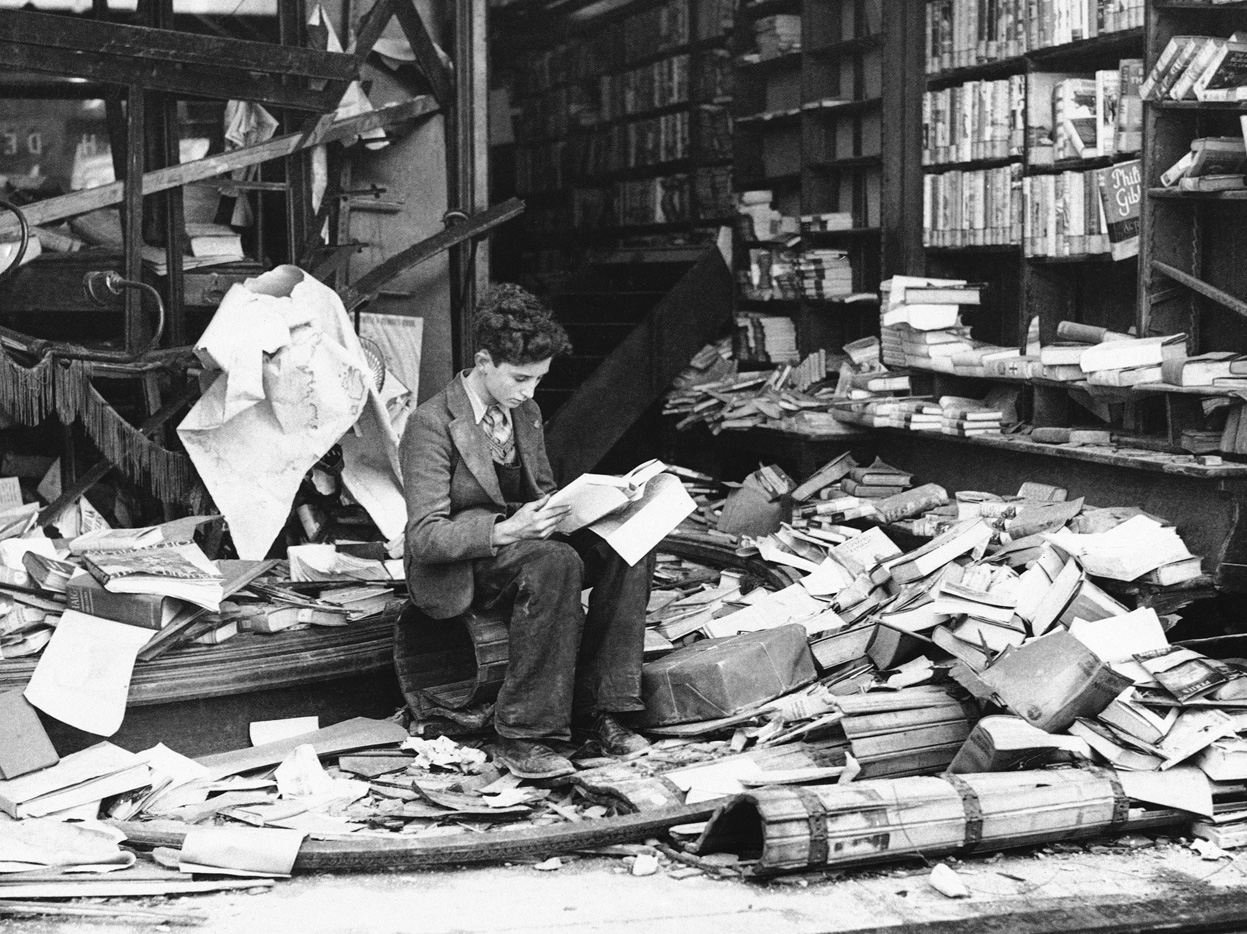 Good morning to all you 'rons, 'ettes, lurkers, and lurkettes. Oh, and we've got a new category of readers, escaped oafs and oafettes. Welcome once again to the stately, prestigious, internationally acclaimed and high-class Sunday Morning Book Thread, a weekly compendium of reviews, observations, and a continuing conversation on books, reading, and publishing by people who follow words with their fingers and whose lips move as they read. Unlike other AoSHQ comment threads, the Sunday Morning Book Thread is so hoity-toity, pants are required. Even if it's these pants, and you have to wonder if they were designed by someone who was colorblind.
Pic Note
I remembered I had this photo on my hard drive after I read this comment in last week's book thread:
244 Looking at the looting picture on Drudge (they don't seem too worried about getting arrested, do they?) and wondering why no one ever seems to loot libraries.

Posted by: pookysgirl at September 16, 2018 11:09 AM (XKZwp)
The photo, which you can click on to see a larger version of, is entitled 'London Bookstore After Air Raid, Oct., 1940'. Of course, the boy is not looting the bookstore, he's just getting caught up on his reading. When he was finished, I have no doubt he put the book back where he found it and simply walked away. The British back then were very honest. I remember reading some years ago that during WWII, the Germans tried to ruin Britain's economy by flooding the country with counterfeit £5 notes, but it didn't work. And one of the reasons was because the people saw all of this money lying around on the street so they picked it up and turned it in to the authorities.


It Pays To Increase Your Word Power®
DOWNDRINS is an old English dialect word for an afternoon drinking session.
Usage: "Next up here on CNN, we're be hearing a report about Trump getting peed on by Russian prostitutes by Bob Downdrins. He'll also be reporting on the all of the cannibalism that broke out in South Carolina in the wake of Hurricane Florence, and what kind of BBQ sauce they used. Remember, we're not fake news, we're CNN."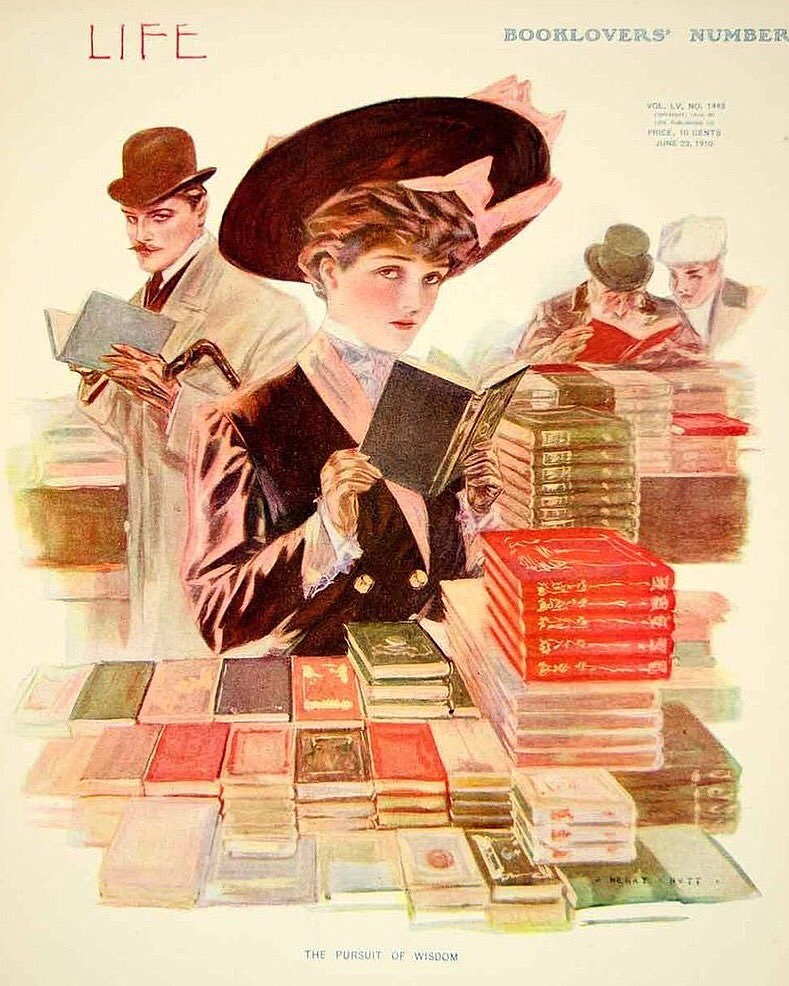 Life Magazine Cover, June 22, 1910
Alt. title: "Jack the Ripper Sizes Up His Next Victim"
(h/t Ephemeral Elegance)

3 or 6
Mrs. Muse and I are enjoying watching episodes of the TV series Condor (originally broadcast on the AT&T Audience Network), whose main character is a CIA analyst forced to flee for his life after everyone else in his unit is killed and he is blamed for it. The credits say it is based on both the 1975 Sydney Pollack film Three Days of the Condor, and also, this being the book thread and all, the spy novel Six Days of the Condor by James Grady:
Sandwiches are a part of Ronald Malcolm's every day, but one just saved his life. On the day that gunmen pay a visit to the American Literary Historical Society, he's out at lunch. The society is actually a backwater of the Central Intelligence Agency, where Malcolm and a few other bookworms comb mystery novels for clues that might unlock real life diplomatic questions. One of his colleagues has learned something he wasn't meant to know. A sinister conspiracy has penetrated the CIA, and the gunmen are its representatives. They massacre the office, and only learn later of Malcolm—a loose end that needs to be dealt with.

Malcolm—codename Condor—calls his handlers at the agency, hoping for a safe haven, instead drawing another attempt on his life. With no one left to trust he goes on the run. But like it or not, Malcolm is the only person who can root out the corruption at the highest levels of the CIA.
The plot has been updated for the 21st century, involving Muslim terrorists somehow acquiring a sophisticated bioweapon, and whose initial attack was thwarted by an algorithm, authored by the main character, that found a previously hidden terrorist who hadn't been on anybody's radar.
The Kindle edition of Six Days of the Condor is available for $8.99. Grady has also written a sequel(?), or maybe just another spy novel in the same universe, only post 9/11,Last Days of the Condor. The blurb doesn't give a good indication of anything other than it's a spy novel, but what caught me eye was the last sentence:
At the Publisher's request, this title is being sold without Digital Rights Management Software (DRM) applied.
Hmmm... I wonder what the story behind that is?

Moron Recommendation
87 Thanks to a recommendation here several weeks ago, I read the very interesting, eye-opening book Licensed to Lie: Exposing Corruption in the Department of Justice by Sidney Powell.

Ms. Powell is a brilliant lawyer, an imposing 6' tall, and a ginger. She has written a detailed account of the prosecutorial misconduct in the cases against Sen. Ted Stevens, the Enron case, and its associated cases versus the accounting firm of Arthur Anderson and the brokerage firm of Merrill Lynch. She played a minor role in the Anderson case, but she was the lead appeals lawyer for one of the Merrill defendants, Jim Brown.

She details how prosecutors hid evidence from the defense, suborned perjury from witnesses by threatening them with indictments, and repeatedly lied to the court. The Anderson case eventually went to the Supreme Court where all the convictions were overturned. Of course this was too late for the 85,000 good people who lost their jobs when the firm closed its doors years prior.

After everything was over, and most of the convictions in these cases were overturned, Ms. Powell and her fellow defense attorneys filed ethics charges with the proper boards in Texas, New York and D. C.

Despite the overwhelming evidence, all the charges were dismissed out of hand. Most of these prosecutors had risen to positions of power including White House counsel. The head of the Enron Task Force, Andrew Weissmann is currently the "bulldog" for Robert Mueller. The system is rotten to its core.

Posted by: Zoltan at September 16, 2018 09:41 AM (83Kfl)
Yeah, that sounds pretty depressing. I'm not going to bother quoting the Amazon blurb because it doesn't add anything to Zoltan's excellent review. Licensed to Lie: Exposing Corruption in the Department of Justice is available on Kindle for $8.49, not too bad of a price.
___________
119 SPELLMONGER

I am really enjoying this book, it's like two books in one, he is a SPELLMONGER in a backwoods village living the quiet life because he was sick of being a War Mage and then the Goblins came to his village. The book does go back and talk about his past and the war he fought.

I haven't seen any SJW crap in the book or series. You don't have the super strong female warriors. I can understand having Female mages. My neighbor was a Grandmaster of fighting and would have his students every Friday fight outside in their full armor and fight it was always fun to watch and their is no way a woman could last hefting those swords hammers shields. I was 20 playing college football and those damn swords were heavy as hell.

Posted by: Patrick from Ohio at September 16, 2018 09:57 AM (dKiJG)
Spellmonger is the first in a 10-book series by Terry Mancour. You can pick this one up on Kindle for $3.99. The others cost more.
My question is, does anyone really read a long series like this all the way through? I guess the answer is yes, otherwise you wouldn't see so many of them published. Me, I don't care how good it is, I just get tired of them after about the 3rd book or so and want to move on to something else. After all, there's only so much character development an author can do. And after awhile, you know the author has just got to be just phoning it in. Like John Norman's Gor series, after about 40 or 50 of them you start seeing titles like "Kinksters of Gor" and "Sleazy BDSM Practitioners of Gor" and you think, yeah, that cow has been milked pretty dry.
However, years ago, I did make it through all 8 volumes of John Jakes' Kent Family Chronicles. But the saving grace of that series was the progression of times. Existing characters aged, grew old, and died, and new characters were added to replace them, so things didn't get stale. Plus, America was developing and growing up and you could see it through the eyes of the characters, so there was always something new.

Books By Morons
Lurkette author 'artemis' has published her latest mystery, Murder in Spite, the 8th in her 'Doyle and Acton' murder series:
This holiday trip to Dublin had been very hard on Doyle's husband -- although he was making a monumental effort to disguise this fact -- and unless she very much missed her guess, it was all somehow connected to the grisly murder on the station-house steps. That, and an African cab-driver who wore a jaunty tam o'shanter.
The Kindle price is $4.99.
___________
A lurking moron e-mailed me about the novels of Aaron-Michael Hall (which is actually the nom de plume of his wife). The first book in her Kurintor duology is Kurintor Nyusi:
As the gods battle in the heavens, darkness descends on earth.

The Keepers of Nine guide the primordial Kurintor warriors protecting the mortal world from the demons of Ashemohn. But after a god's corruption empowered their demon goddess, Sokka, her manipulations have brought the Kurintor to the brink of extinction.

Can the Keepers of Nine awaken the Kurintor descendants in time to defend the Fifth Kingdom, or will the eidolons Sokka has sent forth destroy them?
She calls it "epic fantasy with an edge." The $3.95 Kindle price is pretty good. More information about her epic fantasy novels is available on her web page.
___________

If you like, you can follow me on Twitter, where I make the occasional snarky comment.
___________
Don't forget the AoSHQ reading group on Goodreads. It's meant to support horde writers and to talk about the great books that come up on the book thread. It's called AoSHQ Moron Horde and the link to it is here: https://www.goodreads.com/group/show/175335-aoshq-moron-horde.
___________
So that's all for this week. As always, book thread tips, suggestions, bribes, rumors, threats, and insults may be sent to OregonMuse, Proprietor, AoSHQ Book Thread, at the book thread e-mail address: aoshqbookthread, followed by the 'at' sign, and then 'G' mail, and then dot cee oh emm.
What have you all been reading this week? Hopefully something good, because, as you all know, life is too short to be reading lousy books.


posted by OregonMuse at
09:00 AM
|
Access Comments