« Mid-Morning Open Thread
|
Main
|
Waiting for Ace »
September 12, 2018
The Morning Rant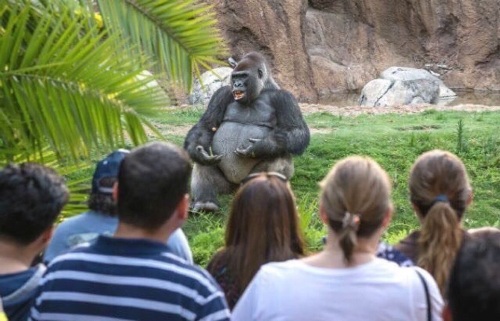 "Back in the day, reporters (they didn't insist on being called 'journalists' back then) were told that the way to frame their stories was to answer a series of questions which boiled down to:

-who
-what
-when
-where
-why
-how
The emphasis was on actual facts and objectivity. But now, with 'advocacy journalism' having completely taken over the J-schools and pretty much every newsroom, the emphasis is on changing the world rather than reporting a story fairly and accurately. Especially now, when no less a paper than the New York Times announced before the election that Trump is so bad that objectivity should be thrown out. So the who, what, when, where, why, and how questions were changed into:
-who (can we quote to damage Trump)
-what (can we publish to damage Trump)
-when (should we run it maximize damage to Trump)
-where (do we get more material to damage Trump)
-why (Donald Trump's presidency is an existential threat to America and to the world)
-how (can we write our stories so as to cause maximum damage to Trump)
Ladies and gentlemen, this is the state of journalism, 2018."


OK, I Laughed: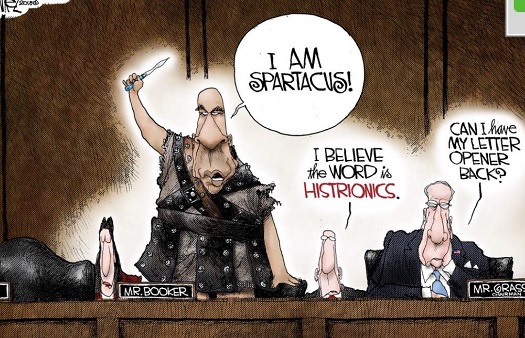 '1984' Is NOT Supposed To Be a How-To Manual, Part CXXVII:

Revisionism
Remember when progs, heavily invested as they are in the "Islam is a religion of peace" mantra, used to scoff when it was pointed out that some Muslims celebrated 9/11 by shooting off fireworks from the tops of buildings? That's just a stupid right-wing fantasy, they snorted. Nobody every did that, they said. And they believe that to this day.
Ahem:


A Couple More Nike Parodies: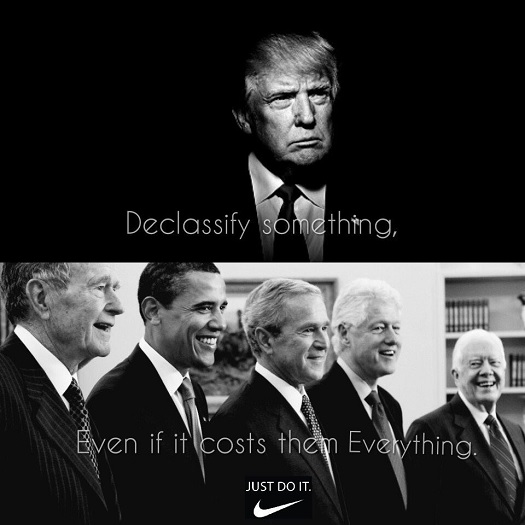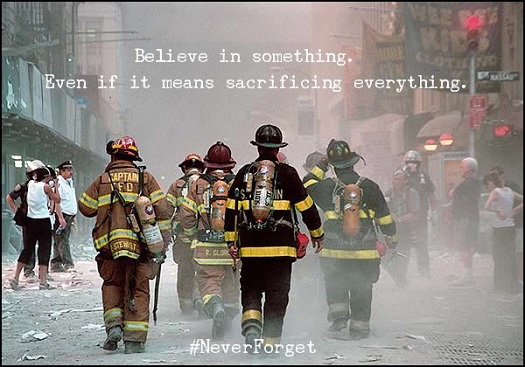 There's No Sex Like Geezer Sex:


AoSHQ Weekly Prayer List
For submission guidelines and other relevant info, please contact FenelonSpoke, who is managing the prayer list. You can contact her at
fenelon direction 18 circle 'a' gmail dot com
(All one word, no spaces)
If you see a prayer request posted in a thread comment, feel free to copy and paste it and e-mail it to her.
Answered prayer:

9/5-Brody Nelson, a youngster,who had been our list for some time is clear of brain cancer after two additional rounds of chemo at St Jude, thanks be to God

8/30-Beverly reports that judge ruled in favor of conservatorship for dad's finances which is a big relief, thanks be to God!. Brother still needs prayers for emotional healing and conversion.

9/4-ibguy reports that Teresa M whom we had been praying for is doing much better, thanks be to God!

9/5-SMH had surgery to have large cyst from ovary removed. Surgery was successful, (Thanks be to God, and God working through doctor and assistants) Please keep SMH in prayer for continued recovery and healing.

New requests:

9/9-From Jayhawkfan63-As a lurker who has been loyal to this place since 2007, I wanted to express my support for my son who is deployed in Erbil Iraq. I'm a vet myself and never knew about this beautiful place in the Kurdistan region of Iraq named Erbil. He sent me pics of the citadel that stretches back to the fifth millennium BC as he flew over it in his Blackhawk. If there is a thought or prayer that could head his way, that would be appreciated beyond everything.

9/12-Prayers for people in path of Hurricane Florence.

Prayers for Comfort after Death and Healing and strength for survivors:

8/12-TonyPetes' father-in-law, a Korean War vet, died recently. Father-in-law had 4 sons and 1 daughter, TonyPetes' wife. Prayers for repose of his soul and comfort for survivors.

8/12-Grammie Winger, prayers for comfort and strength after recent death of her father.

8/12-Infidel, prayers for she and her family after the death of her father.

8/24-Jane D'oh's son's friend-a young Marine was murdered while in Mexico. Friend's name was E.G. Prayers for strength and comfort for E.G.'s family and friends and that murderer or murderers might be held accountable and justice might prevail.

9/4-jjci asks for prayers that daughter-in law (and son) might be able to conceive and have a healthy baby.

9/4-neighbor (formerly neighbor with a telescope) asks for prayers of blessing for he and his children.

9/10-For comfort and strength for family and friends of Bruce's cousin's grandson. Grandson had just moved to Chicago to pursue PhD at Northwestern. Shot by two people shooting at each other at bus stop.

Requests for Continued Prayer and updates:

8/6-Lurker Phineas has inoperable advanced prostrate cancer, Asked for prayers to bear effects of hormone and radiation treatment, wisdom for doctors, peace for children and that he might live long enough to comment his memory with granddaughters ages 2 &4. Prayers for successful treatment

8/15-Aelfheld's friend in rehabilitation needs continued prayers for regaining strength and mobility.

8/15-CountryBoy had a heart attack while in doctor's office and was taken immediately to ICU. Is home now. Needs prayers for strength, healing and recovery.

8/15-SteveOReno- Son has Bipolar 1. Was doing o.k managing illness. but then abused drugs and had an overdose. Son is living with parents now. Please pray that he gets clean, manage bipolar and can keep his job and please "pray for his parents, too." (Fenelon's note).

8/17-Laughing in Tx- His wife has cancer. Has come through first cancer treatment o.k.. Prayers for strength and complete healing for LIT's wife and strength for family in this process.

8/22-NorthernLurker-Prayers for his friend Pat who has surgery for cancer and whose wife died the next day. Cancer of Pat is terminal. Also prayers for his friend Karen who has terminal cancer.

8/23 Miley reports that her brother has gone into a nursing home 8/23. He has memory issues and won't be able to work again. Miley's mother still has difficulties Prayers that Miley "stay sane" and "be her best self." during this time

8/23-ElvenPhoenix-Father, J.S. has heart disease, diabetes and end stage renal failure. Also, prayers for Mother to get through this season of her life with strength, grace and dignity. Continued prayers needed for healing from cancer and other issues:

8/27-Buzzion's friend is attempting to get custody of ex-husband's sister's daughter from foster home which no longer wanted her. Friend is dealing with "flaky foster parent and difficulties of family court." May rough places be made smooth so Buzzion's friend can bring girl to loving home.

8/31-Northernlurker needs prayer for God's guidance and wisdom to decide about a possible 3 month mission trip to the Phillipines. Also needs God's presence for upcoming Mexico mission trip

8/31-USNtakim-Prayers for healing for he and wife who have chronic medical conditions and pain and difficulty walking . USNTakin has gene that malformed a protein that becomes toxic in cerebellum. Needs successful treatment.

8/31-aisq asks for prayers for son Gabriel, 27, who has rare genetic disease and needs a liver and bone marrow transplant but doctors are reluctant to put him on transplant list because of medical condition.

9/4-jjci asks for prayers that daughter-in law (and son) might be able to conceive and have a healthy baby.

9/4 neighbor (formerly neighbor with a telescope) asks for prayers of blessing for he and his children.

9/4-Fox2 reports that brother was back in hospital for additional testing, then back in rehab. May go to stay with other brother. Prayers for healing

9/5-Ibguy asked to have co-workers daughter put back on prayer list. Jenna G, a young person in her 20's or 30s has advanced MS. Prayers for healing

9/8-BCochran losing weight, has additional health and family concerns. Work is stressful Prayers for rough places to be made smooth and for healing,

Please continue to keep in prayers for healing: Sumdumchief (having surgery the 25th), John, Dave@BuffaloRoam, Grannysaurus Rex, Lurking Curate, and Mr Feverhead. All of these posters have significant health concerns, and Mr. Feverhead is trying to work his way though a divorce with best results for children, as well as dealing with cancer treatments. Also, Hrothgar has some challenges in finding help for his elderly and frail sister-in-law who lives at a distance from him. May rough places be made smooth.

Job concerns:

8/26-Red1c4IRL reports that his wife, DeDe, who works in pharmacy field lost job because of internal, unsupportive office politics, Red asked for prayers for strength and stability in search and that search for job would be short and productive.

9/11-Calm Mentor- Needs job. Very successful in inside and outside sales but hasn't been able to find work in his field. Lives in Northern Georgia. Any leads on jobs can be put in this thread or when he is on the board. ******** For information on his situation and to give donations Gofundme site is https://tinyurl.com/y7zac66o. He thanks everyone for their generosity and prayers.

Please remember the Prayer of St. Francis:
http://www.prayerguide.org.uk/stfrancis.htm
****Please note; For purposes of length I am trying to keep the prayer list to approximately five weeks. We will continue to pray for earlier concerns. If you would like a situation to be placed back on the prayer list, have any updates or praise reports, please notify me at: FenelonDirection18 (at sign) gmail.com, I cannot be on all the threads. Thanks, and thanks for being prayer warriors!

posted by OregonMuse at
11:30 AM
|
Access Comments