« EMT 08/26/18
|
Main
|
Sunday Afternoon Open Thread »
August 26, 2018
Sunday Morning Book Thread 08-26-2018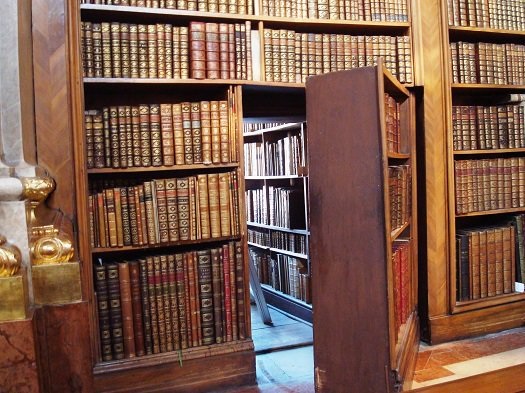 Good morning to all you 'rons, 'ettes, lurkers, and lurkettes. Oh, and we've got a new category of readers, escaped oafs and oafettes ('escaped oafs' is an anagram of 'Ace of Spades'). Welcome once again to the stately, prestigious, internationally acclaimed and high-class Sunday Morning Book Thread, a weekly compendium of reviews, observations, and a continuing conversation on books, reading, and publishing by people who follow words with their fingers and whose lips move as they read. Unlike other AoSHQ comment threads, the Sunday Morning Book Thread is so hoity-toity, pants are required. Even if it's these pants which were banned from Castro Street in San Francisco by city ordinance for being too over the top.

Pic Note
I like how the inner sanctum door in the library leads to... moar library!

It Pays To Increase Your Word Power®
A BORWEN is a messy heap or mound of something.
Usage: How many borwens in a franken?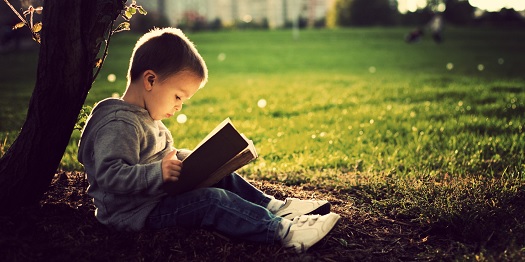 From the One, Many
Mrs. Muse and I have a "fix-it" guy, known him for years, we can call whenever we need help with our appliances, washer, dryer, dishwasher, etc. And plumbing. So we were in the market for a new freezer and we asked what brands he liked, and what brands to avoid. To our surprise, he just gave a little laugh and said brand names don't really matter any more, because they're all made in the same factories in China.
I was reminded of this conversation when this tweet came across my Twitter TL earlier this week:
Click on this link for a larger version of the chart.
Sharyl Attkisson's book is The Smear: How Shady Political Operatives and Fake News Control What You See, What You Think, and How You Vote:
Behind most major political stories in the modern era, there is an agenda; an effort by opposition researchers, spin doctors, and outside interests to destroy an idea or a person. The tactic they use is the Smear. Every day, Americans are influenced by the Smear without knowing it. Paid forces cleverly shape virtually every image you cross. Maybe you read that Donald Trump is a racist misogynist, or saw someone on the news mocking the Bernie Sanders campaign. The trick of the Smear is that it is often based on some shred of truth, but these media-driven "hit pieces" are designed to obscure the truth...Veteran journalist Sharyl Attkisson has witnessed this practice firsthand. After years of being pitched hit jobs and puff pieces, she's an expert at detecting Smear campaigns. Now [she] shares her inside knowledge, revealing how the Smear takes shape and who its perpetrators are—including Clinton confidant Sidney Blumenthal and, most influential of all, "right-wing assassin turned left-wing assassin" (National Review) political operative David Brock and his Media Matters for America empire...
Brock reminds me of Al Pacino's character in Scarface, his face buried in a pile of cocaine on his desk. Attkisson likens his multi-layered smear empire to an anthill. There are a number of tunnels for the ants that may look like they come from different sources, but once you get a glimpse inside the nest, they're all connected.

One last thing: our fix-it guy is 83 years old and alas, has not passed on his immense knowledge and skills to anyone. Back in the old days, he would have had one or more apprentices. But not now. When he passes, all of that precious knowledge and skill he has acquired over the decades will be lost.

Books By Morons
'Ette author Elisabette Wolfe e-mailed to tell me of the impending publication of GR8 Greeks, a collection of stories based on the characters of ancient Greek mythology. She says it's geared toward a middle-grade to YA audience, but older readers could enjoy it, too. Blurb:
Snake-haired women, angry minotaurs in deadly mazes, magical articles of clothing—all elements you'd expect to see in an ancient Greek myth. After all, those Greeks believed in all sorts of crazy things!

But what if the underlying themes of those stories are as real and applicable to our modern world as they were in ancient times? Themes such as belonging, helping others, and fighting for a good cause all feature prominently in both the myths and their modern retellings.

Discover those reimagined tales in GR8 Greeks, a collection of modern stories inspired by ancient Greek myths. You'll find the magic, intrigue, and drama of the old tales right alongside humanity, compassion, and resolve.
Ms. Wolfe's contribution is a story called "The Cipher", based on Chaucer's
Troilus and Criseyde
with additional details from
The Iliad
:
To super-spoiled Trojans football star Troy Kingston, the pretty fifteen-year-old is the only thing his perfect life lacks. To her greedy Uncle Pando, she's a bargaining chip. To her conniving father Cal, she's a piece of furniture. But to Spartans powerhouse Dio Prince, she's Cressida Rogers, a beautiful girl with a terrible past that has left her unsure of who she really is. When Cal moves his household from Ilium to Rock Island, forcing Cressida to break off the relationship with Troy that Pando has forced her into, she teeters on the brink of despair—but with Dio's help, she may be able to recover her sense of self and find true love as more than just a cardboard cutout.
GR8 Greeks is available for pre-order on Kindle for $4.99. Release date is September 1st.
Also, Ms. Wolfe is slated to be a guest on the Christians in Motion podcast on August 29 to talk about the purpose of education.
___________
(Mostly) lurking 'ette author Annalucia has just released her novel, Karidach's Daughter:
Torn from her home and her tribe on the steppes, Bahar, Karidach's daughter, must keep her head and survive alone in a larger world where a woman's life is cheap. Set amidst the cosmopolitanism and barbarism of 10th-century Europe, "Karidach's Daughter" is a story of discovery, identity, endurance, and - just possibly - hope.
$1.99 on Kindle. She adds:
One caveat: the preview, for some reason, screws up the graphics (there are a bunch of zigzaggy lines that look like Cthulu's EKG) but the download looks all right.

___________
Don't forget the AoSHQ reading group on Goodreads. It's meant to support horde writers and to talk about the great books that come up on the book thread. It's called AoSHQ Moron Horde and the link to it is here: https://www.goodreads.com/group/show/175335-aoshq-moron-horde.

Moron Recommendation
An anonymous lurkette sends me this photo of the books she's planning to read over the next few weeks.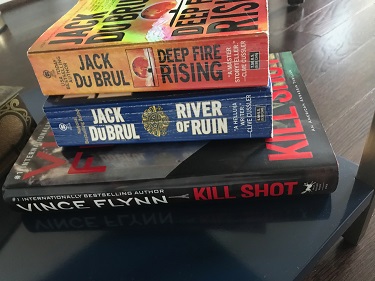 Here's a pic of the books I'm planning to read over the next few weeks. Everyone knows Vince Flynn but not sure if many know about Jack DuBrul. His works are action adventure in the style of Clive Cussler. He actually co-wrote many of Cussler's books. His writing is excellent and full of detail. You become completely immersed in the stories. The writer, himself, is a really great guy and my neighbor. I highly recommend all of his books.
I had not heard of DuBrul, not even as a cowriter for Cussler, even though their collaboration is extensive. Here is the blurb for Deep Fire Rising, the sixth of the series featuring Philip Mercer, "a preeminent geologist with a taste for international intrigue":
Hired to lead the excavation of caverns deep beneath Area 51, Philip Mercer finds himself drilling straight into the epicenter of an age-old conspiracy. A reclusive order of Himalayan monks, through special knowledge of the earth's tectonic movement, has predicted the end of the world—and it is determined to see the prediction unfold accordingly.

Now, with icebergs floating through the South Pacific and a thermonuclear bomb set to destroy an island paradise, the stage is set for Armageddon—and it is up to Philip Mercer and the beautiful, mysterious Tisa Nguyan to prevent a cataclysm beyond imagination.
$7.99 on Kindle.
___________
A lurker e-mailed a recommendation for African Kaiser by Robert Gaudi. He calls it
Just an amazing adventure, if it was a movie you would think it was fake...drunk pilots crashing worn out Wright fliers, giraffes knocking out telegraph lines, mass defecation in public buildings. What more could you ask for?
African Kaiser: General Paul von Lettow-Vorbeck and the Great War in Africa, 1914-1918:
At the beginning of the twentieth century, the continent of Africa was a hotbed of international trade, colonialism, and political gamesmanship. So when World War I broke out, the European powers were forced to contend with each other not just in the bloody trenches—but in the treacherous jungle. And it was in that unforgiving land that General Paul von Lettow-Vorbeck would make history.

With the now legendary "Schutztruppe" (Defensive Force), von Lettow-Vorbeck and a small cadre of hardened German officers fought alongside their fanatically devoted native African allies as equals, creating the first truly integrated army of the modern age.
The Kindle edition is a bit spendy at $14.99.

___________
So that's all for this week. As always, book thread tips, suggestions, bribes, rumors, threats, and insults may be sent to OregonMuse, Proprietor, AoSHQ Book Thread, at the book thread e-mail address: aoshqbookthread, followed by the 'at' sign, and then 'G' mail, and then dot cee oh emm.
What have you all been reading this week? Hopefully something good, because, as you all know, life is too short to be reading lousy books.


posted by OregonMuse at
08:42 AM
|
Access Comments