« Netflix Cancels Michelle Wolf's Show
|
Main
|
Chelsea Clinton: I Haven't Ruled Out Running for Office »
August 20, 2018
#MeToo Leader Asia Argento Pays $380,000 In Hush Money to Underage Boy She Sexually Assaulted
And by "sexually assaulted," I mean "statutorily raped."
The Italian actress and director Asia Argento was among the first women in the movie business to publicly accuse the producer Harvey Weinstein of sexual assault. She became a leading figure in the #MeToo movement. Her boyfriend, the culinary television star Anthony Bourdain, eagerly joined the fight.

But in the months that followed her revelations about Mr. Weinstein last October, Ms. Argento quietly arranged to pay $380,000 to her own accuser: Jimmy Bennett, a young actor and rock musician who said she had sexually assaulted him in a California hotel room years earlier, when he was only two months past his 17th birthday. She was 37. The age of consent in California is 18.

That claim and the subsequent arrangement for payments are laid out in documents between lawyers for Ms. Argento and Mr. Bennett, a former child actor who once played her son in a movie.

The documents, which were sent to The New York Times through encrypted email by an unidentified party, include a selfie dated May 9, 2013, of the two lying in bed. As part of the agreement, Mr. Bennett, who is now 22, gave the photograph and its copyright to Ms. Argento, now 42. Three people familiar with the case said the documents were authentic.
The New York Times notes that Jimmy Bennet played Asia Argento's son in 2004, in a movie called "he Heart Is Deceitful Above All Things. Below is a picture of the two, to show the age difference: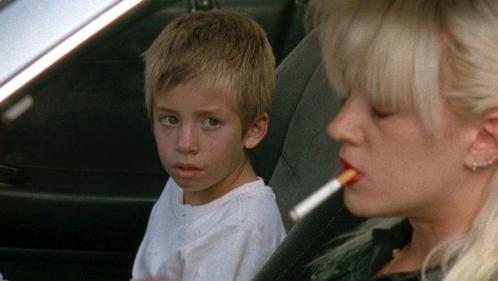 Of course both aged 9 years more before they hooked up. Still -- weird.
It gets weirder:
The script, based on a book by the pseudonymous writer JT LeRoy, depicts the grim relationship between a drug-addicted prostitute played by Ms. Argento and her son, played by Mr. Bennett and two other young actors. Ms. Argento's character dresses her son as a girl to lure men, and the boy is ultimately raped.

In interviews and subsequent social media posts between the two over the years, they referred to each other as mother and son.
Although the American media managed to almost completely embargo it -- despite her boyfriend Anthony Bourdain's suicide being a top news story for a week, and Argento herself having been a hot news story for a year -- Argento was photographed in Rome embracing and holding hands with a French reporter, shortly before Bourdain's suicide.
Do I blame her? No. That was his choice. Someone who commits suicide over the possible/likely infidelity of someone he's only been dating for a year is someone who's probably going to find some reason to commit suicide.
But I think it's very interesting to watch the media embargo otherwise-newsworthy stories that conflict with their precious narratives.

posted by Ace of Spades at
01:19 PM
|
Access Comments