« Sunday Afternoon Open Thread
|
Main
|
Gun Thread (Special Guest Blogger Weasel) »
August 26, 2018
Food Thread: Nirvana: When Adding Bacon Makes The Dish Less Rich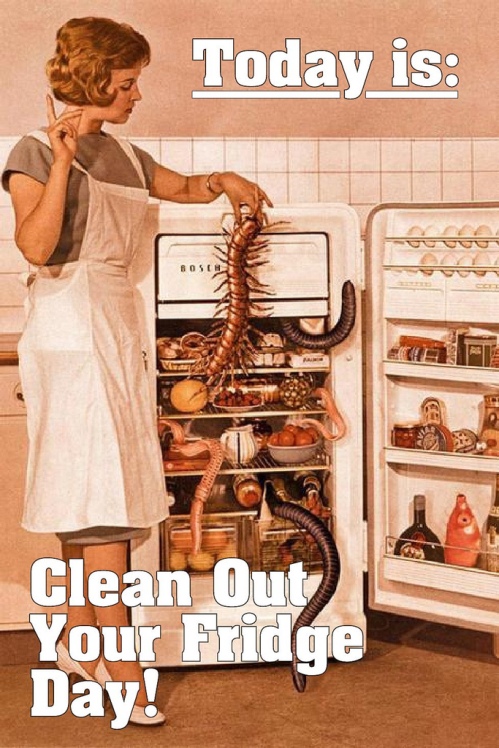 Come on...admit it...sometimes your refrigerator looks like a combination of a bio-hazard site and the zombie apocalypse. We all tend to collect big and little containers of stuff; usually unidentifiable and just a bit stinky or weirdly bulged and scary.
But sometimes stuff accumulates that can be repurposed for the good of your stomach, and that's what I did a few days ago. I know that most of you think I eat a diet of kale and tofu and organically sourced turkey, but in reality, I eat cheese. Lots of it, because it is one of the basic food groups of normal human beings. And because there are seemingly thousands of different kinds of cheese, mostly scrumptious beyond belief, I have a large assortment of bits and ends and rinds and small (and big) chunks of the stuff in the cheese drawer.
Now, I am a firm believer in the axiom that if a food has already rotted once, it's going to take a long, long time for it to rot again and threaten my health. That's mostly a joke, but cheese does last a long time, and often just dries out instead of turning bright colors and trying to get out of the refrigerator late at night. So with my trusty food processor equipped with the shredding disc, I scaled the small mountain of cheese and harvested the pieces that were long in the tooth. I ended up with about 10 cups of shredded and grated cheese.
And what to do with that bounty? Macaroni & Cheese of course!
A half-gallon of milk, two sticks of butter and more than a cup of flour later, I had a bechamel sauce ready to accept that glorious mixture of about five different cheeses. And how much pasta you ask? two and a half pounds of medium shells!
So now I have what seems like about 10 pounds of incredibly decadent and rich Mac & Cheese, most of which will go into the freezer for a rainy day. Unfortunately I didn't have any thick-cut bacon, otherwise I would have added about a pound of lardons, which go marvelously with Mac & Cheese, because it isn't quite rich enough on its own. Although...considering how much fat there is in cheese, maybe adding bacon would make it less rich?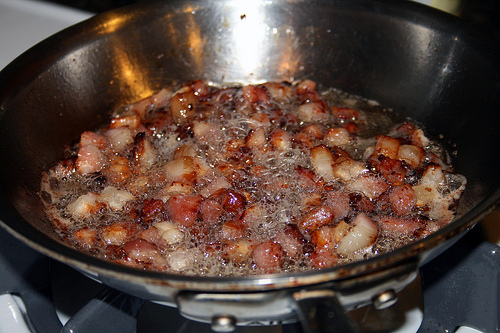 Okay, I lied. It's more like nine pounds; I stuffed my face full of the stuff because I am weak. It's amazing how good the fresh version is. That's not a criticism of the neon-orange Kraft stuff from the box. I adore that stuff, but it's a different culinary experience.
I also save chicken parts like necks and backs and such, because good homemade stock is a godsend, especially around the holidays when it seems every traditional dish requires chicken stock. And I guess you weirdos who use vegetable stock can save their over-the-hill stuff for that, although I have no idea why anybody would use vegetable stock when there are perfectly good chicken parts in the freezer, just waiting to be simmered to extract their glorious essence.
What else do you folks make from refrigerator cleaning expeditions?

******
P
eople
E
ating
T
asty
A
nimals
Iconic animal cracker box gets redesign after pressure from PETA
I am not sure who are the bigger assholes, the maniacal animal-rights terrorists or the cowards at Nabisco.
******
This is really, really disturbing.
I don't get the attraction. Do the Taiwanese eat dog?

******
Food and cooking tips, Haggis, Henry Big Boys in .357, gefilte fish replacements, thick and fluffy pita and good tomatoes that aren't square, pale pink and covered with Mestizo E.coli:
cbd dot aoshq at gmail dot com
. Any advocacy of French Toast with syrup will result in disciplinary action up to and including being
nuked from orbit.
&topic=world_news">

posted by CBD at
04:00 PM
|
Access Comments