« EMT 08/19/18
|
Main
|
THE SCIENCE IS SETTLED! »
August 19, 2018
Sunday Morning Book Thread 08-19-2018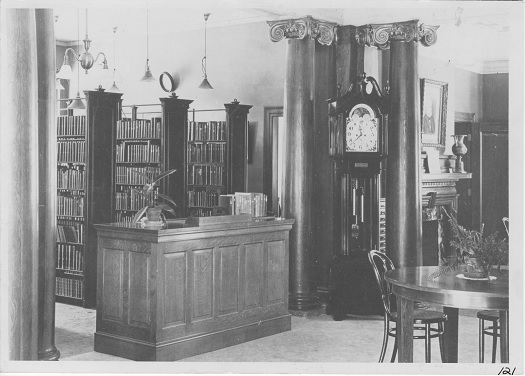 Rockingham Public Library, Bellows Falls, VT
Good morning to all you 'rons, 'ettes, lurkers, and lurkettes. Oh, and we've got a new category of readers, escaped oafs and oafettes ('escaped oafs' is an anagram of 'Ace of Spades'). Welcome once again to the stately, prestigious, internationally acclaimed and high-class Sunday Morning Book Thread, a weekly compendium of reviews, observations, and a continuing conversation on books, reading, and publishing by people who follow words with their fingers and whose lips move as they read. Unlike other AoSHQ comment threads, the Sunday Morning Book Thread is so hoity-toity, pants are required. Even if it's these pants, which I don't understand why anyone would want to wear. They don't look comfortable, they're ugly, and if you suddenly need to run, you'll be doing an instant faceplant.

Pic Note
This week's photo is courtesy of a lurking moron who spent most of his childhood hanging out in this library. This was back in the days when you had to look up stuff in massive card catalogs. More here, but the site navigation is somewhat cumbersome.

It Pays To Increase Your Word Power®
To BRATTLE is to squander your money.
Usage: Is it a coincidence that Mary Cloggenstein lives in Brattleboro, VT?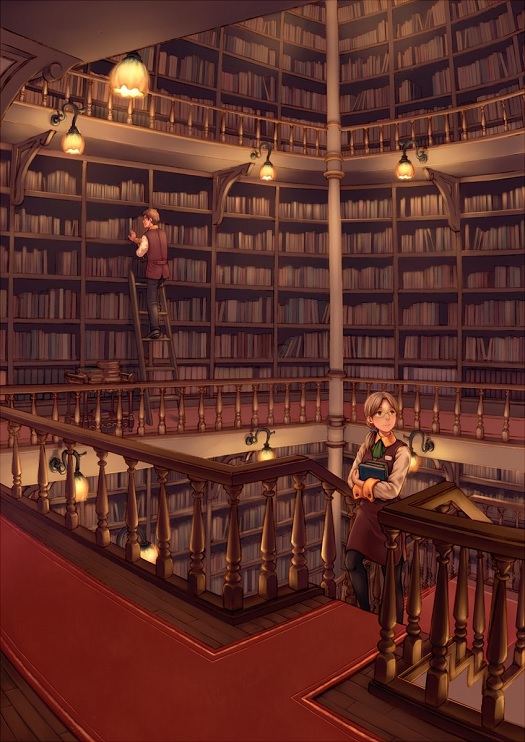 (h/t to the moron who sent me this a long time ago, I forget exactly who it was, I'm guessing it was probably The Political Hat)


Looks Interesting
I discovered How to Survive an Active Shooter, 2nd Edition: What You do Before, During and After an Attack Could Save Your Life (Conversations) by Jacquelyn Lynn from a review posted on votermom's blog. It asks the question "Would you know what to do if someone started shooting?" It gives pointers on:
•What you should do when someone starts shooting
•What you can do if escape isn't possible
•Why it's dangerous to keep your cell phone with you
•What a kill box is and how to avoid being in one
•How to defend yourself against an active shooter
•Why playing dead can get you killed
•What weapons, other than firearms, attackers are using
•How to protect a house of worship
•What you should do before and after law enforcement arrives

The last item is a bit problematic. I've heard that during the Columbine shootings, the police stood around outside the school while the shooters blazed away. And we all know about the derelict sheriff's deputy at Parkland who thought sticking his head in the sand was the better part of valor. And of course, the answer is more gun control laws.
If I'm ever caught in one of these situations, I have to assume that law enforcement is not something I can count on to save me and my loved ones.
I understand that the Israelis teach that everybody needs to rush the shooter, even if no weapons are available. Because eventually the sheer weight of numbers will obstruct the shooter's progress.
Of course, the Israelis arm their school teachers, which undoubtedly helps.

Travel Books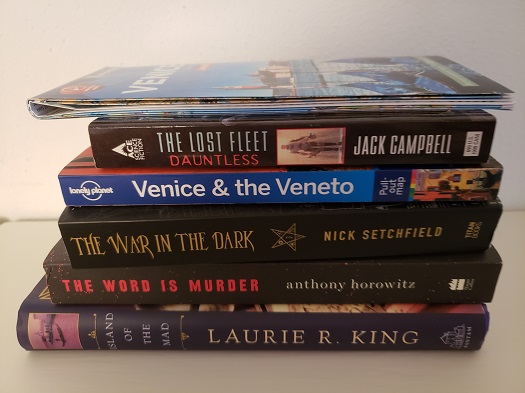 A lurking 'ette sent me this pic of books she took with her on a trip that involved a number of long flights. Along with her Kindle, she carried with her:
Island of Mad by Laurie King- liked the earlier ones better but this one was kind of fun since it was set in Venice and that is where I was headed.

The Word is Murder by Anthony Horowitz- better than expected since the author inserts himself into the story- I don't usually care for those kind of plots but this is done about as well as one can do those kind of things.

The War in the Dark- Nick Setchfield- nice moody historical fantasy with magic but characters did not ring true.

Lonely Planet Venice- solid historical summary and overview of major and minor attractions, but not great on shopping and eating recs.

first of the Lost Fleet by Jack Campbell- will be reading more of these- very sharp military scifi with engaging characters and plotting.

(And on her Kindle):

Young Trailers by Altsheler- loved these as a teenager and there are worse things a teenager could be reading now- strong male characters that value friendship and adventure but simplistic plots at times and awful dialogue.

Murder on the Oxford Canal by Martin- decent mystery setup for a series- will probably try a few more.

Moron Recommendation
Lurker Chuck e-mailed a couple of recommendations for WW I history:
Peter Englund's "The Beauty and the Sorrow: An Intimate History of the First World War" is told through the eyes of twenty average men and women who participated in some way in the conflict. The perspectives are from all over the world, not just the Western Front. Very powerful.

Also Wade Davis' "Into the Silence: The Great War, Mallory and the Conquest of Everest" about how the war affected the climbing expeditions of the 20s and 30s.
The Beauty and the Sorrow: An Intimate History of the First World War is available on Kindle for $14.99 (ouch), but you can buy the hardcover edition for 8.00.
The Amazon blurb describes Into the Silence: The Great War, Mallory, and the Conquest of Everest as
The definitive story of the British adventurers who survived the trenches of World War I and went on to risk their lives climbing Mount Everest.
The Kindle edition is $14.99, but used hardcover copies go for as low as $3.00.

___________
This week I finished The Hearts of Horses, by Molly Gloss, a look at the not-easy life of homesteaders in the 1917 Western U.S. -- an era not usually written about.

I recommended it for a maiden aunt just coming off a heart attack (she's 93) because I know she likes the Western genre and because it was "clean." Well, it was until the last 10 pages. Then the author felt compelled to wreck it with one stinking scene of "hot and bothered" characters. Ugh. Still recommended, but not for your genteel elderly aunt.

Posted by: SandyCheeks at August 12, 2018 09:08 AM (ihzOe)
This recommendation fit in well with the "books ruined by sex" theme I had going last week. Seems to me you can just tear out the last 10 pages before you give it to your elderly maiden aunt. The Amazon blurb calls this book an
...irresistible tale of nineteen-year-old Martha Lessen, a female horse whisperer trying to make a go of it in a man's world. It was thought that the only way to break a horse was to buck the wild out of it, and broken ribs and tough falls just went with the job. But over several long, hard winter months, many of the townsfolk in this remote county of eastern Oregon witness Martha's way of talking in low, sweet tones to horses believed beyond repair—and getting miraculous, almost immediate results—and she thereby earns a place of respect in the community.
The Kindle edition of The Hearts of Horses is $9.99.
___________
If you like, you can follow me on Twitter, where I make the occasional snarky comment.
___________
Don't forget the AoSHQ reading group on Goodreads. It's meant to support horde writers and to talk about the great books that come up on the book thread. It's called AoSHQ Moron Horde and the link to it is here: https://www.goodreads.com/group/show/175335-aoshq-moron-horde.
___________
So that's all for this week. As always, book thread tips, suggestions, bribes, rumors, threats, and insults may be sent to OregonMuse, Proprietor, AoSHQ Book Thread, at the book thread e-mail address: aoshqbookthread, followed by the 'at' sign, and then 'G' mail, and then dot cee oh emm.
What have you all been reading this week? Hopefully something good, because, as you all know, life is too short to be reading lousy books.


posted by OregonMuse at
09:00 AM
|
Access Comments