« EMT 08/05/18
|
Main
|
For A Russian Stooge Who Is Looking Out Only For The Rich, President Trump Sure Is Doing A Lot For Average Americans »
August 05, 2018
Sunday Morning Book Thread 08-05-2018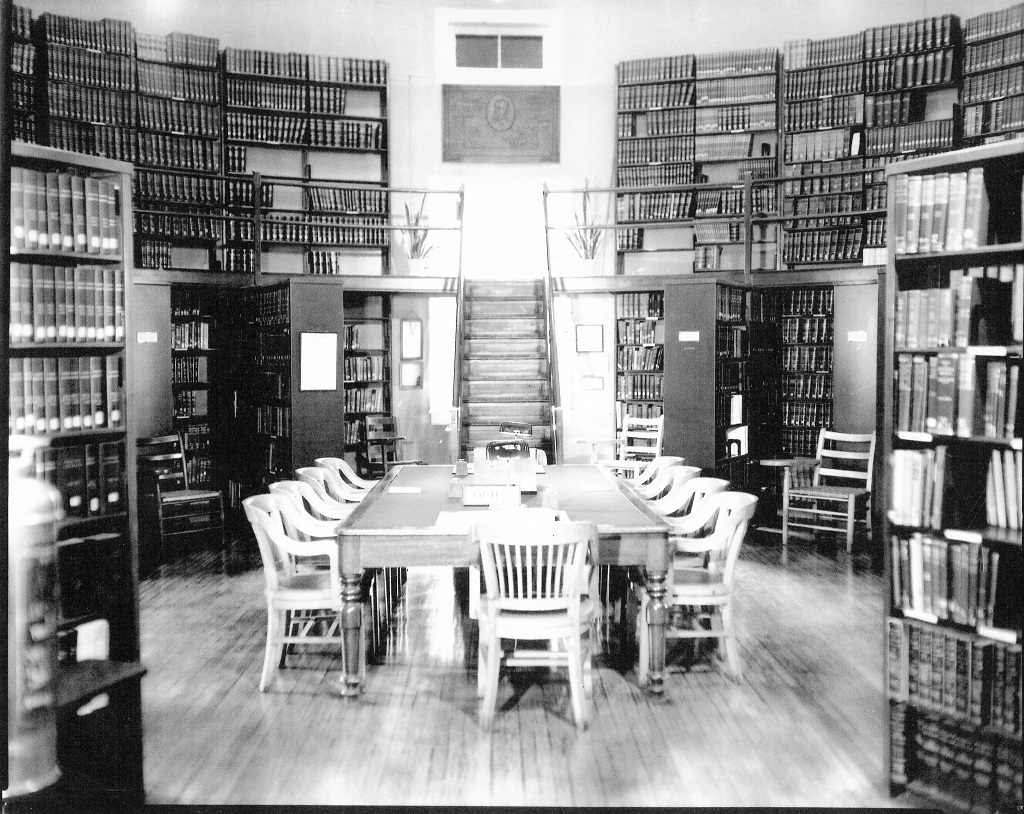 (click for larger version)

Good morning to all you 'rons, 'ettes, lurkers, and lurkettes. Oh, and we've got a new category of readers, escaped oafs and oafettes ('escaped oafs' is an anagram of 'Ace of Spades'). Welcome once again to the stately, prestigious, internationally acclaimed and high-class Sunday Morning Book Thread, a weekly compendium of reviews, observations, and a continuing conversation on books, reading, and publishing by people who follow words with their fingers and whose lips move as they read. Unlike other AoSHQ comment threads, the Sunday Morning Book Thread is so hoity-toity, pants are required. Even if it's these pants, which not even the strongest spot remover will ever be able to fix.

Pic Note
The only information I have on this is: 'A Navy Medical Library, 1902'.
[Update]: h/t to geoffb for finding out that this is the "Stitt Library at BUMED, 1902. (This is in the former Naval Observatory rotunda which housed a telescope at 23rd St, NW, Washington, DC)"
Worth a Look
Moron JTB sent me an e-mail to which I added the links:
I found an interesting site: Journal of the American Revolution. Haven't gone through all of it but looks interesting. The book thread connection is they have a list of the 100 best books about the Revolution of all time. (Their words.) If you think it's worthwhile, it might make a good reference a future book thread. It's the kind of item that can start some opinions on related books and topics. (And the Horde won't re-fight the Civil War. I hope.)
This is indeed an interesting site. It's divided up into topical subjections People, Politics, Culture, Conflict & War, Critical Thinking, etc. This is one of those sites where, if you're at all interested in the subject, you click a link here, click a link there, and before you're aware of it, it's now 4 hours later, whatever you left on the stove is burnt to a crisp, and your wife is still at the dentist's office wondering when you're going to pick her up.
Mary Robie and the Didactic Qualities of Reading Fiction also looks like an interesting read.

It Pays To Increase Your Word Power®
PHYSBUTTOCKE was a 16th century insult aimed at a vain, dandyish young man.
Usage: It would be pretty funny if President Trump did not allow Jim Acosta into the WH press room without a "Mr. Physbuttocke" nametag.

Shelfie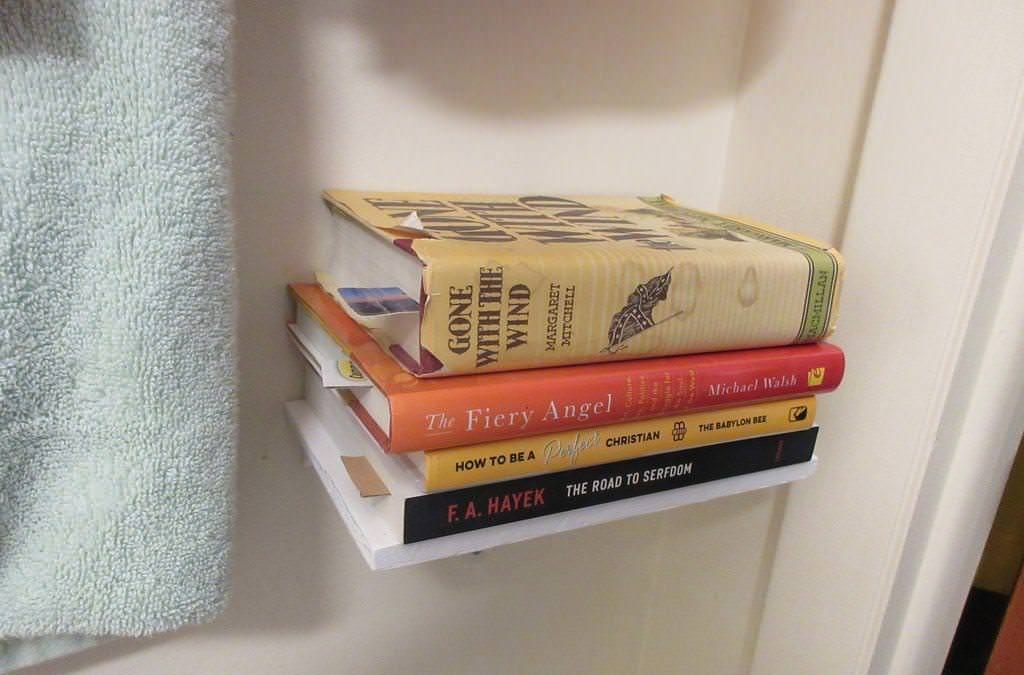 I received an interesting e-mail and the above photo from Corona, whom I think mostly lurks:
Not much of a bookworm myself but really enjoy the libraries posted at AOSHQ, especially the Hordes' pics. I actually have a library myself. It's very tiny and nestled close to my castles' throne. When I'm done with them they're replaced with new adventures.
Looks like Corona's got a good variety of material, light (Gone with the Wind), heavy (The Road to Serfdom), and humorous (How To Be a Perfect Christian).
Maybe we should make this a thing. I'm soliciting "shelfies" of you morons' reading material currently in your, uh, "throne room." Which I daresay a lot of you get most of your serious reading done.
This should be fun.
Of course, "real" library pics are always welcome. Oh, and ugly pants pics, too.

Prog Dreams & Schemes
It's really good to see our side punching back on the torrent of BS that the Democrats and the MSM have been churning out since November in a transparent attempt to reverse the results of Trump's election. I think some progs actually believe, even now, that they can somehow remove Trump, get a do-over on the election, which will then, naturally, install dowager Hillary in her rightful place in the Oval Office.
A number of recent book releases fight (resist?) this narrative:
The Russia Hoax: The Illicit Scheme to Clear Hillary Clinton and Frame Donald Trump by Gregg Jarrett
Fox News legal analyst Gregg Jarrett reveals the real story behind Hillary Clinton's deep state collaborators in government and exposes their nefarious actions during and after the 2016 election.

The Russia Hoax reveals how persons within the FBI and Barack Obama's Justice Department worked improperly to help elect Hillary Clinton and defeat Donald Trump in the 2016 presidential election.

When this suspected effort failed, those same people appear to have pursued a contrived investigation of President Trump in an attempt to undo the election results and remove him as president.

The evidence suggests that partisans within the FBI and the Department of Justice, driven by personal animus and a misplaced sense of political righteousness, surreptitiously acted to subvert electoral democracy in our country.
Liars, Leakers, and Liberals: The Case Against the Anti-Trump Conspiracy by Jeanine Pirro, cussed at by Whoopi Goldberg on 'The View' a few weeks back as tempers were running hot.
Judge Jeanine writes a firsthand account of the real Trump presidency, based on her interviews with top administration officials, family members and insiders...At this point in American history, we are victims of a subterfuge and sabotage of the presidency that we've never witnessed before.
And how. I've never seen it this bad before, and I'm old enough to remember Nixon.
Spygate: The Attempted Sabotage of Donald J. Trump by Dan Bongino, due out in October, is available for pre-order now:
Former Secret Service agent and NYPD police officer Dan Bongino joins forces with journalist D.C. McAllister to clear away fake news and show you how Trump's political opponents, both foreign and domestic, tried to sabotage his campaign and delegitimize his presidency.
And, just for fun, there's the 30-page essay Examining The Psychology Of The Trump Hating Loony Left: Is Trump Derangement Syndrome A Symptom Of The Left's Unsettled Daddy Issues? by the appropriately named Professor Fun.
In his new book just released on July 24th, 2018 Professor Fun gives a lecture on Trump Derangement Syndrome and the loony left in America today. There are three main groups today showing acute symptoms of Trump Derangement Syndrome, first we have the liberal and leftists group of people who view Trump as a threat to protected minority groups such as gang members and criminals. The second group are the deep state figures who are trying desperately to remove Trump from office in order to prevent their crimes and corruption from being exposed. The third group is the Fake News Media who are spokespeople for groups #1 and #2. Each of these groups are attempting to create mass hysteria to achieve their goals of removing President Trump from power and nullifying the election results of our duly elected President. These three groups must be stopped and defeated, until that happens let's have some fun laughing at them and calling them out.
As I said, I enjoy seeing conservatives punching back vigorously. It wasn't always the case. I remember the dark times, when all we had was the National Review, Human Events, the editorial page of the Wall Street Journal, and that was about it. The liberals really had a firm grip on the national narrative in those days, which made things a lot more easier for them. For example, I doubt that they could have gotten away with borking Robert Bork as they did even 10 years later. And the shouting down and "no platforming" of conservative speakers on college campuses was a regular occurrence even back then, but you just didn't hear about it - unless you subscribed to the abovementioned conservative publications.
There was also one more outlet, the Conservative Book Club. Any of you morons ever join the Conservative Book Club? After you signed up, you'd get a monthly mailing of conservative-themed books, including their "book of the month" selection. If you didn't want the selection, you'd have to mail them back a "no, thanks" letter, otherwise they'd send it to you and bill you for it. Or you could buy other books, and most of the time, the prices were pretty good. Anyway, I was a member from approx. 1992 to about 1998 when I discovered that despite all of the books I was buying, we weren't winning very many political battles.
I thought the CBC had folded up some years ago, but no, it's still around, apparently.

Moron Recommendations
Take a little Lovecraft, mix in some Sherlock Holmes, and what do you get?
137 For a great take on Cthulhu/Holmes, check out the Shadows over Baker Street anthology, great short stories on the subject. Some of them go to very unexpected places.

Posted by: Christopher R Taylor at July 29, 2018 10:10 AM (39g3+)
Shadows Over Baker Street: New Tales of Terror! contains stories by Neil Gaiman, Barbara Hambly, Elizabeth Bear, and 17 other writers. This is the book that dares to ask the question:
Arthur Conan Doyle's Sherlock Holmes is among the most famous literary figures of all time...But what would happen if Conan Doyle's peerless detective and his allies were to find themselves faced with mysteries whose solutions lay not only beyond the grasp of logic, but of sanity itself?
And at 464 pages, you'll be getting a lot of bang for your buck.

Books By Morons
'Ette author right wing yankee has just published a YA fantasy novel, In Pursuit of Justice:
Garia and the East Morlans have been on increasingly rocky terms for years, and when Téo and Zara ran away together, they touched off the powder keg of war between their kingdoms. Now they have to fight for their lives while learning to live in a foreign land.

In the Morlans, Hanri and Alia are facing their own sets of problems. He must control and divert the single-minded vengeance of his father King Reynard, and she must sort the gold of information from the dross of gossip in a palace swarming with rumors. It could mean the difference between life and death for all of them.
This is the sequel to the first book of her Garia Cycle, Kingdom of Glass.
In Pursuit of Justice is available on Kindle and is currently priced at $2.99.

___________
Don't forget the AoSHQ reading group on Goodreads. It's meant to support horde writers and to talk about the great books that come up on the book thread. It's called AoSHQ Moron Horde and the link to it is here: https://www.goodreads.com/group/show/175335-aoshq-moron-horde.
___________
So that's all for this week. As always, book thread tips, suggestions, bribes, rumors, threats, and insults may be sent to OregonMuse, Proprietor, AoSHQ Book Thread, at the book thread e-mail address: aoshqbookthread, followed by the 'at' sign, and then 'G' mail, and then dot cee oh emm.
What have you all been reading this week? Hopefully something good, because, as you all know, life is too short to be reading lousy books.

posted by OregonMuse at
09:00 AM
|
Access Comments