« EMT 07/29/18
|
Main
|
Ah Socialism: Ain't It Grand? So Much Better Than Filthy Market Economies (Is NYC The New Caracas?) »
July 29, 2018
Sunday Morning Book Thread 07-29-2019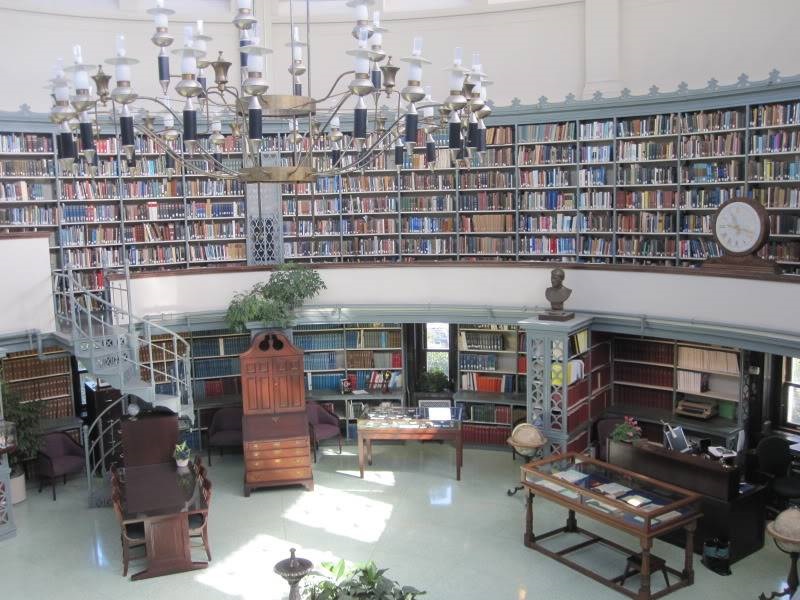 James Melville Gilliss Library, USNO, Washington DC

Good morning to all you 'rons, 'ettes, lurkers, and lurkettes. Oh, and we've got a new category of readers, escaped oafs and oafettes ('escaped oafs' is an anagram of 'Ace of Spades'). Welcome once again to the stately, prestigious, internationally acclaimed and high-class Sunday Morning Book Thread, a weekly compendium of reviews, observations, and a continuing conversation on books, reading, and publishing by people who follow words with their fingers and whose lips move as they read. Unlike other AoSHQ comment threads, the Sunday Morning Book Thread is so hoity-toity, pants are required. Even if it's these pants, about which everything is just wrong. Except the girl who's wearing them, she looks kind of cute.
(h/t lurkette Tonestaple for the ugly pants pic)

Pic Note
The Navy done good with this library:
The James Melville Gilliss Library collection dates from 1830. The library was developed as part of the US Naval Observatory, and today is found in the main building, built in 1893, and sits on hilly ground in the Georgetown area of Washington, DC. A brief history of the observatory can be read here. The library is housed in the wing on the right of this photo of the main building on the grounds as seen in this picture taken from the library website.
I'll bet that clock keeps pretty good time.

It Pays To Increase Your Word Power®
A HAWMERER is a clumsy or noisy worker.
Usage: Despite Lawrence O'Donnell's frantic pleas to "Stop the hawmerering!", the hawmerering did not stop, but went on, and on, and on.



Worth a Look
A lurker sent me this link to a blog post wherein he details his book purchases for the first half of 2018. That description makes it sound pretty boring, but I did not find it so. He's got pictures of his purchases, and he likes signed first editions. He managed to snag autographed copies of books by Ray Brabury, Philip K. Dick, and others.

November Is Coming
Last week in the comments, I ventured to do some hopeful/wishful thinking in the comments. It's just a sense I get, despite any polling I've seen so far, and based on nothing but my own feelz, that the Democrats are going to get punched in the puss this November.
1. Normal Americans don't give a rat's ass about Russian "collusion"
2. Normal Americans are weary of outrage, outrage, outrage, all day, every day, all the time.
They don't know because they never bother to ask. That has been a major point of two good books, Dana Loesch's "Flyover Nation" and Kayleigh McEnany's "The New American Revolution". Trump prevailed because he had a deep understanding of, and exposure to, the base, which neither the Dems nor the GOPe did.

To ask is to chance exposure to dangerous ideas, or worse, give legitimacy to them. Why risk contamination?

There is no way a real journalist with a modicum of curiosity wouldn't have found that out.

Posted by: All Hail Eris, She-Wolf of the 'Ettes 'Ettes at July 22, 2018 12:07 PM (gUCYC)
Flyover Nation: You Can't Run a Country You've Never Been To is by Dana Loesch who
...reveals the damage done by elitists who flat-out don't get the lives and values of people in the heart of the country. And she asks commonsense questions such as: How can you be angry at Walmart if you've never shopped in one? How can you hate the police if you've never needed help from a cop? How can you attack Christians if you don't have a single friend who goes to church?

In other words, how can you run a country you've never been to?
I don't know if this is the problem. On the one hand, I have a liberal friend who is wrapped up in his little progressive bubble so tight, that on the rare occasions that I talk to him, it's like he's receiving messages from another planet. On the other, I don't this is going to be fixed by just "getting to know the other guy." Especially when I see them holding up protest signs that say "Yes, I want to take your guns" and "It's not about the cake." They may not know us, but they know what they like and what they don't like.
Second on AHE's list is The New American Revolution: The Making of a Populist Movement by political writer and official RNC spokesperson Kayleigh McEnany, who
...spent months traveling throughout the United States conducting interviews with Americans, whose powerful and moving stories were forgotten or intentionally ignored by our leaders. Through candid, one-on-one conversations, they discussed their deeply personal stories and the issues that are most important to them, such as illegal immigration, safety from terrorist attacks, and religious freedom.
To this list I will add The Great Revolt: Inside the Populist Coalition Reshaping American Politics by Salena Zito and Brad Todd. Quoting the blurb is probably not going to do it justice, but you can read a good review of it here. Todd is the commentator who came up with the oft-quoted line "voters take Donald Trump seriously but not literally, while journalists take him literally, but not seriously."

Moron Recommendation
I highly recommend the James Asher novels by Barbara Hambly.

Espionage, vampires, WWI. Smartly written and not a sparkle in sight. There are 5 so start at the beginning.

Posted by: mpfs at July 22, 2018 10:14 AM (UpyDE)
Babrbara Hambly has got a ton of books out (somehow I knew she would).
After receiving a master's degree in medieval history, she published The Time of the Dark, the first novel in the Darwath saga, in 1982, establishing herself as an author of serious speculative fiction. Since then she has created several series, including the Windrose Chronicles, Sun-Cross, and Sun Wolf and Starhawk, in addition to writing for the Star Wars and Star Trek universes.
The first in the 7-book James Asher series is titled Those Who Hunt the Night, wherein Asher, the main character, is introduced:
Once a spy for Queen Victoria, James Asher has fought for Britain on every continent, using his quick wits to protect the Empire at all costs. After years of grueling service, he marries and retires to a simple academic's life at Oxford. But his peace is shattered one night with the arrival of a Spanish vampire named Don Simon Ysidro.

Don Simon can disappear into fog, move faster than the eye can see, and immobilize Asher—and his young bride—with a wave of his hand. Asher is at his mercy, and has no choice but to give his help. Because someone is killing the vampires of London, and James Asher must find out who—before he becomes a victim himself.

___________
Don't forget the AoSHQ reading group on Goodreads. It's meant to support horde writers and to talk about the great books that come up on the book thread. It's called AoSHQ Moron Horde and the link to it is here: https://www.goodreads.com/group/show/175335-aoshq-moron-horde.
___________
So that's all for this week. As always, book thread tips, suggestions, bribes, rumors, threats, and insults may be sent to OregonMuse, Proprietor, AoSHQ Book Thread, at the book thread e-mail address: aoshqbookthread, followed by the 'at' sign, and then 'G' mail, and then dot cee oh emm.
What have you all been reading this week? Hopefully something good, because, as you all know, life is too short to be reading lousy books.

posted by OregonMuse at
09:00 AM
|
Access Comments